▶ Destinations ▶ Ethiopia
 
Travel story in Ethiopia, a short itinerary but a deep journey, in which I share with you some cultural points of this incredible country of East Africa.
Travel to Ethiopia
I stayed 34 days, in 2020, in this great country in the Horn of Africa, which is beautiful Ethiopia. I have hardly visited anything but I had a memorable experience. Ethiopia remains to this day my most beautiful trip, you will understand why in this story!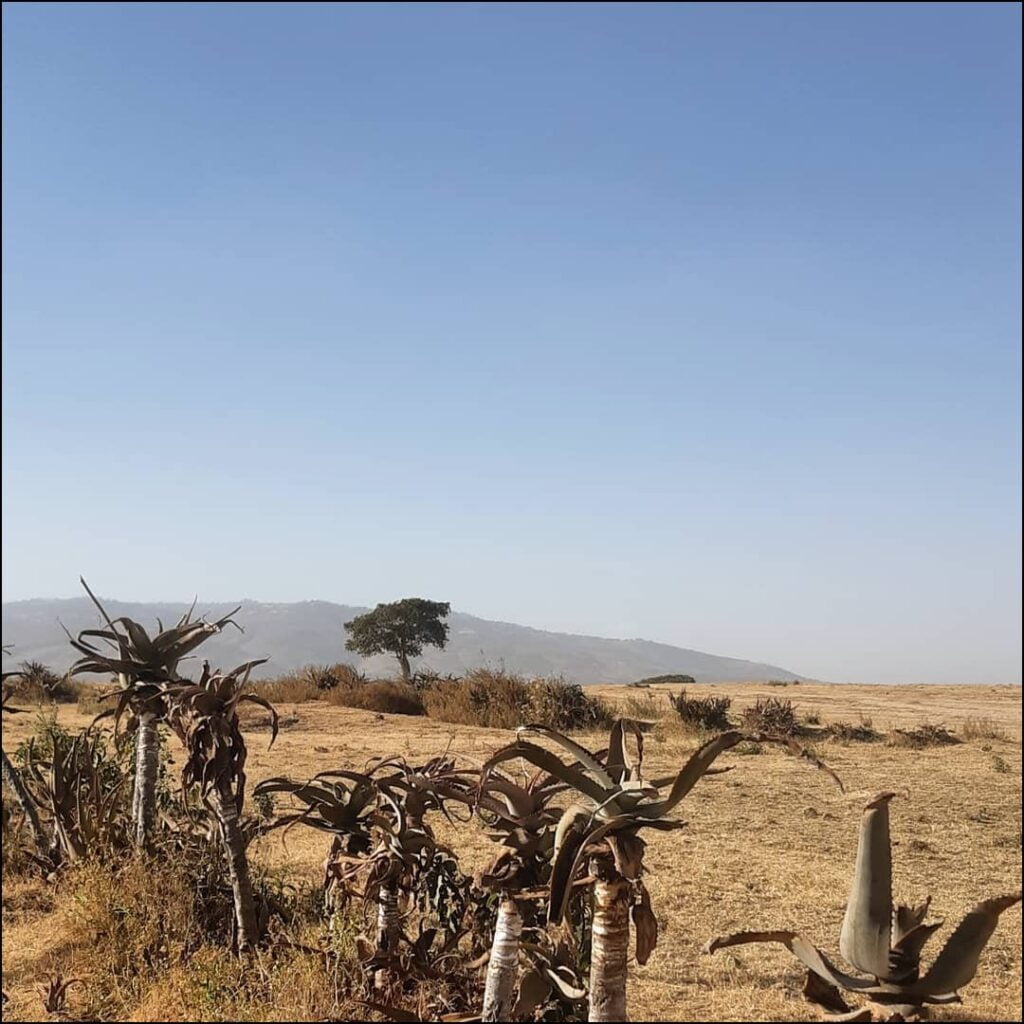 I have always had a very good feeling in all the countries I have crossed, with great experiences, but impossible for me to classify them. Until the day I landed in Ethiopia! Even though I've always been drawn to this country, I didn't think I'd fall so crazy about it. It was obvious.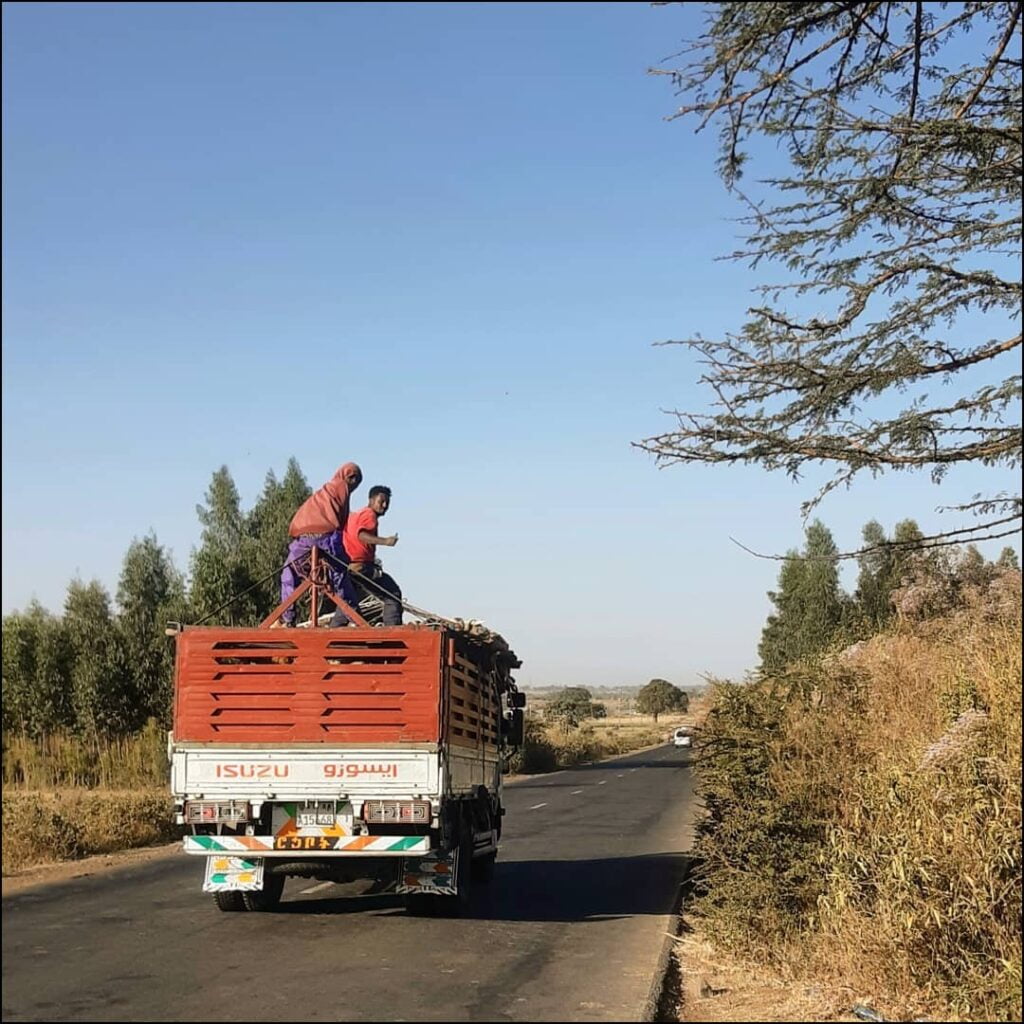 It was as if my roots had just found their substrate. I felt grounded in these lands. This trip is still difficult for me to externalize because it is quite intimate and personal. What I experienced there is inexplicable. You know, that love at first sight or that heartbreaking sensation when you think of someone you care about: that's what happened to me with Ethiopia.
A look at Ethiopia
Ethiopia is a country with a unique and fascinating culture. Many points make it completely different from other African countries. And this, without equivalent.
A mountainous country
Starting with its geography: the country is located on the highest plateaus of the continent. Thus, almost the entire territory is at high altitude. For example, Addis Ababa is located at 2,355 m. The atmosphere of this country is singular and the landscapes sometimes impressive.
From the verdant highlands of the North to the arid deserts of the east coast or from the bush to the lush forests, Ethiopia is geographically very diverse.

Moreover, these highlands on which the country rests are lava formations that date back several tens of millions of years!
Ethnic wealth
A significant ethnic diversity has resulted from this multitude of totally different environments across the country. But it doesn't stop there. Within the same area, there is sometimes a large concentration of different ethnic groups. With a culture, codes and customs of their own. So much so that from one village to another, we sometimes discover a new universe. The country is home to more than 90 different ethnic groups.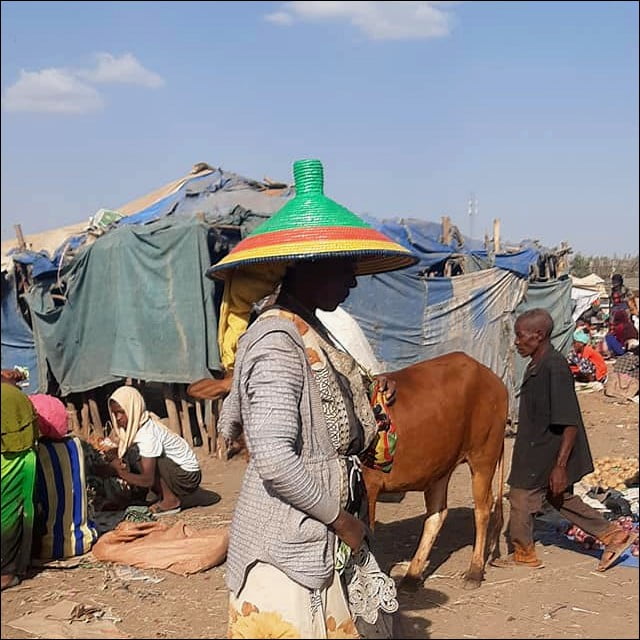 When we talk about Ethiopia, we often think of the famous Omo Valley, inhabited by a large number of tribes. They are certainly all more incredible than the others, but they are not the only ones. What differentiates them from others is mainly due to their customs¹, which have remained partly primitive².
🔎 Discover things to do in Ethiopia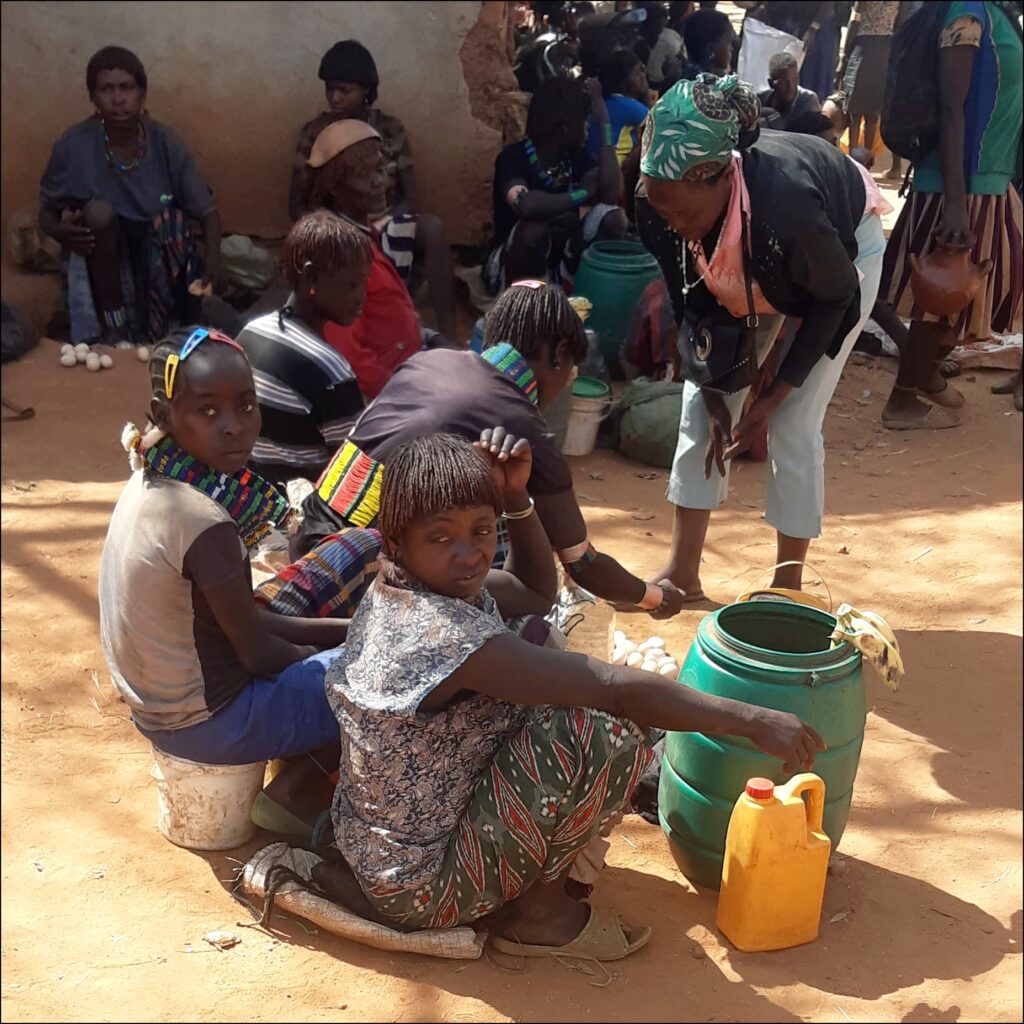 The strenght of Ethiopia
Now that you can see more clearly about the particularities of this country, let me surprise you more:
Over 50 African countries, Ethiopia is the only one that resisted colonization! Italy occupied the territory for 5 years but failed to subjugate the people. When I say "the strength of a people" you understand that it is not for nothing.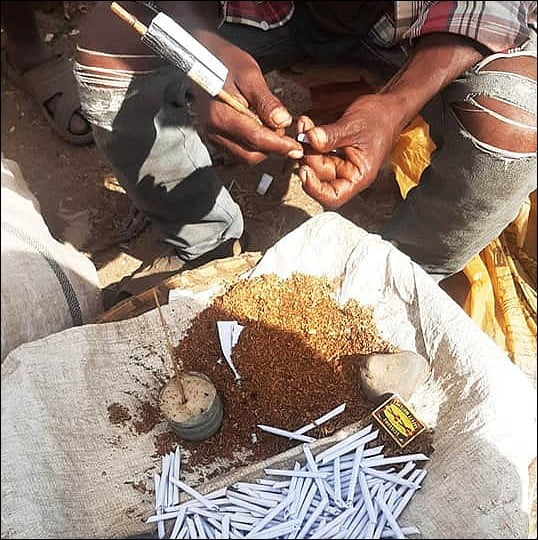 I have visited Africa very little. I have barely touched it since at the time of writing, I spent only 6 months spread over 4 states. But I am certain of one thing: it is one of the countries that have remained the most authentic on the continent, or rather one of those that have received the least influence from Europe.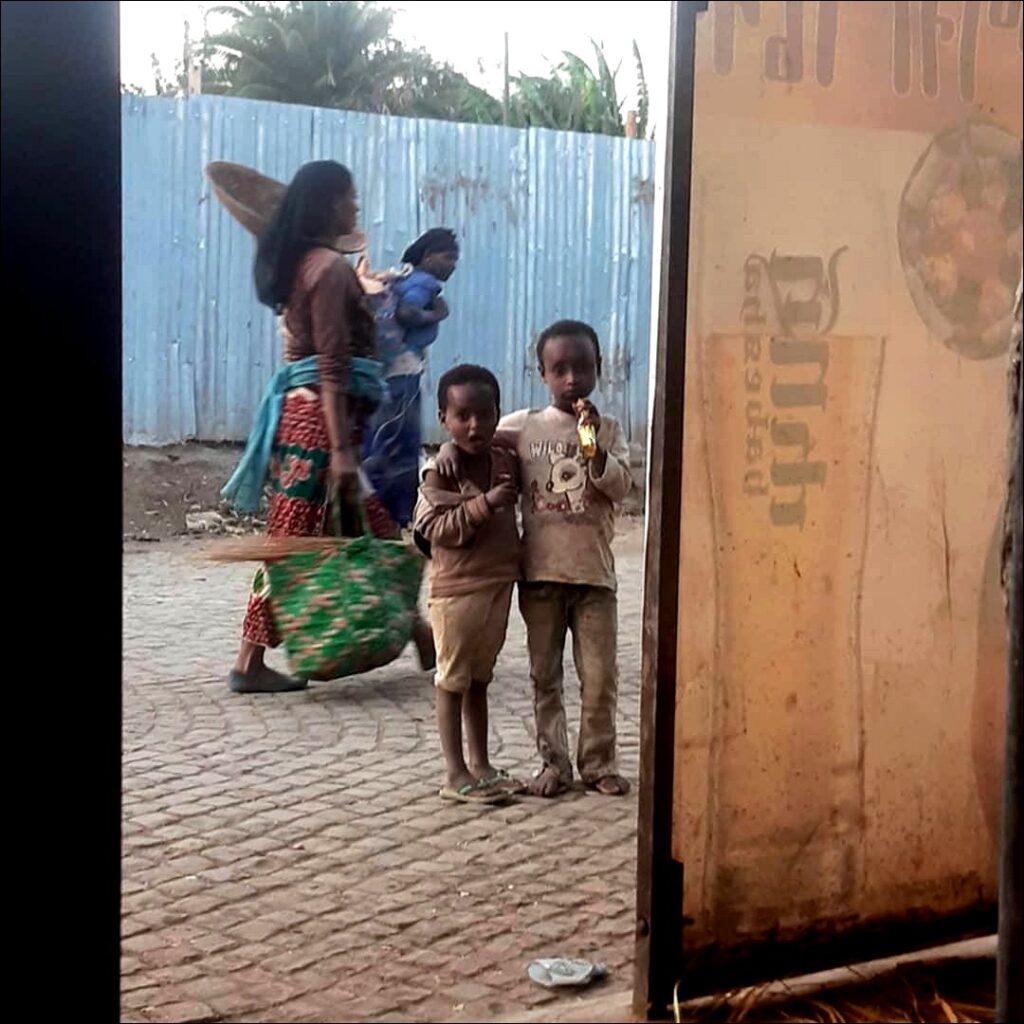 Ethiopia did not inherit a single trace of colonization. It has remained intact, unlike many countries that have seen some of their ethnicities heavily influenced. Just look at how many countries in Africa speak French. At least twenty!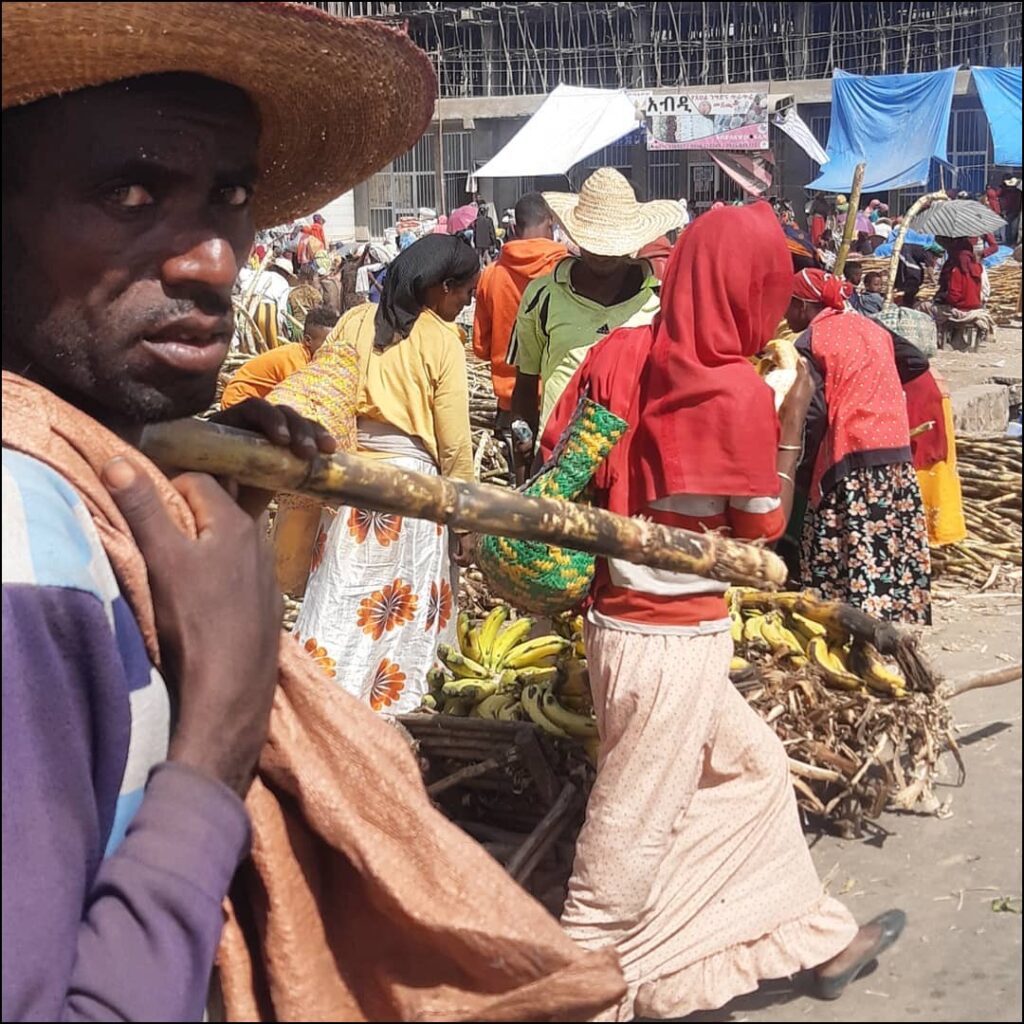 I had never before seen such a pronounced national pride. Ethiopians are extremely proud of their homeland and display it everywhere. Green, yellow and red are omnipresent. The locals wear the colors of the flag from the shoes to the skull circumference in headband! Traveling to Ethiopia is literally being immersed in the heart of an intense culture.
Itinerary in Ethiopia
Addis Ababa – Alaba Kulito – Arba Minch – Key Afer – Jinka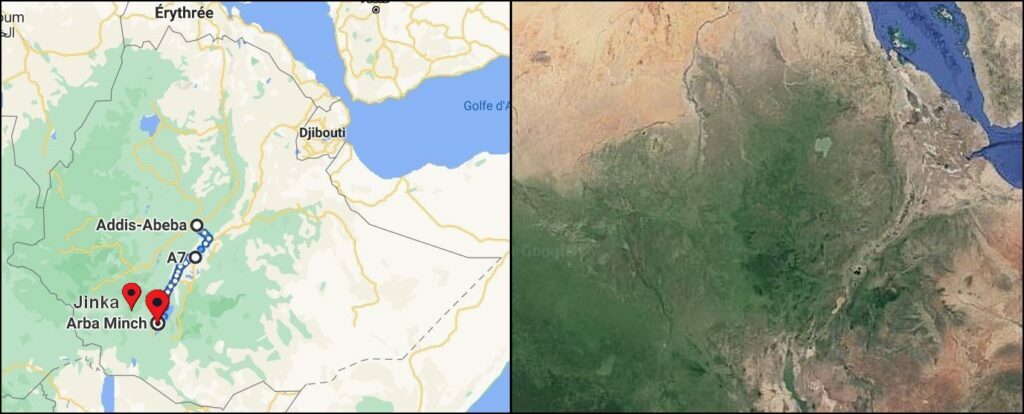 Let it be said, Ethiopia is not run by travelers. In fact, many of them do not imagine what a destination with very high tourist potential it is. The routes are often the same for the few tourists who venture there: the Siemen National Park and Mount Bale National Park, Harar, the Danakil depressions (which are included but less visited for security reasons).
And finally, Gondar in the Amhara region and Lalibela located in the Tigray region. The latter two are usually the main motivations for a trip to Ethiopia. Tigray being the most touristic region.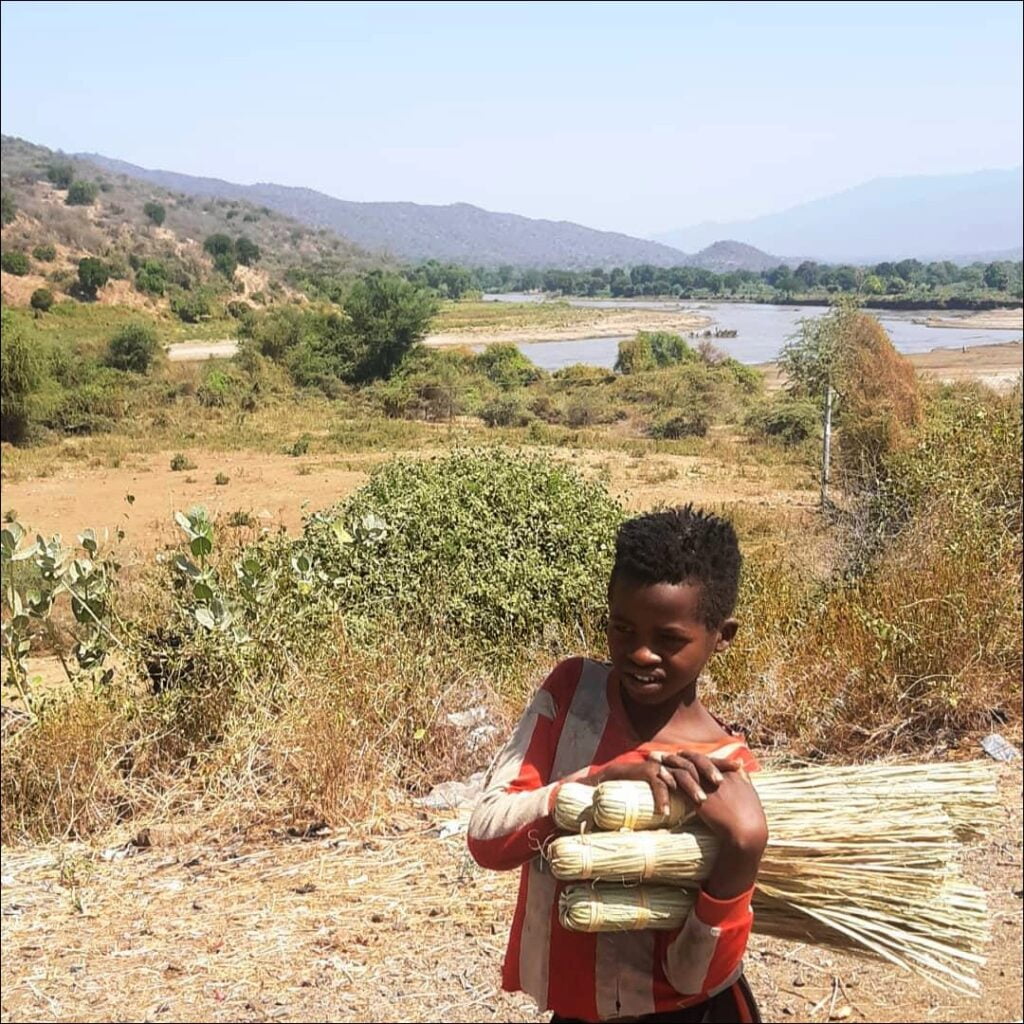 I noticed that organized tours were very privileged for this country. For a question of comfort I guess. Ethiopia can be tough to navigate in backpacker mode for some visitors. What is a little crazy is that these tours manage to complete the itinerary I mentioned in about ten days!

Regarding my itinerary, it is quickly seen: 20 days in a small town chosen randomly and everything else shared between the Omo Valley, the capital and a few stops (Arba Minch, Konso). There is so much to discover around the same area that it is hardly conceivable to cross out even one region in 10 days.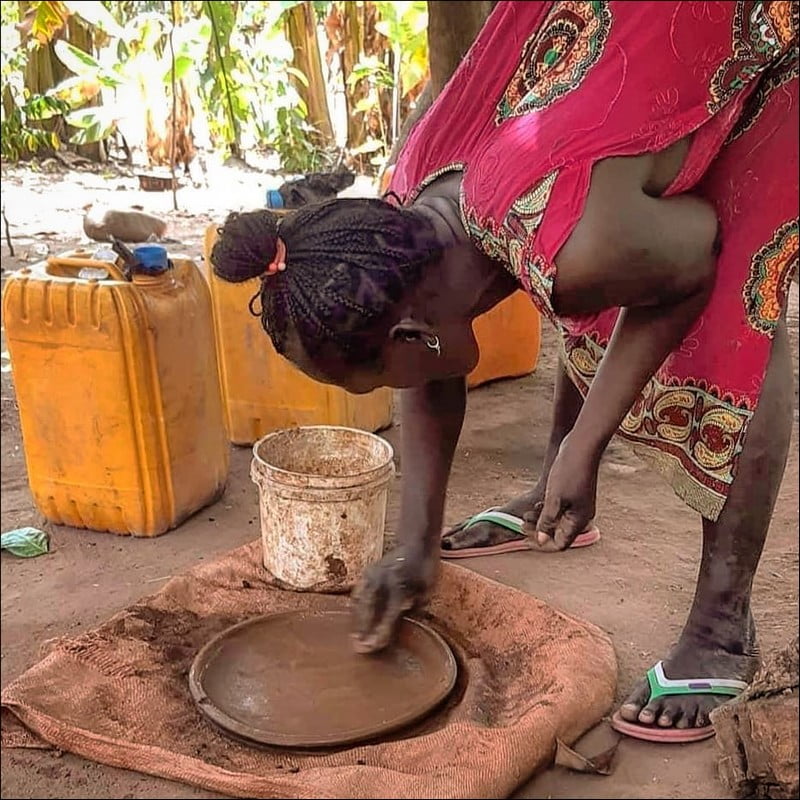 I preferred to focus my trip on integrating and understanding the complex culture rather than racing between all regions to see as much as possible. But that's a travel choice personal !
Alaba Kulito
I stayed two days in the capital, with the locals. My host, who gave me a very warm welcome, works in an Adventist church. Some members were going on a mission to Durame and offered me to embark with them for free. It was in my direction, since I wanted to flit around the Omo.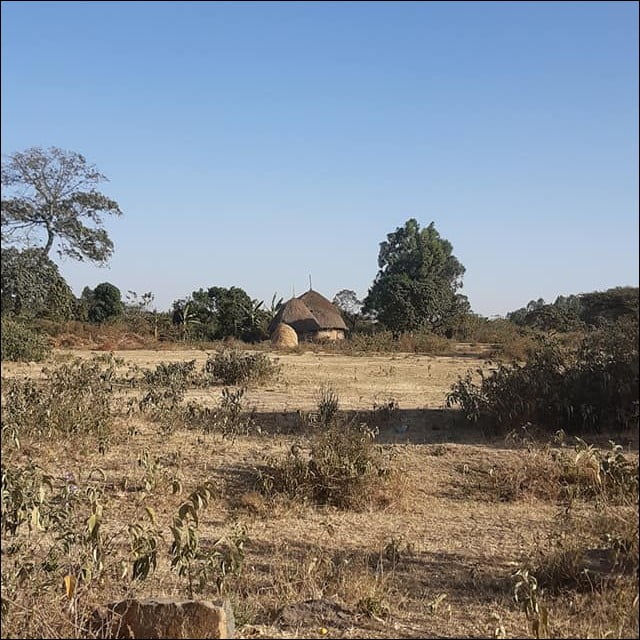 We went through several cities until I asked to be stopped in one of them. It was my intuition that spoke. This small town has no tourist interest. Go find out why, I had to stop there!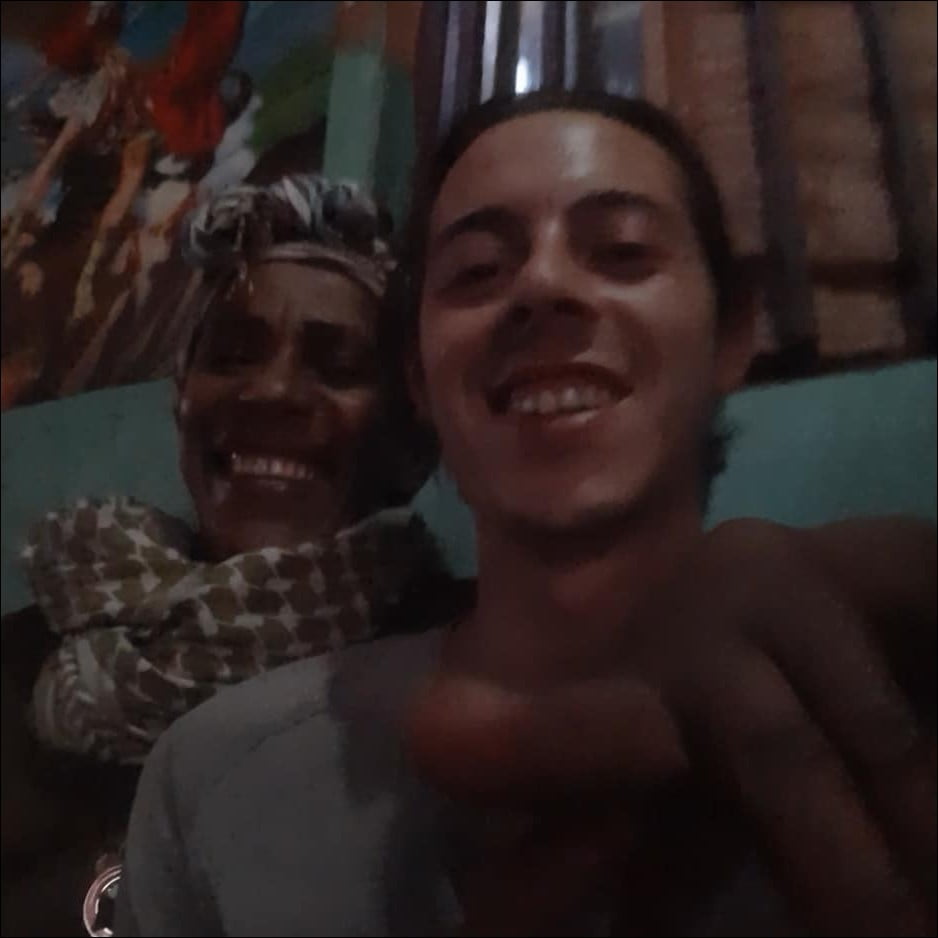 This is where the hard core of my trip to Ethiopia was formed.. I put my bag in a small boarding room, and he slept the most in it. I very quickly made a network of friends with whom I was always stuffed. It went very fast. I met some great people in the following cities but it was here and nowhere else that I had to stop. Like what, you must always follow your intuition!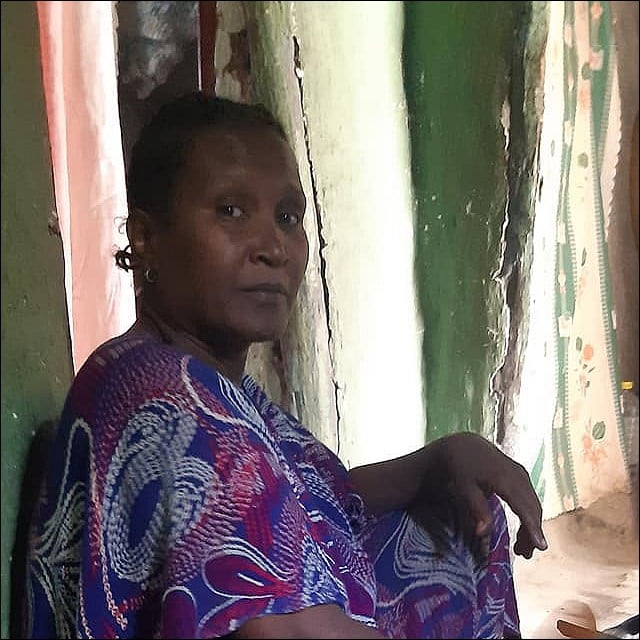 First Impressions in Ethiopia
My first moments in this city were a bit trying. I have rarely been so solicited. I did not walk two meters without being arrested. Impossible to walk without having dozens of pairs of eyes on me and calls from both sides of the road. Children excel at this little game. The first day I arrived in Kulito, 5 children followed me, then 10, then 20!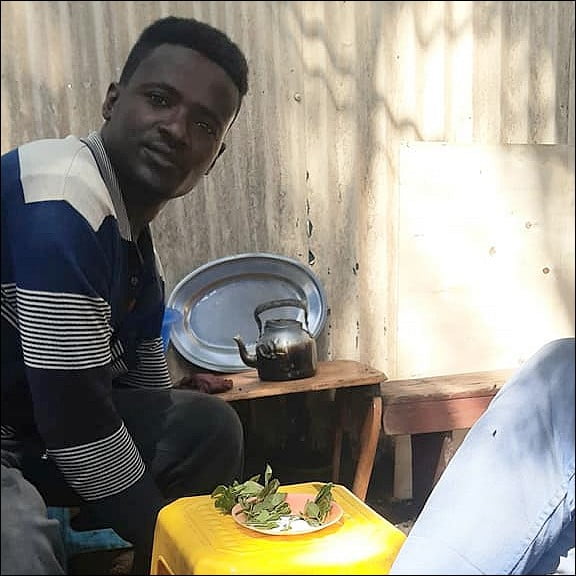 I had to sneak into cafes to be quiet. In general, they throw things at them that drag on the ground to make them leave. It's quite funny to see since it looks like they are scrambling like cats after being caught where it doesn't belong. It's simple curiosity of course, but a little oppressive for a start!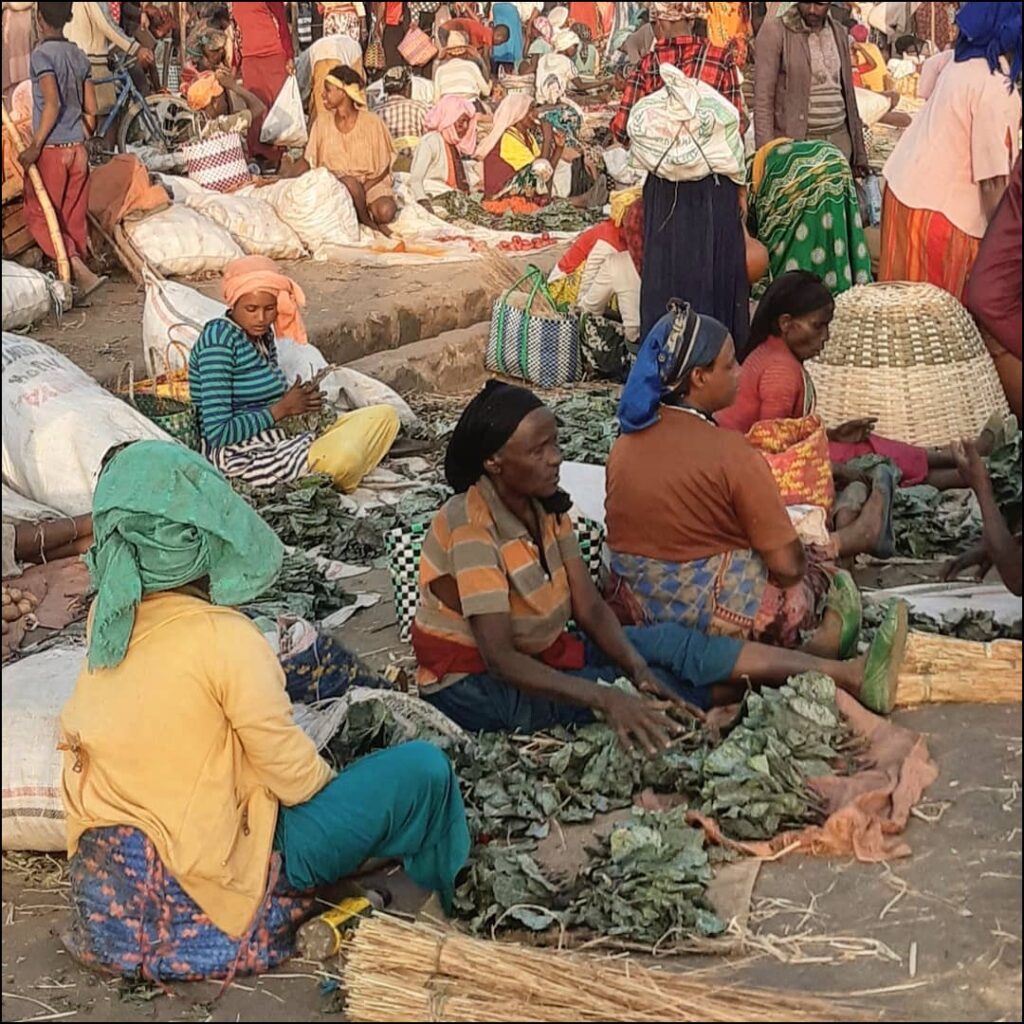 All that quickly dissipated as the days went by. I answered all the calls on the street. Even when it was just to get my attention and little by little, the "farenje³" turned into my first name and I began to fully enjoy this trip to Ethiopia.
Solicitations in Ethiopia
The solicitations were an apprehension that I had before leaving. I had already read several articles about the trip to Ethiopia long before and many visitors complained about it. To the point of making some of them flee or to make them fly over the country. Those who take the most are the cyclo-travelers. The quietest are those who travel by car. It also depends on the cities and regions. Harar is for example very calm and less nervous (Muslim community).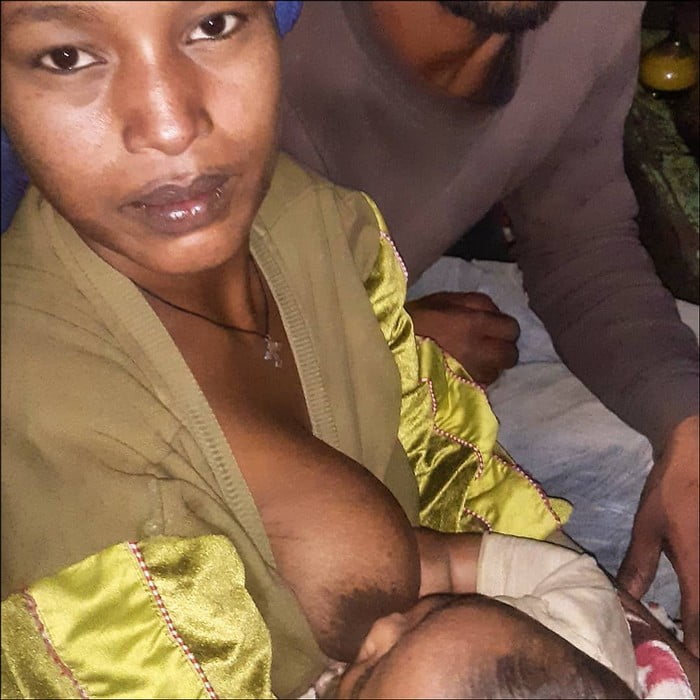 I learned something in this country. When you are only passing through and do not take the time to stop, some Ethiopians can be a little disturbing. But when we stop and show ourselves available, their attitude is not at all the same. They give it back to you in 1000. If you plan to take a trip to Ethiopia, you now know how to roam quietly!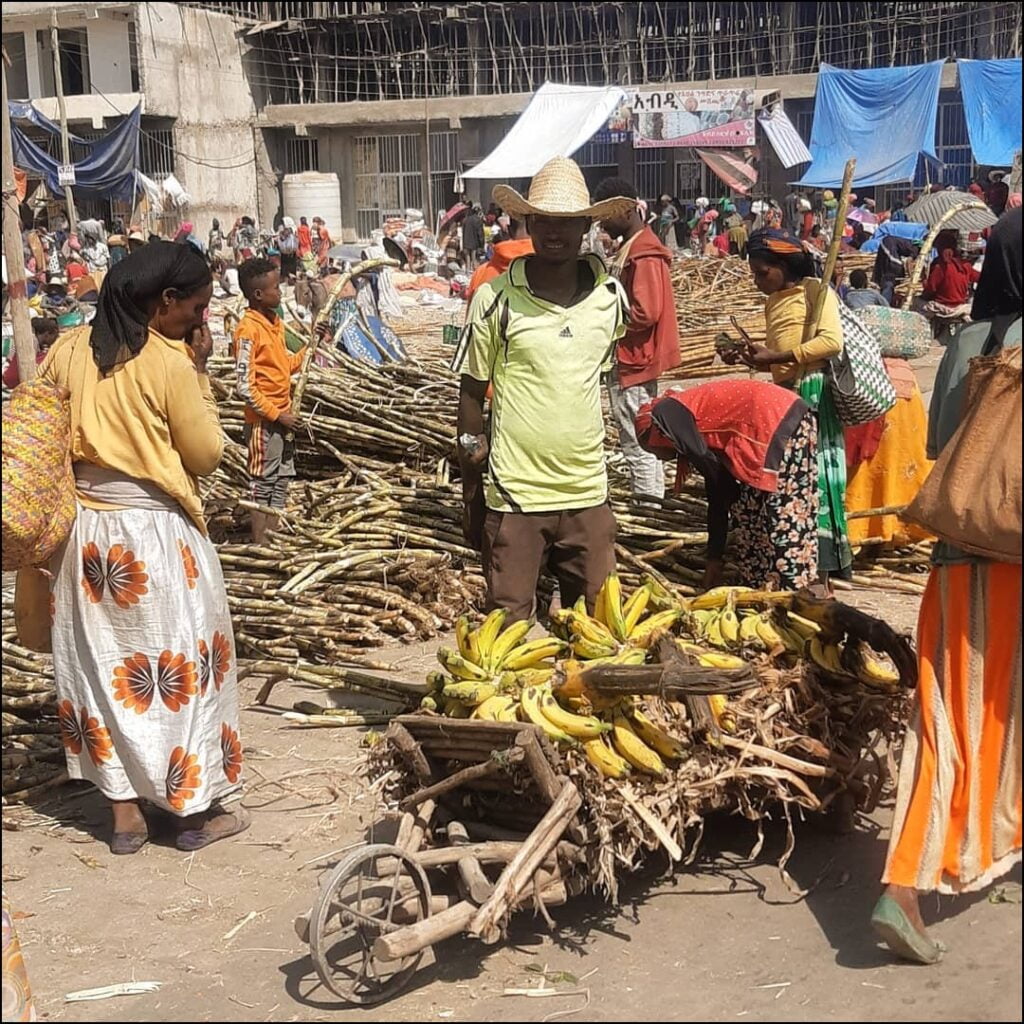 Arba Minch
By force, I shook myself to get back on the road. I had about ten days left on the visa and I wanted to visit the Omo Valley. It must also be said that in Kulito, I had entered a certain comfort zone. An established routine, a network of friends, habits… But I take as much pleasure in breaking this comfort to find myself without landmarks. It always heralds the arrival of a new adventure!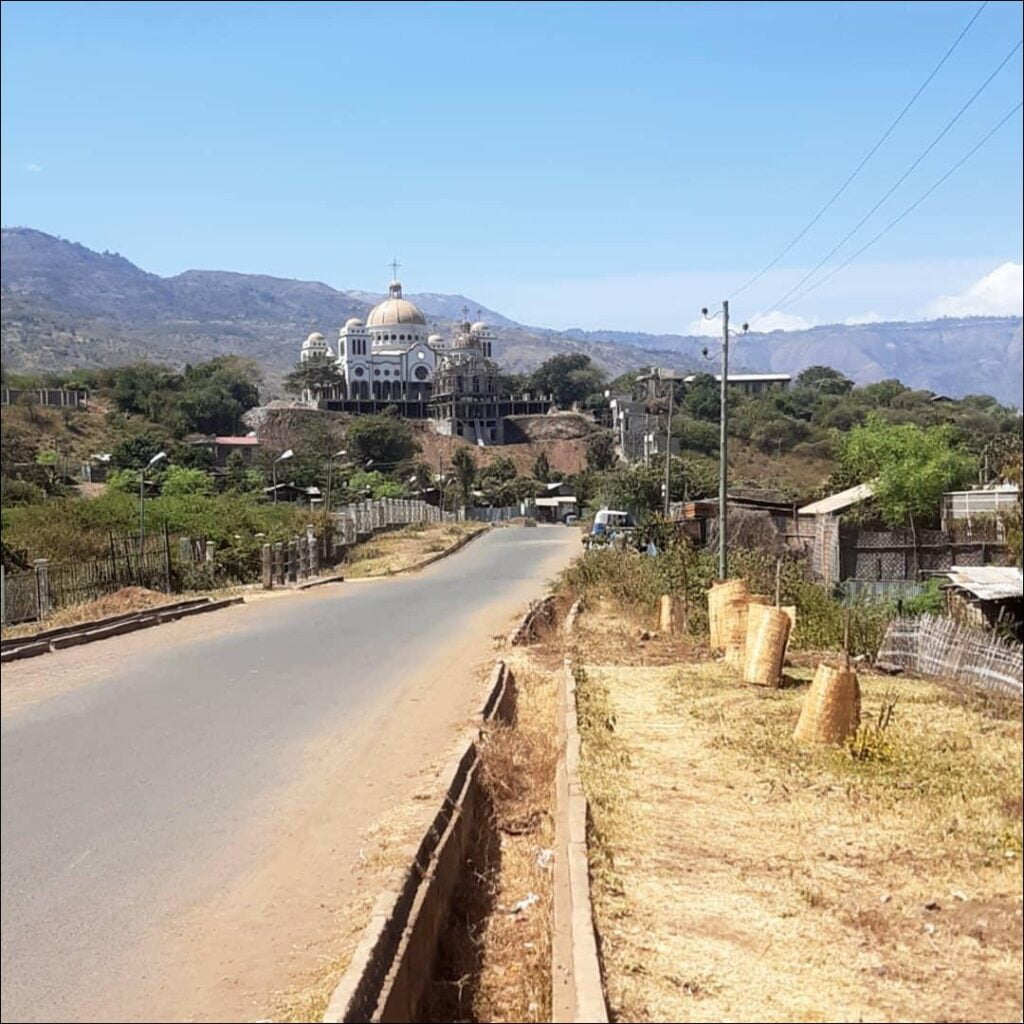 Arba Minch is the obligatory passage for connections to the Omo. I really liked this city. It is very green and filled with wild animals. Zebras, crocodiles, warthogs (pumba) and baboons among others. The relief is also more pronounced, although the altitude is lower than in Kulito. It is also a city rich in springs.
As a result, many mangoes, avocados, bananas and guava are produced. Access to water is therefore much better than in Kulito, where running water was scarce. I spent over 20 days washing with water bottles.
On the way to the Omo Valley
I stayed there for a few days and then I met someone with whom I finished my trip. I didn't want a guide to go to the Omo, but he offered to accompany me. In return I paid him for accommodation and food. It came at the right time because it saved me a lot of time on the little I had left. He also showed me around good places. Out of Arba Minch, the roads begin to be disastrous, if not non-existent. You can't even see any roads on the map!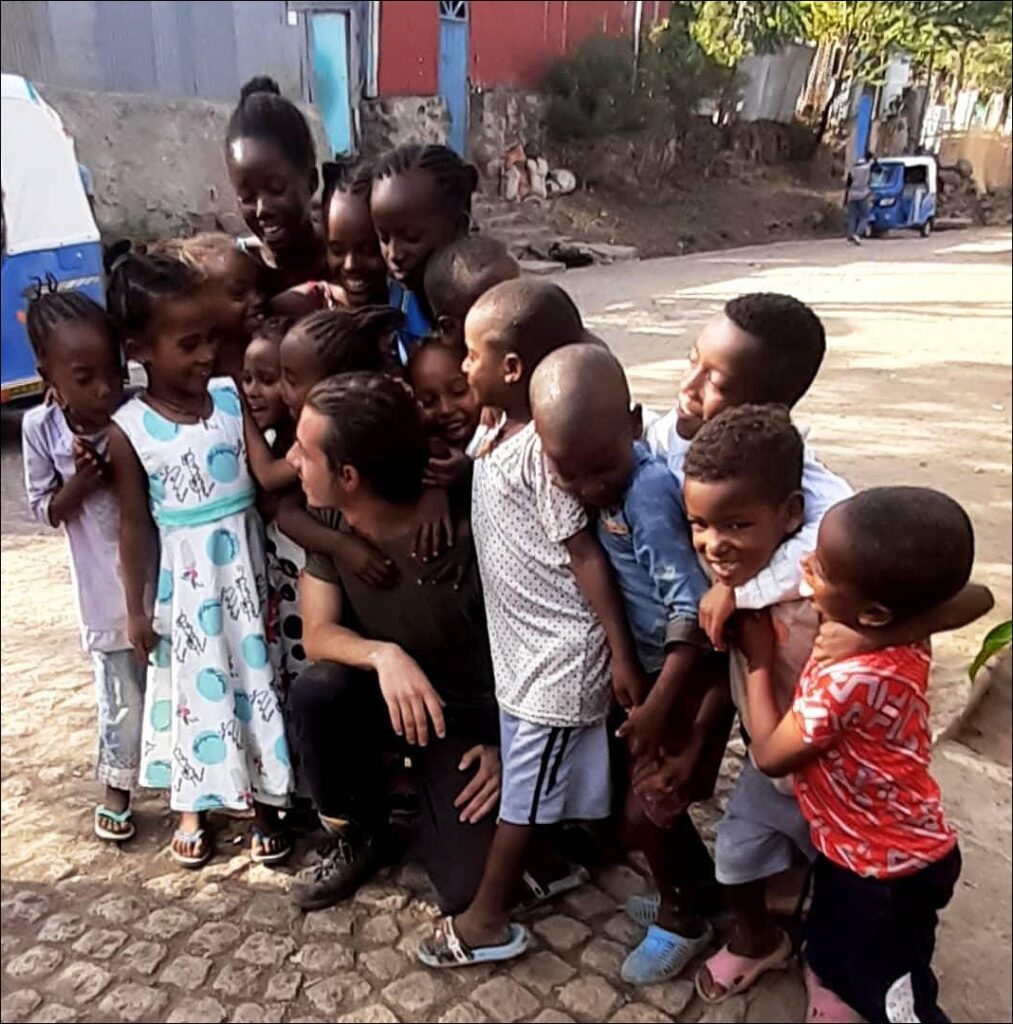 Key Afer
I went through Konso to go to Key Afer. I met the only two tourists of my trip. They also traveled alone visibly, but in 4×4 and private driver. In these times of pandemic there were not many people but I think they are much more numerous in normal times.

I have not been solicited at all in this region, it is very quiet and above all, what is exotic! Many tribes live here, including hamers and bannas.


Hamer-Banna tribes
They are semi-nomads who live on livestock and agricultural production following the same route generation after generation. The landscapes on this road are the most beautiful I have seen in Africa. This magnificent scenery of dry and green bush all in very pronounced relief and marked by the small villages of huts in the shape of mushrooms is sumptuous.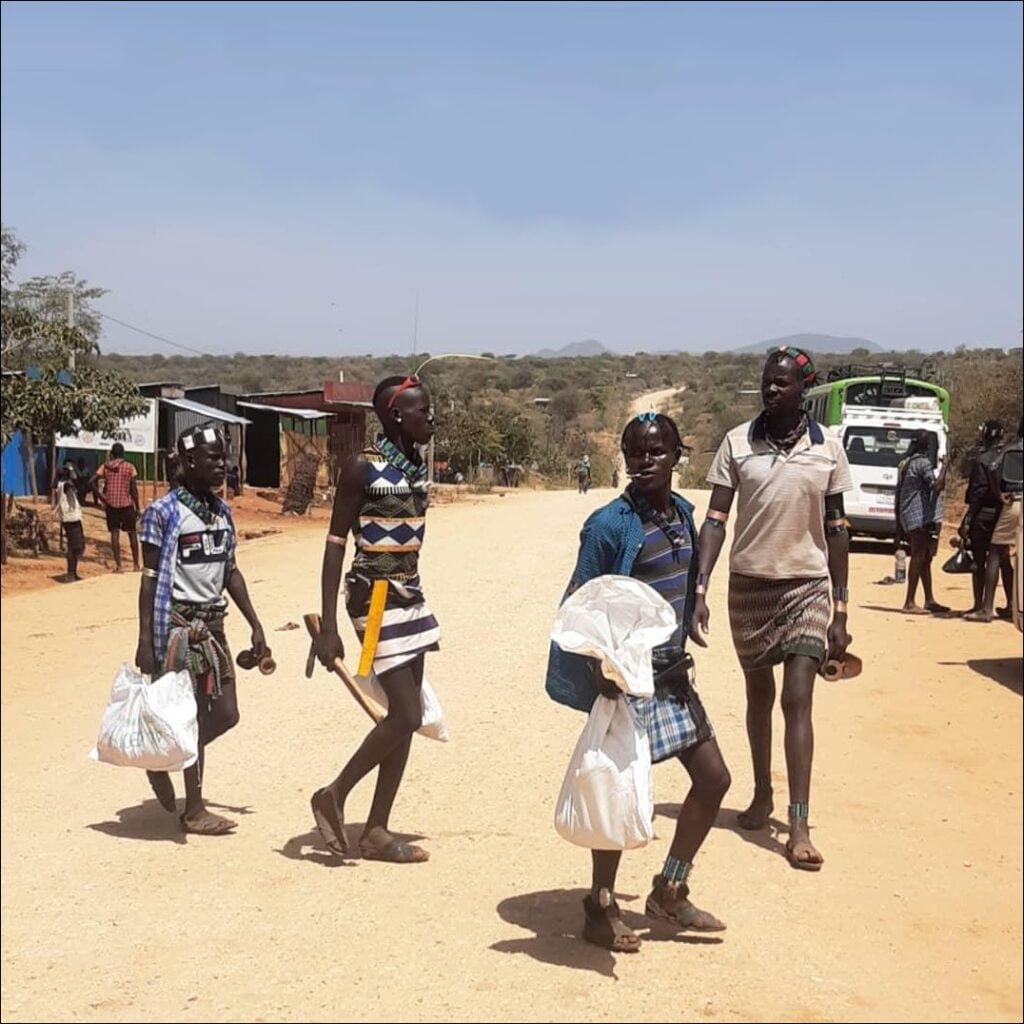 I went not far from here to a village that brings together all these tribes once a week. We arrived at dawn with my friend. After an hour, the tribals arrived from all sides all around this tiny hamlet near Key Afer. They arrived by cutting through the fields and by the paths with their animals. It was an absolutely unique moment, not a white head on the horizon. The crowd was very massive, the place had become unrecognizable. Crazy, plain and simple.


Crop marketing
From a cultural point of view, it is by far one of the most authentic places I have seen so far. Nothing suggests that we are in 2021! What an incredible sight. It must nevertheless be stressed that these ethnic groups are subject to strong influences. Notably by the influx of tourism.

More and more, tribes are selling their culture. Tourists usually arrive in very remote villages with their big 4×4 to draw the portrait of the tribals and then leave as dry. An internet traveler called the Omo Valley "The Like Factory", that's kind of it.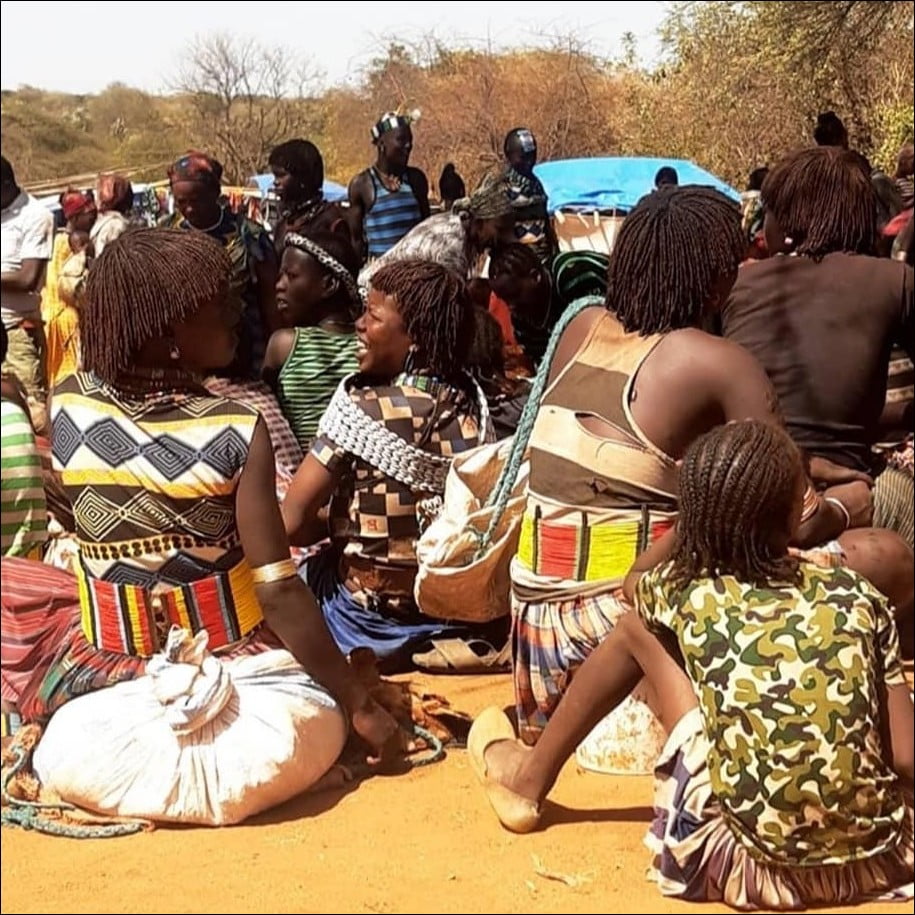 Before leaving for the Omo I watched some videos of these tourists who visited these small communities. Devices around the neck, hands behind the back and observing the inhabitants. Without purpose and without interactions. Clearly like in a zoo! Too little for me, I don't want to participate.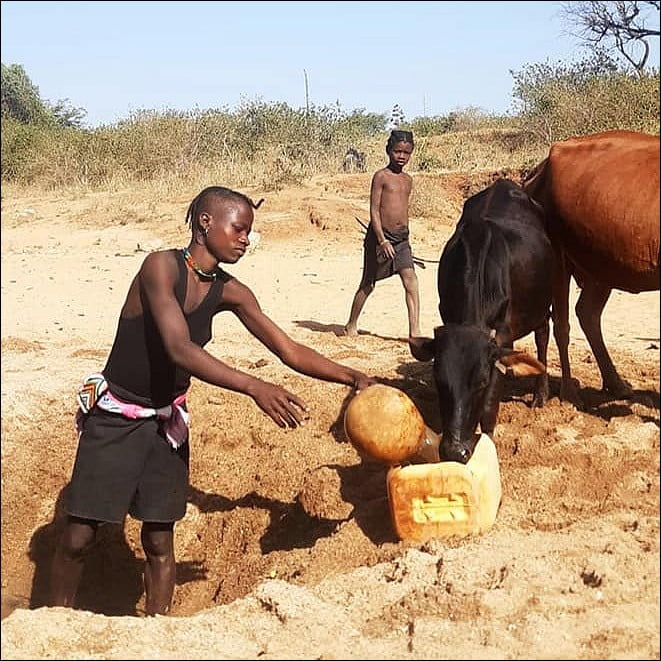 It should be borne in mind that the tribals only receive crumbs of these visits and let the organizers get full of digs! These practices lead to abuses. For example, by selling their accessories that originally represent important social distinctions within their society (such as the lip records of the Mursi tribe).

Or the Karo tribe, who wear makeup for very specific events, now find themselves permanently and outside traditions to charge for their photographs.

These are just examples, there are many others. All these things strongly distort these cultures. The development of Ethiopian society also attracts young tribals. For example, I met a Mursi girl in Arba Minch. Scarified everywhere up to her face, but dressed in Western style. It was quite curious. She had left everything to study and she spoke English very well.


How to visit them ethically?
Going to the markets seems to be a good alternative. The tribes usually mix with the other ethnic groups. It is much less intrusive than landing among the tribes with 3 large 4x4s to go on a human safari.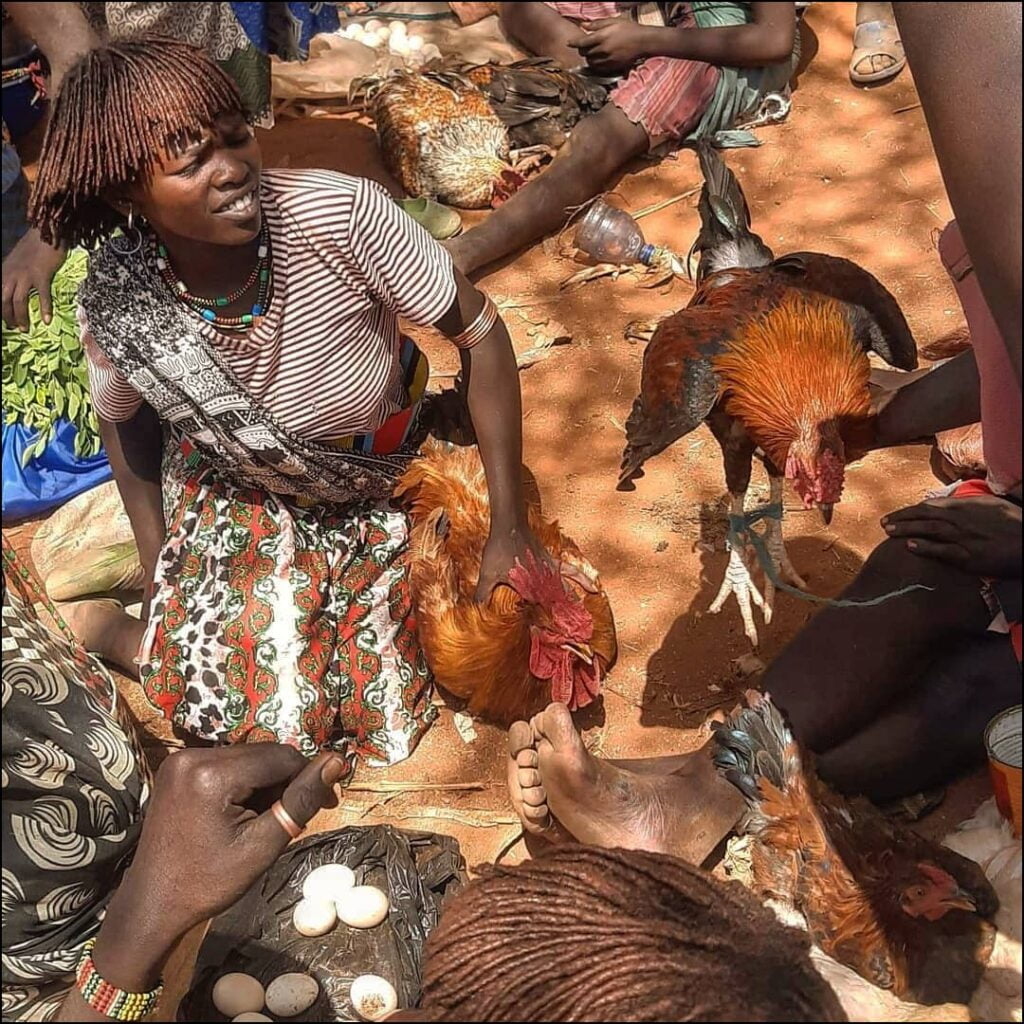 Jinka
Complete change of scenery. The vegetation is much more lush. The contrast of the red paths with the green vegetation and gigantic trees is sublime.

Jinka is interesting and deserves attention since it contains all the activities of a city in general (it has more than 20,000 inhabitants). Its direct outskirts consist of traditional villages hidden in the greenery. It is very beautiful and this trip to Ethiopia never ceases to surprise me.

An important ethnic group lives there, the "ari". Their culture is really interesting but the direct influence of the city has made them not wear their traditional clothes for a long time except occasion. Here I met Ras Don, a Rastafari of my age who lives among them.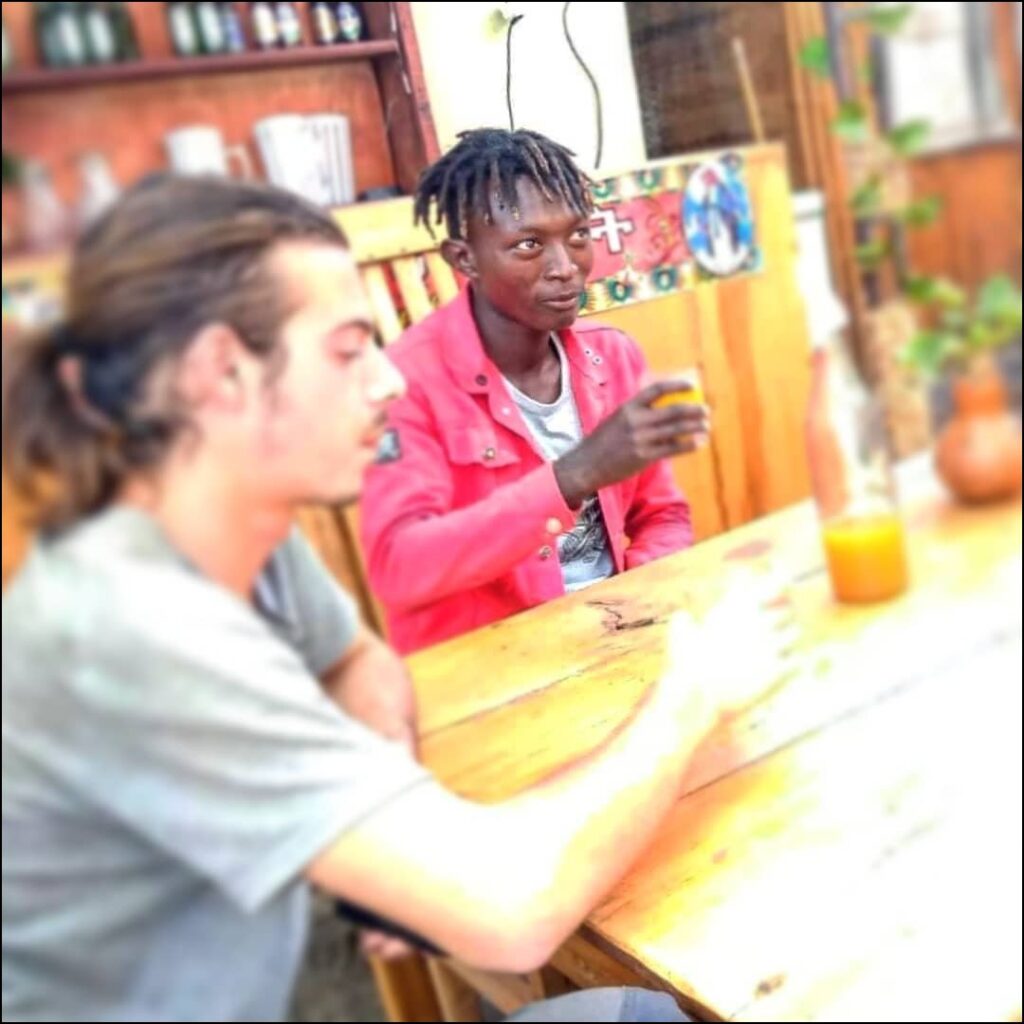 The city is also frequented by the famous "mursi" tribes. They are often distinguished with their lip discs for women, their long sticks or their many scarifications. It's quite unusual to see them in an urban environment. We can see them in numbers on market days but also in normal times.

Many come for care in hospitals or simply because they are gradually urbanizing. Their villages are located several tens of kilometers away, in a much drier environment. No road serves as a connection, only old trails (hence the tourists in 4×4).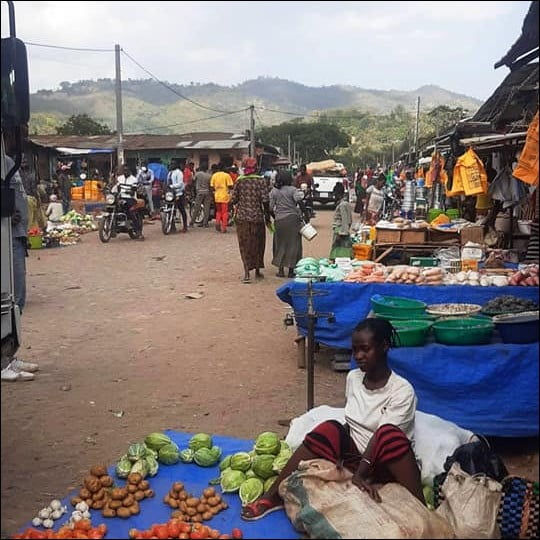 They are not the only ones who come to town. We can also meet " dassanech", " hamers", " bodis" (…). During the journey from Key Afer I was also with bannas and hamers, it was quite funny. We were literally crammed into a minivan not being able to move even one toe.

There were beasts and lots of fruit bags with us. I spent two hours flattened against a window in the sun, sweaty, with a goat's head stuck to mine the whole way! Not easy but it's so cool to travel to the local!
Meeting with a Mursi
I had an encounter with a mursi in Jinka. It was Ambasa, I don't remember why, but we talked in a street. Then we met again a second time and then a third! I invited him to have ginger juice with us, he was with his brother. Impossible to understand each other through the language, but a feeling passed and we stayed all afternoon together.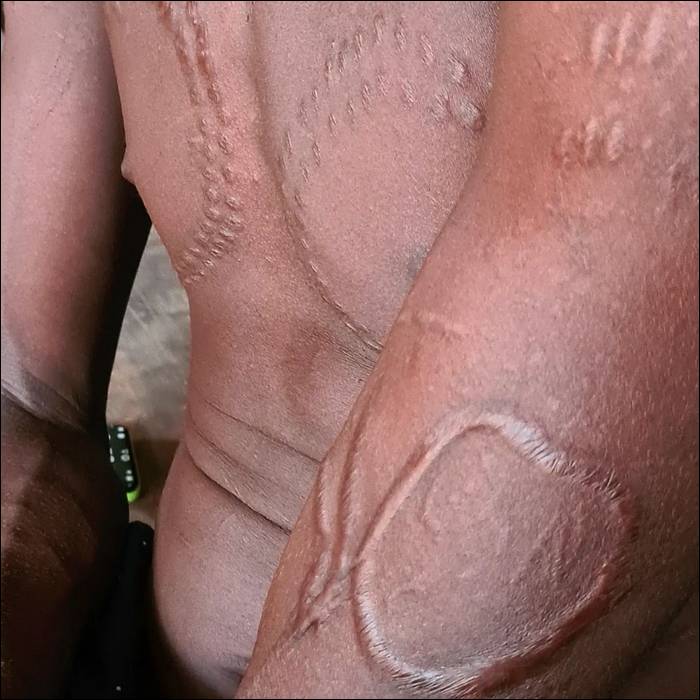 On the strokes of 5pm, we went to drink a local alcohol (arake). The atmosphere was super festive, and by surprise, his family arrived in the bar. I was surrounded by walls. The exchanges are special, we feel that we are communicating with someone who has codes totally different from his own. A superb experience in itself. I was becoming more and more friends with these people, until their translator joined us.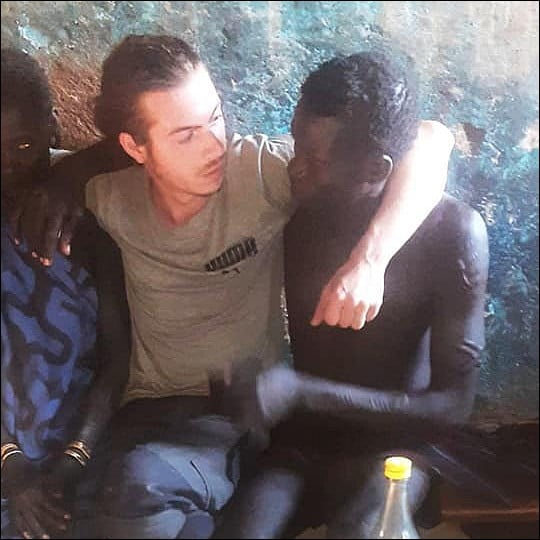 In the city, tribal groups are often accompanied by a translator who organizes the trip and exchanges. Few Mursis speak Amharic⁴. The problem with this man was that he saw money in me and he insisted on taking me on board and making me pay for a human safari.

He was a bit arrogant and spoiled the atmosphere in the bar. He took the troop out and left. It's a shame, seeing as it was gone, I think I had chances to go to the walls naturally, which resulted from a healthy and authentic meeting without relationships based on trade!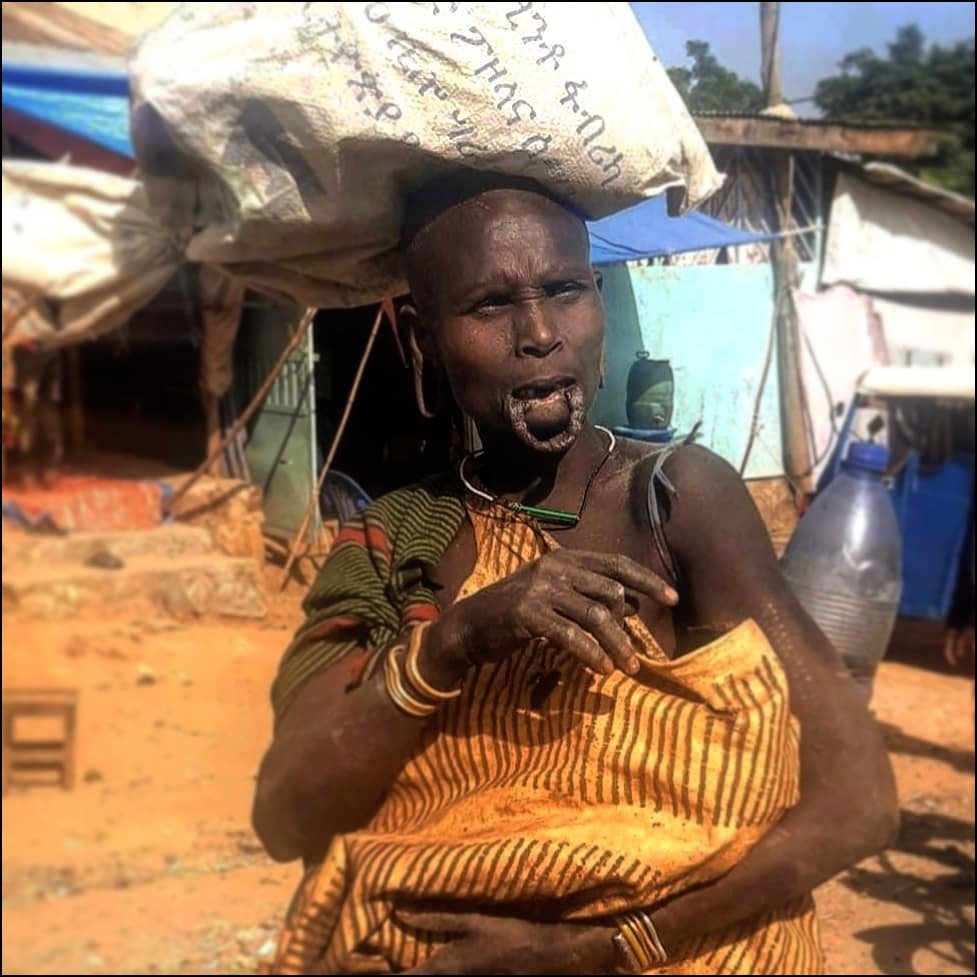 End of trip
The end of my visa was at its end. I enjoyed my trip to Ethiopia to the last drop, to the point where I had to embark on an unparalleled two-day race to Addis Ababa. At this point, it was the nerves that kept me awake.

The road that shakes, the heat, the noise, the world, the fatigue, the repeated changes of buses, the sellers who get on the bus and who spot very quickly the little white beak of the convoy (…)
I have a good endurance to the arduousness in general, but it must be said that after a trip as eventful as this one and these difficult hours of driving, I had more mojo! And then, I had a hard time telling myself that the trip to Ethiopia was coming to an end. I still kept an indelible smile when I saw these Ethiopians united and so warm.

On the buses, the music was loud, people sang their Ethiopian music, clapped their hands, laughed, shared their food and slept against each other. It was beautiful. I had barely left when I was already thinking about coming back.
There was a funny symbolic In this journey. I arrived by chance on January 1st in Ethiopia. This trip marked the beginning of this new year day for day.

I had my phone stolen in one of the most sensitive areas of Addis Ababa (near Sangatera), a few hours before my flight by a group who bluffed me. A well-developed technique, I saw only fire. By the time I realized my phone was out of my pocket, it was too late. They were already far away, everything was done in a few seconds.
For this reason, all the photos on this article are of poor quality because they are recovered from Facebook or Instagram. I had in this phone, without a shadow of a doubt, the most beautiful photos I could make and crazy videos. From the beginning, I kept all this content preciously to send the sauce on the networks once I got home! Too bad.

This flight did not happen for nothing, this trip was so intimate that I must now draw on my memories and what I learned from this trip to Ethiopia. Not through pixels! It is a very valid symbolism that I found there, and I derive more benefits than regrets!

This experience will have put me in the pit a lot. My bank card was in the phone case and Qatar Airways ordered me to prove the purchase of my ticket by showing them. Oops. There, I had mustard on my nose!

Two days without being able to wash, exhausted, my visa that had already expired and then now this flight that I could not take. I had to buy the same ticket without refund with my second credit card and pay the fines. A return that cost me some $ 1,000 and a phone!
I think this blow on the part of the company was due to the Tigray conflict. In the capital, I met several times people reluctant to my presence. They have to have bad ideas.
Back to the French style
Still exhausted, I slept directly at the airport. I was able to take a flight for the next day with my second bank card. The flight was 3 hours and a few hours late. The passengers consisted of a few Ethiopians living in France, a few French and many Chinese. We stayed on the plane for a long time. Guess who was complaining all the time? Well done, you guessed it. The French were transiting through Addis Ababa and were all arriving from the beaches of Zanzibar, one of the few tourist places in Africa still open at that time.

We only heard them, it was unbearable. Some stood up in the plane to scramble and push others to put pressure on the crew, who had a more than valid reason not to take off. In short, an Ethiopia / France a bit brutal transition.
Finally, I went back to Switzerland and Ethiopia winked at me. The place where I enjoyed my last days carefree was called Key Afer, translated as "Red Lands". The hamlet where I was called for work and where I am currently writing these lines is called… The Red Lands! Crazy right?
Ethiopian music
If you come to the country, she will accompany you throughout your trip in Ethiopia! I've rarely seen that. As soon as the sun comes out, the shopkeepers take out the speakers on the sidewalk and spit the sound.

In a street, several melodies can mingle with each other. And to say that by home, some neighbors yell when they hear the music a little too loud. They would become completely crazy in Ethiopia.

Traditional music, popular songs or even reggae, Ethiopians listen to everything but especially made in Ethiopia in the overwhelming majority. Their musical style is their own and it's great.
I usually have a little trouble with popular music no matter where I go. But I really like Ethiopia's. Today's songs still retain their strong cultural identity, are filled with energy and good vibes, always accompanied by a modern touch and often traditional instruments. Their style also stands out a lot by singing, their voices are like oscillations, I had never heard that before.

I leave you some titles that I heard a lot, with a big crush on Eyob Mekonnen that I still listen to. The 4thand 5th tracks were the songs of the moment during my trip to Ethiopia. It is impossible that a day goes by without hearing them at least twice somewhere! All styles and eras :

Photo trip to Ethiopia 2022
I returned to Ethiopia for over 3 months in 2022. You can find the entire trip on Instagram In my Featured Stories, you will find a lot of content. An even more adventurous and freestyle trip! Here are some pictures: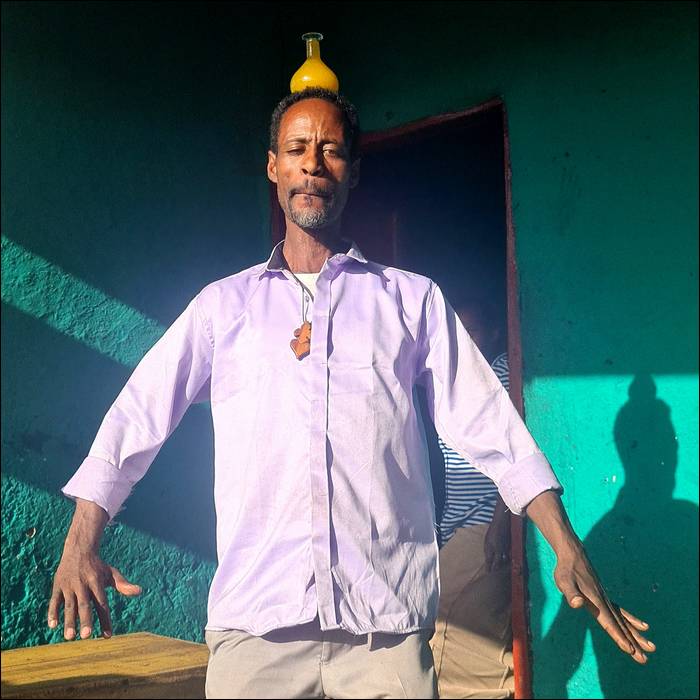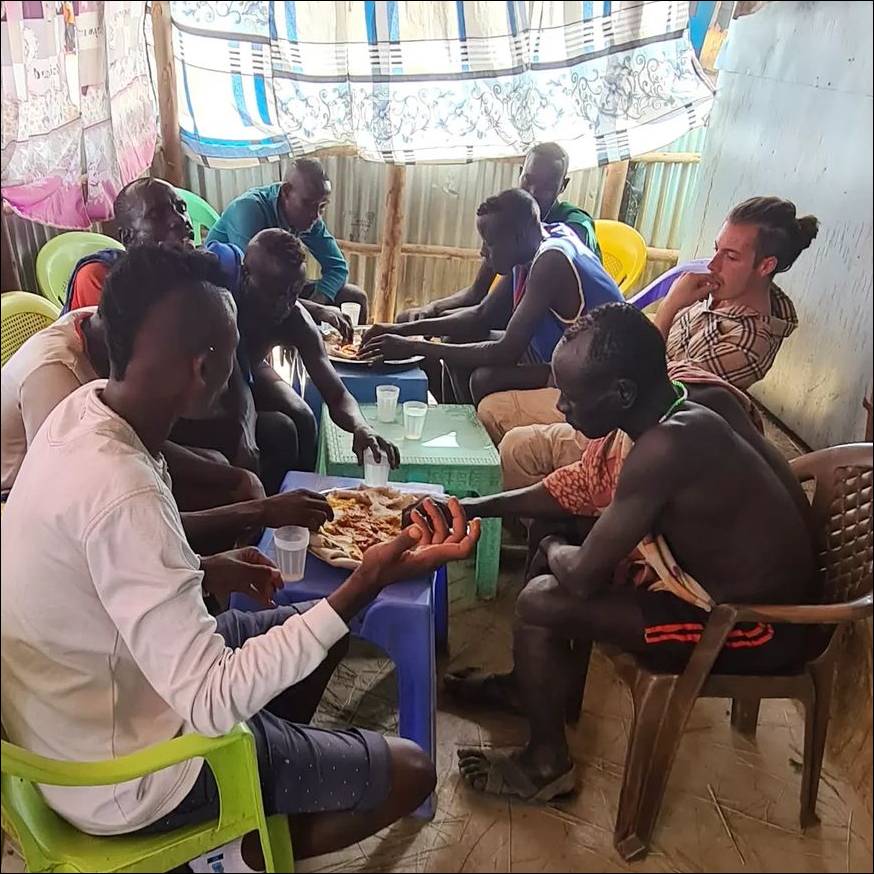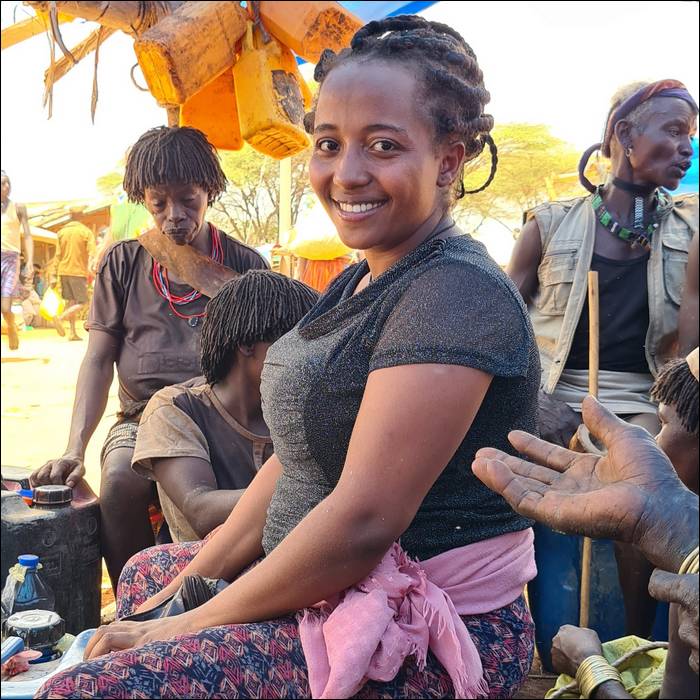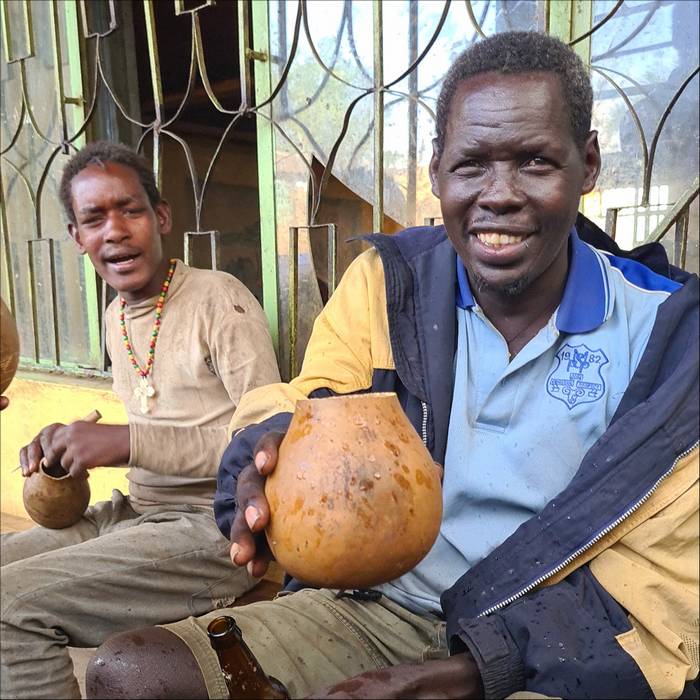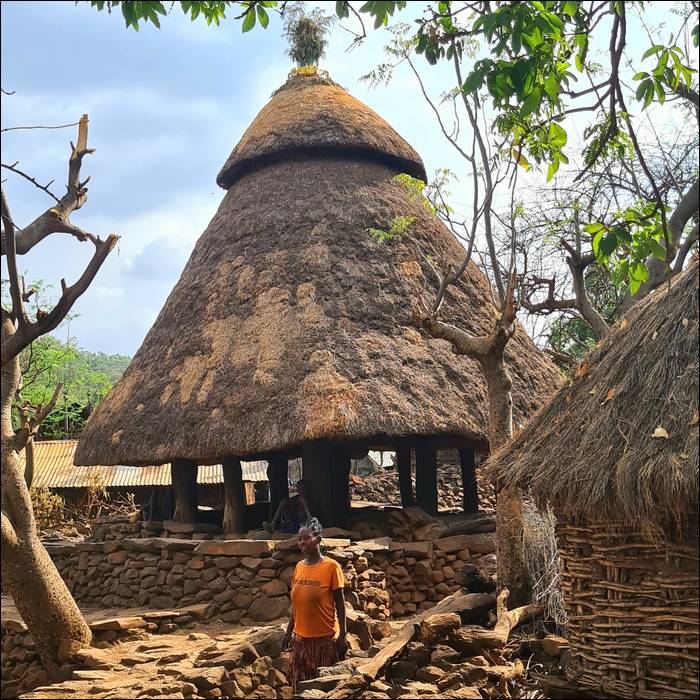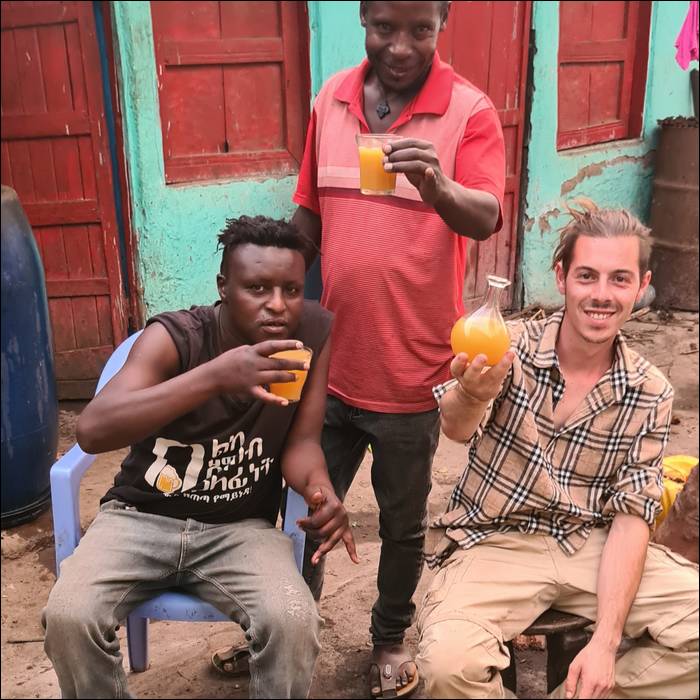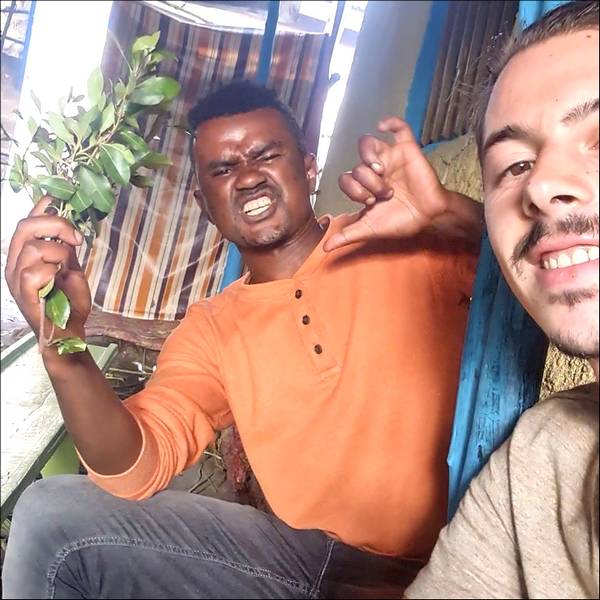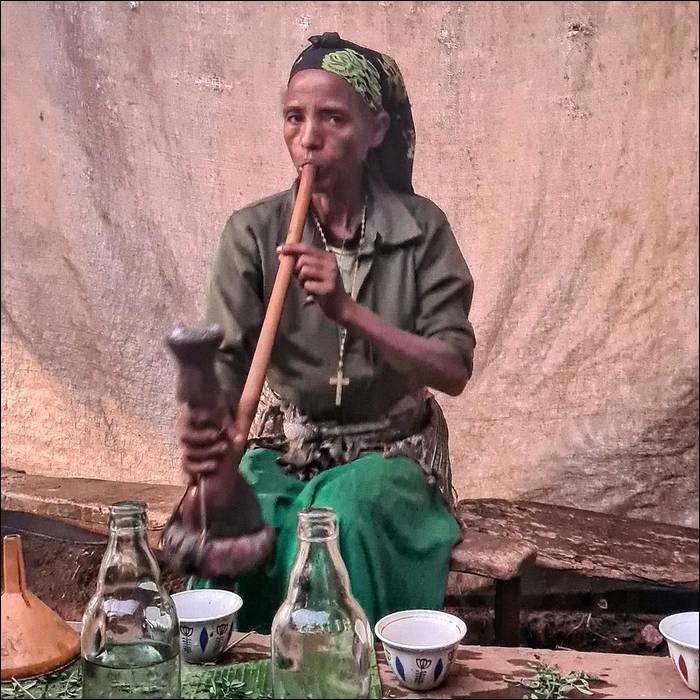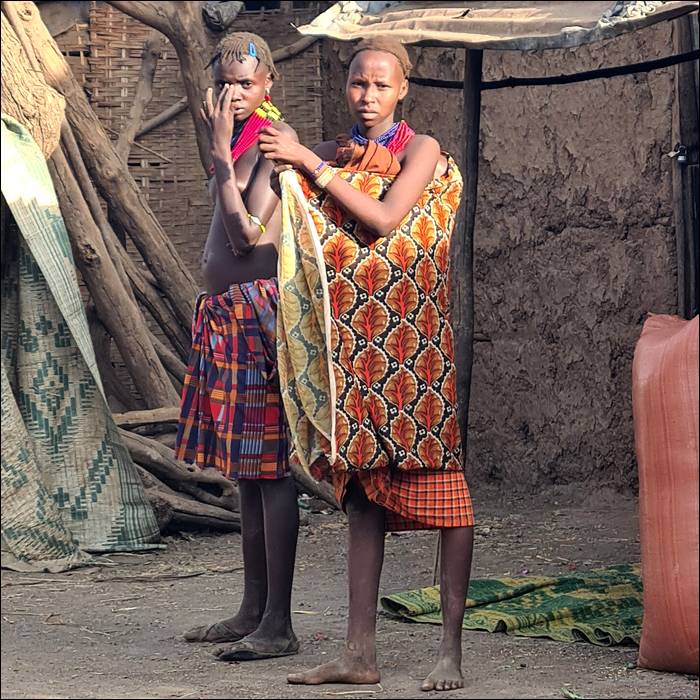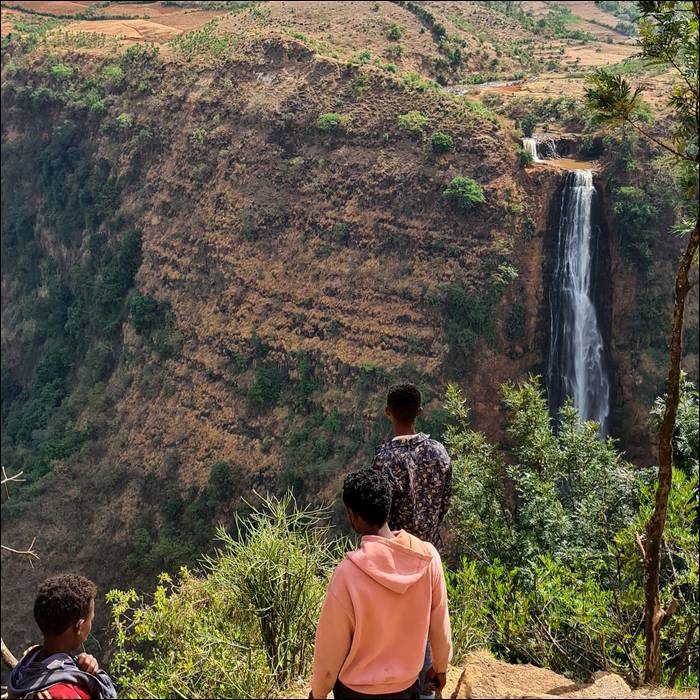 LEXIC
¹ Customs: Behaviors and social practices common to a group of individuals. (↑ Back)
² Primitives : Remained at their origins. (↑ Back)
³ Farenje : ' White man' in Amharic. (↑ Back)
⁴ Amharic : Native language of Ethiopia. (↑ Back)