▶ Destinations ▶ Ethiopia
 
Visit Ethiopia
Ethiopia is an amazing destination for travelers looking for adventure, diversity and authenticity. This particular country in the Horn of Africa, which is unlike any other, is very diverse in both culture and geography. Find the best activities to do in Ethiopia in this travel guide for a memorable stay!

❤️ Tom-Spirit's favorite country
This great country in the Horn of Africa is Tom Spirit's favorite. I wandered around this country for 4 months over 2 periods before writing this travel guide. And it won't be the last!
Visit Lalibela
Lalibela is one of the holiest cities in Ethiopia and also one of the most touristic. It is located in the Amhara region and is coveted by travelers for its rock-cut Orthodox churches.

The most visited is that of St. George (Biete Giorgis), presented below. But in Lalibela, there is not just one, there are 10 others similar! Not to mention the troglodyte churches scattered in the mountains of Amhara and Tigray.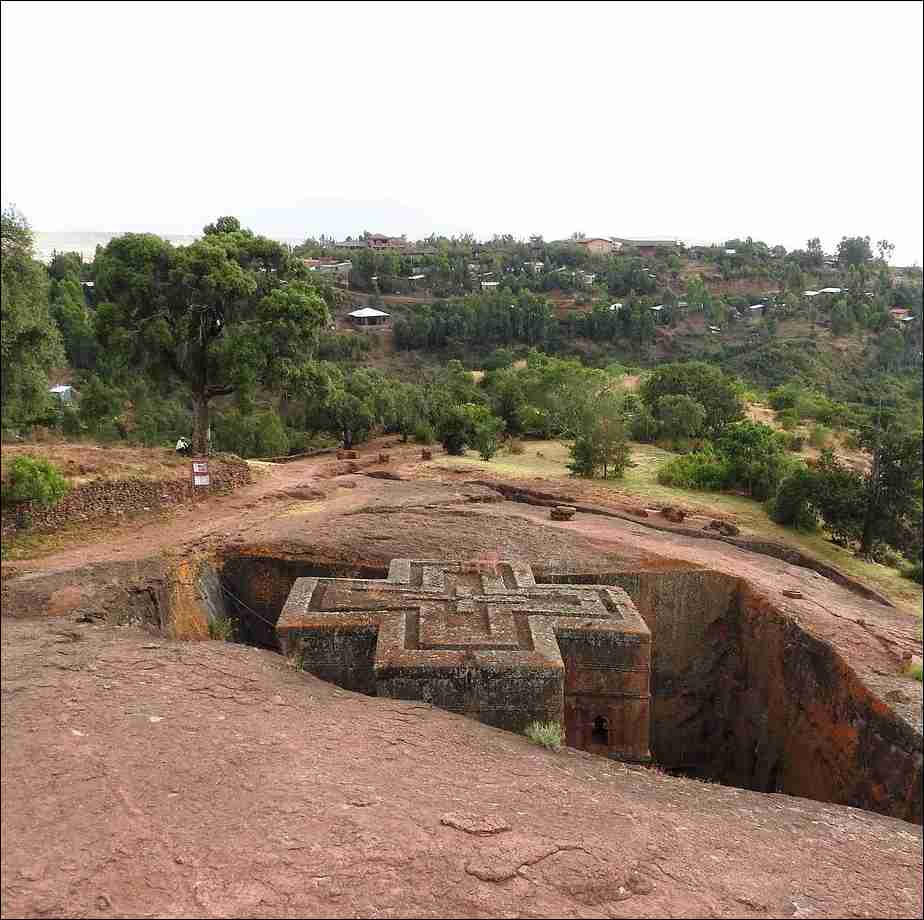 The churches of Lalibela
 
🔎 Click on a church to view it
Visit Dallol
The Dallol Desert is a volcanic site located in the Danakil Depression, a few kilometers from the Eritrean border. It is the third hottest place in Africa. Not in maximums, but by totaling its annual temperatures.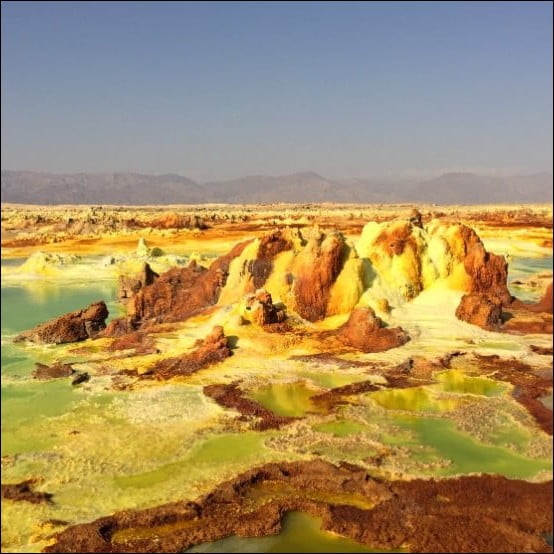 This alien setting is nevertheless very real, although very atypical and absolutely unique in the world. These colors are due to the high concentration of sulfur and a cocktail well loaded with various minerals. You can see acidic hot springs, gas geysers, and a bunch of other quirks. If you are looking for an activity that will amaze you during your trip to Ethiopia, Dallol is for you!
Visit the Erta Ale volcano
Erta Ale is an erupting volcano in the Afar region, very close to Dallol seen above. For this reason, it is often included in tours organized with the Danakil Depression.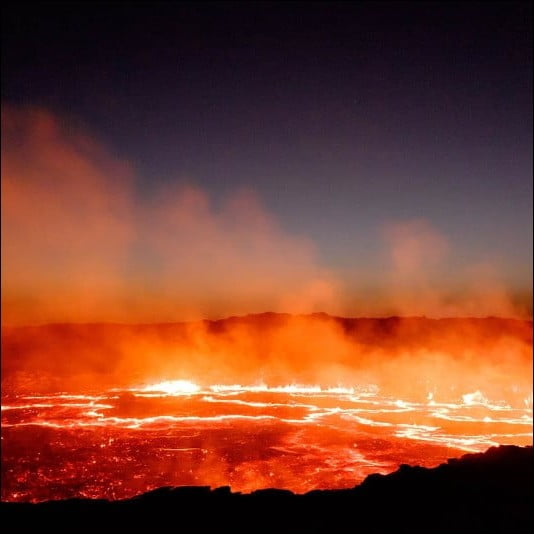 Discover the tribes of the Omo Valley
Ethiopia is a country very rich in culture, with a significant ethnic and tribal mix. The Omo National Park, a UNESCO World Heritage Site, is a perfect example. So many tribes so different from each other cohabit there (Or try to…!).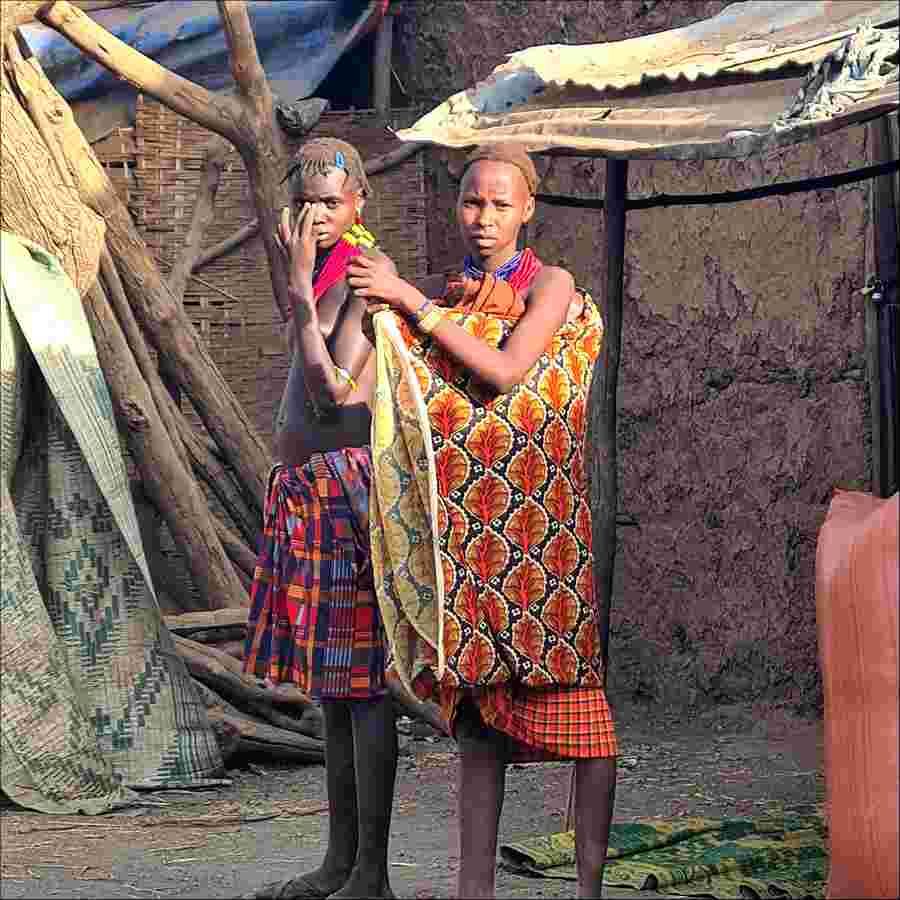 Unhealthy tourism has settled in the valley. Many professional or amateur photographers travel the valley from village to village in order to draw the portrait of tribals from all sides without real exchange. Having seen it, it is very unpleasant to see. Choose a good guide who will take you out of the "safari " villages (the words are weighed), or like me, go off the beaten track but know where you put your feet before.
A handful of tribes from Omo National Park

🔎 Click on a tribe name to view it
Discover the archaeological site of Tiya
Tiya is a site of about 160 stelae, it is a UNESCO World Heritage Site. These stelae in question are all burials. It is known that Ethiopia had many megalithic peoples (there are not many left today) but not much is known about Tiya. In fact, having been there and reading the work of French researchers, I have found that everything is hypothetical.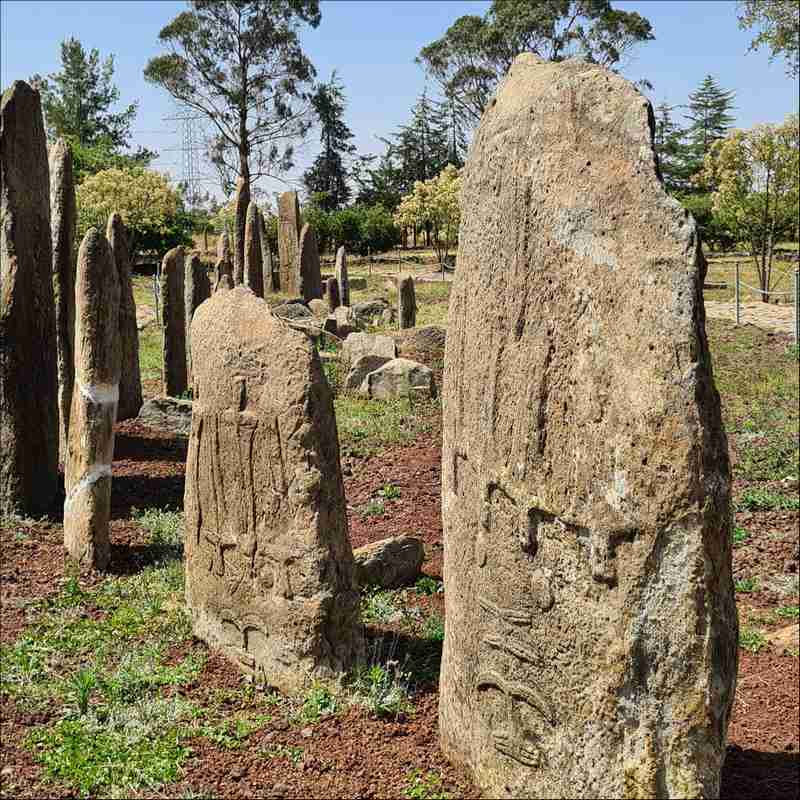 Tiya remains an enigmatic site. I dedicated a story to it on my Instagram account. If you want to discover the site and the city, it's in his special highlight!
Discover Fasil Ghebi
Fasil Ghebi is an Ethiopian monument that is often visited by travelers passing through Amhara. It is a fortress city that is located in Gondar, the ancient capital of the country. This fort was therefore its seat at the time.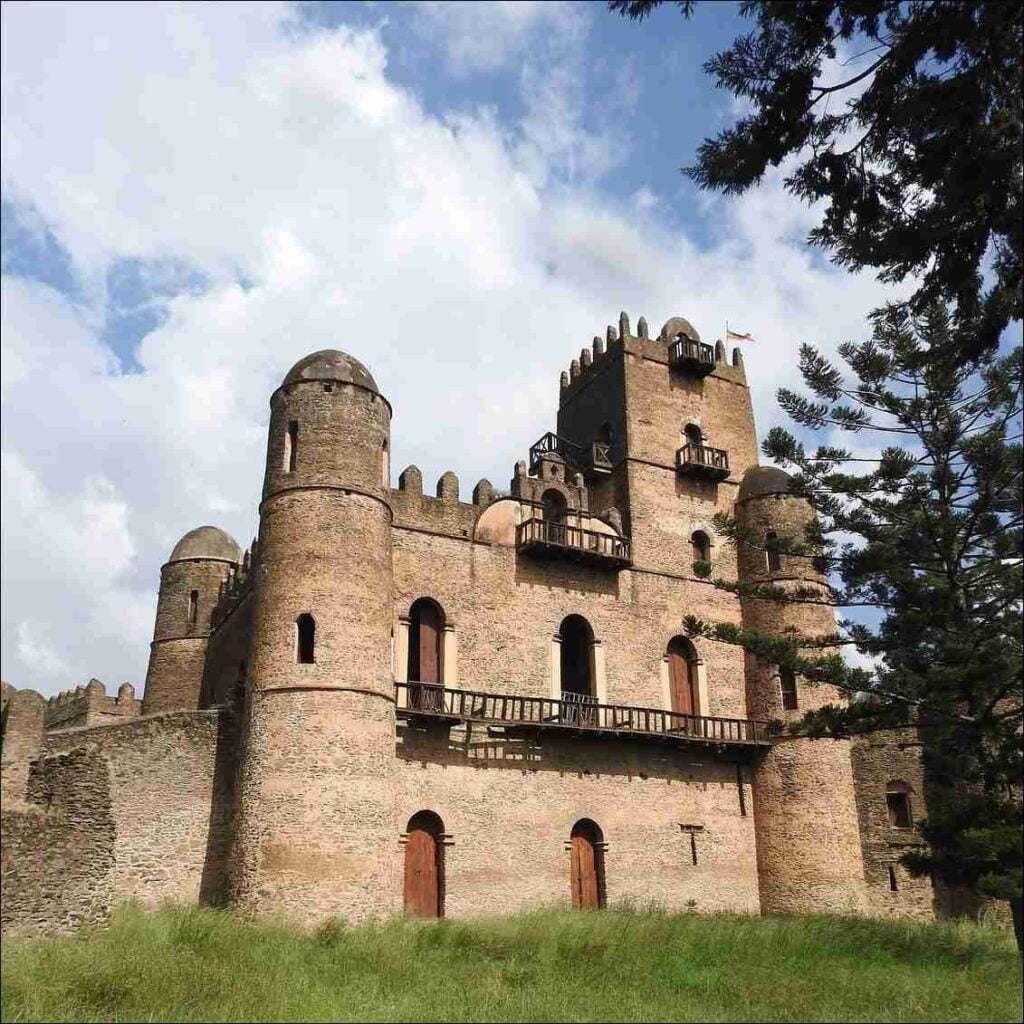 ⚠️ Some regions presented in this article may have ongoing conflicts, refer to the last section at the bottom of the page
Discover the cultural landscape of Konso
The cultural landscape of Konso is characterized by its giant terraces that serve to retain water for crops but especially by its fortified villages on the heights created 400 years ago. The Konso tribe is one of the last megalithic peoples of Ethiopia. As there is too much to say about this incredible culture, I invite you to join my Instagram page to watch my story on Konso!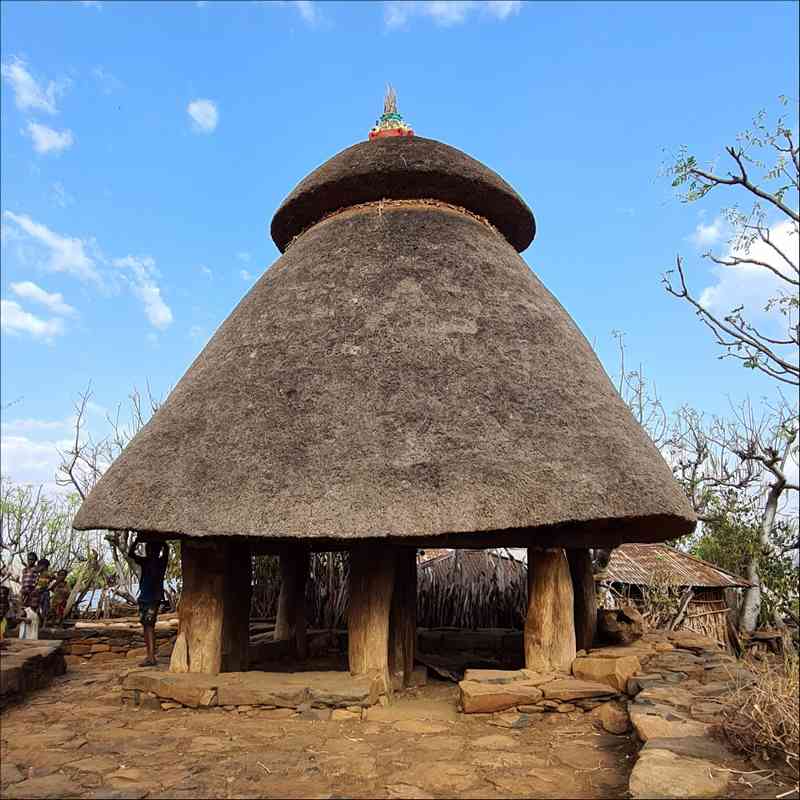 Shashamane, the promised land of the Rastas
This is the land that was given to the descendants of West Indian slaves by the former emperor of Ethiopia, Haile Selassie, following his coronation. A prophecy came true in Jamaica, and Rastafarianism was born, with Haile Selassie as his god. An article on this religion and Shashamene is available, below.
🔎 See post about the birth of Rastafarianism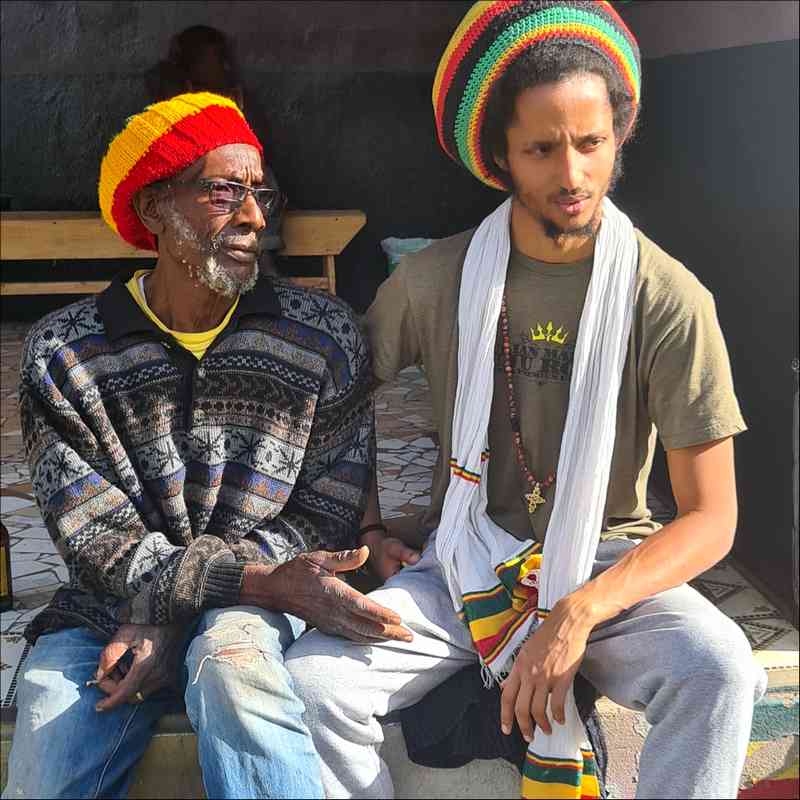 Visit Harar
Harar is an old Muslim city and an important place for Islamic culture in Ethiopia. It is even considered by some to be one of the holiest places in Islam. The historic city is fortified and unlike any other in the country.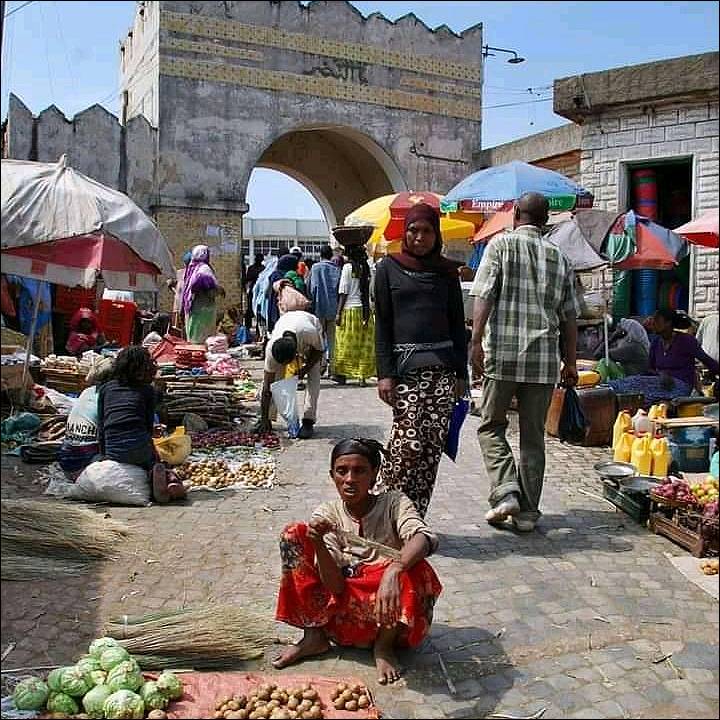 Feeding Harar's hyenas
An old tradition exists in Harar, that of feeding spotted hyenas by hand! While they are feared throughout the country for their dangerousness, a family has tamed them over the years from 1960. Having often frequented hyenas at night on the outskirts of cities, believe me it is not Not at all the same music. A godsend, then!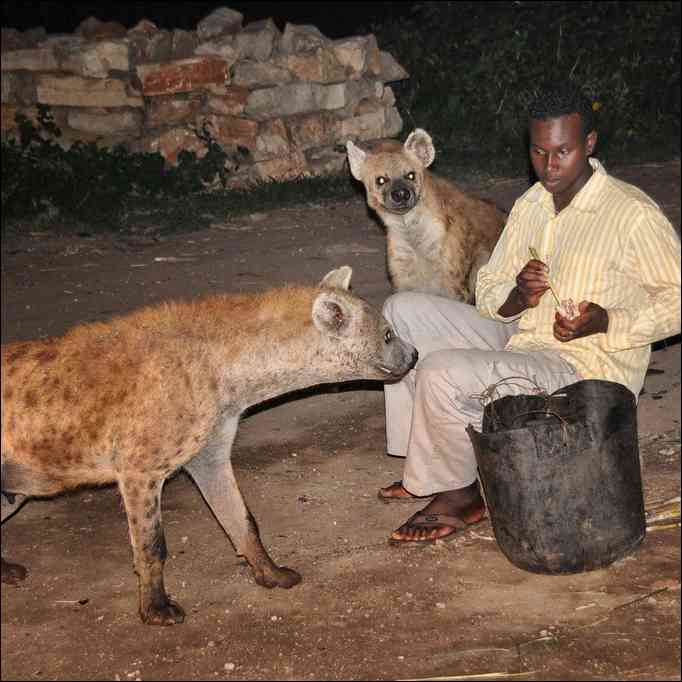 Hiking in the Basel Mountains
The Bale Mountains National Park is renowned for its beautiful mountainous landscapes. They are part of the highest plateaus in Ethiopia, where we find the second highest mountain in the country: Tullu Demtu, 4,377 m. The park also includes a rich and almost unexplored mountain rainforest: Harenna.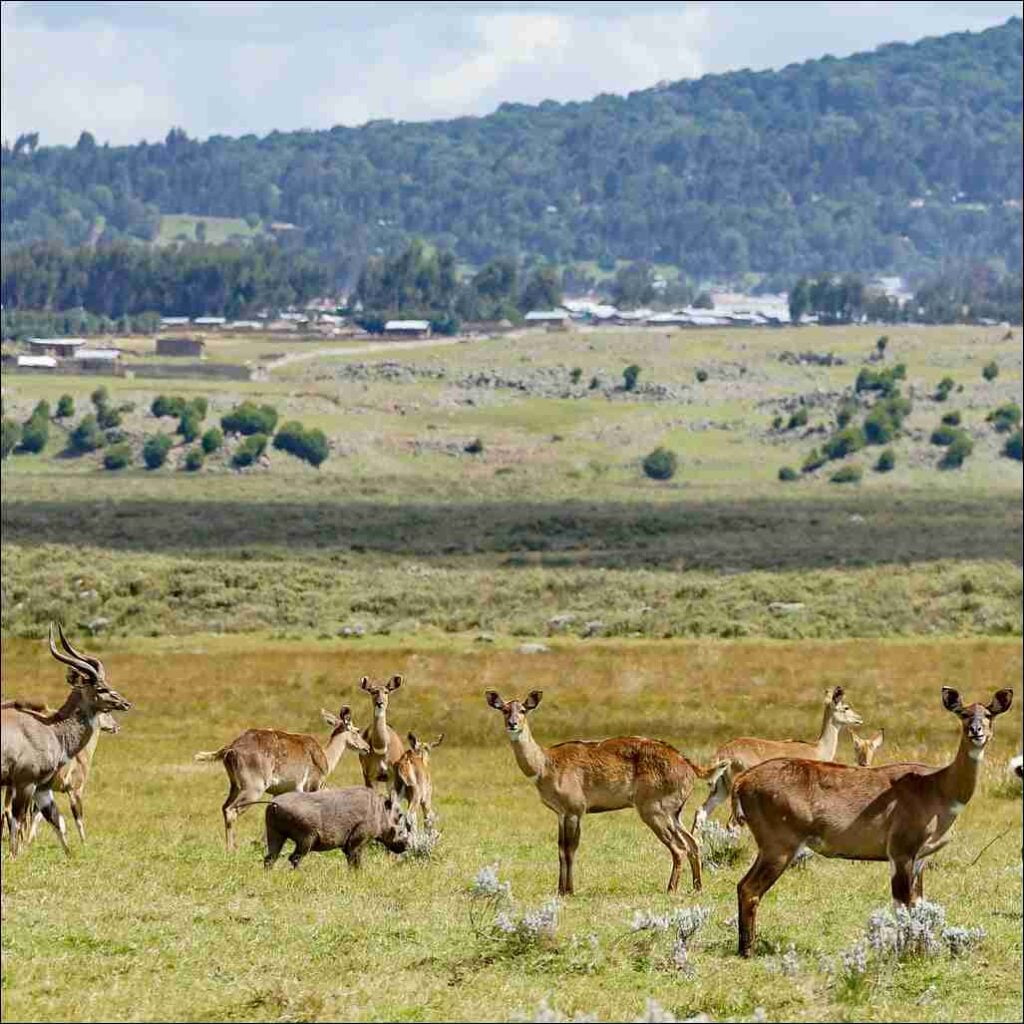 Hiking in Simien National Park
Simien National Park is located in the Amhara Region. It is an exceptional massif not to be missed if you like to hike during your travels. You will see beautiful and vast meadows and mountains deformed by erosion. A species of baboon in number embellishes this grandiose scenery: the gelada.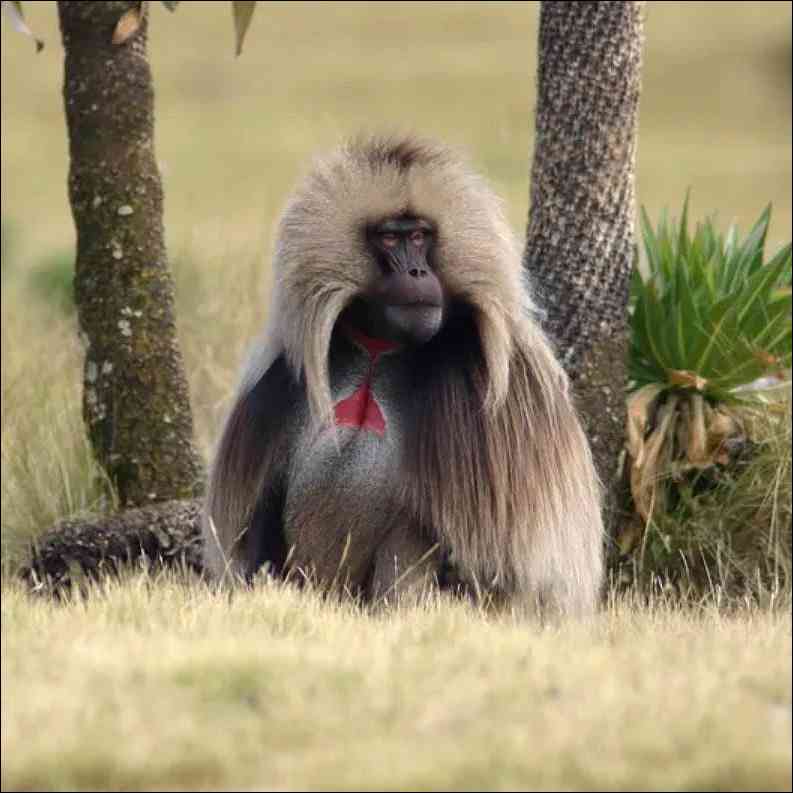 Visit Lake Tana
Lake Tana is the largest in Ethiopia, and it is also the source of the Blue Nile. Tana is also interesting for its islands or its ornithofauna.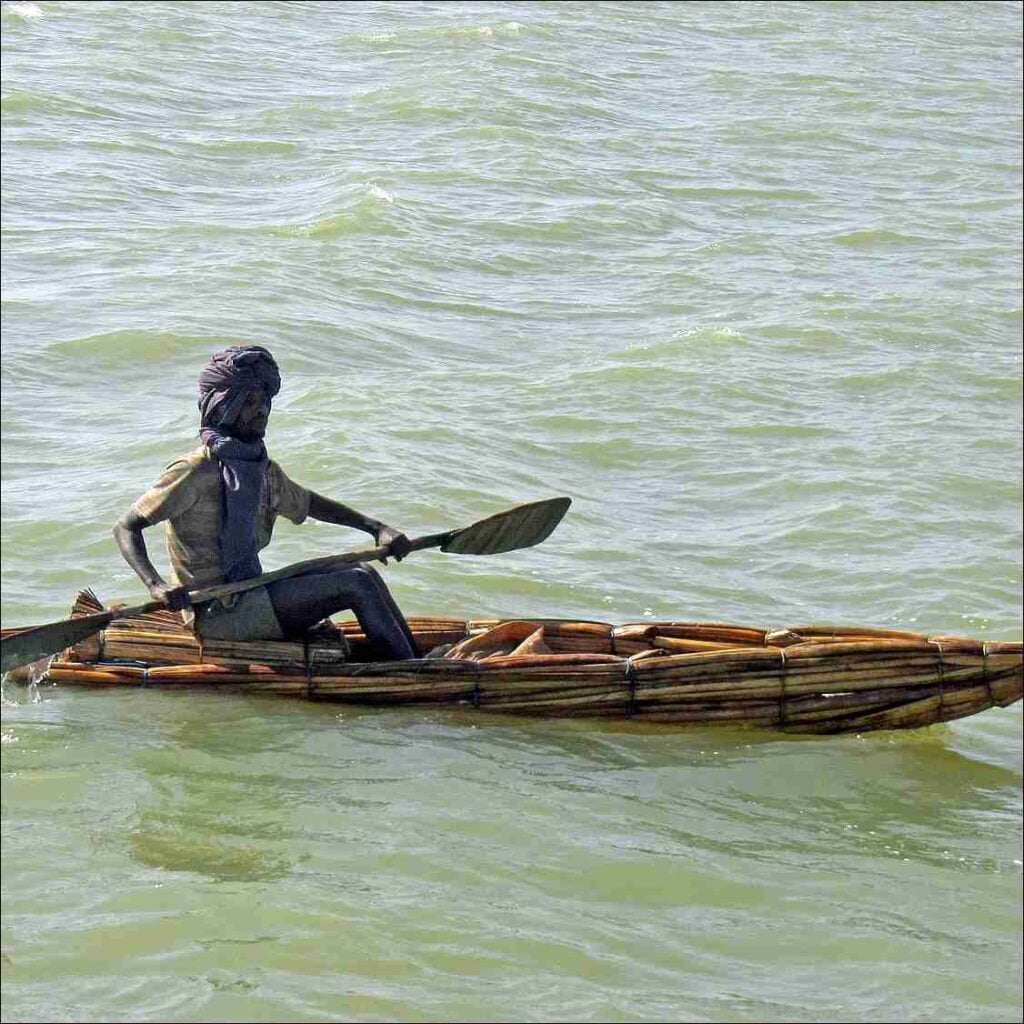 Visit Lake Awassa
It is located in the city of Awassa and is home to an important ornithofauna including a large population of marabouts who have become accustomed to men (you can feed them by hand!). Another species has urbanized, the colobus monkey. It is a large primate that is extremely difficult to approach in the wild, but not in Awassa. The vervet monkey, common in Ethiopia, coexists with the latter. It is known to have blue fluorescent testicles.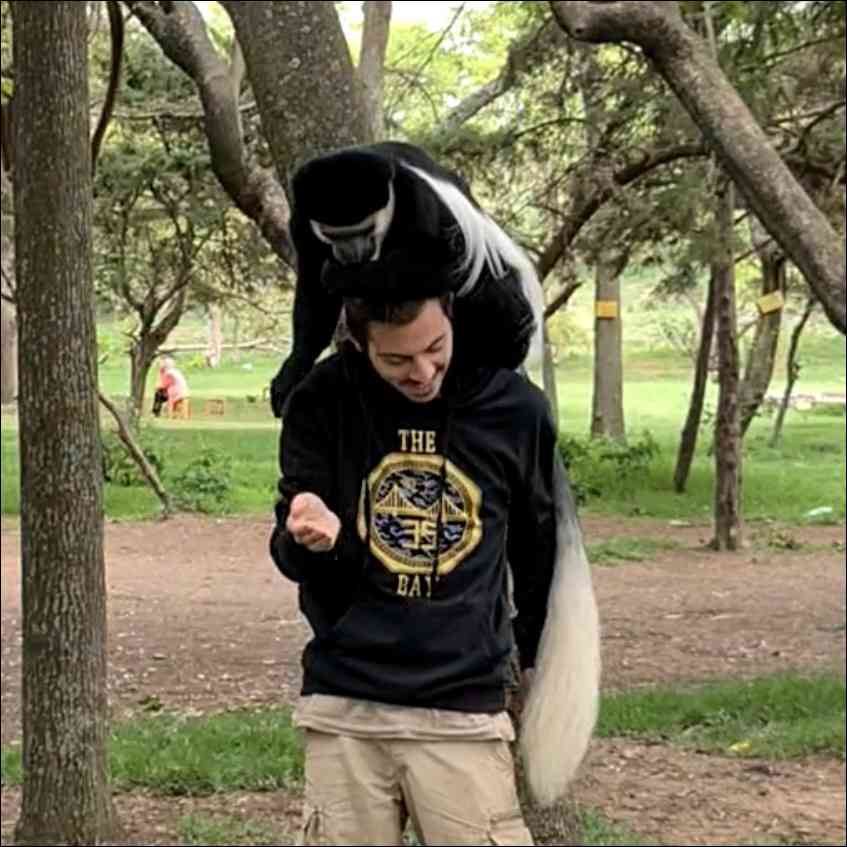 Visit Shala Lake
Shala is a beautiful and very large lake completely surrounded by savannah. Near it is a much smaller one, Lake Chitu, where thousands of flamingos live. They are so numerous and crowded at the edge of the water that we see on satellite map the pink border they form!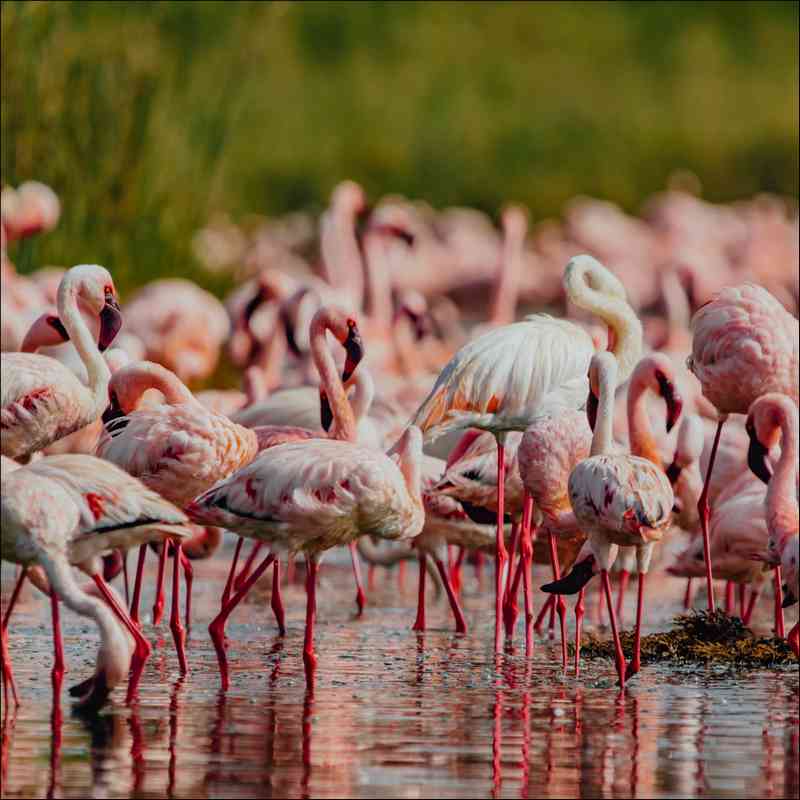 Visit Blue Nile Falls
The Blue Nile Falls (Tis Abay, name in Amharic) are large waterfalls near Bahir Dar in the Amhara region. They are about 40 meters high and are impressive to see especially during the rainy season.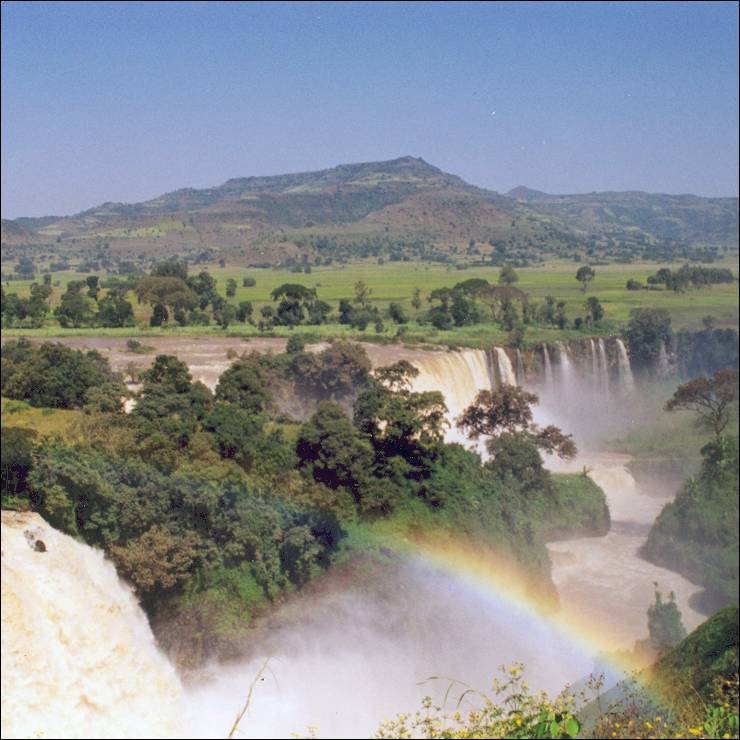 Visit Ajora Falls
A few dozen kilometers from Sodo, in Wolaita, the Ajora Falls will amaze you. A very physical trek is feasible to drift under the falls and you will probably not meet any hikers. With its 2 falls of 200 meters high, the place is spectacular. It was impressive to see them in the dry season, I dare not imagine during the rainy season.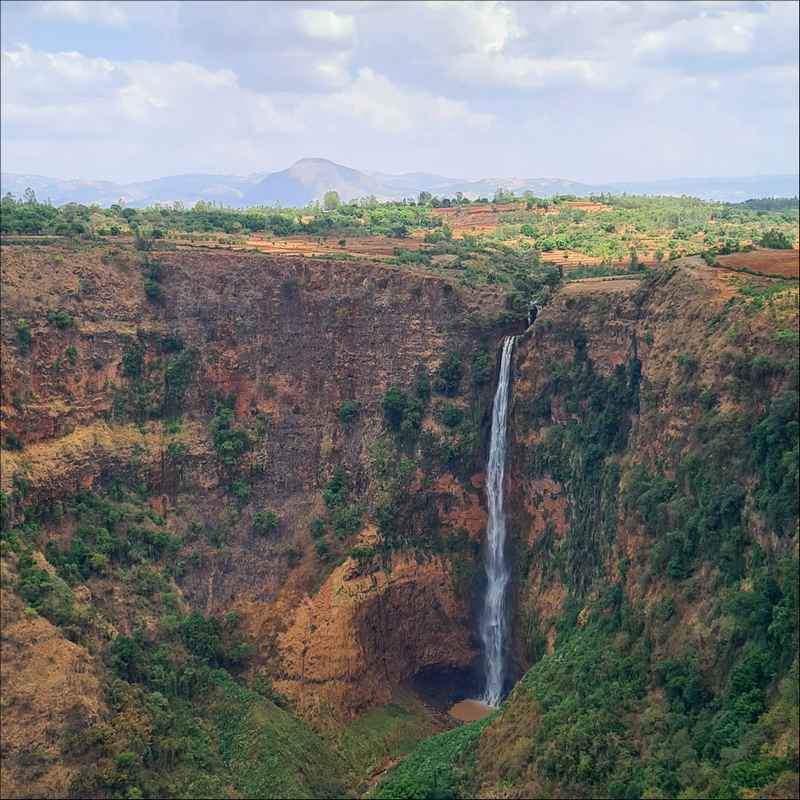 A megalithic and troglodyte people lived here thousands of years ago, you can come across large monoliths and caverns built into the cliffs. A fabulous place!
Taste the local spirits
Ethiopia has many local spirits that are used to being tasted in a pleasant setting. Here are the 3 most common:
Tej
It is a honey alcohol (mead) fermented with a plant, gesho, a kind of local hop with some properties that gives more pep's to the drink. Each region and each house has its own way of doing tej. It is drunk in vials, the berele.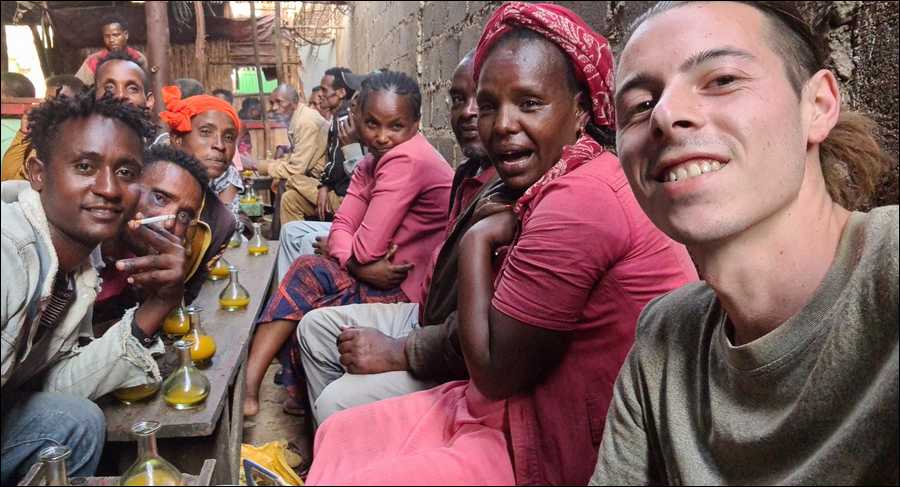 There are tej bars in all Ethiopian cities and the atmosphere is often excellent. To find where to consume it, ask in the street simply 'tej' but insisting very strongly on the 'T', otherwise they do not understand: pronounce 'T'eDJ'!

Arake
Or "areki", is a strong alcohol of about fifty degrees of alcohol that is obtained by the fermentation of cereals such as corn, millet, sorghum, teff or barley, then 2 distillations. It is even more common than the tej, there are plenty of them on the streets and is served very often at the inhabitant for a few birrs.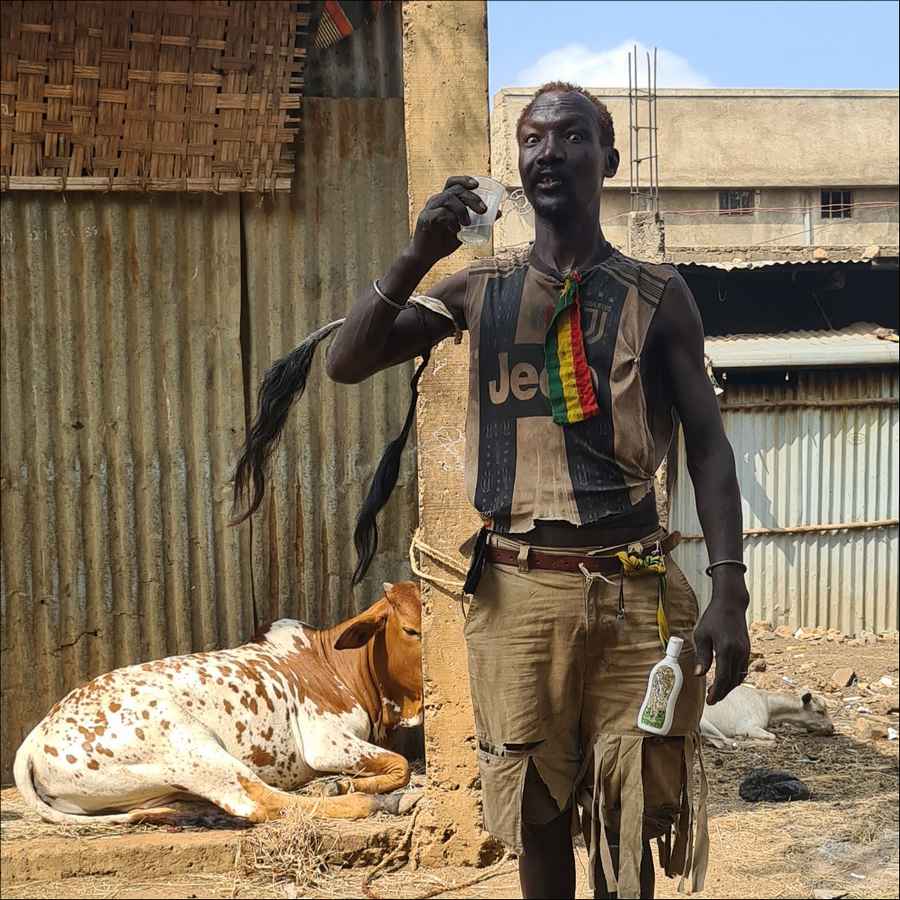 Tella
In a way Ethiopian beer. It is obtained from the same preparation of arake (not to be confused with arak), but with a much less concentrated fermentation mass and of course without distillation. Added spices give it a very special taste that is unlike anything else.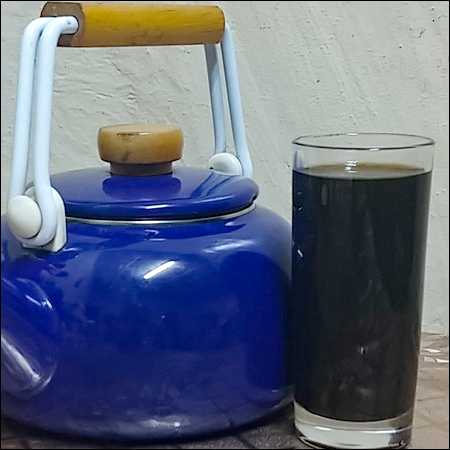 Cheka
It is a fermented drink made from cereals, mainly sorghum and maize, but also vegetables such as cabbage, moringa and decne. The mixture is consumed by the southwestern regions of Ethiopia and mostly by the tribes of the Omo Valley.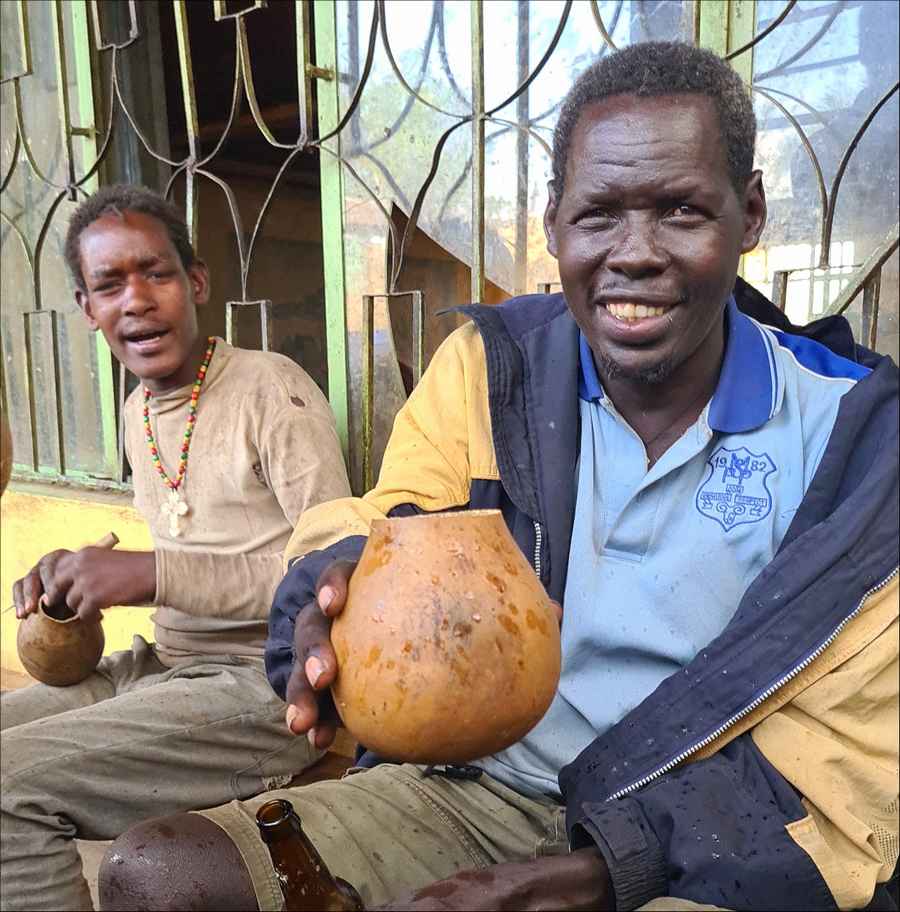 The mixture is very thick and nourishing. It's like alcohol soup. Clearly, with the cheka, we eat while having an aperitif!
Taste Ethiopian coffee
We are talking about alcohol, that's good. But COFFEE! It is one of the most famous in the world, and Ethiopia produces a lot of it. Everywhere on the streets (really everywhere) you will find women on the roadsides who serve it. You sit down, you taste. It's a treat.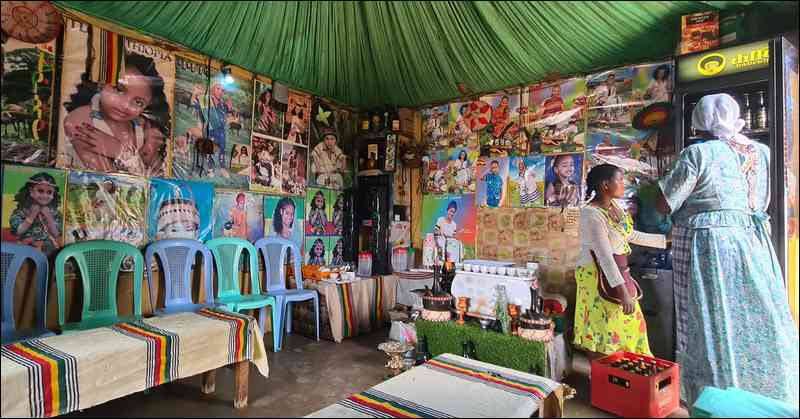 In the country, it is called "Bu'na". It is always served ceremonially and presented in an atypical way, as you can see in my photo (zoom). It is always accompanied by a very fragrant wood that burns continuously.
Chewing khat
Khat is a psychotropic drug illegal in Europe but perfectly legal in Ethiopia. It suppresses hunger, stimulates, gives energy and can cause a real "high" in high doses. It is ubiquitous and consumed throughout the country. Having chewed a bunch of times, I admit that it took me several takes before I really appreciated the effects of this plant. Ethiopia is the world's largest producer of khat.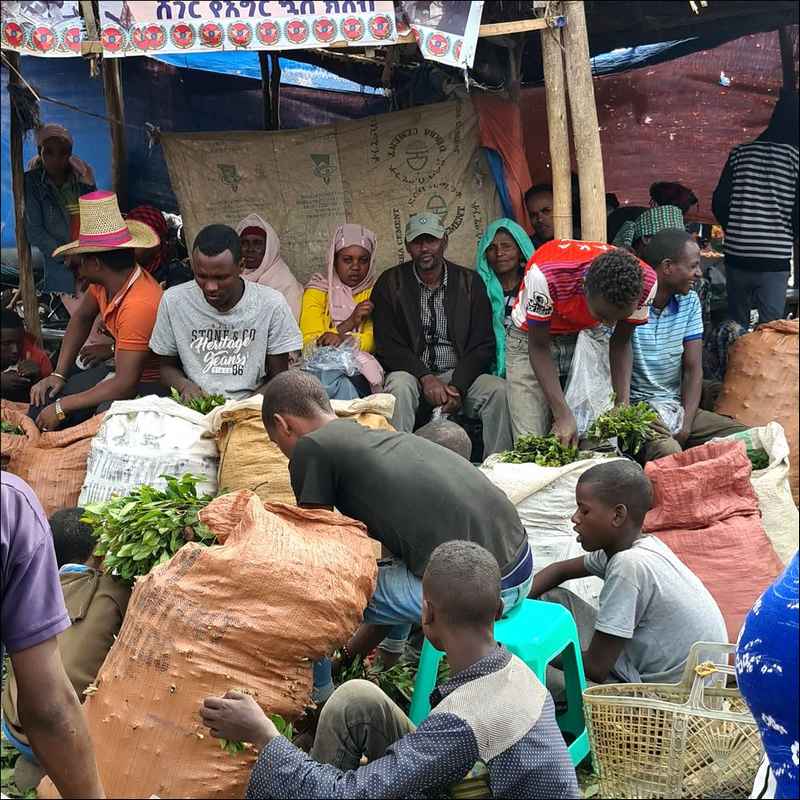 Don't miss Ethiopian food
The cuisine in Ethiopia is unique. His most common dish is the famous Beyaynetu. These are usually cabbage, potatoes, lentils, tomatoes, beets… Arranged on what is called injera, the Ethiopian staple food. In fact, injera is a spongy "pancake" obtained from teff flour. It has an acidic taste since it is left fermented. Food is almost always laid out on it, it serves as food and cutlery at the same time.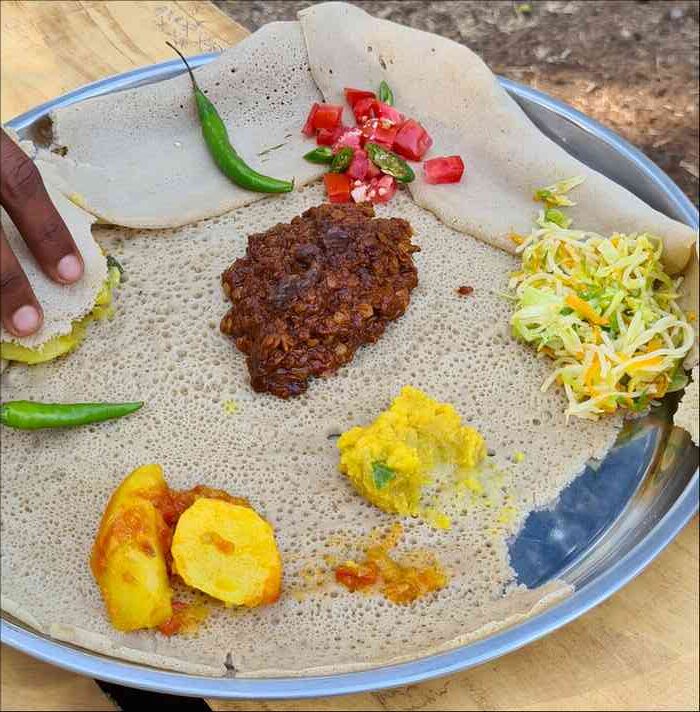 Food is almost always shared in Ethiopia. You will often be invited around the injera but conversely, it is normal (in Ethiopia yes!) and frequent that someone comes to eat without asking you in your dish.

Another atypical dish is the tere siga: raw beef served on the injera with berber, an explosive mixture of peppers and spices, I love it! Doro wat is the national dish, it is a chicken stew with eggs and spices but I stop here. There are so many unique and different dishes that you will discover in Ethiopia.
Sailing on Lake Chamo with crocodiles
Lake Chamo is located near Arba Minch. It is known to be home to many crocodiles and hippos that can be observed by taking a boat ride. You can also observe large waders such as the hoof beak or the marabout.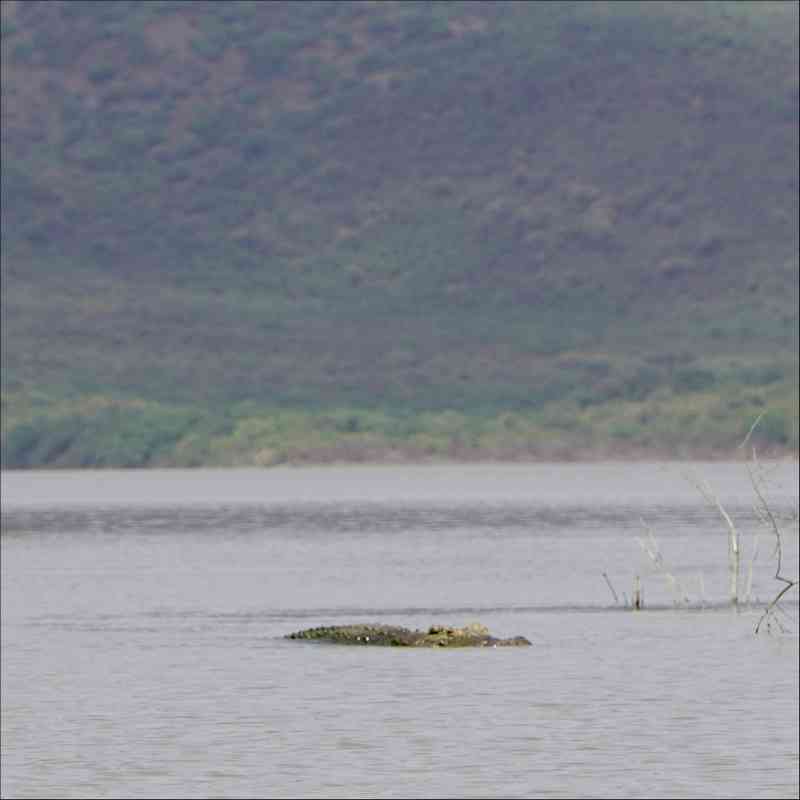 Travel to Ethiopia during Timket
For 3 days starting January 19th, Timkat celebrates the Epiphany, an important moment for Orthodox Christians. The whole of Ethiopia is celebrating! The most important places to see Timket are: Gondar, Lalibela and Addis Ababa, although it is celebrated absolutely everywhere. In the same month, Orthodox Christmas is celebrated on January 6.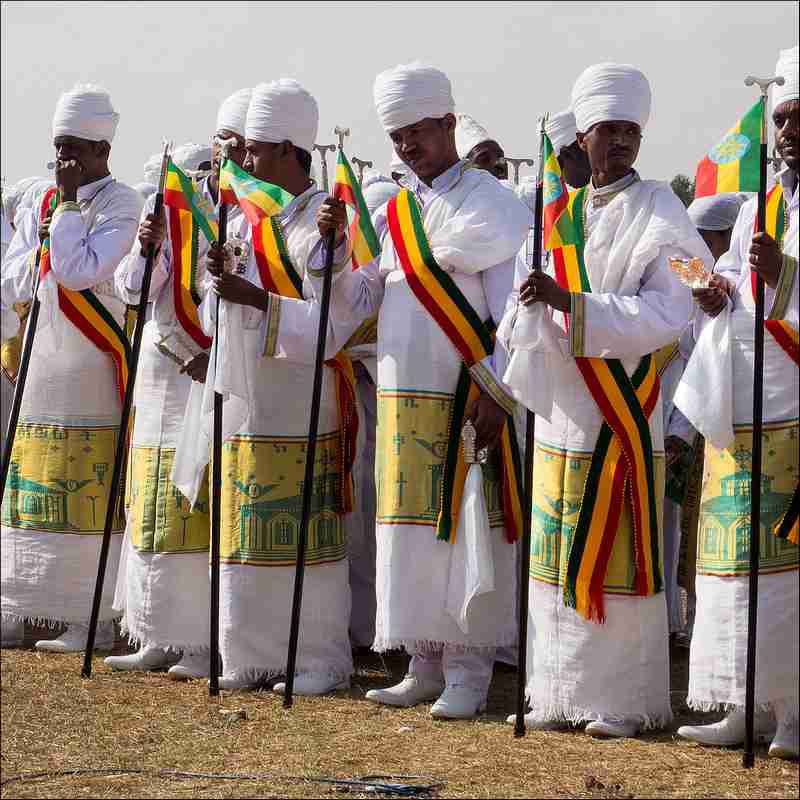 Ethiopian Orthodox, who represent one of the largest religious majorities, practice a fast for 180 days divided into different periods. They should eat only one meal a day after 3 p.m. and exclude any food of animal origin. Stopping the longest fast is very hectic! In addition, it overlaps with Ramadan in April. It is a particularly interesting and spiritual time, but also festive.
Security in Ethiopia
Northern Regions
A war broke out in Tigray at the end of November 2020. It pits the TPLF (Tigrayan People's Liberation Front) against the Ethiopian government. The conflict has spread to Amhara and Afar but also to Oromia. These regions are very unstable.

Although at the time of writing, conflicts seem more localized and some travelers still venture into the northern regions, the situation remains volatile and it is important to follow the news. This conflict had repercussions that I could feel as far as southern Ethiopia.
🔎 Read more about the Tigray War
 
Omo Valley
Conflicts between tribes are not uncommon. In 2022 I narrowly went into an armed conflict between Key Afer and Konso. A few days later, another armed conflict broke out between the OLA (Oromo Liberation Army) armed group and the Ethiopian government around Moyale.
 
Stay informed
Ethnic and political conflicts are numerous in Ethiopia, it is advisable to stay informed about the destinations you visit, especially if like me, you travel alone. Otherwise, a good guide can accompany you and secure you throughout your trip without problems!
 
Last update
A ceasefire agreement was signed between the opposing parties (Ethiopian Liberation Front and Ethiopian Federal Government) on 2 November 2022 in Pretoria (South Africa). However, the situation and security is not fully restored and requires staying informed.
Why visit Ethiopia?
Ethiopia is a country with a very broad, deep and diverse culture. Many points make this destination completely different from all the rest of Africa and even the world. Discover more than 10 facts and peculiarities that are specific to it: