▶ Destinations ▶ Rwanda
 
Batwa people
Before being a tribe, Twa is an ethnic group that itself is divided into tribes. Rwanda has 3 with this one: the Hutus and the Tutsi. The Twa are pygmies (people of small size, less than 1.50 m) of Central Africa scattered in many countries. The Rwandan tribe is that of the Batwa, they are the first inhabitants of Rwanda before the 2 other groups arrived.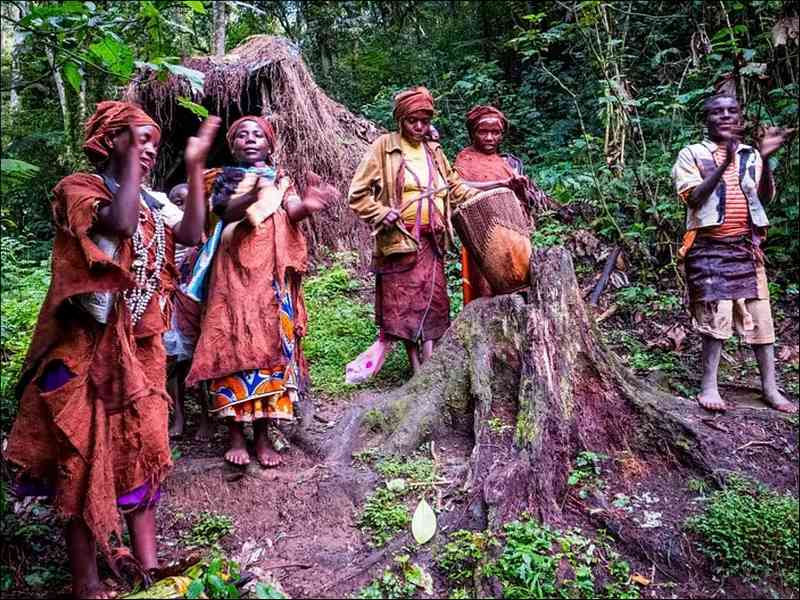 The Twa are semi-nomadic hunter-gatherers who originally lived in forests. Initially marginalized, a majority now lives outside in society.
The Twa in Rwanda
The Twa in Rwanda represent less than 0.5% of the population at present and their numbers are constantly decreasing. The land of a thousand hills had a lot of forests at the time, which allowed the tribals to thrive. Today, faced with Rwanda's rapid agricultural development, every piece of land is cultivated or devoted to any other type of agriculture, it is also very obvious.
 
An ethnic group endangered and under threat in Rwanda
The last inhabitants still lived in the forests of Nyungwe or in Virunga National Park in the early 2000s, but they were evicted to protect wildlife and make way for tourism.

You know, the gorilla trek is a very juicy source of income. The visit permit costs $ 1,500, you understand that Rwanda has every interest in guaranteeing the protection of these. The Batwa are hunters, sometimes even big game like those primates or even elephants. Gorillas were already on the verge of extinction, today it is the indigenous tribes of Batwas.

The Rwandan genocid also was the worst for the population and diminuated it as well.
Experience with the Batwa tribe in Rwanda
I went to meet them north of Ruhengeri (Musanze). Several groups live in the vicinity of Kinigi, on the outskirts of the village. They were still living in the gorilla forest, Mgahina, just over twenty years ago, but they were expelled for the reasons mentioned above. They now live in communities across the forest… or their past "home" we can say.

Having been denied land after being uprooted from their own, the Batwa depend on food rations and housing provided by the government.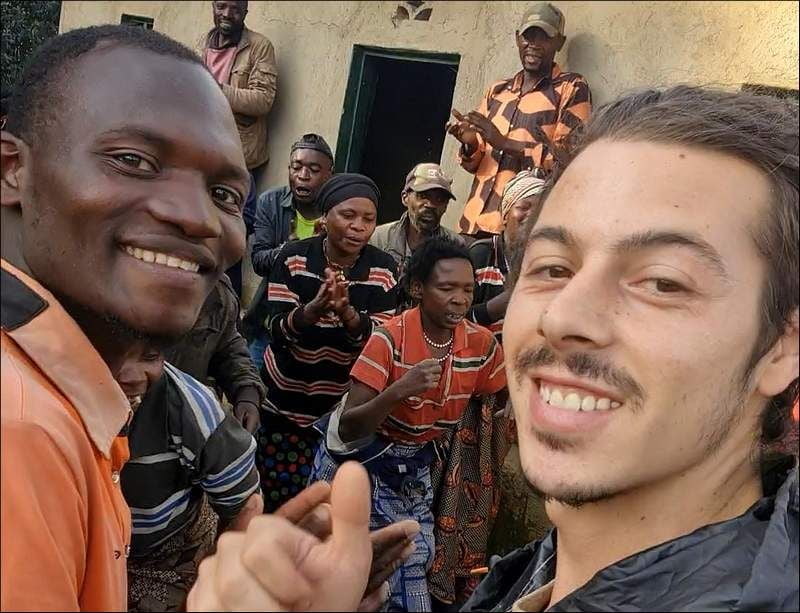 When I arrived, I met a few people on the road. They understood in a few words that I was looking for the Batwa. Those same people rushed to gather one of the communities in a hurry, and then all formed a circle. The Batwa tribe began traditional songs and dances with such energy! It was excitement and so beautiful.
I don't know how long it lasted, but it was far from brief. I stayed for a while with the tribals and even if the exchanges were limited, the experience was very beautiful.

After a while, a woman came to me with a cardboard box covered with a cloth. She asked me to make a donation to the village, no matter how small. No one was to see what I was giving except the chief.

A few people started directly after my donation. To be honest, I didn't ask myself where that money would end up from, but I found out moments later. Rations of rice and other vegetables were expected for the village meal that evening.

The food provided by the government is mainly composed of potatoes… That explains it. They were so happy to treat themselves to this great meal, which made me happy in turn. For a people who had hundreds of plants and animals both for food and for healing, realize it.
What does the Twa tribe feed on in the forest?
Men hunt game with bows, spears, or traps. The animals hunted are most often wild pigs, buffaloes, monkeys or antelopes. Women are pickers, they harvest berries, roots, mushrooms, fruits, honey… and also collect insects, snails or larvae for example.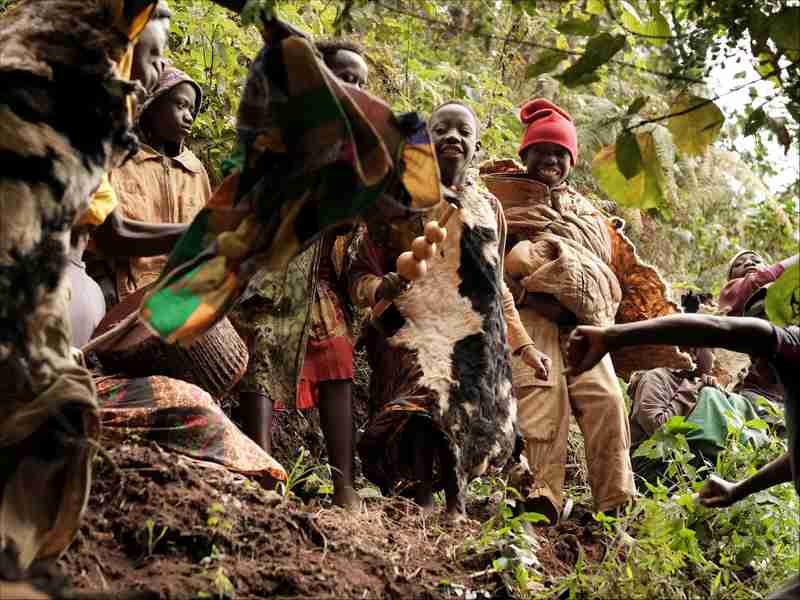 Folklore Twa
The Twa live in harmony with nature. This people has many traditions and maintains a sacred link with the animal and plant world of their environment. Songs and dances punctuate the daily life of pygmies, they are extremely important in the Twa culture, which is also renowned for its musical art, often inspired by the sounds or gestures of animals and other forest noises. You can also notice the man imitating a gorilla in my video.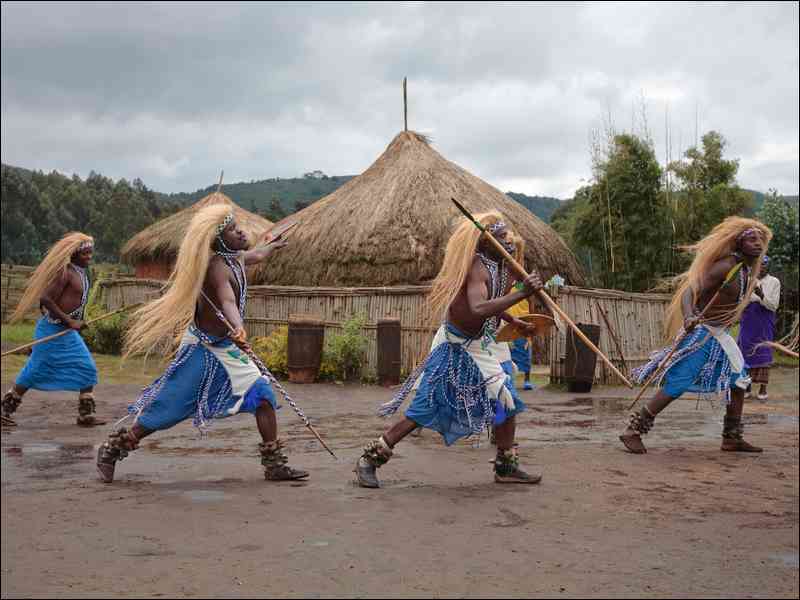 Many initiation rites, rituals or ceremonies have been diluted or even destroyed for the Twa uprooted from the forest. Not to mention their language or their gods who were often represented by wild animals or forest spirits. Their traditional culture is mainly based on the forest, so it can no longer thrive outside.
How to visit the Batwa tribes in Rwanda?
It's pretty simple. I succeeded without much trouble when I didn't even know if there were really any Batwa close to where I went. The easiest way is to find transport from Ruhengeri (Musanze). You have to go to the village of Kinigi, the tribes are further east of this town, it is easily reachable on foot.

Like me, you can go with a motorcycle driver in the morning and then return in the evening by minibus (1,500 RFW). But you can also do the opposite, Ruhengeri has a large bus station where you can easily find a bus to Kinigi.
 
Also note that the Batwa are not essentially in the place I gave you, they are all around the forests of Virunga National Park, means that you can find them yourself in others places without any difficulty.