▶ Destinations ▶ Mauritania ▶ Morocco
 
This travel guide explain the information and process about the border land of Guerguerat, just before the "No-Man's Land" of Western Sahara (the disputed territory with Morocco) and Mauritania. Other input ports are inaccessible.

Crossing the border
Many travelers, especially road trip travelers (camper vans, cars, motorcycles …), cyclists, backpackers or hitchhikers like me wishing to continue their journey from Morocco to West Africa can only cross this border since those of Algeria are closed (Moroccan side).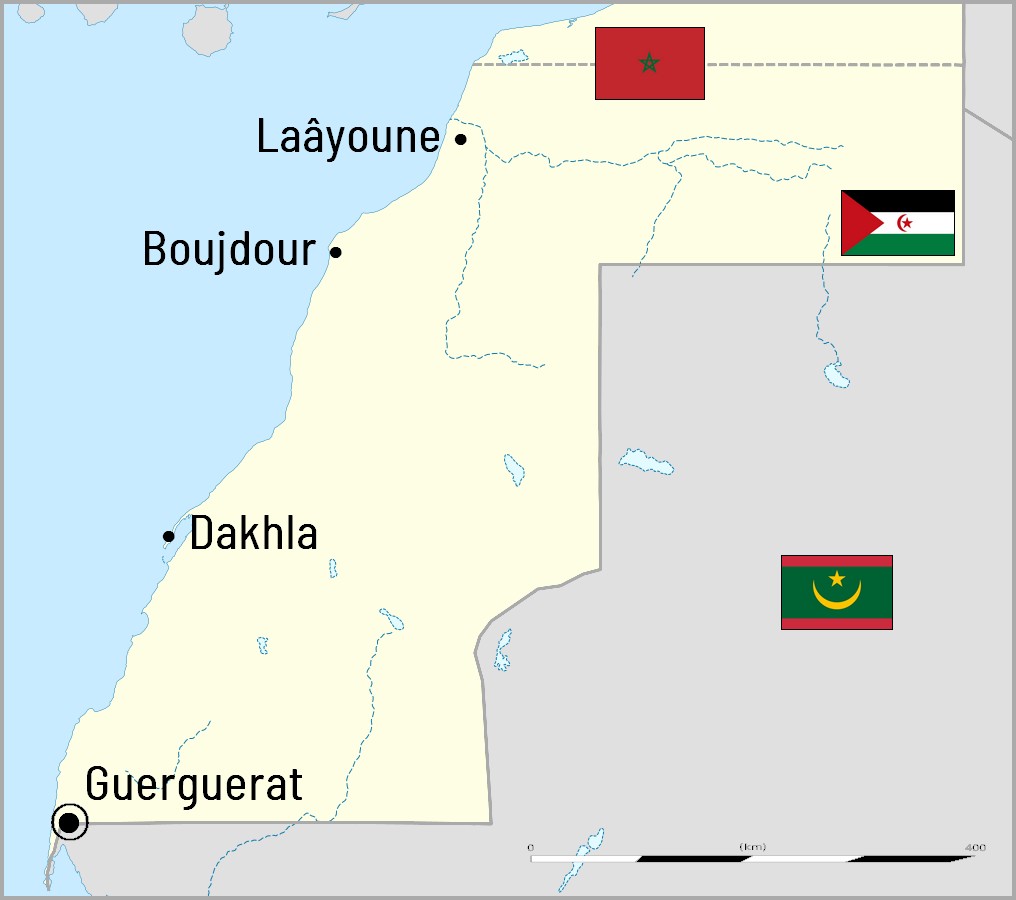 In this travel guide
Find information about Western Sahara, how to get around with transport, visas and entry requirements for Mauritania and Morocco.
FROM MOROCCO TO MAURITANIA
If you use the following public transport, you will have to make a stop in Dakhla since the road is long and customs close at 6pm. This option remains very simple:
From Laayoune
🚌 By bus
You can find a direct to Dakhla with the Supratours or CTM companies. Buy a ticket directly on their website or go to their agencies in Laayoune. The journey costs about 220 MAD and takes about 8 hours. Location from which the buses depart (different from that of the agencies):
You can also take the bus to the port of Laayoune, just before El Marsa.
🚕 By shared taxi
The prices are equivalent but the journey much faster. Go directly to the bus station and wait for the vehicle to fill up with passengers:
From Boujdour
🚌 By bus
Take your ticket at an agency or on the websites of the companies Supratours or CTM Then go to the bus station:
🚕 By shared taxi
The prices are equivalent but the journey much faster. Go directly to the bus station and wait for the vehicle to fill up with passengers:
From Dakhla
🚌 By bus
Only the company Supratours goes to Mauritania. Tickets are only available at the agency. There are 3 places from where buses leave. The first is at the entrance of Dakhla:
The second is in front of the corniche near the airport. Buses leave in front of the agency:
But I recommend this one instead, since the bus leaves from the agency and there are all the amenities to eat, sleep and more in the same neighborhood. This is where the bus leaves first before picking up travelers on the 2 previous locations so you can choose your seat before it is full:
Need to know
Supratours is affiliated with CTM, which means that every other day, it is the CTM buses that will take you. However, when they are the latter, they do not cross the border and only drop you off at customs, in Guerguerat. Then you will have to find another shuttle there.

If you choose the day Supratours operates, you have 2 options:
– One way to Nouadhibou (290 MAD)
– One way to Nouakchott (470 MAD)


After passing through Moroccan customs (Western Sahara), another shuttle will be waiting for you on the other side (El Moussavir Plus agency). You don't have to do anything except think about taking your stuffs.



Before leaving Morocco
Remember to make photocopies of your passport (and your VISA if you already have it). Checkpoints are numerous in Mauritania and you will save time on the road because the police have to copy all your information at each checkpoint.

If you stay 1 month, make at least twenty photocopies, more if you are a backpacker and you plan to spend time riding.


Don't forget to get an insurance
before getting in Mauritania
Chapka can provide you a full and complete cover. Spirit Travelers's readers can get a 5% discount by using the following link:

Crossing Western Sahara
To understand: when you pass Tarfaya a few kilometers before Laayoune, you are in Western Sahara. A territory disputed and controlled mostly by Morocco.
Follow this link to learn more about Western Sahara:
🔎 Learn more about Western Sahara

Crossing No-Man's Land
Then, you leave Western Sahara at the border of Guerguerat (Moroccan customs) and then you cross a strip of 4 km: the " No-Man's Land" which is a buffer zone. Although it is not 100% secure, its insecurity is often exaggerated in travel guides.

Nevertheless, you must know a few points before crossing it: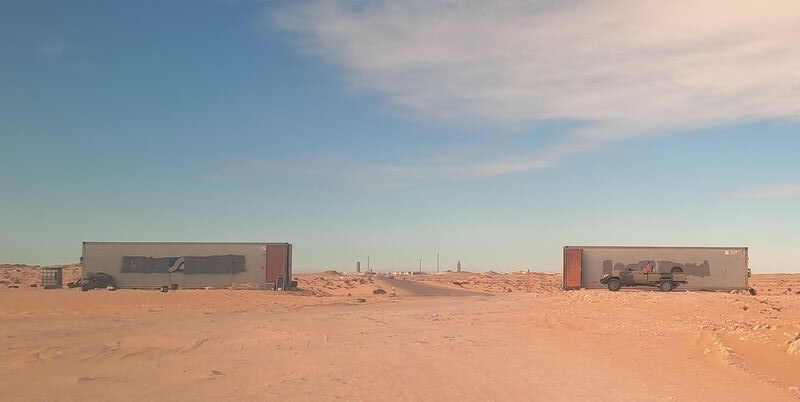 With your own vehicle
Whether you travel with a motorhome, a motorbike, a van, a truck or a car, crossing Western Sahara requires nothing more than with Morocco since the latter's law applies there.
Regarding the Mauritanian border, you will have to pay on site a passavant of 10 € valid for 30 days. You will also have to take out insurance, about 25 € per month (there is also car insurance for 3 or 10 days).
Tip: Fill up with gas in Morocco because prices are far better than Mauritania.
Border crossing
1. Process
The border crossing can take several hours. Apart from the waiting time, there is nothing complicated.
Drones: they are banned in Mauritania. If you have one, you run the risk of it being confiscated by customs if your baggage is searched.
2. Visa
It is possible to obtain a visa on arrival for $55. This must be paid in euros or dollars. It is valid for 30 days with a single entry. You can request an extension in Nouakchott if needed.
3. Entry requirements and COVID
Even if official sources mention that a PCR test or vaccination certificate is mandatory to return to Mauritania, nothing will be asked for this border.
4. Change currency
You can do this easily at the border. Ask everyone and exchange with the highest bidder.
5. SIM card and Internet
You can buy a SIM card (1GB internet included) at the border for about 300 MRU. You will pay the same price in town. To recharge your data, 1 GB costs 50 MRU. 5 GB cost 250 MRU.
6. Note
Since 2018, the currency has changed. The old currency was MRO and became MRU (Mauritanian Ugiya). The value has been divided by 10. That is to say, 10 former ougiyas today represent 1 ouguiya.

Most of Mauritanians still speak by old ougiyas. If a price seems too high, make sure you know if they are talking with the new currency or the old one. But in the majority of cases, we will always add a 0 to speak. So we will say 2500 for 250 and so on, but we will remove this 0 on the tickets.

I only tell about new ougiya in this article.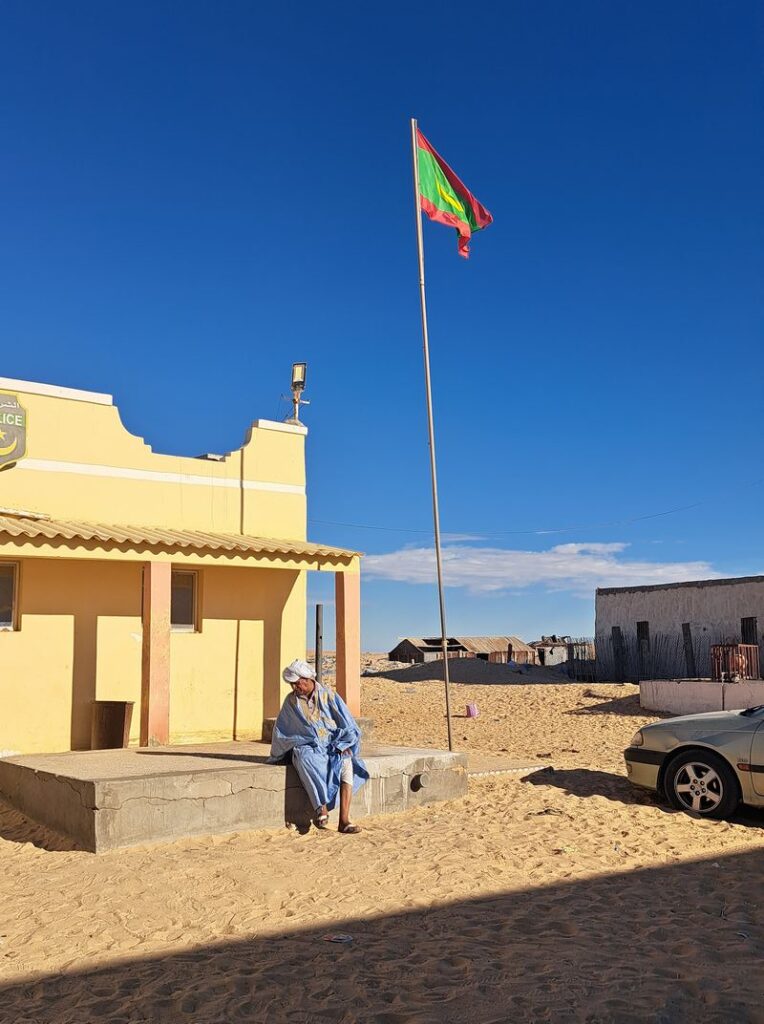 FROM MAURITANIA TO MOROCCO
From Nouadhibou
You can leave from the entrance of the city Nouadhibou to reach Dakhla, the first major city of Moroccan Western Sahara. From here, you will have all the possible options to go to other cities in Morocco. There is also a large airport from where you can travel to other continents.
🚌 By minivan
Minivans cost 1200 ougiyas to go to Dakhla. A first van takes you to the Mauritanian border, then a second one awaits you on the other side. The agency El Moussavir Plus operates.

Departure : every morning at 9am.

You can also take only one shuttle to the border town of Guerguerat and find a connection there. This option costs 400 Ougiyas.

Departure : several times a day when the van is full.
🚕 By shared taxi
A few meters from the bus agency is the private taxi square. These are spacious cars that carry only 4 passengers. This is the most comfortable and fastest option to get to Dakhla. The trip costs 1600 ougiyas and you do not need to change vehicles after customs.
💰 Small budgets
Still in the same place at the entrance of the economic capital of Nouadhibou, you can find a shared taxi ticket for 200 MRU to the border of Gargarate (Guerguerat). You will be told 400 MRU because you are a tourist, you will probably have to negotiate to get the right price.

From the border, you can ask cars and truck drivers to go all the way to Dakhla. We will have to negotiate as well. I found easily for 400 MRU. Which makes a difference of half price with the minivan trip.

The location is in front of a small grocery:
➡️ Note : I have checked all these options on by myself when I was there.
From Nouakchott
🚌 By minivan
You can get to Morocco easily from Nouakchott with the company El Moussavir Plus. Departures are from 7am – 8am every morning to Dakhla, the first major city across the border. Check-in time is approximately 7pm.
Visa on arrival
There is no need for a Moroccan visa for members of the European Union. A 90-day authorization is granted upon arrival at the border post. After this time, you will have to go to a consulate to apply for a visa.
➡️ Note
Your luggage is searched before entering Moroccan territory. You must declare and apply for permission to operate a drone. If you have not done so, customs may confiscate it.
TRAVEL INSURANCE

Chapka insures your
trip (to Morocco and Mauritania)
There are a thousand and one reasons to be confronted with a problem abroad. The reputation of Chapka in the travel industry is second to none. Get insured then travel hassle-free.

You will not pay any additional commission fee by using my affiliate link. On the other hand, you help me to get paid from my work and to keep Spirit-travelers alive.