▶ Destinations ▶ Morocco
 
A solo trip to the Kingdom of Morocco mainly hitchhiked. Lot of beautiful encounters and discoveries on the road. Sometimes stayed at the inhabitant, sometimes in camp … A great backpacking adventure in the Maghreb.

Itinerary
I started my adventure in Marrakech, wandered through the Atlas and the Anti-Atlas and then I continued my road trip to Western Sahara. A journey that lasted 1 month, for about 1,100 kilometers traveled. Find in this travel story my itinerary and some tips to hitchhike in Morocco.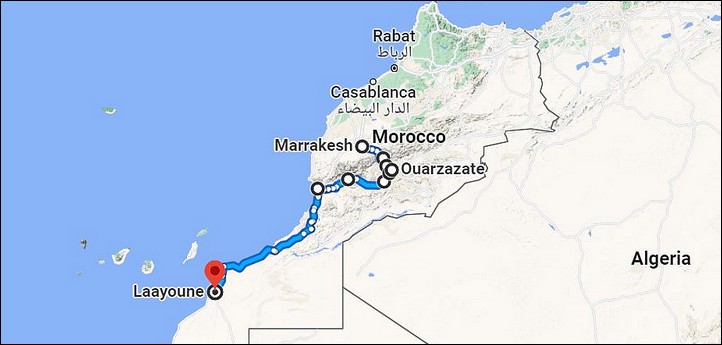 Travel to Morocco by hitchhiking
If you are only interested in travel tips to hitchhike Morocco, go directly to the end of the travel guide. There are some tips and information that can be useful if you plan to thumb up in the country:
➡️ Tips for hitchhiking to Morocco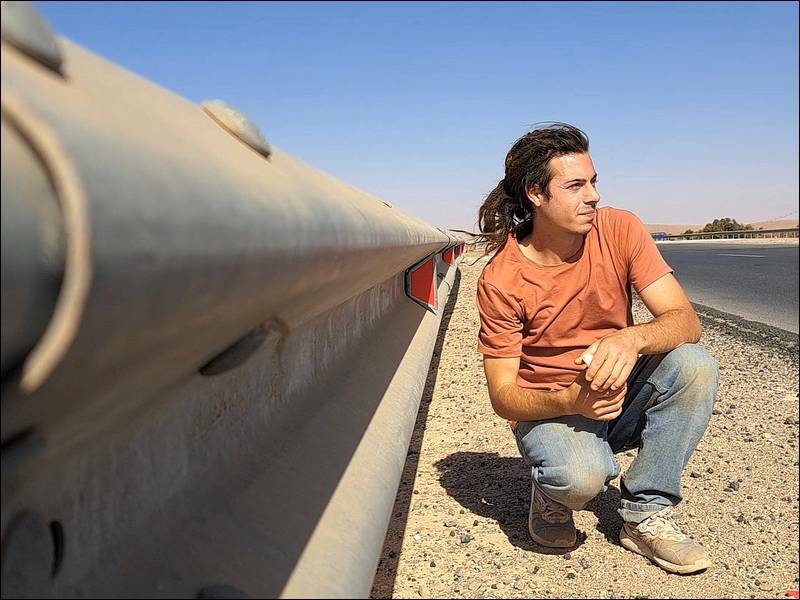 Arrival in Marrakech
An improvised travel took me from La Chaux-de-Fonds in Switzerland to Lyon by hitchhiking. From here, I got in-extremis at the airport and I boarded for Morocco towards Marrakech.
Monday, 11pm: arrival in Marrakech, this is where my trip to Morocco begins. Truth be told, I don't even know where I'm going to sleep or where I plan to go next. I take a taxi and head straight into the Medina of the city to rest.
First encounter
Rest will wait. I just met Mohammed, a very nice guy with whom I chat well before returning to the hotel I found, or rather a "riad" as they are called here.

He invites me to have tea at his house, something I do not refuse after putting my things in the room. I warn him that I don't want to buy anything but that I'm open to chatting.

"We're friends, don't worry. I'm not inviting you for that."

We take tea and as I suspected, a trunk full of crafts appears. Well, I'm starting to have a flair for these things after these years of traveling.
Visit of Marrakech
We left for a visit to Marrakech the next morning. What a beautiful city full of life! I visit the souks, the monuments of the city and I enjoy the terraces of the famous Jemaa el-Fna square to have tea and a bath of atmosphere. Only, I know that what I see here will not reflect my trip to Morocco.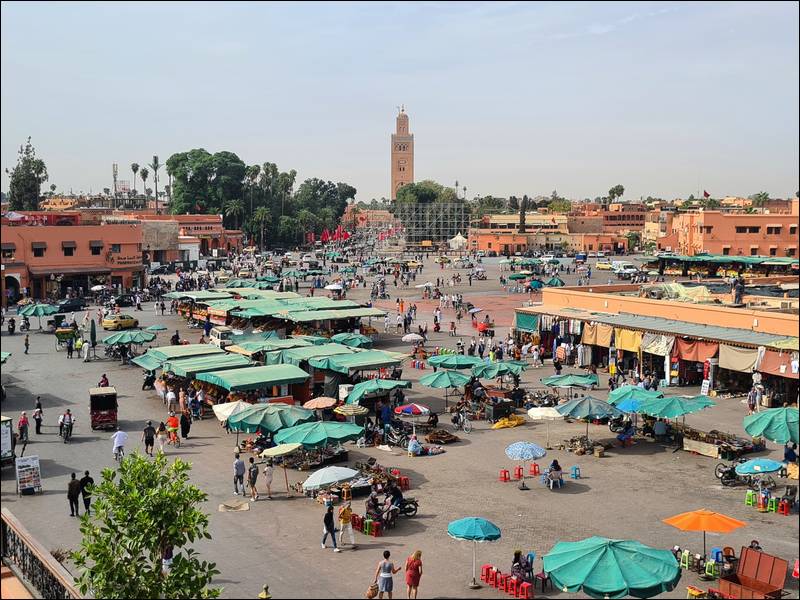 Massive tourism
Mass tourism does not attract me. The buses are full of tourists and although I have nothing against it, I intend to draw a more local experience from this trip to Morocco and it is well by leaving the "western sphere" that I could consider it.
Getting out of the circuit
It's therefore at this time that the idea of hitchhiking to the Kingdom of Morocco takes shape. Especially since that day, I made a similar meeting that hid a sale. It's kind of the kind of thing that puts me off when traveling to places too frequented by tourists, all over the world.
Departure of the trip to Morocco by hitchhiking
Direction Ouarzazate
The next day, I leave for Ouarzazate. This region is filled with ksars, traditional Berber villages. I decide to go to Aït-Ben-Haddou, the most popular of them, and then visit the less touristy ones off the beaten track.
Destination Aït-Ben-Haddou
I walk about ten kilometers to get out of Marrakech before hitchhiking. Surprised, I come across an old man who takes me when I haven't even given a thumbs up yet. With him, I was able to advance a few kilometers before being caught by someone else. Finally, I resume walking in order to get out of the city in which I am.
Again by chance, someone else stops without me hitchhiking! It was Jamal with his wife and son. Where do they go? To Aït Ben Haddou! That's sick!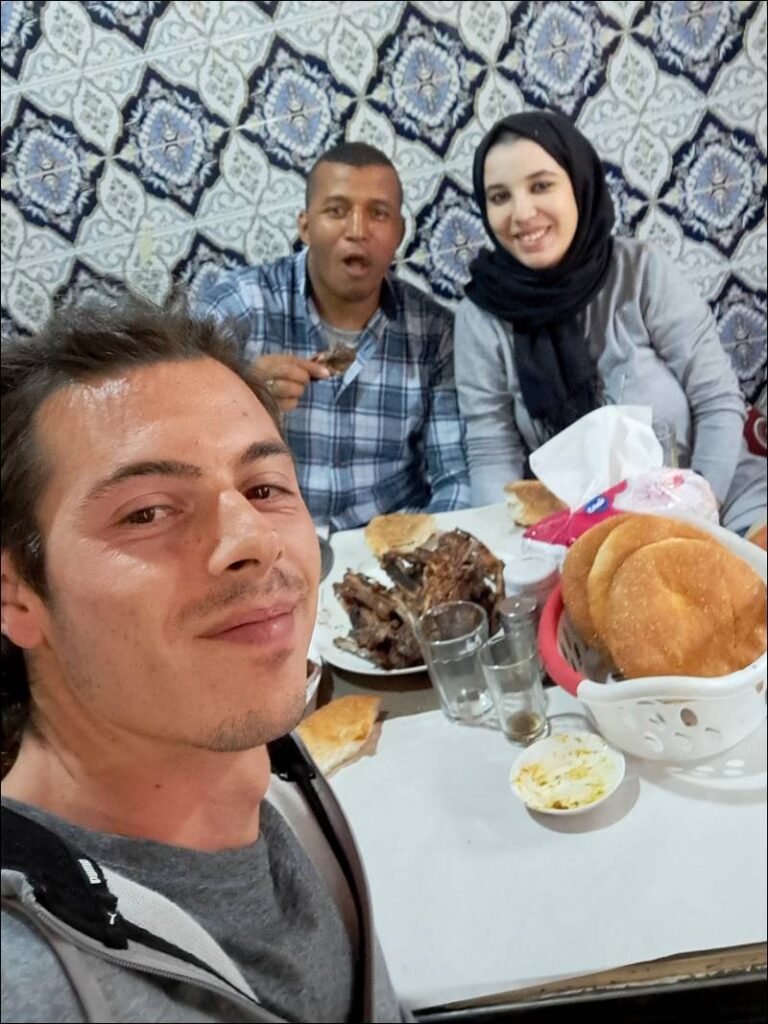 Jamal is a tour guide in the ksar, with him I already learn everything I need to know before even setting foot there, it's fantastic. The road was long. We spent no less than 5 hours together. The Atlas being a mountain range, the bends are numerous and the roads winding.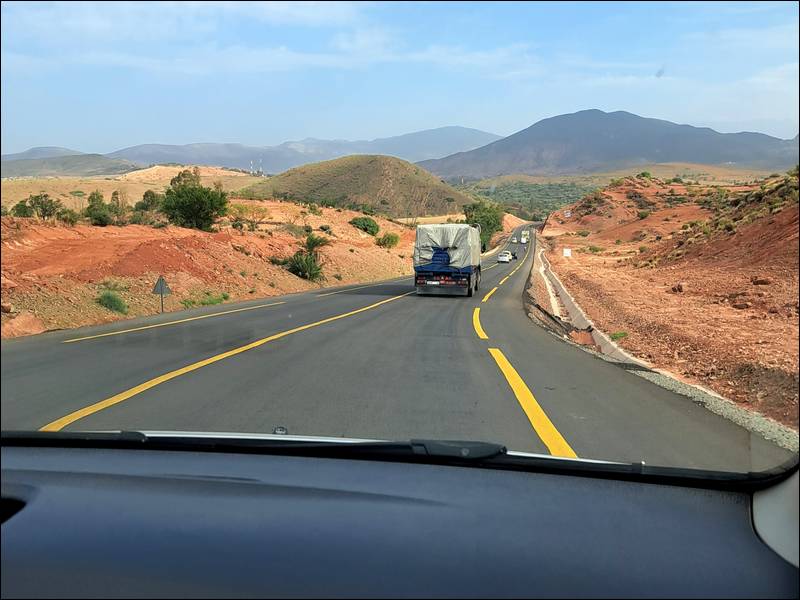 Aït Ben Haddou
Immersed in Berber culture, here I am in Aït Ben Haddou for a few days where I spend my time strolling and hiking through the wadi below the village.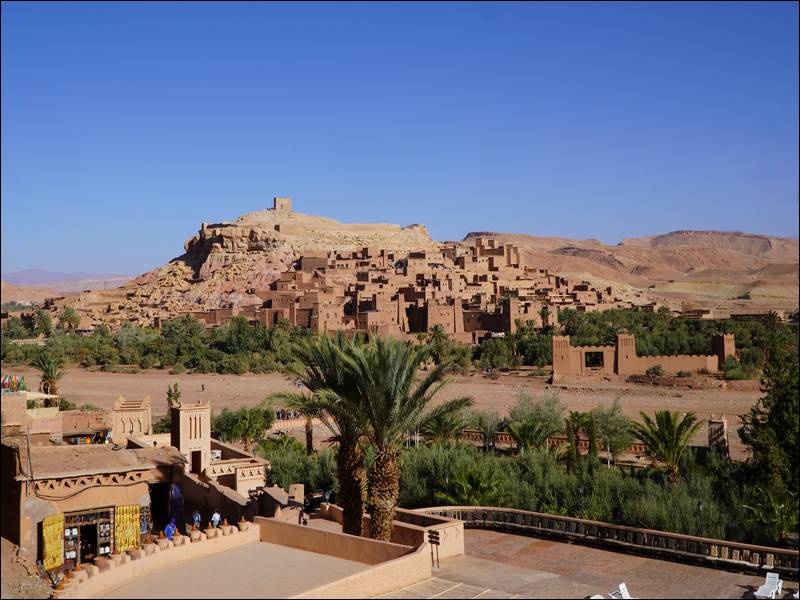 Aït Ben Haddou is a very touristic place. But given its exceptional beauty, we quickly understand why.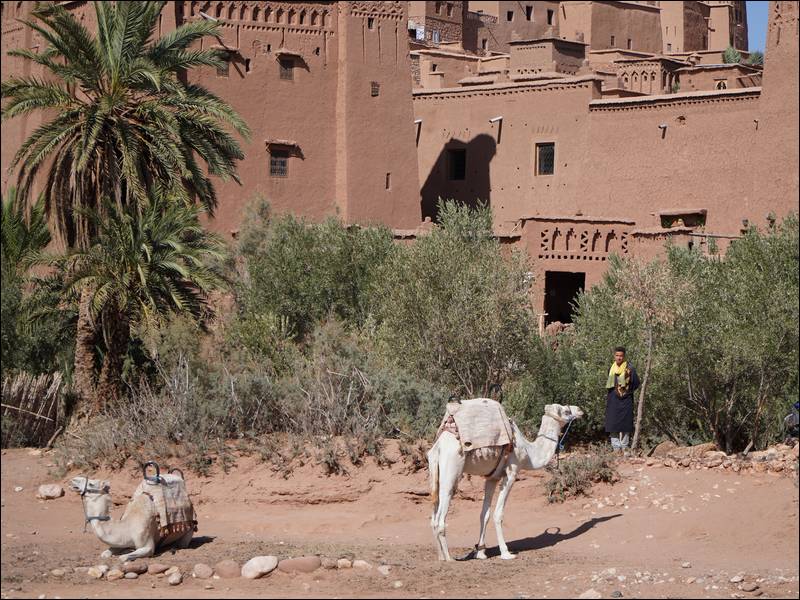 Aït Ben Haddou is a ksar (fortified village) composed of 4 casbahs. It is the most touristic of all Morocco. It was an important step during the caravan route that linked Timbuktu to Mali, to Marrakech. I have documented this place and the things to see and know in the following post: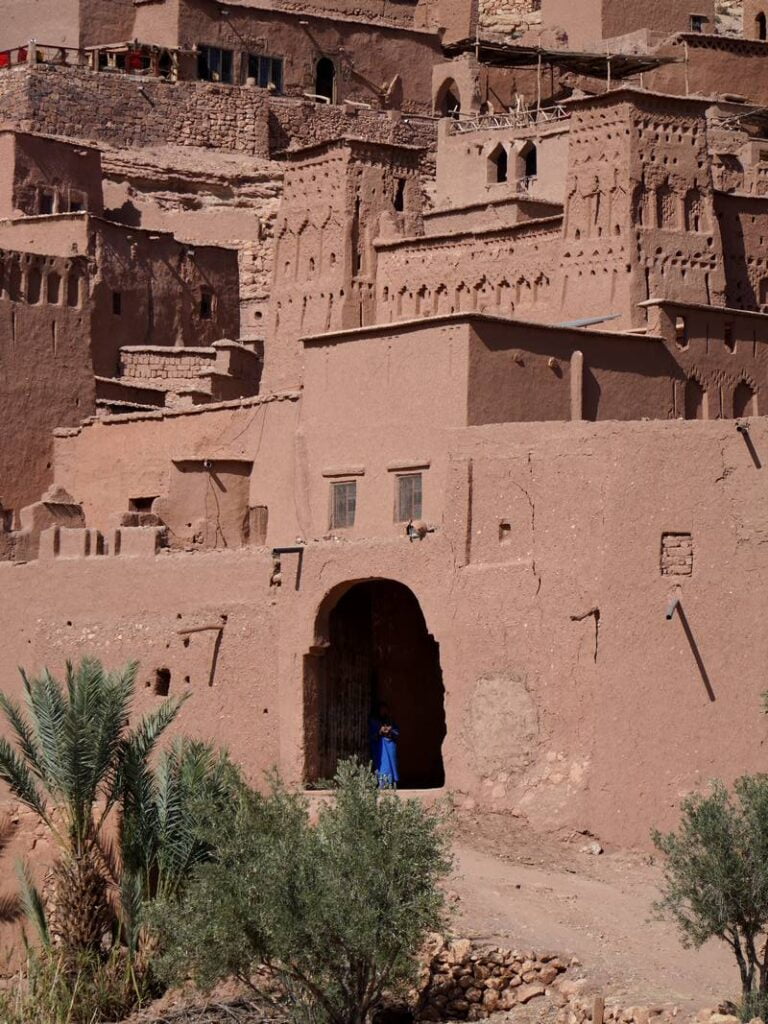 Ouarzazate
Ouarzazate was my next stop. To go where? I still don't know. I was hesitant to travel to the Sahara desert. I was advised by many people to go to Zagora or Merzouga, obviously beautiful but most touristic places in Morocco.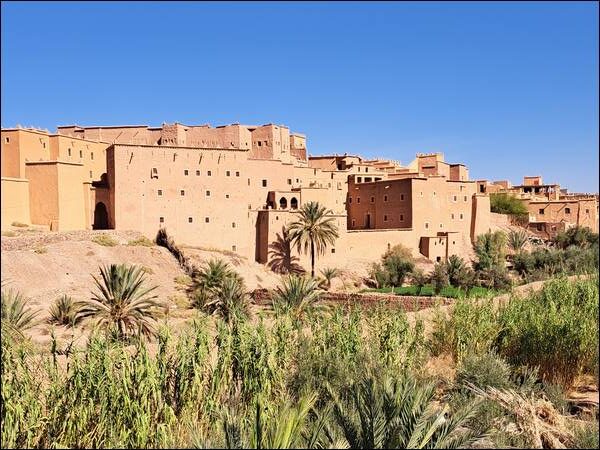 The goal being to get off the beaten track, I found a road that crosses the Anti-Atlas with very little civilization. This being sold, let's visit Ouarzazate!
Morocco off the beaten track
This small road found with the help of my dear mate Google Maps, connects Ouarzazate to Tazenakht. I would have walked several tens of kilometers while crossing almost no village except mountains. In fact, I learned later from a local who hitchhiked me that the road was only paved 3 years ago.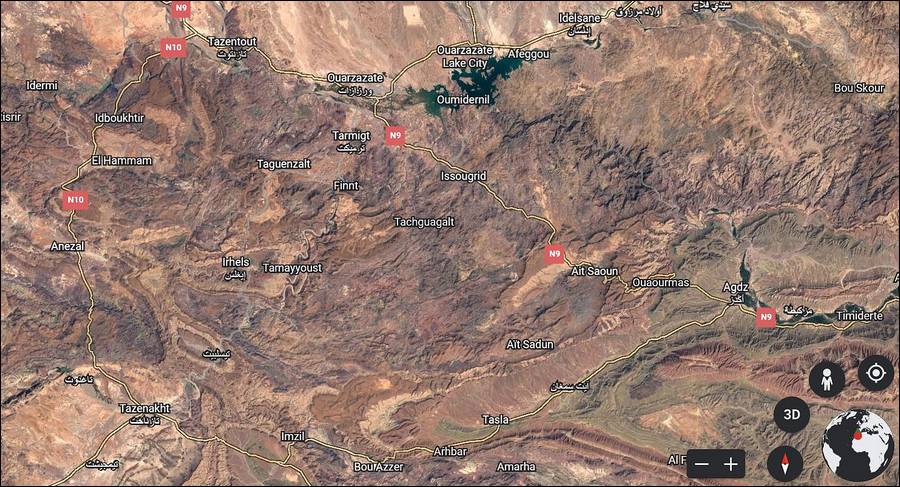 The few very rare villages scattered on this 75 km road are therefore isolated and not really in contact with the outside world. That's exactly what I was looking for.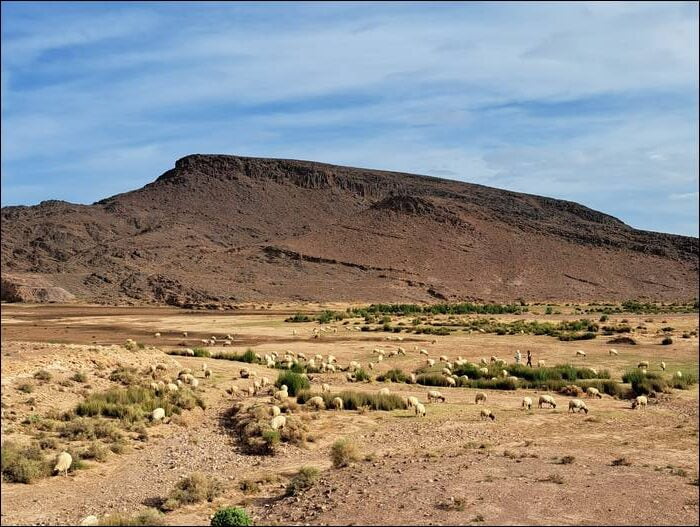 Hitchhiked by tourists
On the first stretch of the road is a tourist attraction, it is the oasis of Finnt. After that, there is nothing left. My first day of walking was rough, I had more water. Luckily, I came across a French couple who were just going to the oasis.
They wanted to help me find a village. And indeed, even being conveyed it was not an easy task. We then descend into a valley to the village spotted on Maps. As soon as we got out of the car, a family beckoned us to come and drink tea. My drivers refuse, visibly uncomfortable. But, I agreed so they followed.
Immersed in the heart of Berber culture
A first for the couple who had never been to the locals in their travels, and far from being disappointed to taste Moroccan hospitality. The family offers us a meal with tea.
We met Mohammed the father, his wife and 2 of his daughters. Despite the language barrier, we understand that the Kasbah of the Ksar belongs to them and they want us to show it around.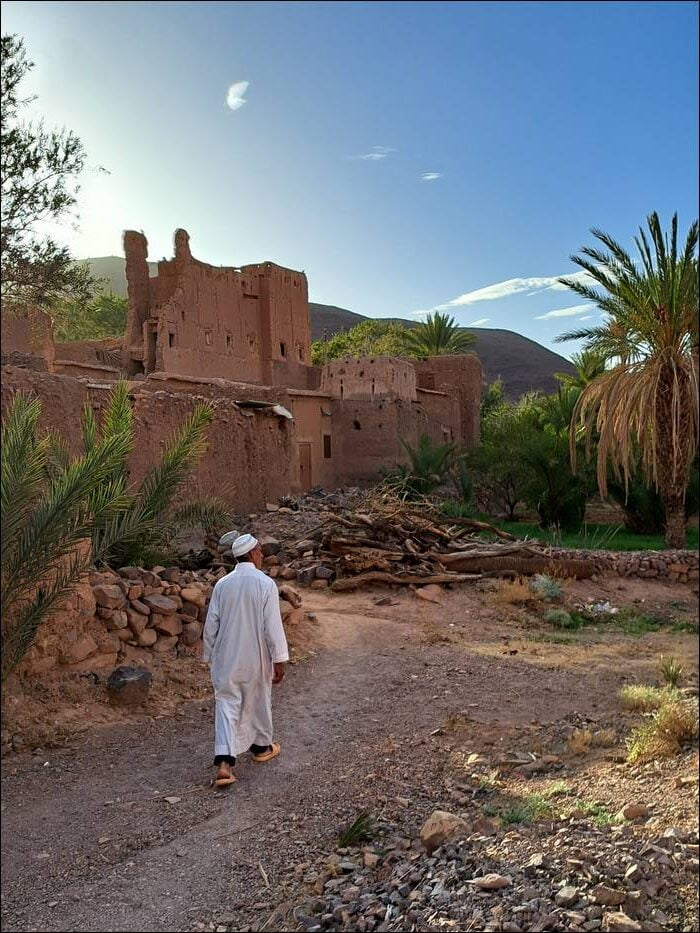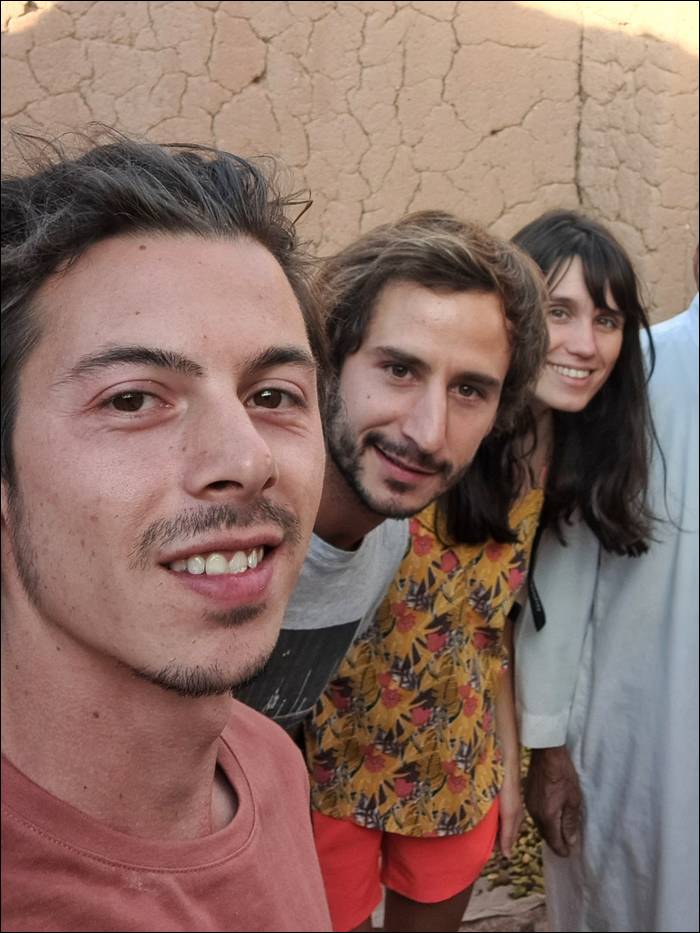 Here is the welcome that is often reserved for us when we visit places where no tourist goes to Morocco. In fact, I am presenting this case here, but there have been many others.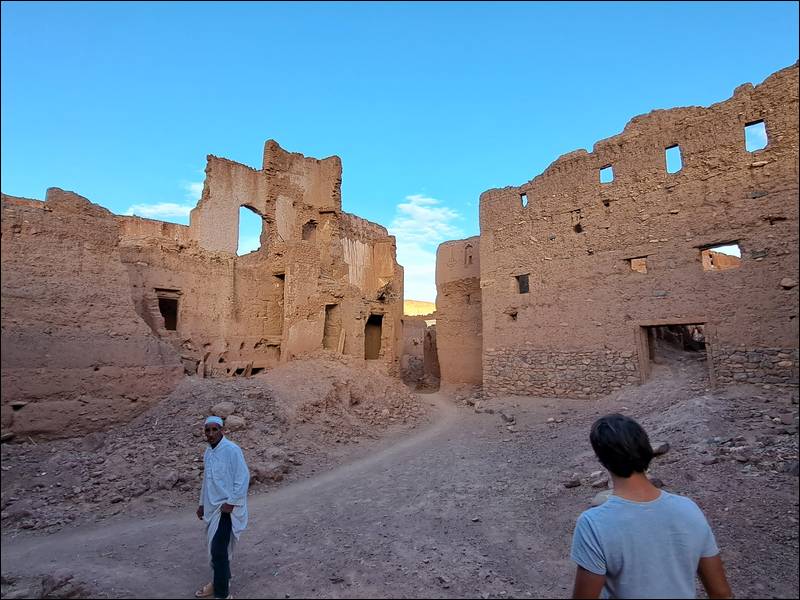 Like many ksars in the Morocco, it was completely in ruins, due to the fact that its composition does not last in time if it is not constantly maintained.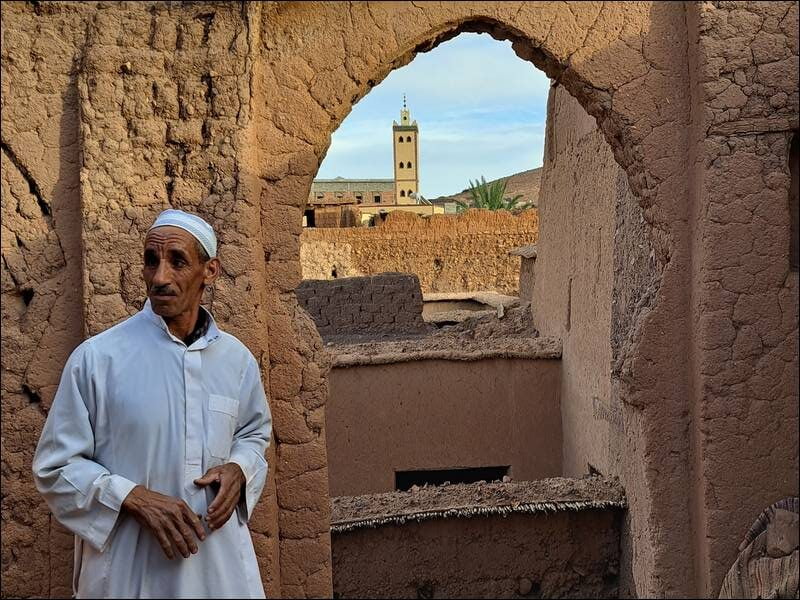 A place like this, you would have to be crazy to look for a better place for the bivouac camp. This is where I pitch my tent for the night!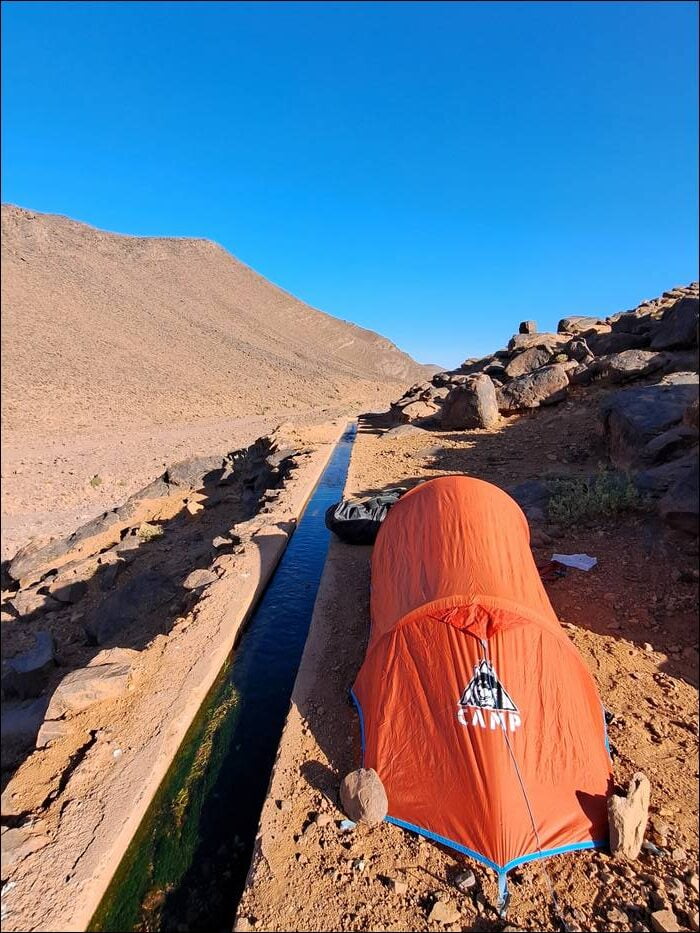 Head to the Anti-Atlas
The more I walk, the deeper I go into the mountains. There are for sure no more villages, unless you get off the road and go down into the valleys. The sun is hitting, no cars are driving around but I don't regret being here and shitting because the landscapes are just amazing and I feel so free.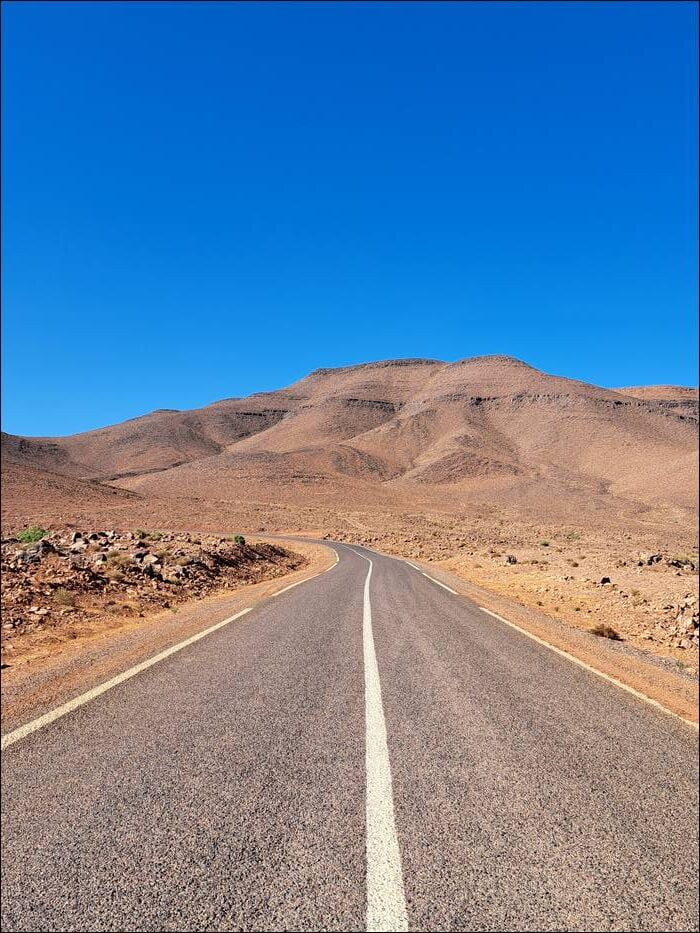 My adventure on this road was cut short, a local people picked me up on the road and dropped me off in Tazenakht. This same person then advised me to visit Taliouine further north. From there, I let myself be carried by the wind and I visit the places where the drivers drop me off all along the road between Taznakth and Agadir.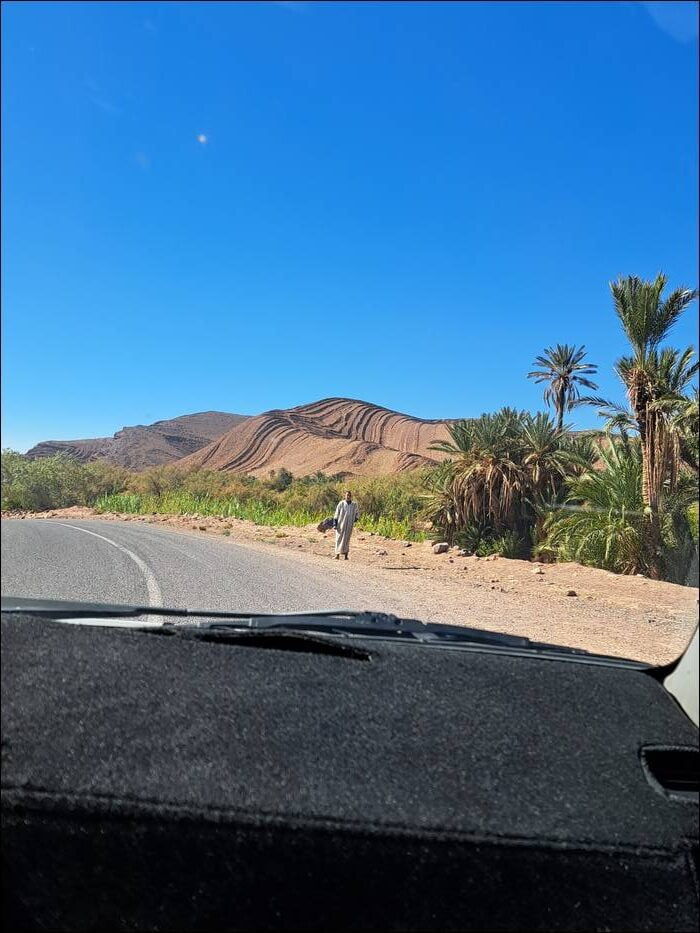 Tazenakht
I arrived on the day of the souk, a little before the shopkeepers packed up. Tazenakht was lively and filled with local artisans and farmers. It was interesting and I enjoyed the atmosphere of the city at that time. Tazenakht is the Moroccan capital of carpets: the Berbers make them in an ancestral way thanks to the wool of a breed of goat called Sirwa.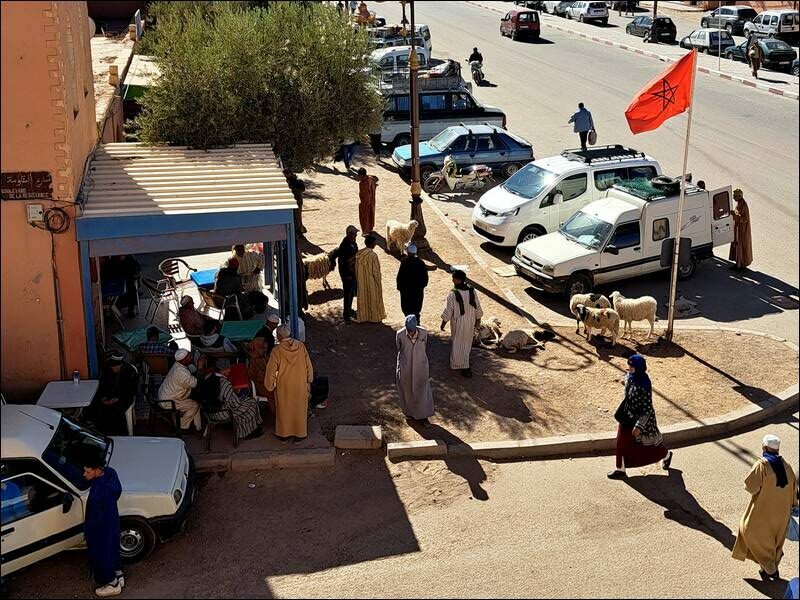 Later, I went trekking to find "historical caves" that would be in the vicinity of the city. Miles of walking without falling on one of them. It turns out that these caves are of Berber origin at the time of the nomads. Keep reading, we're getting there. But a little further after Tazenakht.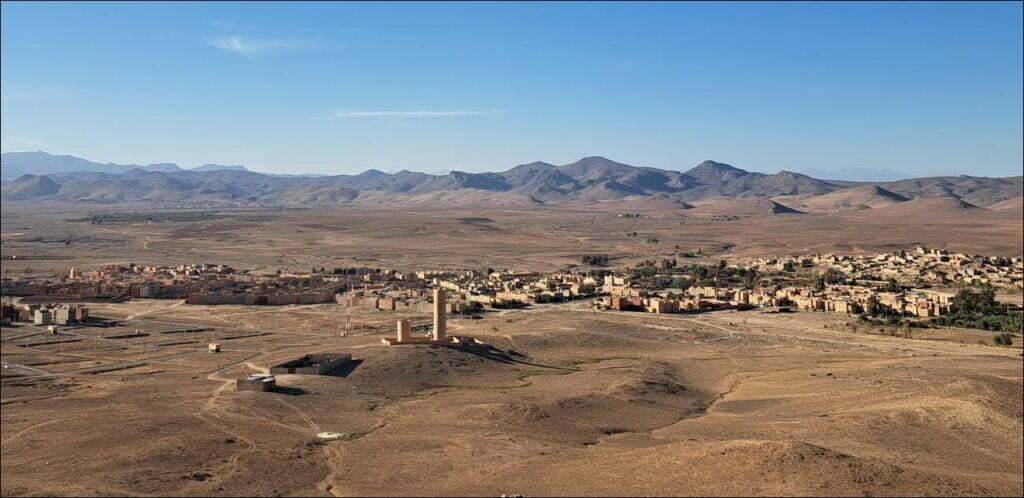 I spent the night at Tazenakht Then I left more beautiful in the morning, still hitchhiking.
Direction Taliouine
During my hitchhiking trip in Morocco, my ritual is always to walk before stopping. I hike an average of 15 kilometers before attacking, or sometimes up to 25 kilometers when I feel like it.
Hitchhiking without stopping
But this morning leaving Tazenakht, no walking. I leave the city, pass the police checkpoint, and then someone stops at my level.

"Salam, where are you going? Come, I'll pick up you!"

Third time I've been taken without giving a thumbs up. Yassine is in the military, he goes to Agadir which is about 300 kilometers from here. I could move easily with him but that's not the goal. I remember my last driver telling me about Taliouine, so that's where I stop.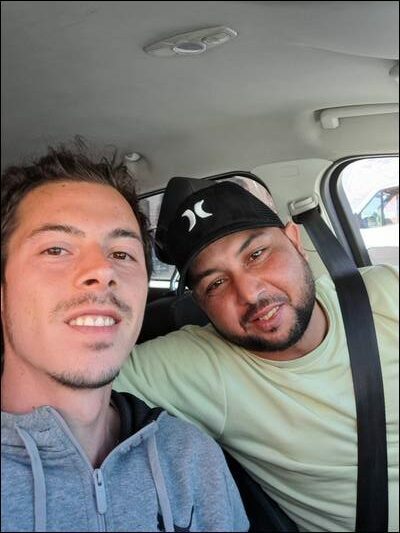 Taliouine is a pretty town with beautiful surroundings and many things to visit. You may know it for one thing: it is the Moroccan capital of saffron! Taliouine is famous worldwide for its activity around safran crops.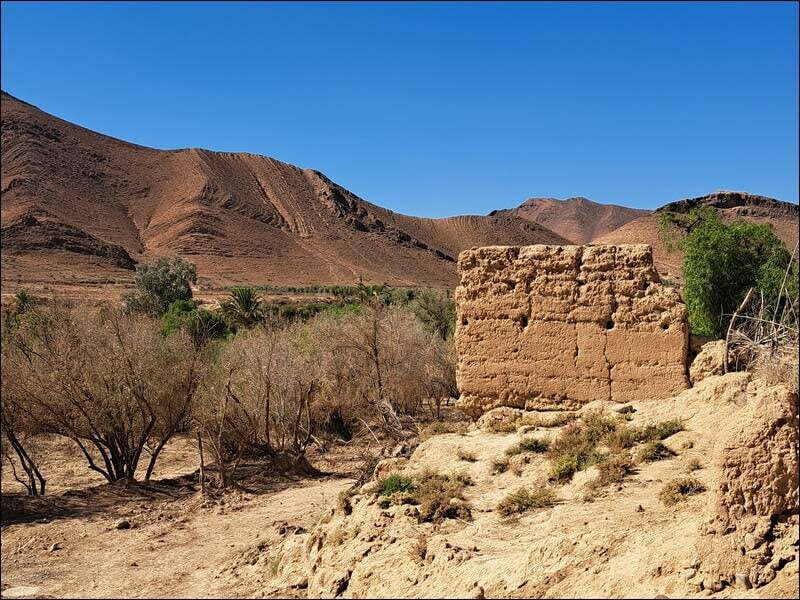 I enjoyed hiking in this place. What's more, from here, there are many agadirs to discover (fortresses).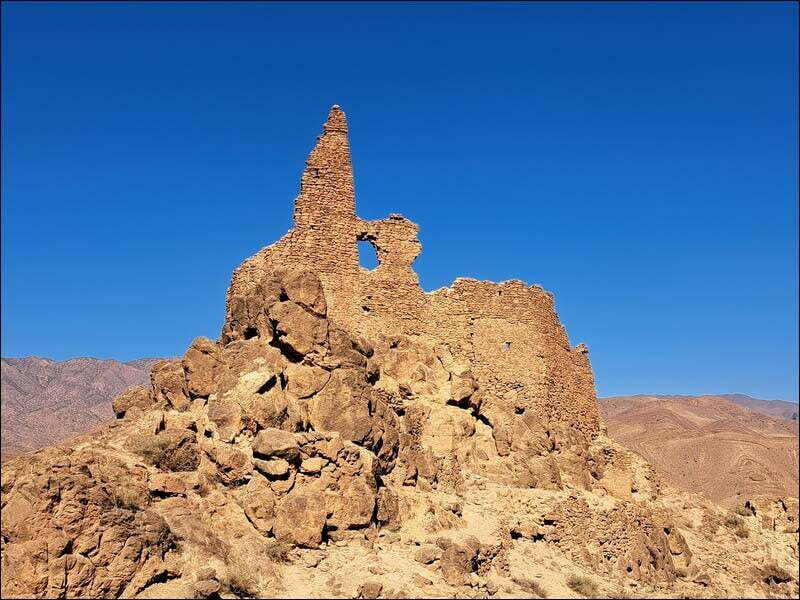 Going down from the heights of the city where the agadirs are perched, I came across these famous caves that I had heard about in Tazenakht. They were (and still are) inhabited by nomadic Berbers for centuries. If you are curious about this, I wrote more about it and also things I visited in Taliouine:
🔎 Visit Taliouine: Places to see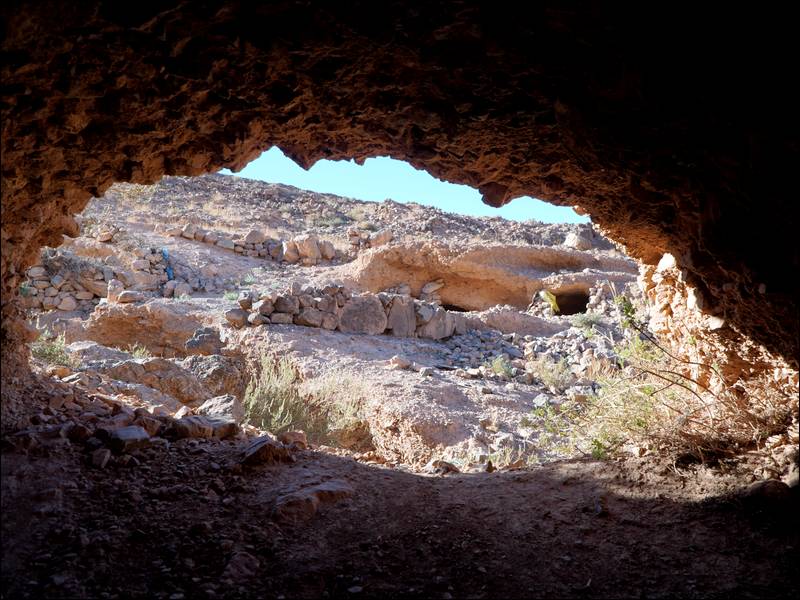 Assaki, Aoulouz and Oulad Berhil
I slowly take the road on foot and then I stop 10 km further at Assaki, which will make me happy since the surroundings are filled with agadirs to visit. This day of walking on the road and through the mountains exhausted me. I went back to the hotel I found to rest after dark. 20 dirhams per night!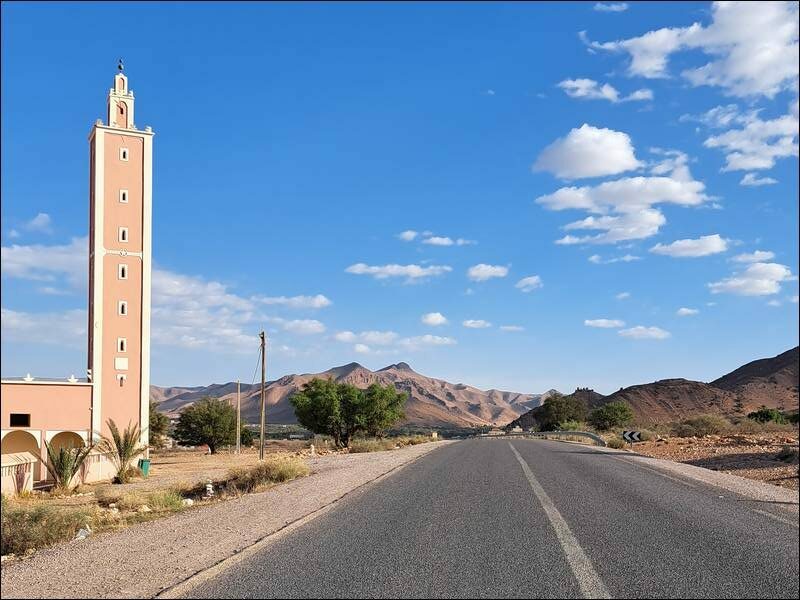 Well, I have only one desire: to spread out in my bed! But the lady guarding the house is surprised and seems delighted to see a stranger around. The city is tiny and I'm the only one in the building that looks more like truckers' dorms than a hotel.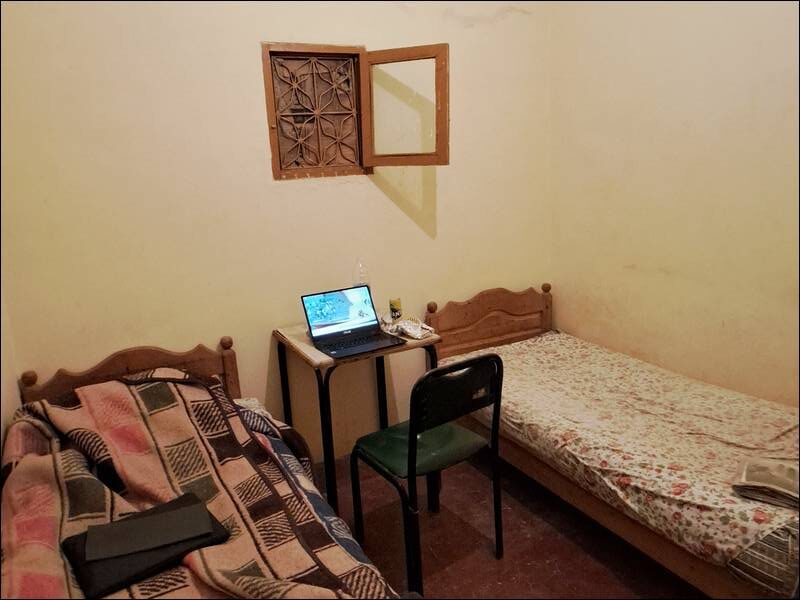 This lady, therefore, literally knocks every 5 minutes at my door to talk to me in Berber without anything that I understand, enters my room and looks at everything I do with a curiosity to defy all competition. She sings, she dances, she really makes me laugh she's great! But hey, I want to sleep, so that's what I do without further ado.

"TOC TOC TOC"

Oh, this one is a little more insistent. A slightly nervous man sees me and argues with the woman. I understand that it is for me, I have grasped. They don't have a license to host foreigners here. So the lady gives me fruit and apologizes. I walked and then came across a hotel. My luck is turning good. A whole bus of lawyers, doctors, engineers… is on a trip and has booked the whole hostel for them.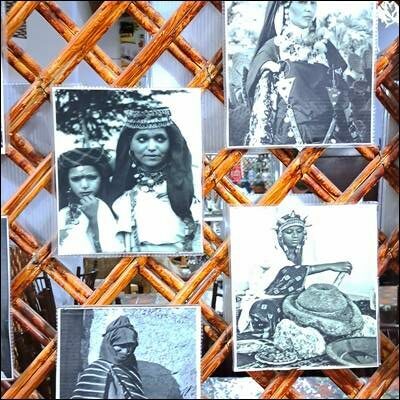 All the rooms are full, but the owner arranges me a bed in a storage room and I am warmly invited by the Moroccans to their party. On the menu: traditional music, shouting, clapping hands, tea, tea, tea, tea and I forget something. Oh yes, more tea. I stayed for a short time, too exhausted from the journey.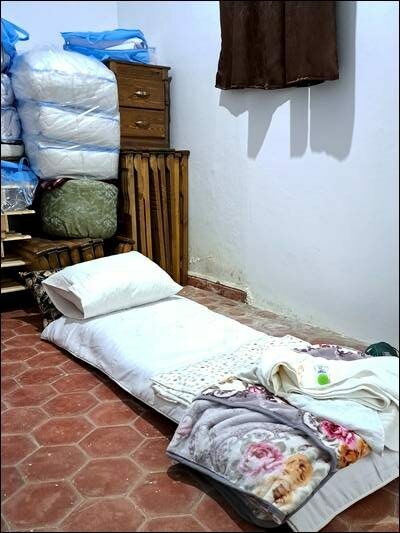 Resumption of the road trip
The landscapes after Assaki to the surroundings of Aoulouz are GORGEOUS. The hitchhiking works timidly, making me move only a few kilometers but it's very good like that. To tell right, the panoramas offered by the Anti-Atlas delight me and I take great pleasure in walking.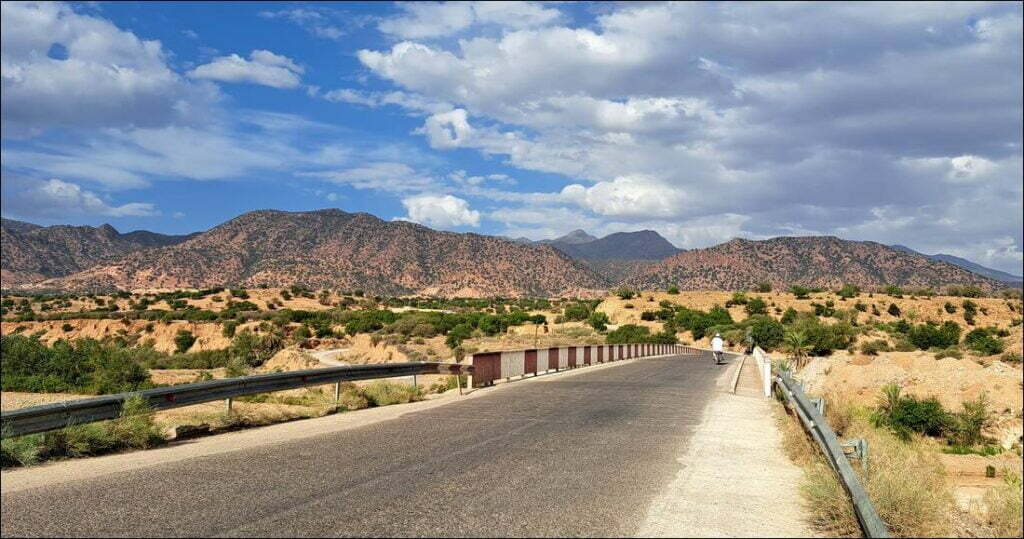 The drivers who stop are locals who travel from one village to another, the pace is great to fully enjoy the road and what it has to offer. At this moment, I have nothing to envy to the tourists I sometimes see passing by in huge CTM buses. They may see a troubled soul on the road, but in fact I take a hell of a foot to smoke my soles on the asphalt.

That won't be the case at all in the coming days, but I don't know yet.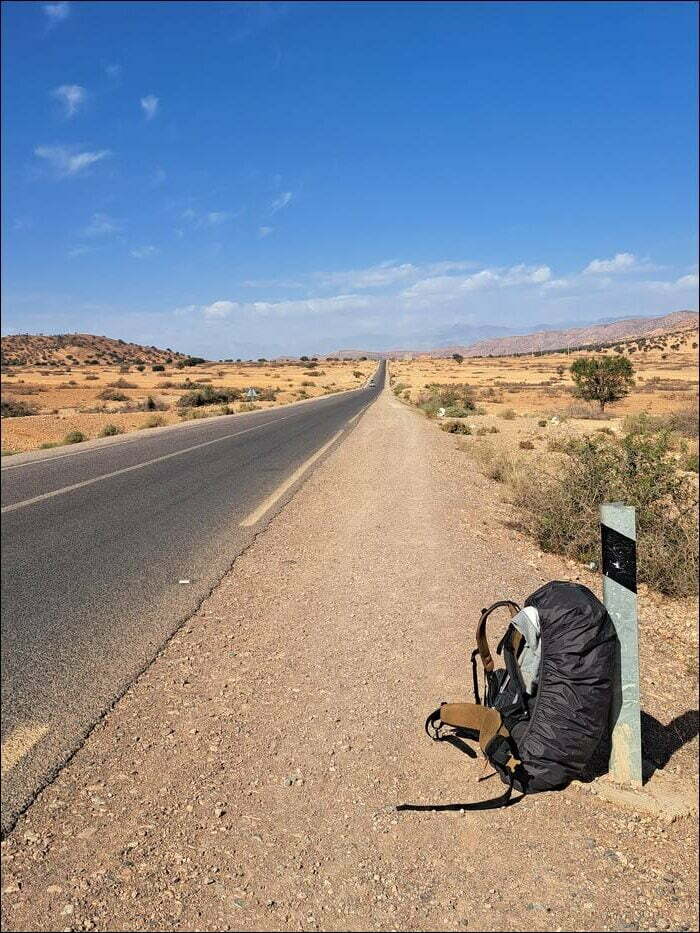 On the road I often meet shepherds. Communication is difficult because of the language barrier, but their company is appreciated. They often stop to graze their goats… In the trees. Indeed, this region is full of argan trees. Sheep love their "fruits", the affiaches.
Moroccan first flight
Yes, I spent it in this dream setting! Let me explain. I was thumbing up on the road and then I got hithhiked by a great guy whose name I won't mention. Even if as usual the exchanges were limited (this is often the case when leaving the cities and tourist areas), the feeling went very well.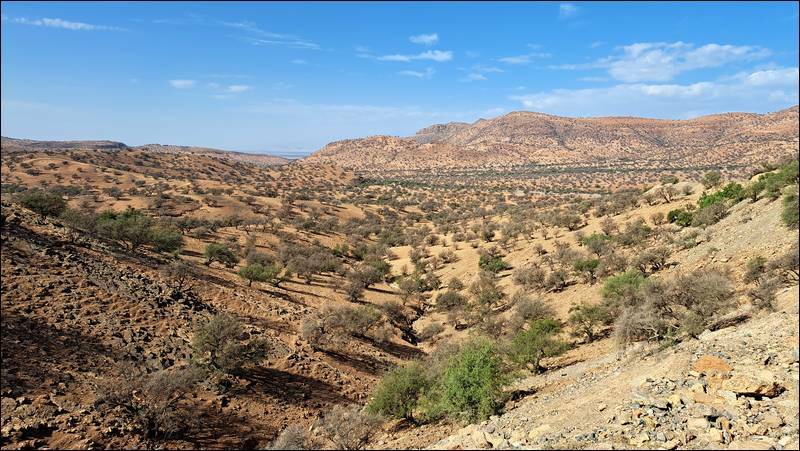 This trip turned into a cup of tea with his family, then I went with the father to his friends. He was driving with a large bouquet of hemp at his feet, and it was around it that we gathered with 3 other people in a small country hut.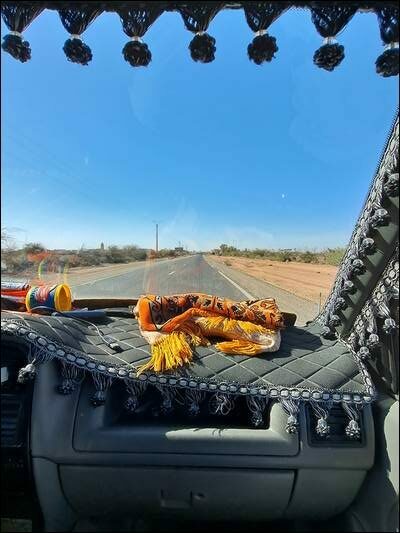 Cannabis in Morocco
I would find it hard to believe that you have traveled to Morocco if you have never smelled even once its smell in the street, a hotel or a café. Or you didn't pay attention to it. It is true that it is illegal, although more or less tolerated but still very attached to Moroccan culture.
A soft herb
Here, hemp comes from the Riff. It looks a bit like hay I grant you. In fact, the herb of our country is so selected and genetically modified to obtain the most taste and the most concentrated in psychoactive substances that they are no longer natural at all. Whereas the one here, it is. Cannabis is not a plant that originally bursts the brain. It was we Westerners who made it like that.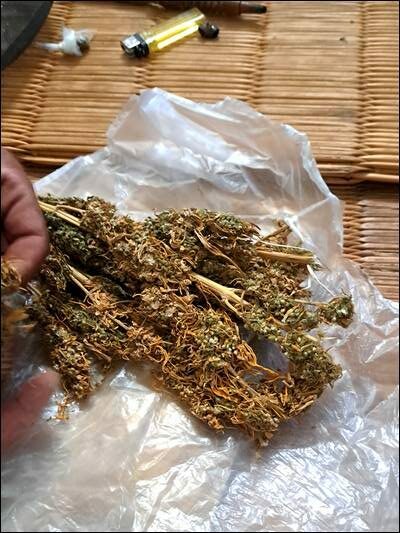 I am not a ganja smoker, but I do smoke when opportunities like this arise. Truth be told, with sweet herb, super cool Berbers and such a beautiful setting, this is the perfect opportunity to sample Moroccan kiff.
And what is Moroccan kiff?
The word "kiff" as we know it has its roots in the Morocco and refers to the hashish. It was then used differently in French-speaking countries to say like "I'm enjoying" but the real meaning is "I'm high, I enjoy it".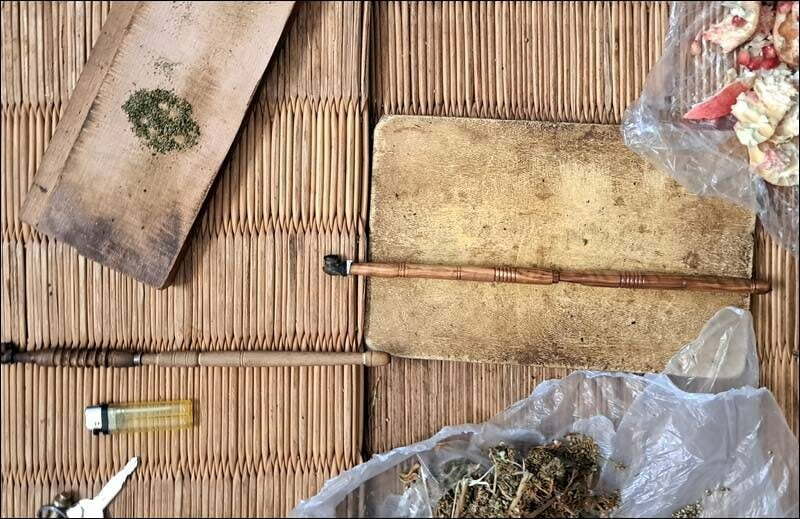 Here, weed is traditionally smoked in wooden pipes. The guys sort all the flowers and branches, hit them to collect the pollen, remove all the seeds, select the still green leaves and then throw away the rest. In the end, there are only crumbs left as you can see on the board. Everyone has their smoking pipe and takes a little weed from time to time, accompanied by tea.
We end up hovering a little, but we are not in bulk either. Unless you smoke the hash!
Direction Taroudant by hitchhiking
On this spicy note, I kindly resume my Moroccan road trip towards Taroudant where I intend to hitchhike. I move away from the mountains of the Anti-Atlas that I already miss and hicthhiking does not work very well anymore. But we're getting there!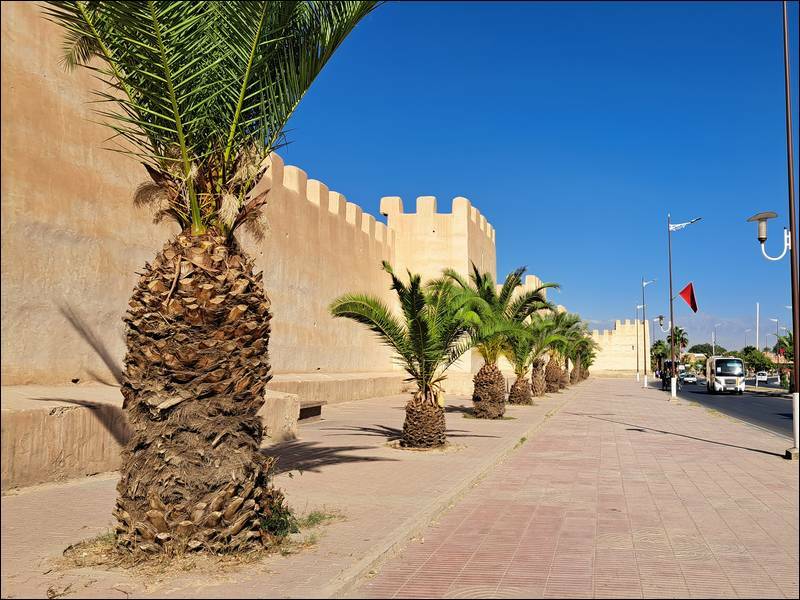 I stayed 2 days in Taroudant, this beautiful city very different from what I have seen in recent weeks. The city is surrounded by huge walls, the streets are beautiful and the atmosphere so sweet. A good opportunity to do nothing and relax before hitting the road again.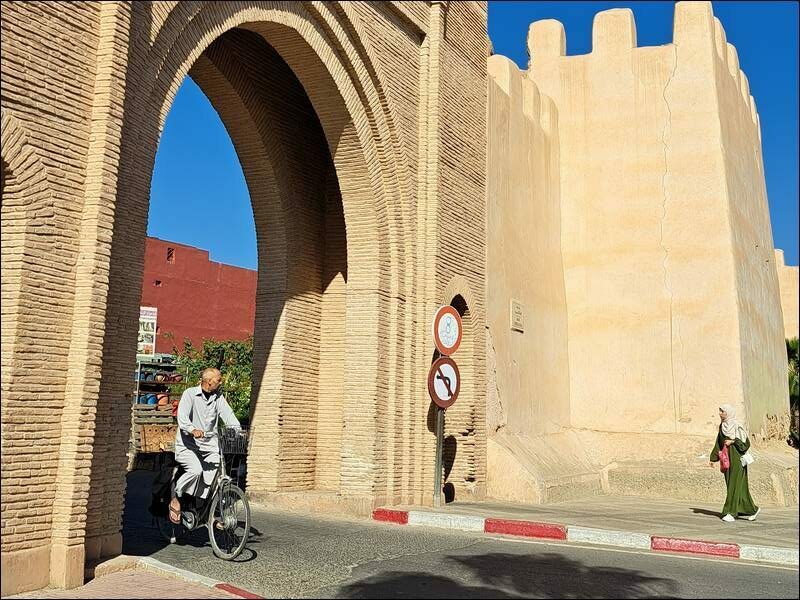 Direction Inezgane/Agadir
I'm starting to think about what's next. I soon arrive at Agadir and I think of continuing towards Western Sahara, or even going down to Mauritania. So we leave for Inezgane, just before Agadir since this is where I should shoot.

Hitchhiked instantly
15 kilometers ritual walking and then Husein stops when I give a thumbs up. He is going well in my direction but he offers me to sleep at his place after 5 minutes drive! How to refuse, especially since he is really happy to welcome me into his home. It is this facility to invite a stranger so easily into one's home.
And one Moroccan couscous, one!
Directly, Husein calls his wife to find out what she needs to cook and we go shopping at the souk. Couscous on the menu! I dreamed of it since the beginning of the trip but I was waiting for an opportunity to present itself because I did not want to eat it alone. He tells me that early tomorrow morning, we will leave for Inezgane since he has to go there for work. Everything synchronizes, it's perfect!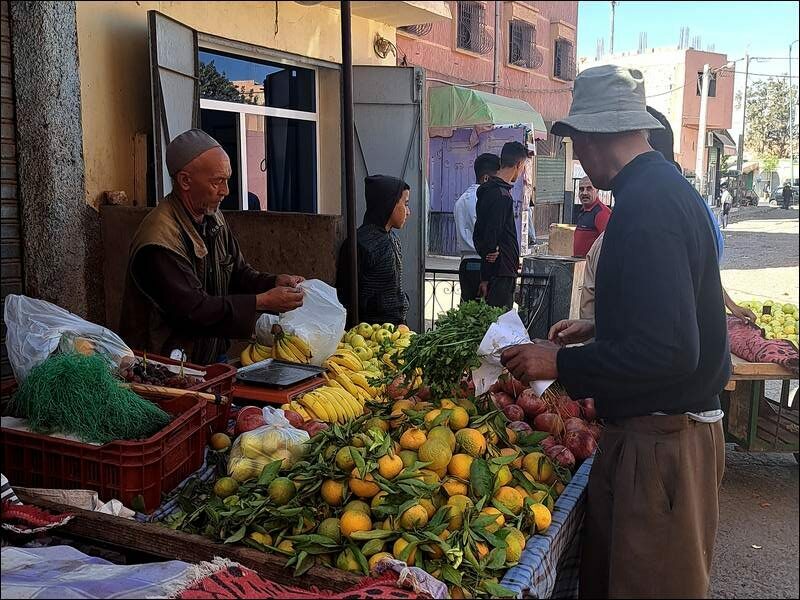 Sleeping in their home
A day spent with Husein, his wife, daughter and two sons. Fantastic. The legendary hospitality of Moroccans! When I think back to a country, it's always the people and the encounters that come to mind first. This one will be engraved, like so many others.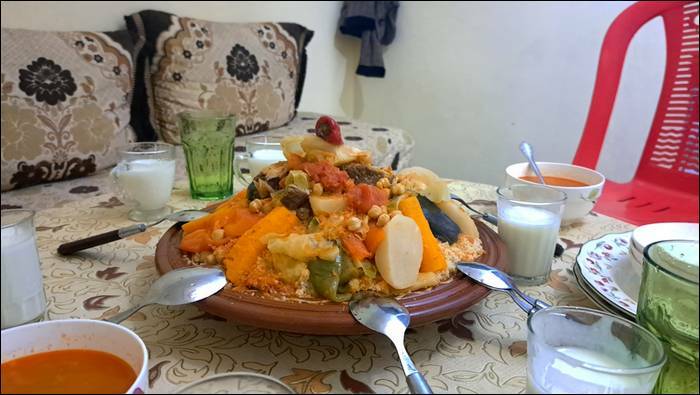 It's this kind of bonuses and chance opportunities that I really like about doing hitchhiking. This is an open door to encounters and unforeseen situations!
Direction Western Sahara
After a long walk from Inezgane and then a small piece of road thanks to a local, I decide to stop a collective taxi for the last 50 kilometers to Guelmim. The motivation was no longer with me. So I stop to spend the night and then I leave more energized.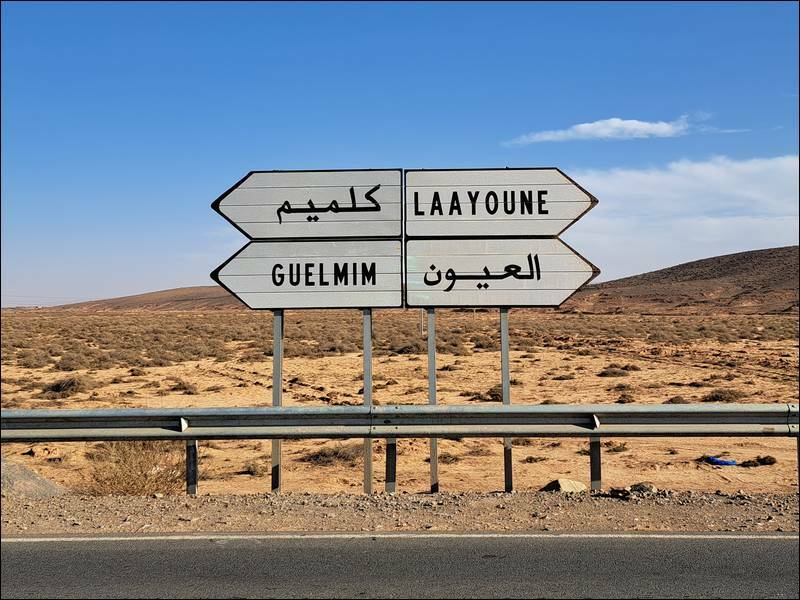 I'm progressing pretty well, even if the stop is working timidly. I walk a lot and I am amused by all these truck drivers who honk at me and greet me. I take the opportunity to go around the roadside wells and save any animals trapped in them.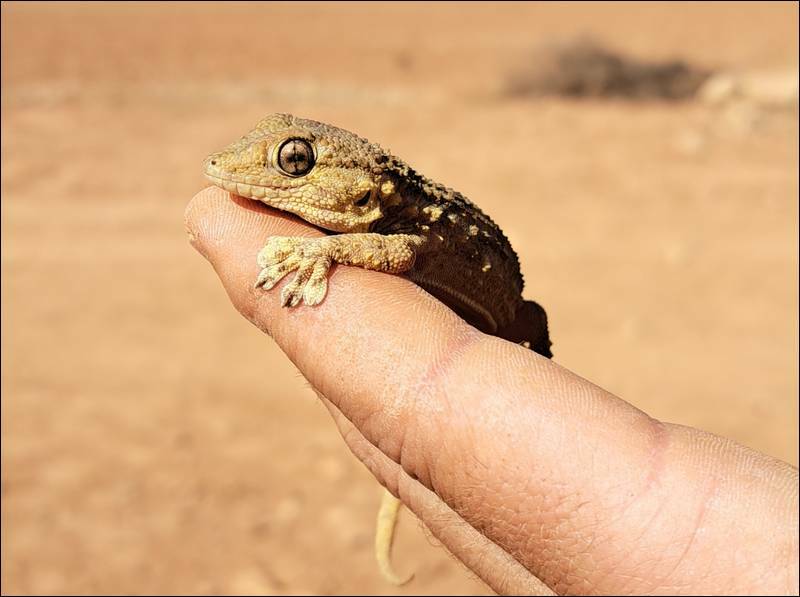 I move slowly, stopping in stages in the cities until Tan-Tan. The Sahara is taking shape, the landscape is becoming arid and increasingly sandy.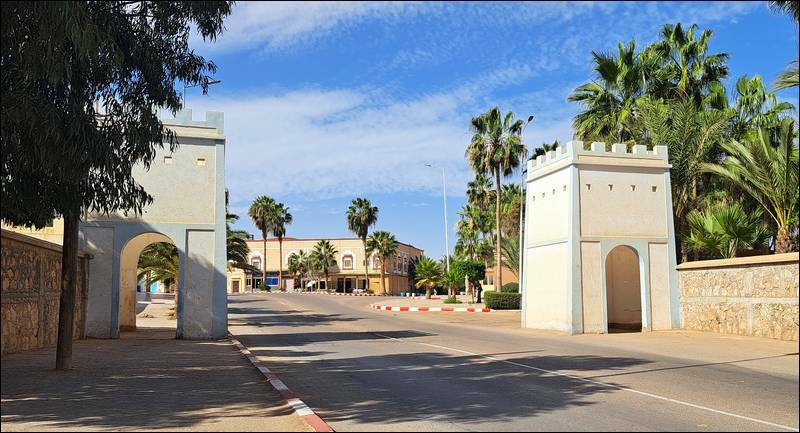 So far, I'm moving forward. I am fast approaching Western Sahara and I intend to continue hitchhiking.
El Ouatia
After a night in Tantan, I go to El Ouatia. I can't wait to meet the desert and the Atlantic Ocean! It was a Royal Navy guard who took me to my destination.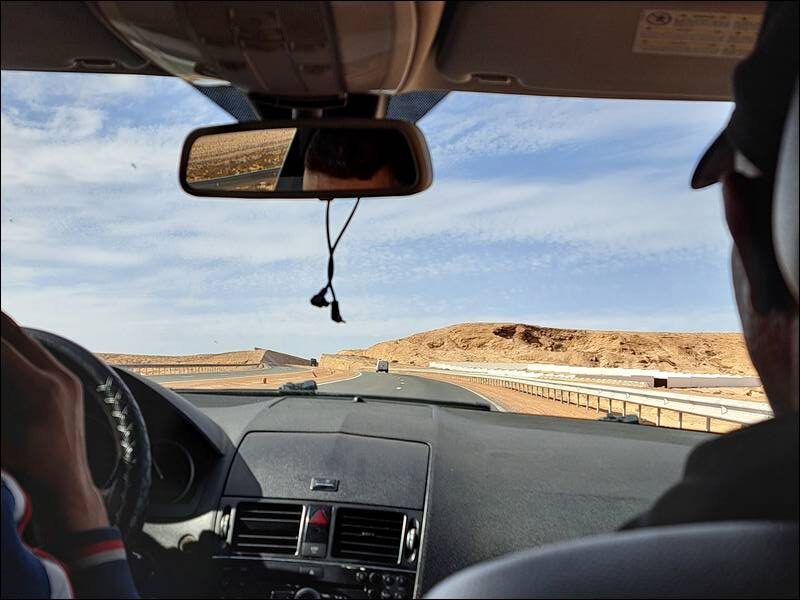 Big change of climate when arriving at the edge of the Ocean. The wind blows and brings all the moisture to the coast. We go from heavy and dry weather to very cool and wet weather in a few kilometers. This weather will last several days.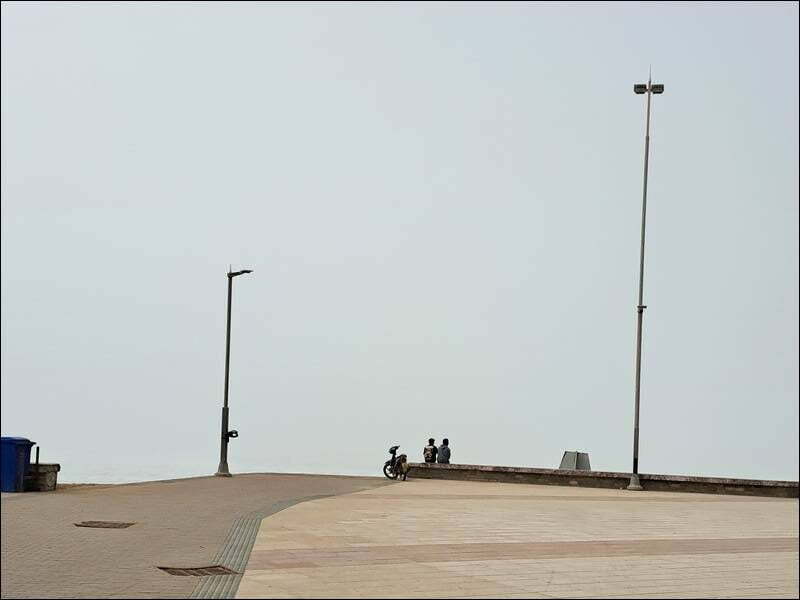 Start of hitchhiking galleys
From El Ouatia the stop does not work at all. I wait for hours, sometimes up to 4 hours without anything happening. I always end up not being caught but it's very long and I suffer the road. I no longer take any pleasure in hitchhiking.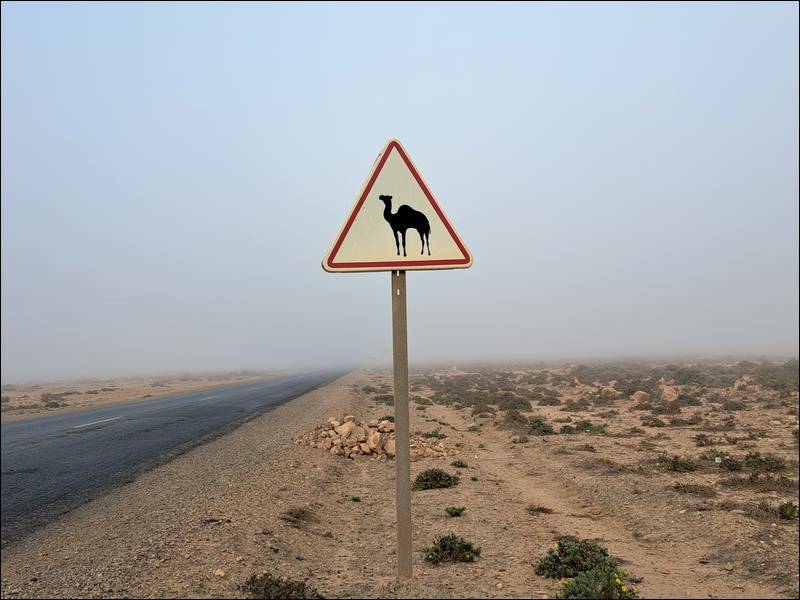 Before night falls, it is Rachid who saves me, a trucker. I advance well with him to the border of Western Sahara, in Akhfennir. Luckily, he offers to take me the next morning at 7am to do 100 km more. The humidity and the night that morning prevented me from finding the meeting point. I was back for a big day of trouble.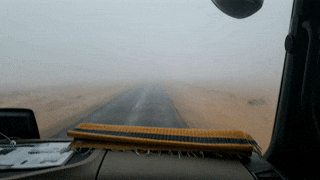 Western Sahara
I set off after losing sight of Rachid and as if that wasn't enough, I waited until 2pm before being hitchhiked. In fact, even public transport didn't stop. But hey, my luck turns and a nice yellow truck stops.

A mother and her 4 children on a road trip to the roots who arrive from Switzerland to go to Senegal. I was able to advance 100 km with them.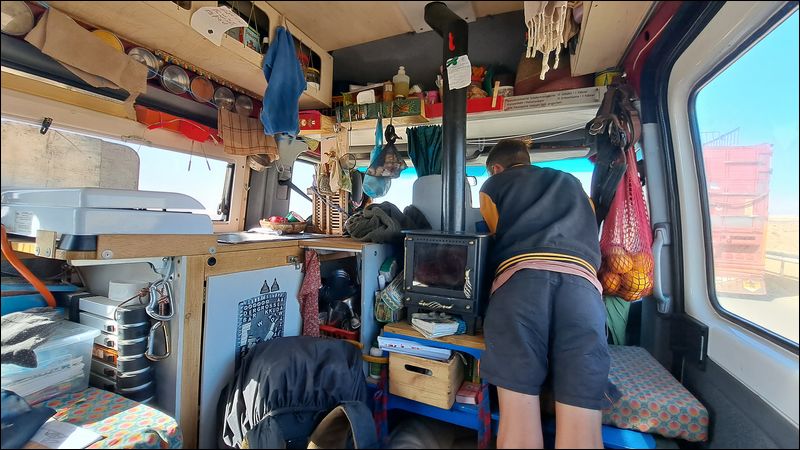 But hey, that's it, I'm finally in Western Sahara. The difference with official Morocco is felt. Because yes, this territory is not considered a country, except in the eyes of Morocco, since it unofficially controls 80% of the territory.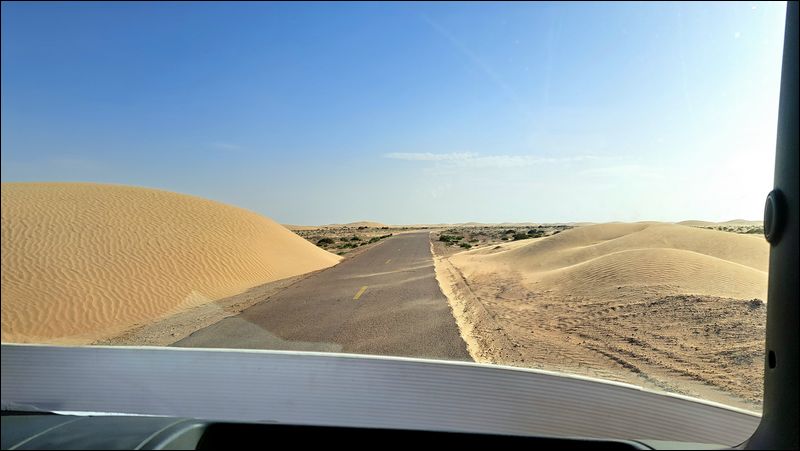 Stop the stop
The rest of my hitchhiking adventure had become too complicated. In fact, I was suffering the road. No more point in stopping if I no longer enjoy it. So I stop in Laayoune. Here I am in the economic capital of Western Sahara, where I would take a taxi to go to Dakhla and then a bus to Mauritania.

Want to keep reading ? So continue by following this link :
➡️ Learn more about Western Sahara
Hitchhiking in Morocco: travel guide
1) Is it allowed to hitchhike in Morocco?
Yes, hitchhiking is legal in Morocco.

2) Is hitchhiking practiced in Morocco?
Yes, Moroccans do hitchhiking. I saw many throughout my trip. You will often find them on the outskirts of cities trying to stop cars or trucks. This is also the case in the countryside in remote areas when people do not have a vehicle or money.

3) Is hitchhiking in Morocco dangerous?
Security issue, there is nothing special to note. You are normally safe in most areas and few to no hitchhiking incidents among travelers to Morocco are known to date.

4) Hitchhiking in Morocco as a woman
Nothing to note either for solo travelers in Morocco hitchhiking. I was able to exchange with some of them through my community on Instagram And that's what is being reported. I also saw a lone girl stopping in the opposite direction when I was with a trucker.

When he saw him, I questioned him and he told me that they are not uncommon to travel this way, even if they are accompanied by a friend most frequently. He added that as truck drivers, they stop much more often to pick up women than men for safety reasons.
Safety
I have dedicated a section related to safety and hitchhiking for women in this travel guide:
Feedback and advice
I found this article written by a female traveler who hitchhiked in Morocco with other women. Maybe he will help you take the plunge after reading his tips and feedback.
🔎 Advice from a female hitchhiker in Morocco
Habits & customs
To avoid any inconvenience, I advise you to cover your body at least as other Moroccan women do. I once saw the behavior of a man on a tourist who couldn't help but stick her insistently. In fact, it was the only one with a tank top and mini-shorts (very very short).

A woman dressed modestly is more respected than a woman who does not, the look is different from that which can be worn in the West. This applies especially in rural areas. Tourist areas are used to seeing tourists who do not respect the dress codes and it is much less shocking.

5) Does hitchhiking work well in Morocco?
From my experience and feedback I've had, yes, it works well even if the wait can sometimes be long in places. However, hitchhiking is more delicate when approaching Western Sahara.

6) The best time to hitchhike
From experience, I can assure you that the best time is between 8 and 10am. Most Moroccans move quite early in the day, until around noon. Then, the traffic decreases significantly until the end of the day.

7) Drivers who take the most
In tourist areas, you will often be picked up by guides and on the main roads, by truckers.
Everywhere in general, military personnel or people who work with the authorities and are not on duty are more likely to take you. In fact, during checkpoints, the police can ask the driver a lot of questions because you are in his car.

Some do not take hitchhikers for these reasons. But conversely, a soldier will never be questioned. That's why they take without hesitation.

8) Public transport
On the road you will see a lot of minivans, buses and shared taxis. If you don't want to stop anymore, you can easily stop one to advance to the next step.

Conversely, if you do not want to take them, lower your arm every time you see them coming otherwise they will stop for you every time.

9) What sign to hitchhike in Morocco?
Hitchhiking in Morocco is done by raising your right arm in front of you. Some accompany it with a gesture to show the direction. The thumb also works well because Moroccans know the sign, but maybe not everywhere. Personally, I stopped the Moroccan way during the whole trip.

10) Wild camping
The bivouac is allowed in Morocco and you will not particularly encounter any problems. However, like any other destination, it is better to find places without visibility if you are alone in a secluded place.
If you camp near towns or villages, you may be woken up by the police if they find you. If you want to camp in these places for your safety, simply inform the police station and they will help you find a good place.
Along the road that crosses Western Sahara is well secured, due to the large number of soldiers. You will be able to camp serenely if you set up your tent or vehicle next to their camps.

11) How to hitchhike?
I wrote a complete guide to be able to stop anywhere. There are all my tips to be caught quickly, to position yourself well, to use a sign well, to be safe and many other things that can be very useful if you have little experience with hitchhiking:
🔎 Complete guide to hitchhiking
 
12) Enough of Morocco? Another destination?
On another whim, I hitchhiked from Switzerland overnight to see an Italian friend. You know what, I advanced so much that I landed in Istanbul, Turkey. You can find my story right here:
🔎 Hitchhiking road trip in Eastern Europe
 
13) Don't forget the insurance
Chapka insures your
trip in Morocco
There are a thousand and one reasons to be confronted with a problem abroad. The reputation of Chapka in the travel industry is second to none. Get insured then travel hassle-free.

You will not pay any additional commission fee by using my affiliate link. On the other hand, you allow me get paid from my work and to keep Spirit-Travelers.com alive.