▶ Destinations ▶ India
 
Hitchhiking in India
With its crowded streets and its street vendors, its rickety rickshaws and its incredible trucks, its endless and congested peripheries, its sacred cows not very fierce crossing the roads whenever they want, not to mention the suffocating human mass for whom the traveler is often a real curiosity, India is certainly not the country of hitchhiking.

However, if you like adventure and human encounters like us, you want to immerse yourself as much as possible in Indian culture and its contrasts, or exchange with peoples in the most disinterested and spontaneous way (ie without the slightest monetary relationship), do not miss the hitchhiking experience in India! Whether they are Hindus, Muslims, Sikhs, Buddhists, Christians, Jains or animists, there is no doubt that your Indian drivers will have their tongues hanging out and will know how to share with you with passion their knowledge and confidences.

However, the practice of hitchhiking is not always a pleasure. It requires, in India more than elsewhere, a certain amount of preparation and precautions. After having traveled more than 12 Indian states only hitchhiking and aboard 159 cars and trucks (I), we will try in this post to give you our best tips and tricks to better understand a thumbs up in the country of Gandhi (II).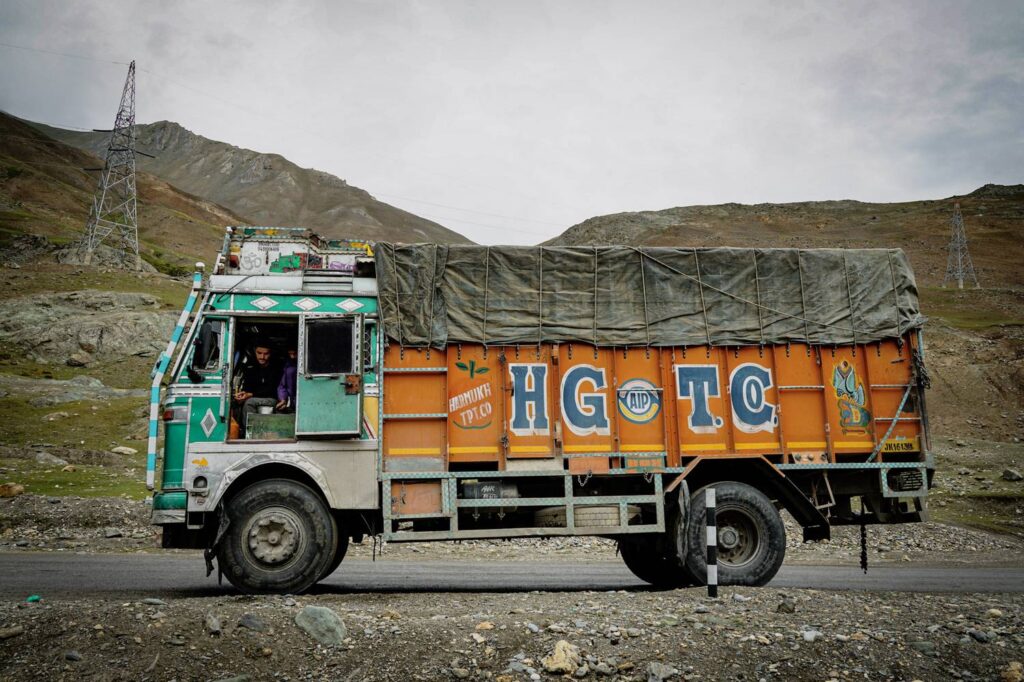 Our hitchhiking experience in India
a) Mapping and difficulty levels
In this mapping, we have classified the 12 regions crossed hitchhiking according to their level of difficulty. In total, it took us more than three months to hitchhike through North India.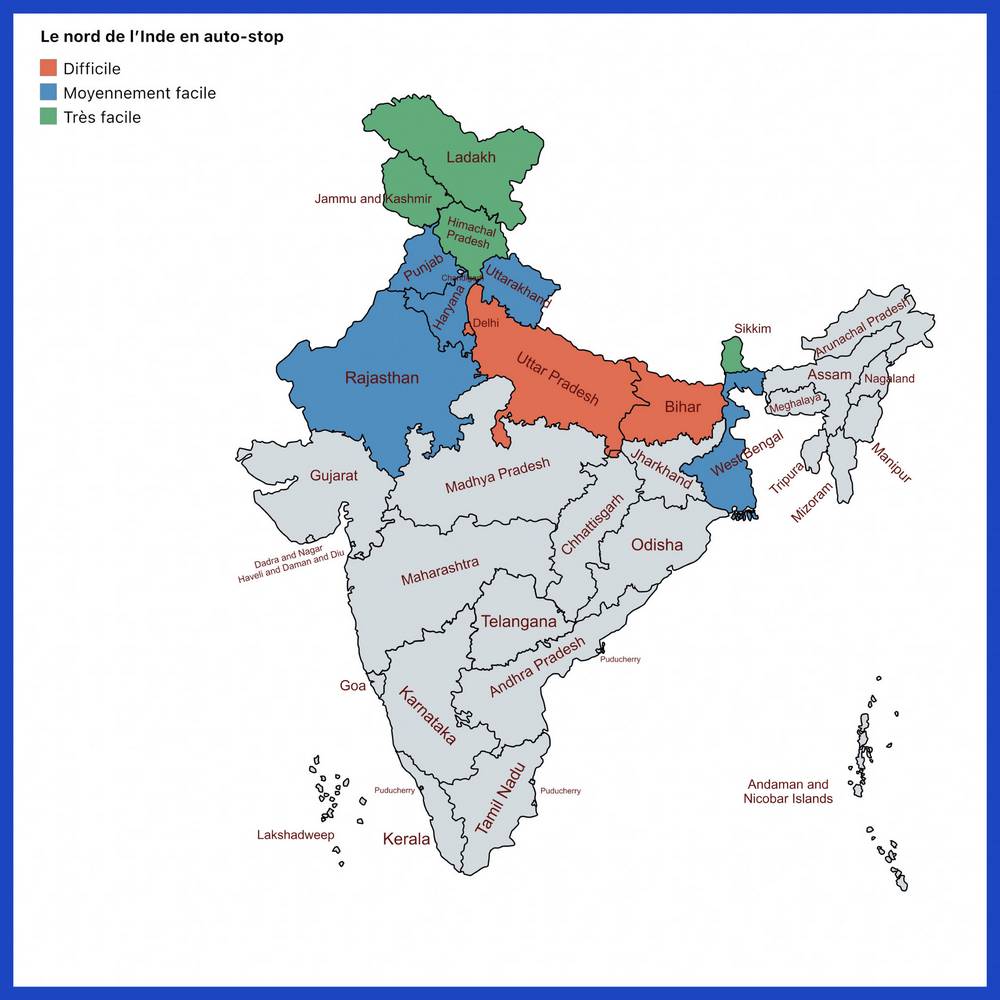 Mountainous regions
In general, it is very easy to stop on the roads of the mountainous regions of the North (Ladakh, Kashmir, Himachal Pradesh, Sikkim). People are generally less in a hurry, vehicles drive at low speed, trucks and Indian tourists are numerous, and exits from towns and villages are easily accessible to walk. On the other hand, do not be in too much of a hurry : the state of the roads in these regions (some of which are among the most spectacular in the world) is sometimes catastrophic, and the roads are often blocked because of the landslides are numerous (especially during the rainy season).

Rajasthan, Haryana, West Bengal, Uttarakhand and Punjab
In the regions of Rajasthan, Haryana, West Bengal, Uttarakhand or Punjab, hitchhiking remains easy. Road conditions are excellent, and there are expressways with many petrol stations between every major city. The only difficulty was for us to reach the right hitchhiking spots (which takes time and sometimes requires a good hour of walking, the cities being sprawling and overcrowded).

In Delhi, as in all self-respecting megacities, the unmanageable urban jungle, the many traffic lanes, and the endless outskirts make hitchhiking very tiring… When we reached out from Delhi to Haridwar, several people (who thought they were helping us) crowded around us, forcing us to explain and re-explain our challenge of hitchhiking around the world and why we did not want to go to the train station or bus station. After more than an hour of waiting, a curious driver finally stopped to give us a first "boost" by driving us to the next gas station. Then, from petrol station to petrol station, we ended up leaving Delhi to quickly reach Haridwar!

Uttar Pradesh and Bihar
Finally, in the regions of Uttar Pradesh or Bihar, hitchhiking has sometimes been a real hassle, so much so that we do not recommend it (unless we have a challenge similar to ours). First, the distances are particularly spaced. The crossing of these regions necessarily implies stops and nights in intermediate cities which, apart from the tourist Agra or Varanasi, are not the most welcoming…

In some places (such as Lucknow for example), the presence of an independent traveler is clearly not desired by the authorities "for security reasons" they say… Result : freshly dropped off by our drivers in these intermediate cities, we spent long hours looking for accommodation, sometimes even until nightfall, the owners of hotels and guesthouses refusing to accommodate us. By threatening the managers to camp outside their door, however, we ended up getting a bed.

Then, in Bihar (one of the poorest states in the country), drivers are more reluctant (and suspicious) to hitchhike because of the many assaults and carjackings. We frequently saw baseball bats in our driver's vehicles, intended to protect them. A general psychosis reminding us of our two months of hitchhiking in South Africa!

b) The profiles of our Indian drivers
As India is a land of diverse cultures, religions, languages and peoples, the extremely varied profiles of our 159 Indian drivers will not surprise you. We were hitchhiked by single men and women, families, groups of friends, colleagues, Sikhs, Hindus, Muslims, Buddhists, Christians and so on…
Apart from the handful of trucks that hitchhiked us, a majority of our Indian drivers were from the middle (or even affluent) social class, had a good level of education, spoke near-perfect English, and generally drove beautiful cars (the most comfortable hitchhiking trips of our world tour so far are in India and the Arabian Peninsula). In tourist regions (such as Ladakh or Rajasthan), they were mostly Indian tourists traveling for the day, weekend or week, to popular excursion sites (which made hitchhiking even easier!).

On the other hand, a significant minority of our drivers came from a more modest social class and did not speak a word of English. Communication was then done in Hindi, via the "Google translate" application. As our Indian drivers are usually on the move for tourism, family reunions or religious celebrations, invitations to stay have not been numerous, their places of residence are often thousands of kilometers away!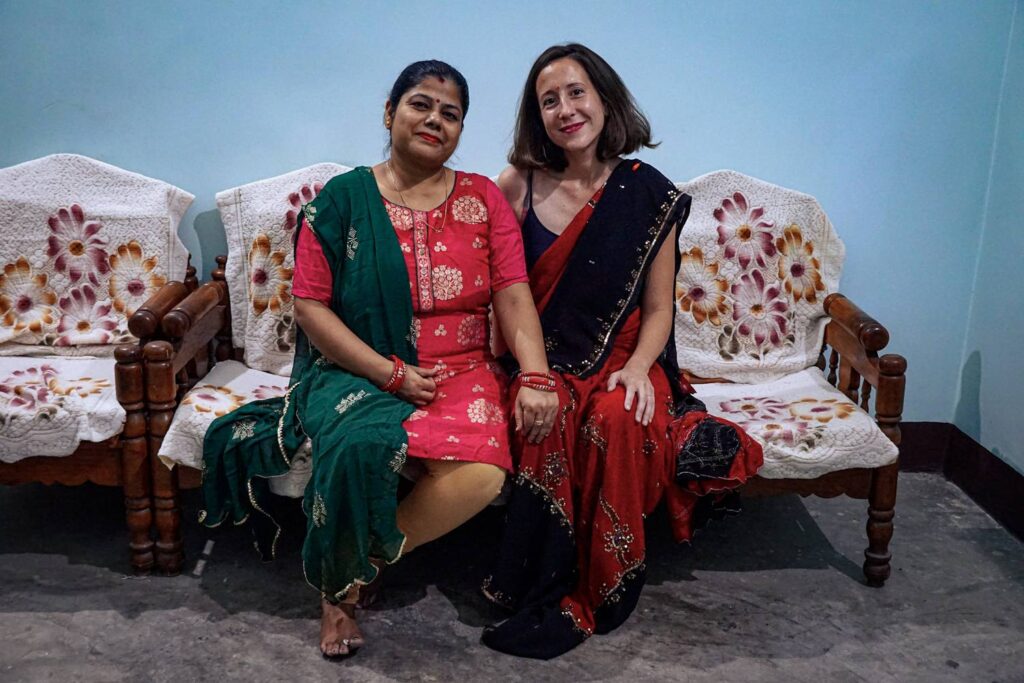 c) Our most beautiful roads thumbs up
In several months of hitchhiking in India, we took some spectacular roads perfectly suited to hitchhiking and walking (because yes, no need for much more than an inch and two feet to travel). Here are our favorite routes:

● Manali Road (Himachal Pradesh) / Leh (Ladakh)
It is one of the highest roads in the world, with breathtaking mountain and high-altitude landscapes. The route passes through four major passes, including Tanglang La (at 5359 meters above sea level) and Lachuglang La (at 5019 meters above sea level). It is advisable not to take altitude sickness lightly, to proceed in stages and to stop at least two nights on the road before the high passes, once in Keylong or Jispa (about 3000 meters), then another in Sarchu (about 4300 meters).

The road is only officially open from June to September. It is under snow the rest of the year. The vehicles that use it are mostly very slow trucks, especially on climbs, which easily hitchhike. If the view from the cabin is not the most open to the beautiful landscapes, keeping company with the friendly truck drivers will have the merit of keeping them awake along this exhausting road and considered one of the most dangerous on the planet!

Many Indian tourists, government 4x4s and intrepid bikers also take this route and will be able to make you a small place. When there is no vehicle, walking in the middle of these gigantic mountainous expanses is a great experience, a bit meditative. Make sure you can reach a rest camp before dark, or have the right equipment to camp on site if needed.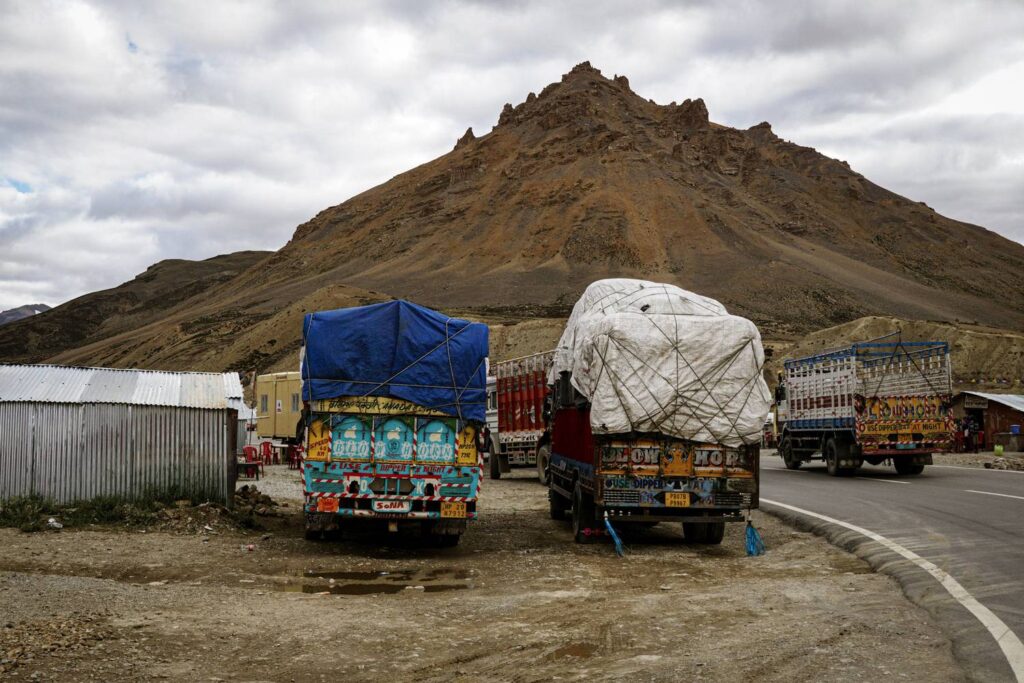 ● Leh / Kargil road, passing through the villages of Dah and Garkone (Ladakh)
This road runs along the gorges of the Indus River and passes through the picturesque villages of the Drokpa tribe (Dah, Garkone or Batalik). In these villages built on the mountainside, you will find women with bouquets of flowers in their hair. We advise you to stop there for a few days to enjoy the calm of this remote region. Cars are quite rare, but you will always find a pick-up or an old camtar to advance you a few kilometers, patience is mother of virtue. The landscapes of barren rocky mountains, as well as the view of the villages with green plots cultivated in terraces, are well worth the detour.

● Kargil/Srinagar road (Jammu and Kashmir), then Srinagar/Punjab road
After Kargil, the desert mountain landscapes are transformed to put on a pretty green mantle of vegetation. Large meadows where herds of horses and sheep graze spread out on the sides of the valleys, and coniferous forests climb to snow-capped peaks. Many vehicles use this road, weaving through hundreds of flocks of sheep guided by nomadic herders wrapped up in their shalwar kameez. With a little luck, you will be hitchhiked by Indian tourists who will take you for the day towards the beauties of the region. After Srinagar, the road down to Punjab is also very busy and offers beautiful scenery, so make sure you have a clear view in the car!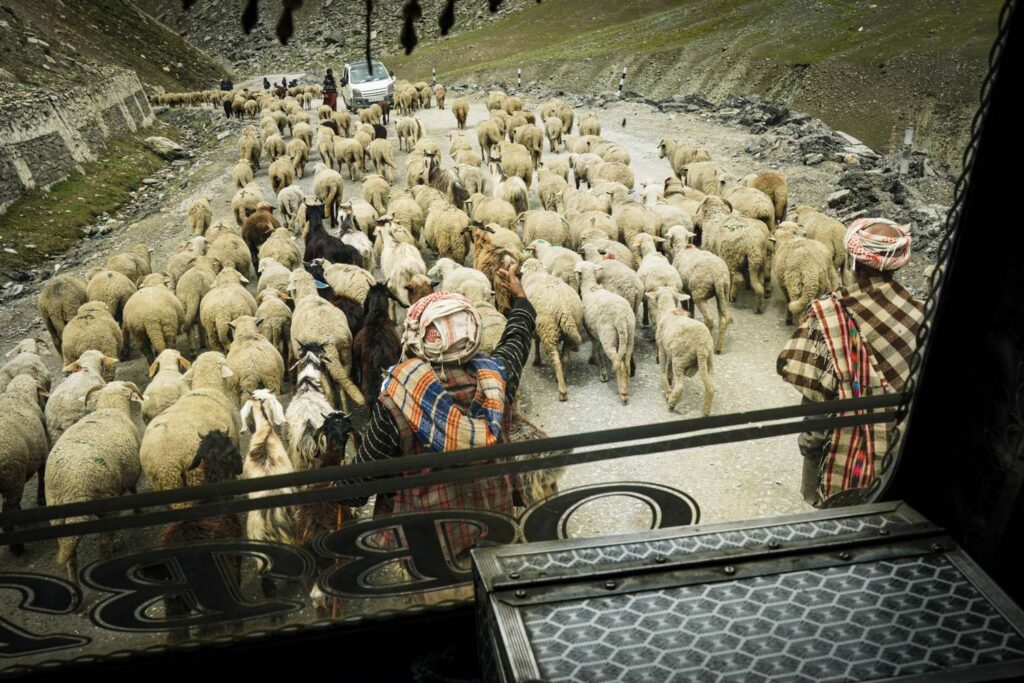 ● Darjeeling Road (West Bengal) / Pelling (Sikkim)
The people of Sikkim have their hearts on their hands and will take you hitchhiking without hesitation, even if they have no room in their car! The road between Darjeeling and Pelling spins from village to village, from tea plantation to cardamom field, crosses rivers and climbs endless switchbacks with surprising views. There's nothing like the back of a pickup to enjoy the ride (even if it hurts your butt!).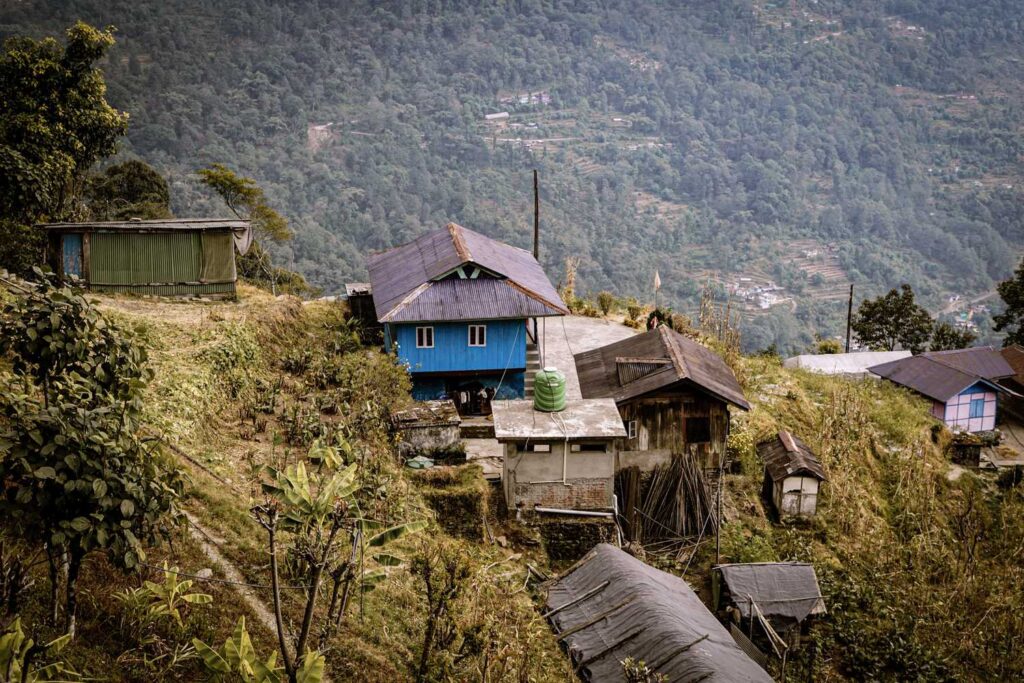 Our tips and tricks
In order to help you prepare your Indian adventure with your thumbs up, you will find below our best tips and tricks, it being specified that these recommendations apply to both North and South India.

a) How to find the right hitchhiking spot?
In India, finding the perfect spot is the biggest job. Indeed, the outskirts of cities are endless, forcing the hitchhiker to walk long hours to post himself at the exit of the city. To reach the outskirts faster, we recommend the use of public transport (shared buses and rickshaws), because hitchhiking inside a city is simply a waste of time! It may also be wise to do "proactive hitchhiking", at a gas station for example, by asking drivers directly if they can drop you off at the exit of the city. Do not hesitate to discuss with the friendly pump attendants who are often of great help in the search for a driver!

Then the usual rules apply. It is necessary (i) to avoid being dropped off in the middle of multiple fast lanes where cars are driving too fast to stop, (ii) to promote insertion lanes where cars can still stop, or red lights, speed bumps or any other irregularities of the road forcing cars to slow down, (iii) be visible from afar, (iv) and remain on the main axis to the city of destination. If the vehicle you find does not make it to your final destination, you can ask it to drop you off at a large gas station or a road restaurant for example, you will then easily find other vehicles, on long journeys, which will help you with pleasure.

Finally, in general, we advise you to always have your hitchhiking trip confirmed/validated by a local before you start, and to choose the easiest route and the most frequented by cars going to your destination.

b) Sign or no sign?
That's always the big question! And unfortunately we don't have a real answer to that question. From our hitchhiking experience in India, the sign is adapted to certain situations, and cumbersome in others…

The sign was useful for us to reach tourist destinations or big cities (such as the cities of Rajasthan, Haridwar, Varanasi, Manali, Leh …). To be original and maximize the chances of being hitchhiked, you can also draw on a cardboard the architectural masterpiece of your destination city (if it is known to all!). For example, we reached the city of Agra with a beautiful drawing of the Taj Mahal on a piece of cardboard and arrived there in record time.

On the contrary, the sign is useless when the destination city (i) is the next city served, (ii) is not known to all or when (iii) you want to go to several different places during the day.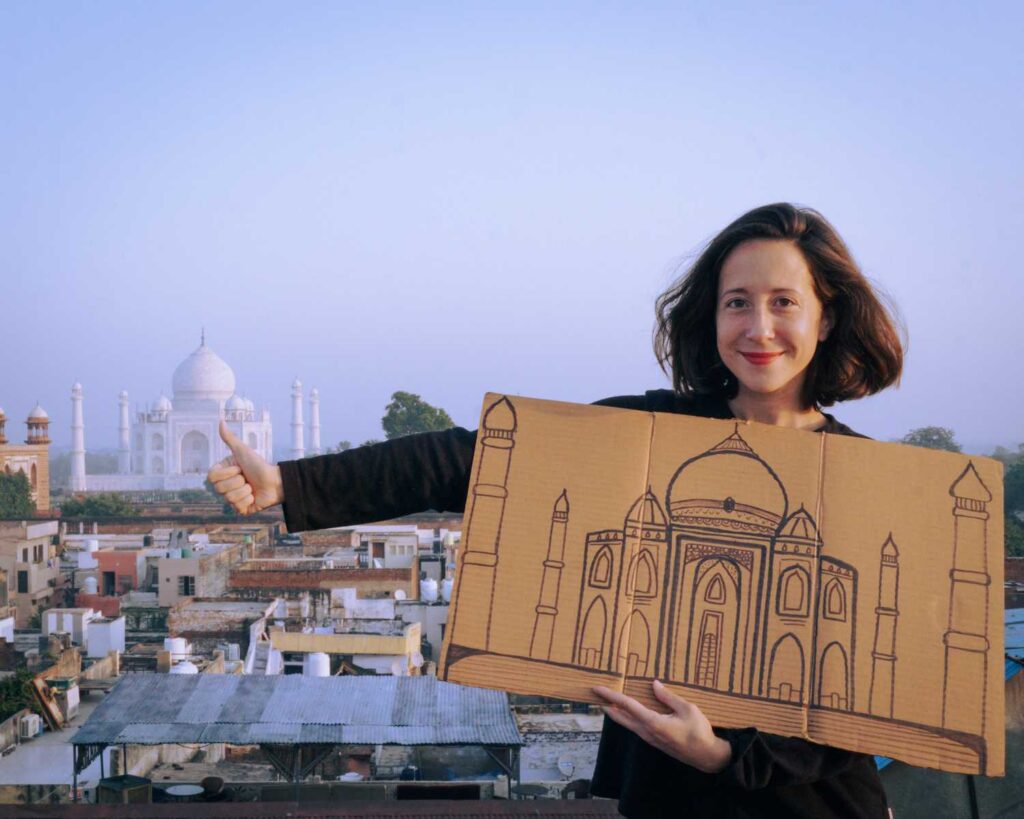 c) Thumb or no thumb?
Even if the thumb sign is slowly becoming more democratic in India thanks to social networks and a new community of young Indian hitchhikers (yes yes!), it is best known in the Western world (Europe, United States, Canada and Oceania). Outside this part of the world, locals almost never give a thumbs up to stop vehicles. The most commonly used and recommended sign is that of the arm stretched 45° towards the ground, palm down with up and down movement.

d) When a car stops
In India more than elsewhere, the practice of hitchhiking involves vigilance. In general, we recommend:

Discuss a minimum with the driver before getting into his car. If you don't "feel" the driver, or he looks suspicious, simply don't get in the vehicle and give him a false excuse!


In India, English is not spoken by everyone. It is therefore more than useful to download the application "Google translate" to be able to chat in Hindi, and prepare a small note in his phone, in Hindi language, explaining the concept of hitchhiking.


Know your hitchhiking route (and the intermediate cities between the first hitchhiking spot and the destination city). Indeed, you will be able to communicate more easily by having a precise idea of the cities that are on your route (and you will avoid wasting your driver's time).


To avoid misunderstandings, it is always necessary to ensure that the trip is free of charge before getting into the vehicle. Indeed, it may happen that the driver wants a financial compensation (and in this case, still a little patience on the side of the road, the next car will be the right one!).

e) Hitchhiking the trucks
With their magnificent "truck art" and their fleece cabins decorated with statuettes of gods and Bolywood posters, the Indian hitchhiking truck is certainly an essential experience for any self-respecting hitchhiker! Truck drivers will gladly stop to advance you a few miles, but don't rely on them for long conversations unless you speak Hindi. At the pee break, insist on paying the cellar, which they will certainly try to offer you despite their very modest salary.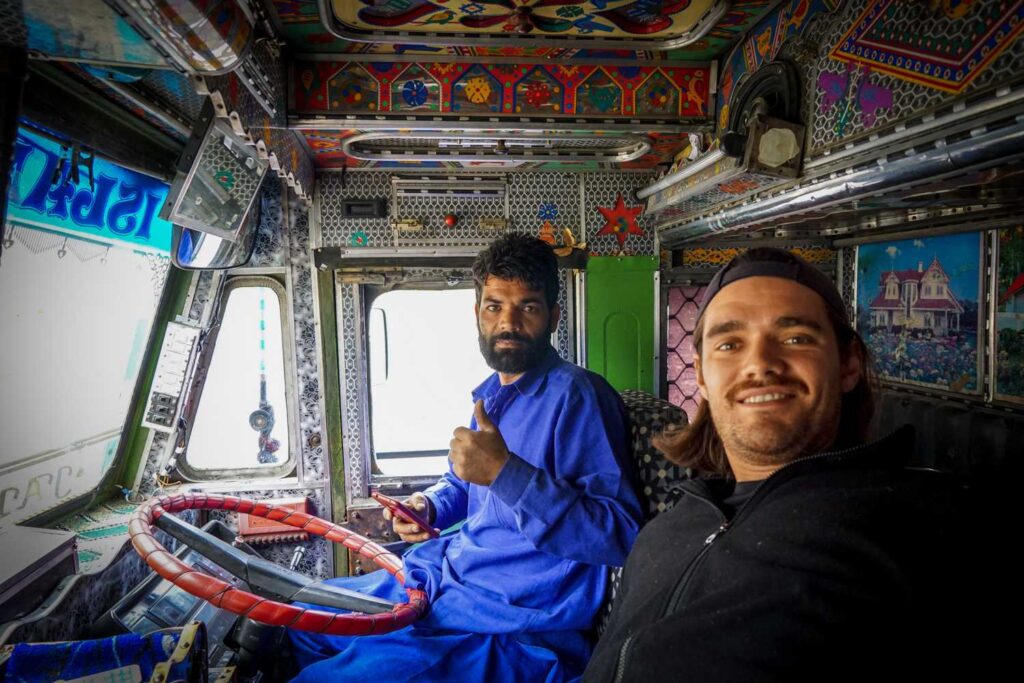 f) Hitchhiking in India for a single woman?
If you want to hitchhike alone in India, we advise you to place yourself in places where there is traffic so that you are always surrounded and visible. Adopt a sober outfit, rather loose if possible, and avoid mini shorts / skirts and tank tops.

As for your drivers, choose couples or families. Again, always chat for a few minutes with the driver if he is a lonely man to make sure of his good intentions and, if you do not feel it, trust your instincts and do not get in his car. We do not recommend getting into a car alone with several men. If by bad luck a driver becomes too insistent during the journey, do not give him the benefit of the doubt and announce clearly and firmly that you are not interested (you can say that you are married to a policeman for example), that you want to get off at the next gas station or the next road restaurant.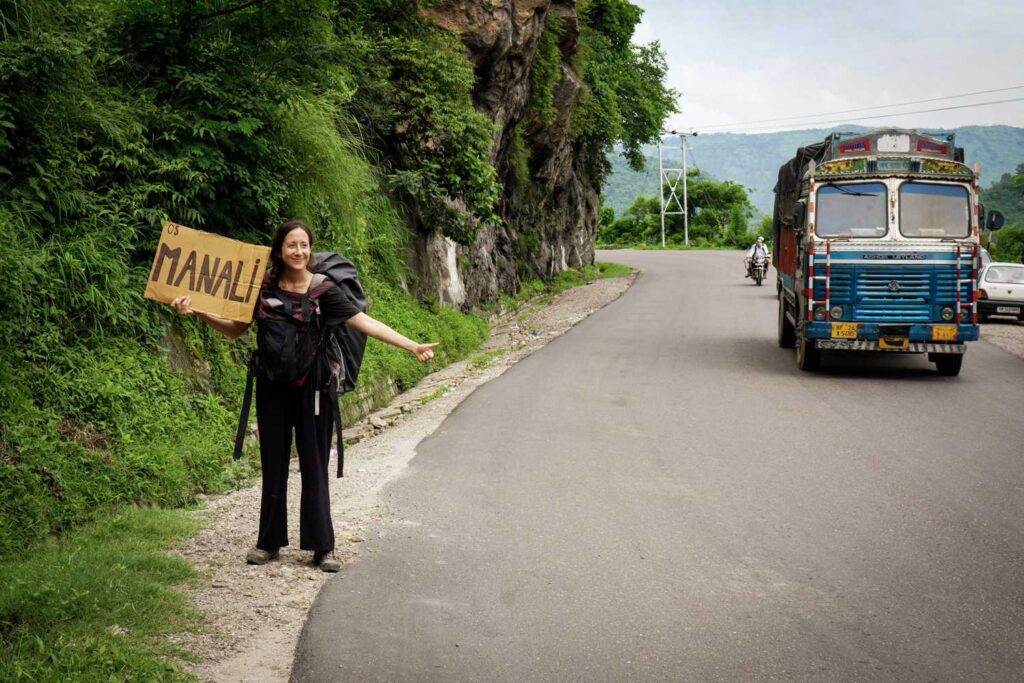 g) Security
Some obvious rules of common sense:

Never hitchhike at night.


Always have battery in your mobile phone.

Record in your phone the phone number of the Indian police (unless we are mistaken, it is No. 100).

If possible, inform a local of your movements (including a person living in your destination city, whom you can contact via Couchsurfing for example).
Bonus: our best and worst hitchhiking routes in India
In Uttar Pradesh, we were hitchhiked by a somewhat frosty man who argued that India absolutely needed a great dictator like Putin. He also told us that he customized his car by adding window curtains and other things to make himself look like a "senior member of the government" to the police. A reckless motorcyclist in the opposite direction ripped off a rearview mirror while we were in his car. Karma?

In Bihar, a family who hitchhiked us invited us to celebrate the festival of lights (Diwali) in a poor village. We met the whole family and lit many fireworks. After a good night in their beautiful barracks, our hosts re-dropped us off on the side of the road the next day!

In Rajasthan, a couple of naughty lovers did not stop getting at the wheel (and in a more than passionate way…).

In Ladakh, our driver who drove us to Leh took his mission to heart and stopped at each viewpoint and each pass to share his knowledge of the region and do some photo sessions!

In Himachal Pradesh, three crazy Sikh brothers and professional dancers left us the remaining two places of their car for a long drive on winding roads. A Punjabi night club for more than 300 kilometers…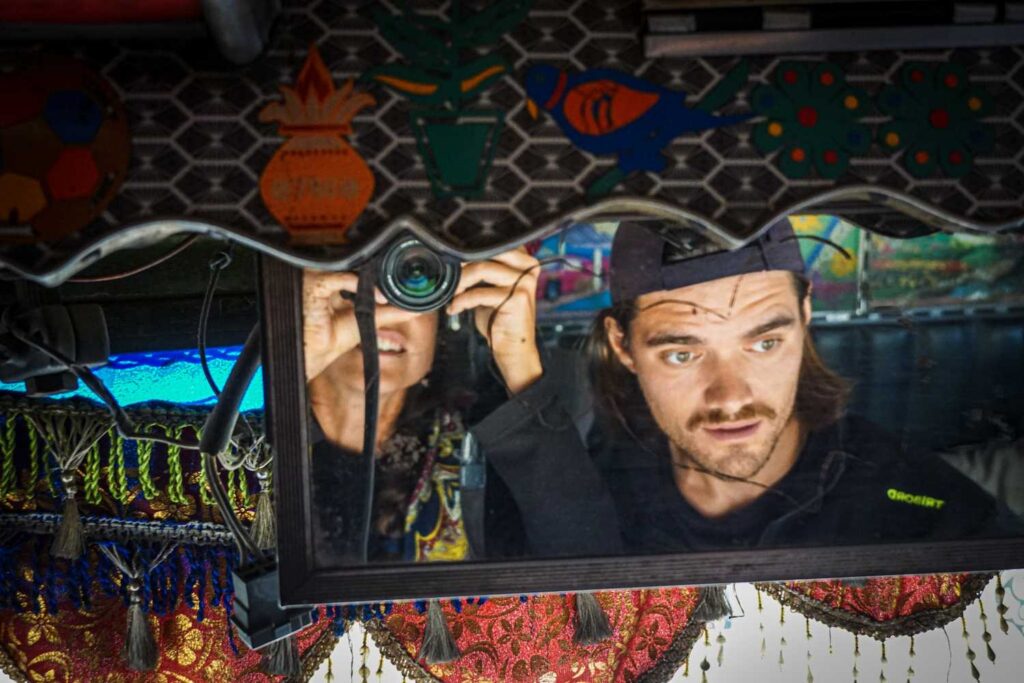 Find Onemap2bags
on the networks: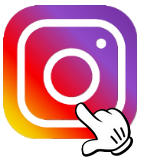 Instagram
Follow the trip