▶ Destinations ▶ India ▶ Nepal
 
There are many entry points to get in Nepal. Here, we will see more specifically about the overland border crossing at Banbasa (Kanchanpur) from Uttarakhand in India in the far west of the Nepal and from Sonauli and Raxaul, two border posts usually crossed after a journey to Varanasi in Uttar Pradesh.
Chapka insures your trip to India and Nepal
Get it now


Do not forget to get an insurance before crossing the border
Chapka can provide you a full and complete cover. Spirit Travelers's readers can get a 5% discount by using the following link:

How to get to Nepal from India?
Nepal has many entry points but only the 7 below can be crossed by tourists (excluding Tribhuvan International Airport in Kathmandu):

Entry points :
Visa on arrival (VOA) is available in the following border posts
– Banbasa/Mahendranagar (Kanchanpur)
– Kakarbitta/Panitanki (Raniganj)
– Sonauli/Belahiya (Siddharthanagar)
– Raxaul/Birgunj (Raxaul)
– Rupaidiha/Jaisapur (Nepalganj)
– Gauriphanta/Dhangadhi (Trinagar)
– Kodari: Tibet (only by authorized travel agency and/or special permission)
How to get to Nepal from Banbasa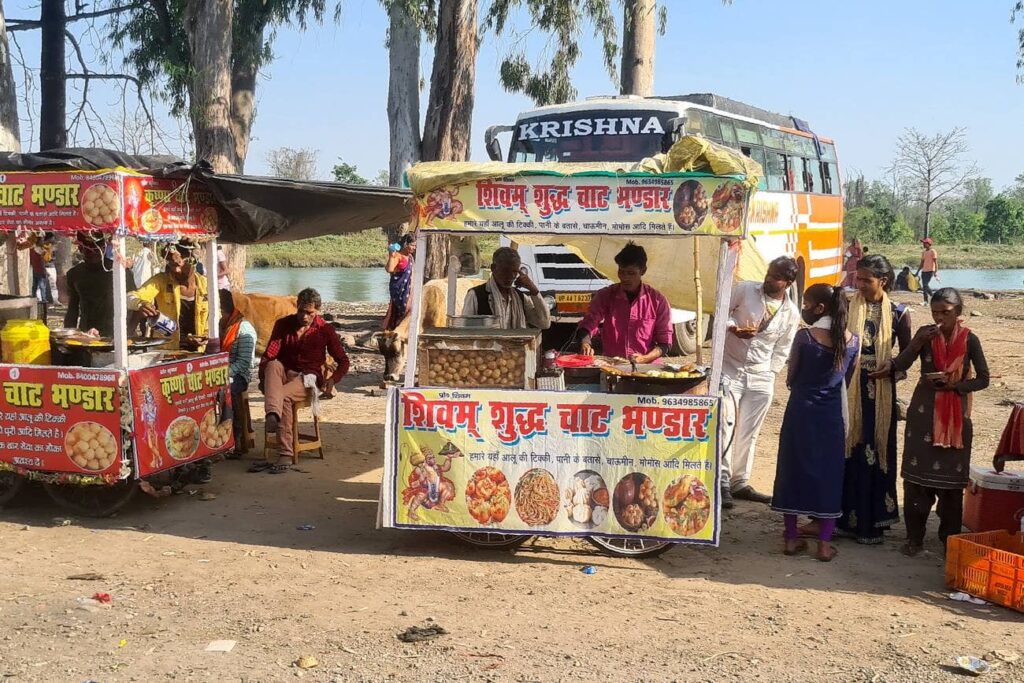 Banbasa is the closest town to the Kanchanpur border, near Mahendranagar, in the far west of Nepal. This entry point is generally preferred by travellers arriving from northern India, especially from Rishikesh, Haridwar and New Delhi. It's a good option for those who wish to travel the country all the way by steps in Bardia, Lumbini, Tansen, Lumbini and Pokhara before ending in Kathmandu for example.

1. From New Delhi
2. From Rishikesh
3. From Haridwar

1. How to get to Nepal from New Delhi
Going to Nepal from New Delhi is the easiest option for travelers visiting northwestern regions such as Rajasthan for example or the northern part of India. The easiest option to reach the destination is by train, bus or flight:

Travelling by train
From Delhi and Shahdara (DLI and DSA):
The train PURANGIRI JANST (12036) departs daily at 06:25AM. It is the only direct one and the journey takes 9h12. Available classes: Second (2S) and AC Chair Car (CC). Remember to book your trip at least 3 days in advance to get a place. Below, you will be on a waiting list (without a seat).
🔎 How to travel by train in India


Another option: Bareilly

If 9 hours seems too much, you can opt for a second option. This is the one I'd chosen since I wanted to take my time to travel. Many trains to Bareilly depart almost every hour from all stations in New Delhi. The journey is fast, about 4 hours.

From here, you can spend one night and then take another train to Banbasa or leave the capital city and follow directly the second trip if you arrive before the afternoon. You will save 2 hours of travel in this way. I know that 9 hours of train ride in full carriages without berths can be annoying. This alternative can therefore be a solution. Prefer the Bareilly station (BE). There are many hotels all around the station.


Bareilly ▶ Banbasa

From Bareilly Junction (BE):
The train PURANGIRI JANST (12036) departs daily at 12:45AM. It is the only direct one and the journey takes 2h52m. Available classes: Second (2S) and AC Chair Car (CC).


Travelling by bus
From Mori Gate Chowk (Old Delhi):
The bus RS Yadav SmartBus Pvt Ltd departs daily at 10:40 AM. The journey takes about 8h45m. You travel during the night in a comfortable and air-conditioned vehicle. It arrives around 7:25 AM. in Banbasa. You can go directly to the station below to book or do it on the internet.
Travelling by plane
Reaching Nepal by air is another easy way to travel but you will necessarily land in Kathmandu (non-stop).

2. How to get to Nepal from Rishikesh
You have to go to Haridwar to find transportation. The city is located about 20km from Rishikesh.

3. How to get to Nepal from Haridwar
Banbasa is poorly served from this area. You can take a bus from Haridwar to Lalkuan or Rudrapur. From here you can continue by taxi or local transport (83 km distance).

By train
From Haridwar Junction (HW):
The train DDN JANSHTB EXP (12091) departs every day except Tuesday and Thursday at 5:32 PM. The journey takes 4h14m. This destination is also served by Dehradun.

Train journeys from Haridwar will take you through Bareilly with a stopover in this city. Several one-way trip reach this city every day. From here you have to take a second train. Refer to the section on Bareilly.

4. Banbasa: Crossing the border
The border of Banbasa is very simple and quick to cross. In fact, without the small military checkpoint at the gates of the Nepal, nothing gives the impression of switching the country. Whether you arrive by train or bus, both will stop close to many rickshaws. They can drive you all the way to the Nepali border for something like 300 rupees (less if you choose to stop at the bridge that passes over the border river). I advise you to pay for the entire ride.

Your driver will drop you off at Indian immigration and then at the Nepalese border post. From here, other motorcycle drivers take over. They take you to Nepalese immigration, they wait, and then take you to the town of Mahendranagar for 200 Indian rupees or 300 Nepalese rupees.

From Mahendranagar, you can go anywhere in Nepal from the large bus station. Alternatively, you can spend a night in one of the many hotels in the city. I stayed in Gangotri Plaza for the equivalent of $8 per night.
Getting to Nepal from Raxaul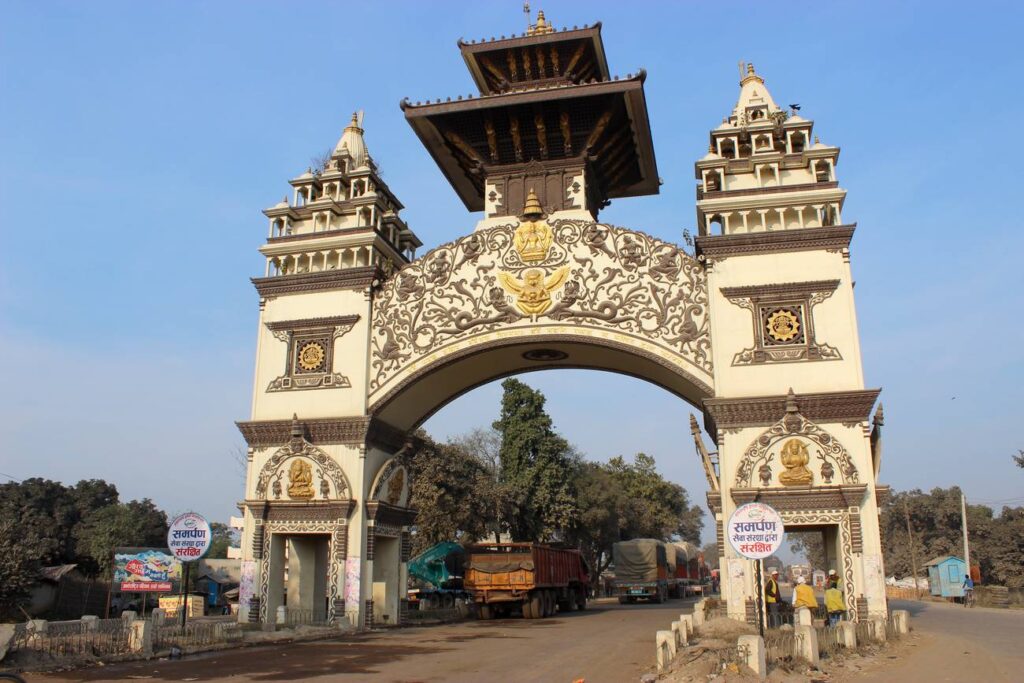 The majority of travellers cross the Raxaul border from Varanasi or Ayodhya. Only 2 trains depart from Varanasi directly to Raxaul. Otherwise, you have to go to Gorakhpur. The same goes for all other departure cities nearby, including Ayodhya.

From Varanasi Junction (BSB):
The train SADHBHAWNA EXP (14008) departs every Wednesday and Friday at 9:10 AM. The journey takes 12h40m. They are the only ones who make this journey.

Getting to Nepal from Gorakhpur
The easiest and fastest option is to take the train to land right at the border of Raxaul. Here are the 2 and only trains that go there.
🔎 Travelling by train in India : a guide

From Gorakhpur Junction (GKP):
The train SATYAGRAH EXP (15274) departs daily at 10:30 AM. The journey takes 07h05. This option is the longest but the train is very rarely full unlike the second when the cars are filled with passengers.

From Gorakhpur Junction (GKP):
The train SVDK KYQ EXP (15656) departs every Thursday at 4:35 AM. The journey takes 03h53m.
Getting to Nepal from Sonauli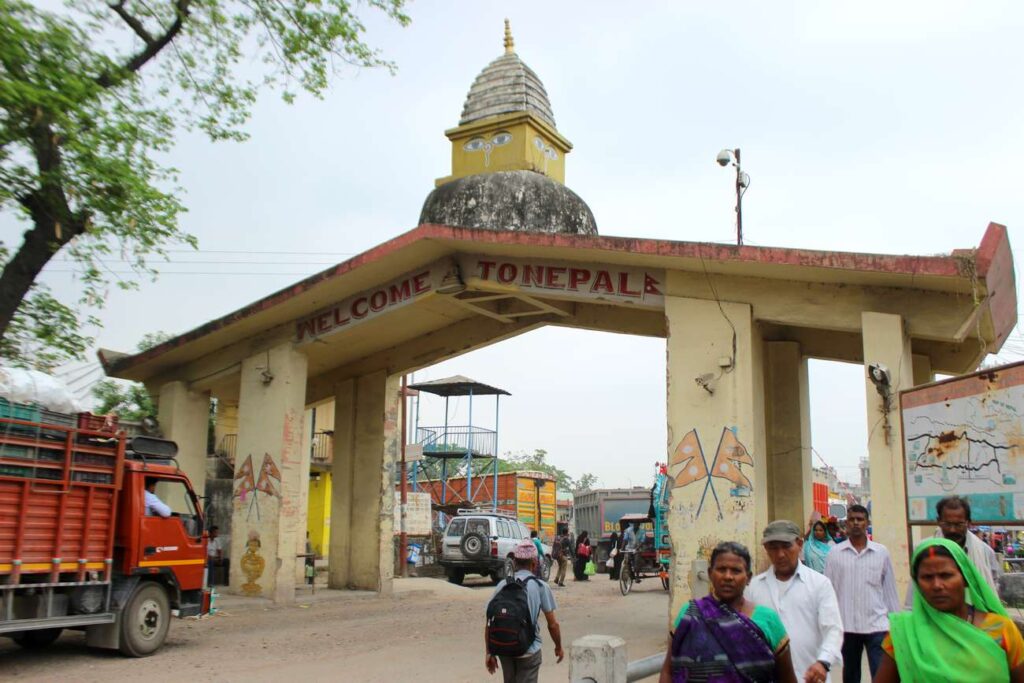 Sonauli is an interesting border crossing because of a major tourist activity nearby: Lumbini, the birthplace of Siddhartha Gautama (Buddha), about 25 kilometers away.

By train
To reach the border crossing by train, you must stop at the Nautanwa terminus, 8 kilometers from Sonauli. From this city you can continue with other local transport.

From Gorakhpur Junction (GKP):
The train DURG NTV EXP (18201) departs every Thursday and Saturday at 7:55 PM. The journey takes 02h10.

From Gorakhpur Junction (GKP):
The train DURG NTV EXP (18205) departs every Friday at 8:10 PM. The journey takes 01:55. The border remains open all night so no worries (for visitors without a personal vehicle).

By bus or taxi
Many buses leave almost every hour to Sonauli. You must go to the bus station (location below). A bus ride costs around INR 150 and a shared taxi ride costs around INR 300 per person. From Sonauli you can easily go to Lumbini, Pokhora or Kathmandu with other buses.
My advice
According the size of Sonauli and the traffic there, I highly advice you to get there early morning, at least 7am (in that case, I recommend you to stay the previous night in around Sonauli, many hotels are availables). This place get really quickly crowded and busy after some time, being one of the largest Indian-Nepal borders. I did it, and the way was almost empty. I crossed the border in about 30 minutes only, using a cycling rickshaw.

Process
First go to the Indian immigration at this location then reach the border to the army checkpoint here. Continue to the Nepali immigration here, get your visa, then enjoy your trip!
Warning : Travelers have reported that some people are selling fake bus tickets on the Indian side for the rest of the route. Be careful or prefer to book it once Nepalese immigration has passed.
Also note : You can only pay the visa with very clean dollars USD. Euros are not accepted.
Land border: visa on arrival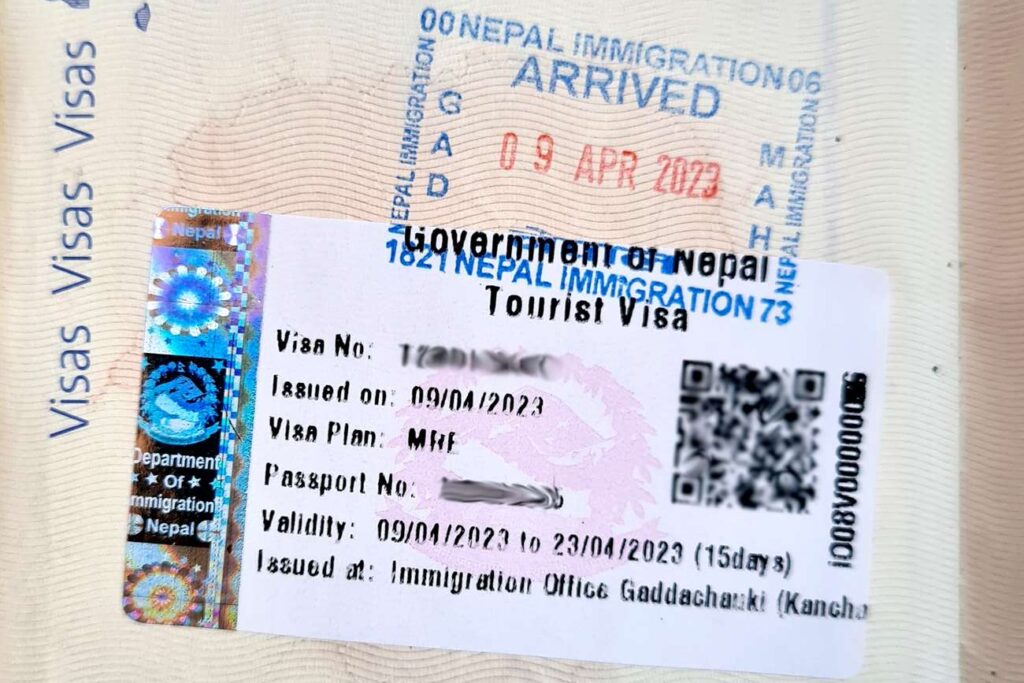 The tourist visa on arrival is available at the Nepalese borders:

1. Visa prices
| 15 days | 30 days | 90 days |
| --- | --- | --- |
| 30 ($/€)* | 50 ($/€)* | 125 ($/€)* |
*Visa is free for children under 10 years old

Payment method
Payment for the visa is only accepted in these currencies: euros, dollars or pounds sterling. Credit cards are not accepted.

Can I pay in Indian rupees ?
No, you cannot pay in rupees but the border posts of Banbasa, Raxaul and Sonauli have exchange offices where you can get any of the 3 required currencies.

COVID and formalities
Your passport must be valid for 6 months beyond the return date of your trip. Till now, proof of vaccination or a PCR test of less than 72 hours is still required to enter Nepal.
How to get to India from Nepal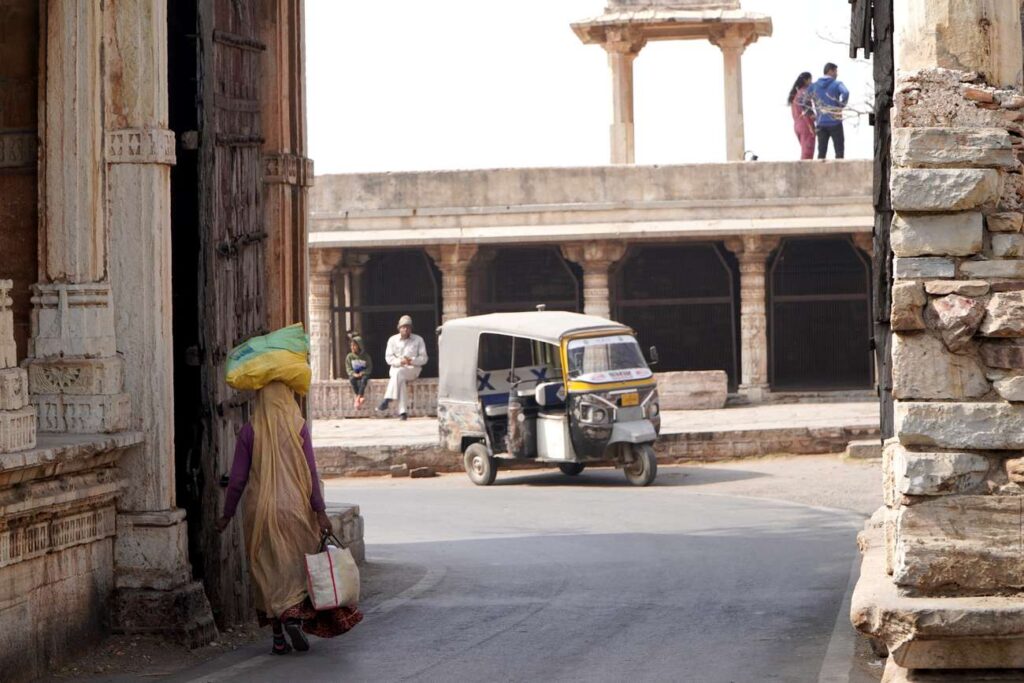 Visa on arrival not available
Formalities and visa
Going to India from Nepal is usually possible by one of the 6 designated ports of entry in this list. But be aware! Since the COVID crisis, most of the terrestrial borders have been closed and only 2 remains. I tried anyway to cross elsewhere in the West Nepal (at Dhangadhi)and they sent me to one of the open border. I had to do a 13 hours journey by bus to reach there! Fortunetaly, my visa was expired and after a short talk they did not give me any penalty. My experience there dates from April 24, 2023.

So till now, here are the only terrestrial borders you can cross from Nepal to India:
– Raxaul/Birgunj (Raxaul)
– Sonauli/Belahiya (Siddharthanagar)
– And obviously, you still can leave from the Kathmandu airport.

Please note: The e-visa doesn't allow you to cross land borders. Only travellers with a multiple-entry visa may cross them, if they have already validated it when arriving on Indian territory through one of the borders provided for this purpose:

I explain. On the application of the Online visa for India, a list of 19 entry points are proposed ("Port of Arrival") from which one can choose between 29 airports and 5 seaports. No land borders are allowed. For a first trip to India, it is mandatory to arrive by one of them to validate your visa. Once obtained, the traveller can leave the territory anywhere and then re-enter by any other land, air or sea port.

You can get the Indian visa easily at the ambassy in Kathmandu or following this guide to get it online :