▶ Destinations ▶ India
 
Jodhpur the Blue City
Jodhpur is a must-see city in Rajasthan. It was once the capital of the Kingdom of Marwar, now a region. This large city of more than one million inhabitants is one of the most touristic of North India. Travelers visit Jodhpur mainly for its completely blue historic city and the gigantic Mehrangarh Fort.

Visit Jodhpur
In this travel guide, you will find all the things to do in Jodhpur: cultural and outdoor activities, tourist attractions, the best places to visit, temples, historical monuments, festivals and some useful tips and information: When to go, where to sleep, where to eat, how to get to Jodhpur and so on.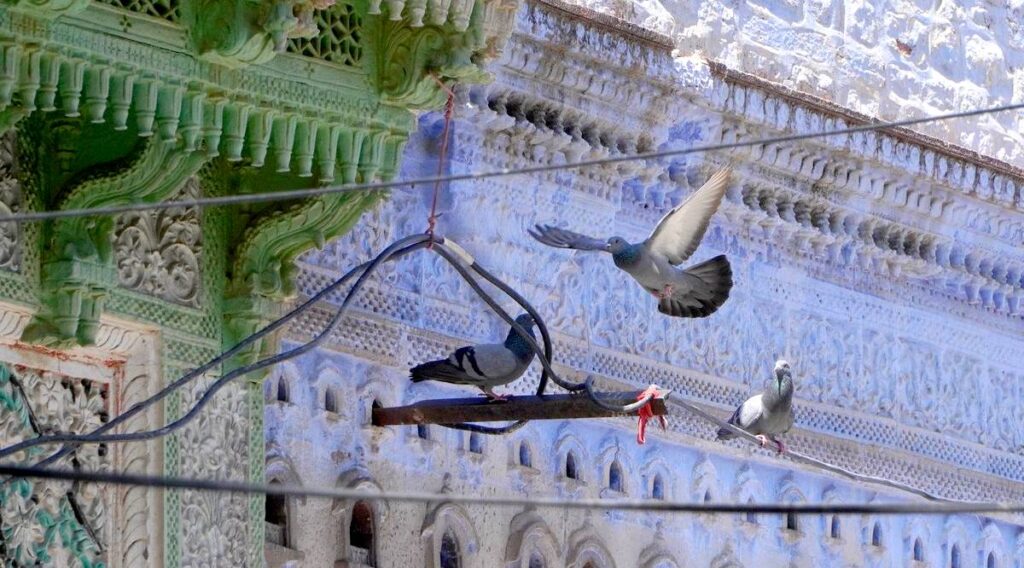 Jodhpur travel guide
This guide is based on an in-depth visit since I spent more than 45 days in the blue city, spread over 3 trips in India. I dedicate this article to Harshit whom I had the chance to meet in 2019. We became true friend since this time. It is at his family's house that I stay on each of my trips to Jodhpur for about ten days.

He offered me many opportunities, encounters and gave me the chance not to be a spectator in the middle of the blue houses but rather of the life that happens inside several of them by the most authentic way. Enjoy reading and have a good trip to Jodhpur!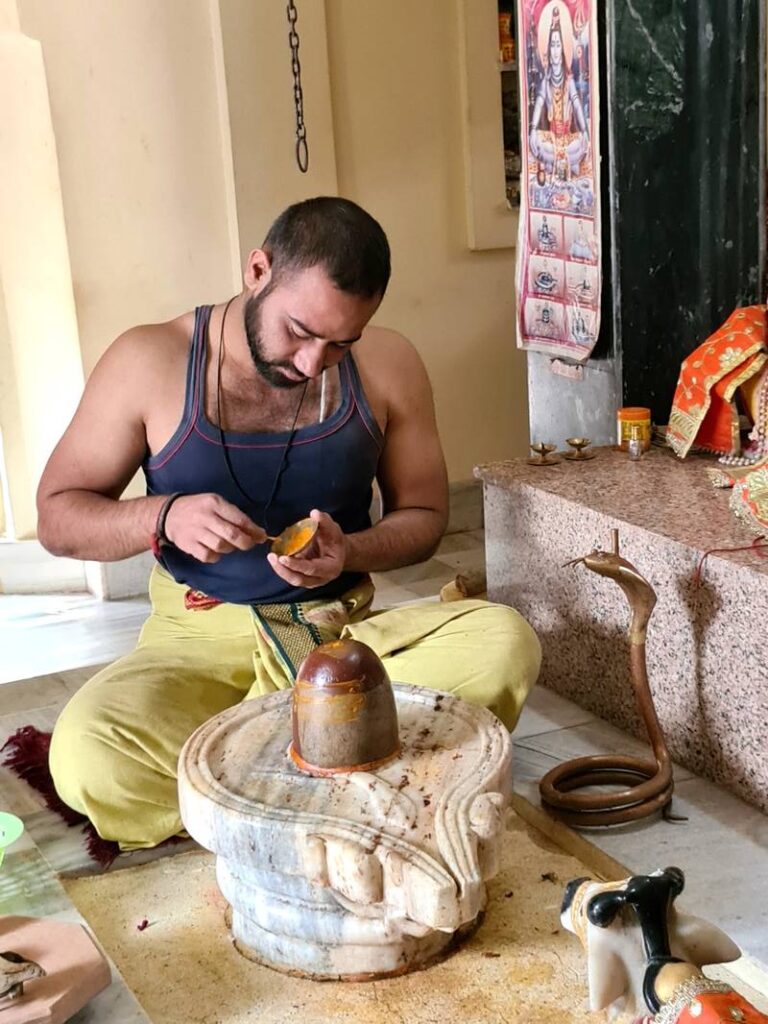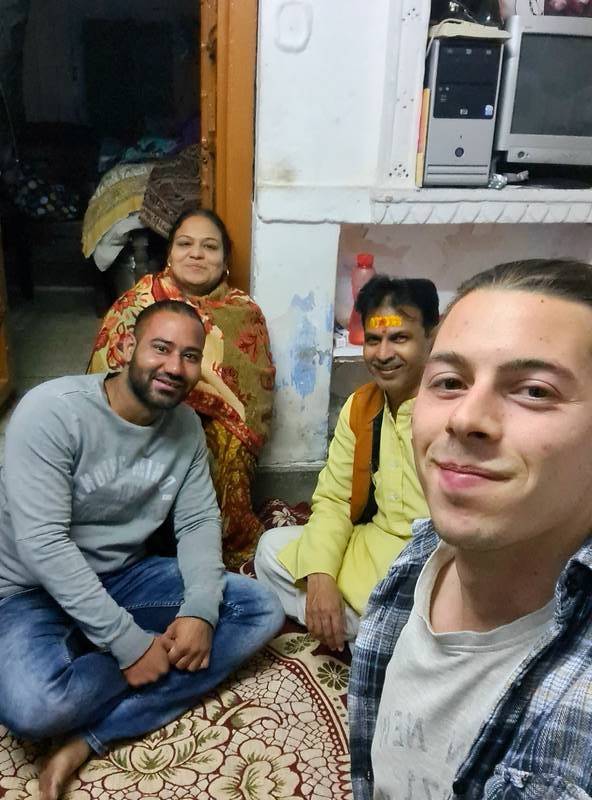 Map of things to do in Jodhpur
This map includes the places of tourist interest mentioned in this travel guide, temples, viewpoints and must-see places.

Use two fingers simultaneously to move around the map.
Why visit Jodhpur?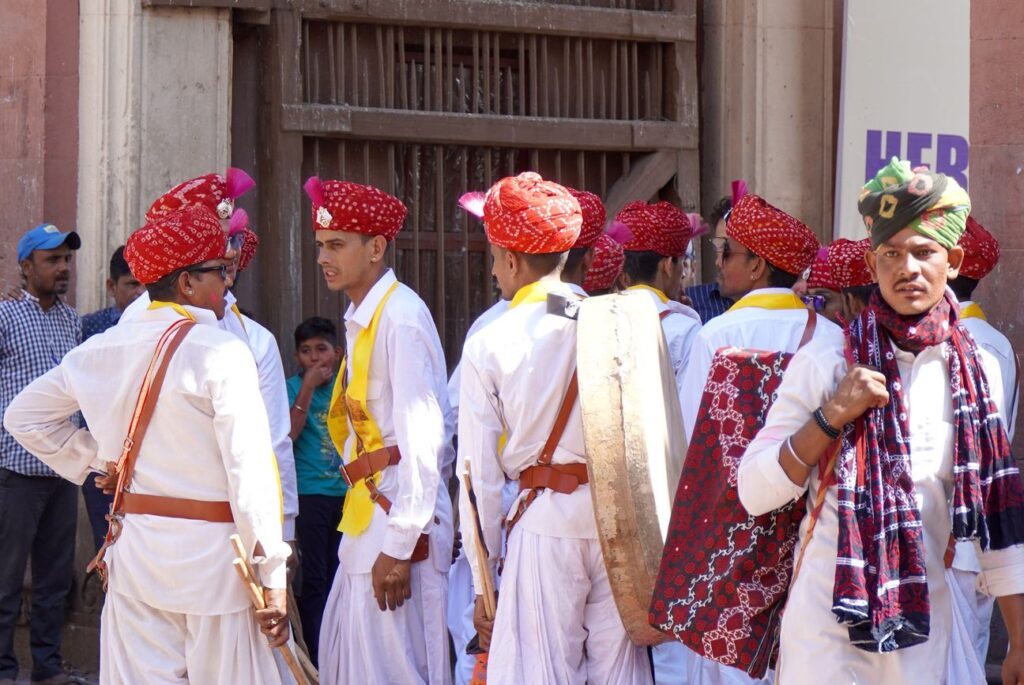 Jodhpur is one of the most touristic cities in India's largest state, Rajasthan, located in the northwest of the country. Its medieval character with its imposing fort, its maze of narrow and steep streets and its area of blue houses make it absolutely gorgeous. Its appearance is one of the main reasons that attract tourists. Yes, Jodhpur fits perfectly into the "Instagram destination" and it is for me one of the most beautiful cities I have visited in the world.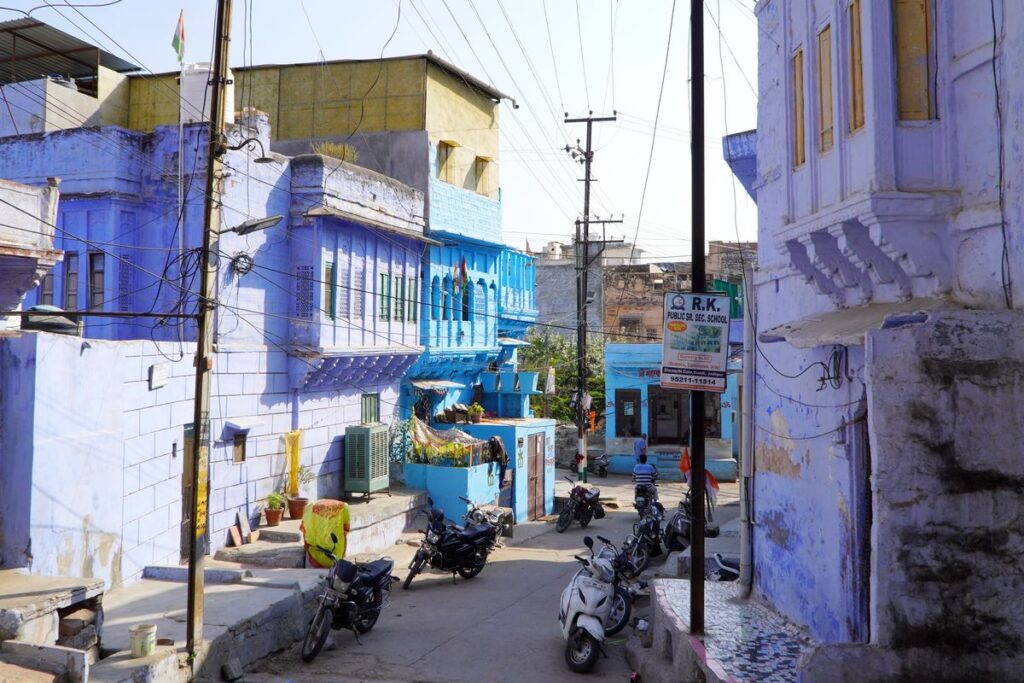 If you follow Spirit Travelers from near or far, you have probably noticed that this aspect is not necessarily put in the foreground. Of course we will note it in this guide but know that the city of Jodhpur has much more to offer than its beauty. Indeed, behind its pretty shades of blue, it has a unique and remarkable architecture, history and culture. We will see it in a long list of things to do and places to visit. You will not miss any activity and things to know for your trip.

Jodhpur is large but not so busy compare to others
Jodhpur is also a pleasant city to spend time since it is relatively 'quiet' for its size. At least around the fort. It is a good place to take your time to visit and rest from the hustle and bustle of other major cities in Rajasthan. The desert surroundings of Jodhpur are also worth a visit. These are excellent places to ride a motorbike with sumptuous scenery.
About Jodhpur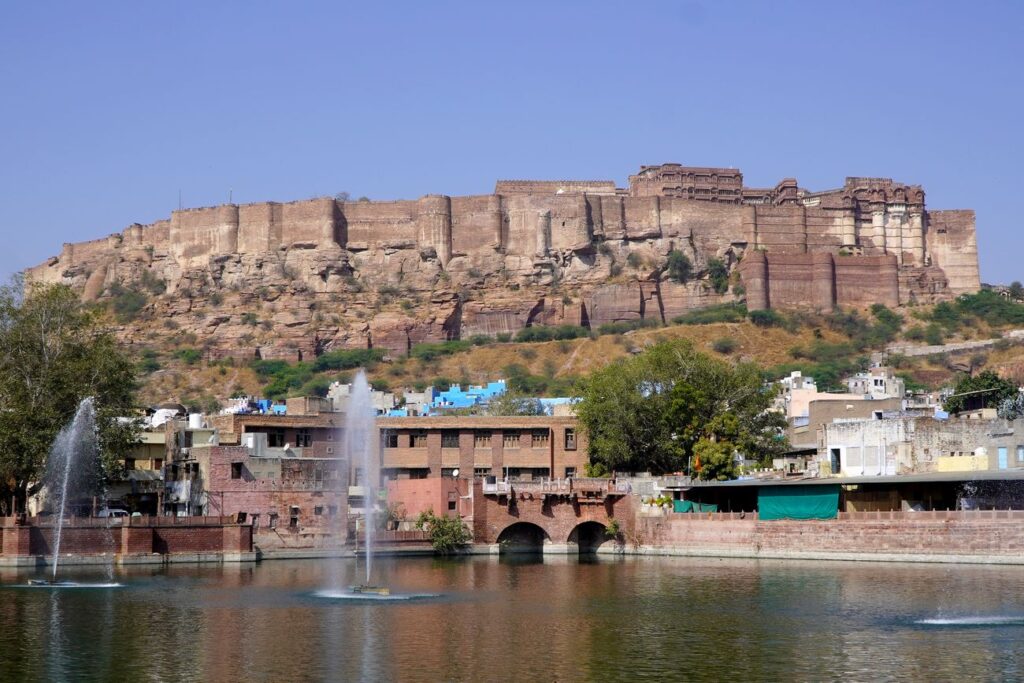 History
Jodhpur was founded in 1459 by Maharaja Rao Jodha who was a Rathore, a Rajput clan originally from Mandore. This city became the capital of the Marwar region he had conquered, and he transferred it by founding Jodhpur. Its headquarters were then built on the hill overlooking the blue city, Mehrangarh Fort.

Rao Jodha and his descendants were powerful in Rajasthan. His son Rao Bika did not wish to inherit Jodhpur and preferred to build his own kingdom. This is how Bikaner was founded by himself in 1488. The capital of Rajasthan during this period was Jaipur.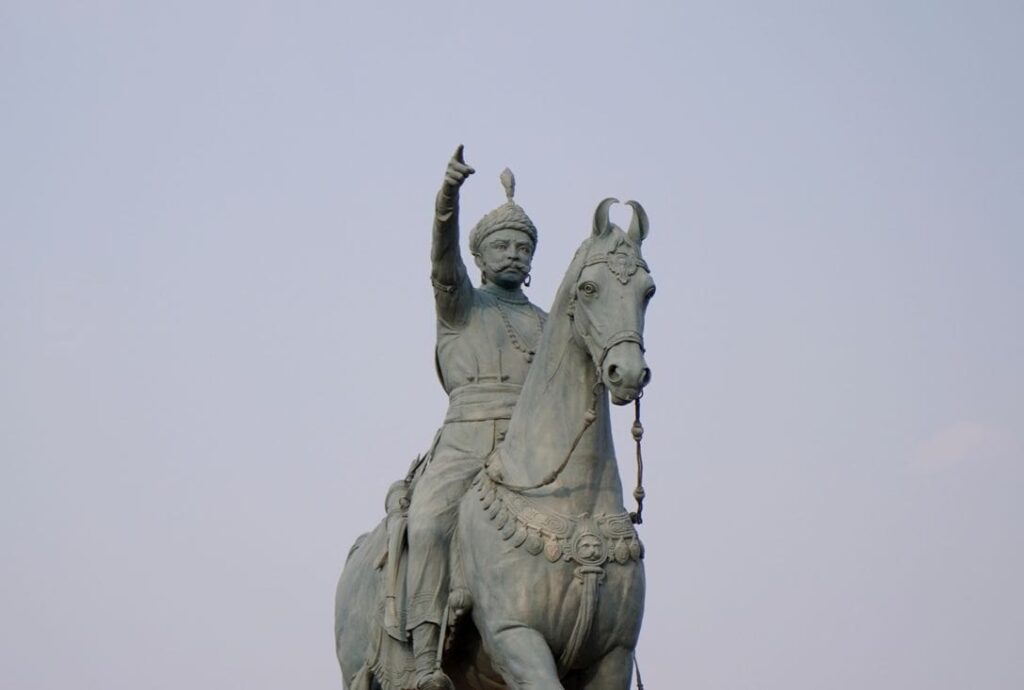 Why is Jodhpur called Sun City?
Jodhpur is nicknamed the City of the Sun according to Hinduism. Indeed, the deity of the Sun, Lord Surya, shines in the sky for a very large part of the year in Jodhpur. For this reason, the city is called Surya Nagri: the city of the Sun. Sun City therefore refers to this deity.

Why is Jodhpur blue?
As much to tell you right away, the answer will not be clear. I've asked so many people and I've always had different answers. The theories below are all those that are suggested on the internet and by the inhabitants:

● Brahmins, the highest caste in India is associated with the color blue. It is believed that the old town was painted to distinguish itself from the rest.
● For the heat: Jodhpur is located in a desert region and it is very hot most of the year. The blue color would keep homes cool.
● The color of Shiva: The Hindu deity is blue and it is suggested that Jodhpur is of this color for this reason.
● First color available: in the past, only white paint was used, taken from limestone. Later, indigo dye was discovered by extraction from the indigo tree. Since then, it has been an available color in the region, and it would have been used.
● Against parasites: the composition of indigo would repel insects. It also has antimicrobial properties contained in the extracts of the plant.

Theory
At the present-day, here's the most logical and plausible reason: indigo was one of the first colors available. Cultivation and extraction required a certain cost so mostly the richest caste could afford it: the Brahmins. Today, the cost of painting is still expensive and not everyone can buy it.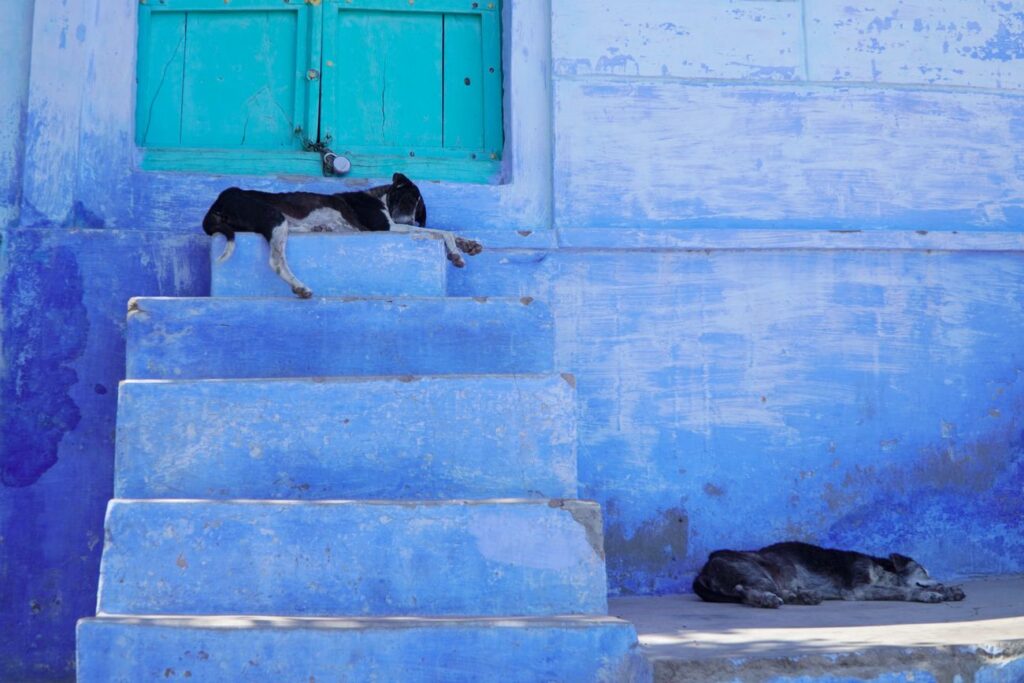 Where are the blue houses?
The blue area is mostly Brahmpuri: where Brahmins live. It is also the old city, the place where the first houses of Jodhpur were built. It is located south of Mehrangarh Fort (north of the city).
Mehrangarh Fort
Mehrangarh Fort is a must-do activity and a must see in Jodhpur. As we have seen, it was the headquarters of the founder of Jodhpur, Jao Rhoda. Its construction strated in 1459 when the capital of Marwar was moved and the needed to secure the city government arose.

The Maharaja's successors continued to expand the fort over the centuries until the end of the 17th century.

Visit
The price of visiting the fort is 200 INR or 100 INR for students. There is no time limit, you can visit it a whole day. The fortress is composed of several palaces, a museum, gardens and especially the most beautiful views of the city of Jodhpur. Its size is sprawling, so the visit takes time.

How to get there?
You can get to the fort on foot from the old town from the Fateh Gate (Fateh Pole) or from this point which is at the opposite. Visitors by car must arrive by this entry to have access to the parking.

Ziplining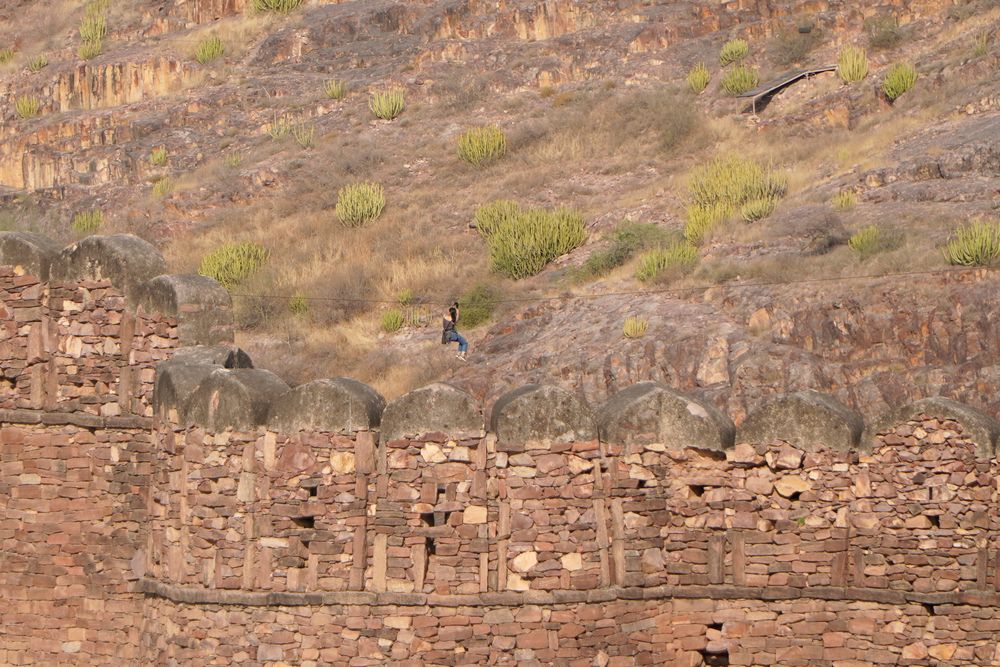 It is possible to zip line over a piece of the fort and one of its walls for the sum of INR 1,500 at this location:
The gates of the city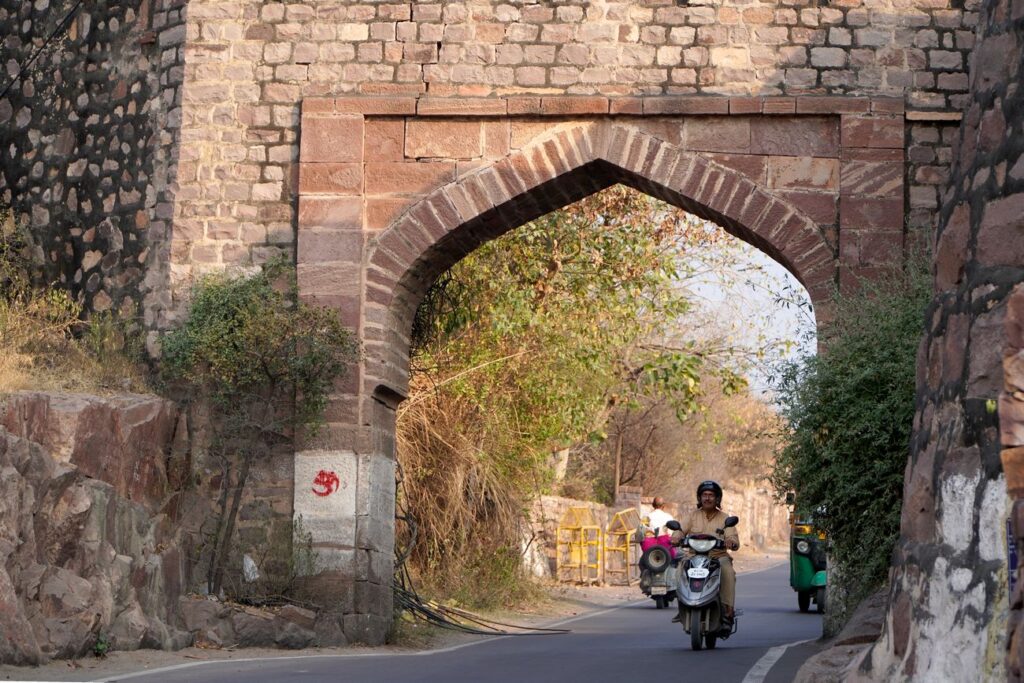 When Jodhpur was founded, the city developed all around the hill where there is the Fort and its huge ramparts. In order to secure the entire agglomeration, many walls and bastions were built all around the city with a very limited number of entrances the fortified gates.

You can't miss them because they are so huge. The first one you will see will be at the entrance of the city near the train station if you arrive by. Another one that you will not miss will be the one on the clock tower square or Chandpole in the blue city.

Jaswant Thada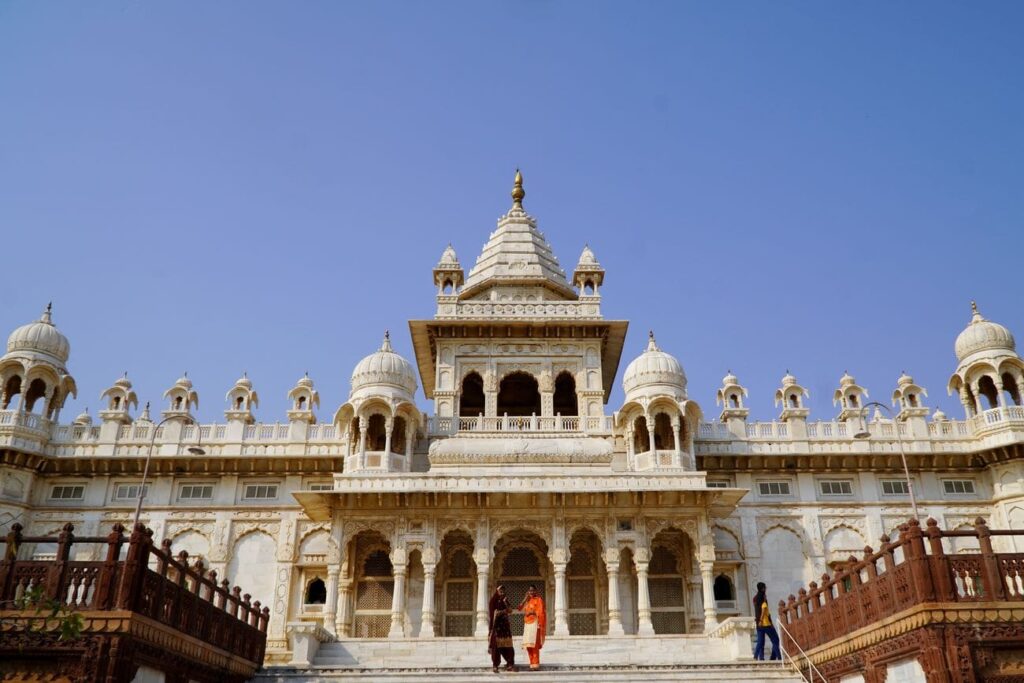 Jaswant Thada is the cenotaph (monument built in memory and honor of a deceased person) of Maharaja Jaswant Singh II built by his son in 1899. The monument is carved in marble. This place is also used for cremations of the royal family of Jodhpur.

Visit
The fee is 200 INR for foreign visitors (it may change for some reasons).

Location
It is located less than a kilometer north of Mehrangarh Fort.
Mandore Garden
Mandore Gardens are located in the city of the same name, close to Jodhpur. It was the old capital city of Maharaja Rao Jodha before his relocation to present-day Jodhpur. The gardens include cenotaphs, the ancient fort before the Mehrangarh fort was built, beautiful gardens, ruins and temples.

Visit
The entrance is free. As part of a cultural tour of Jodhpur, Mandore is a must-see place for its history. In addition, it is a place of breathtaking beauty and very quiet where to relax. You will find many gray monkeys there.

How to get there?
Mandore Gardens is located 9 km north of Jodhpur. The rickshaw costs about 100 INR.
Panchkund Chattriya
Close to Mandore Gardens is a very large group of cenotaphs and a royal funerary garden. This activity is often forgotten by tourists who only visit Mandore Garden, probably because they don't know about this archaeological site. Still, Panchkund Chattriya is incredibly beautiful with very interesting architecture filled with pattern and intricate details. I really like the energy of this place.

Visit
The visit is free. Plus: Right in front of the burial site is a large place where women color huge fabrics for the manufacture of saris. It is a very photogenic place with cenotaphs in the background.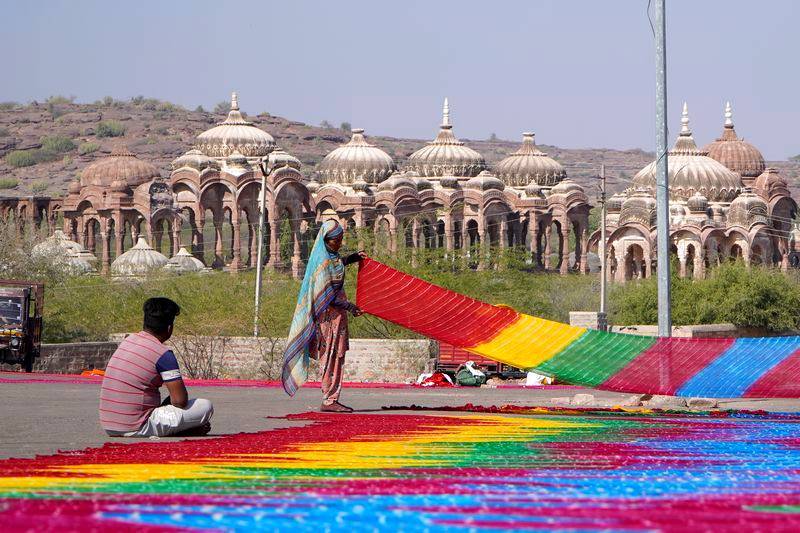 How to get there?
The place is easily accessible from the Mandore Gardens since it is only one kilometre to the north.
Jodhpur Old Town
Obviously travelers don't plan a visit to Jodhpur without taking a tour in its historic district with its colorful houses that it is nicknamed "the blue pearl of Rajasthan". Lose yourself in the maze of alleys of the old blue City is an activity that you will never get tired of.

Location
Blue houses are scattered all over Jodhpur but the completely blue historic district is at the foot of Mehrangarh Fort.
Sardar Government Museum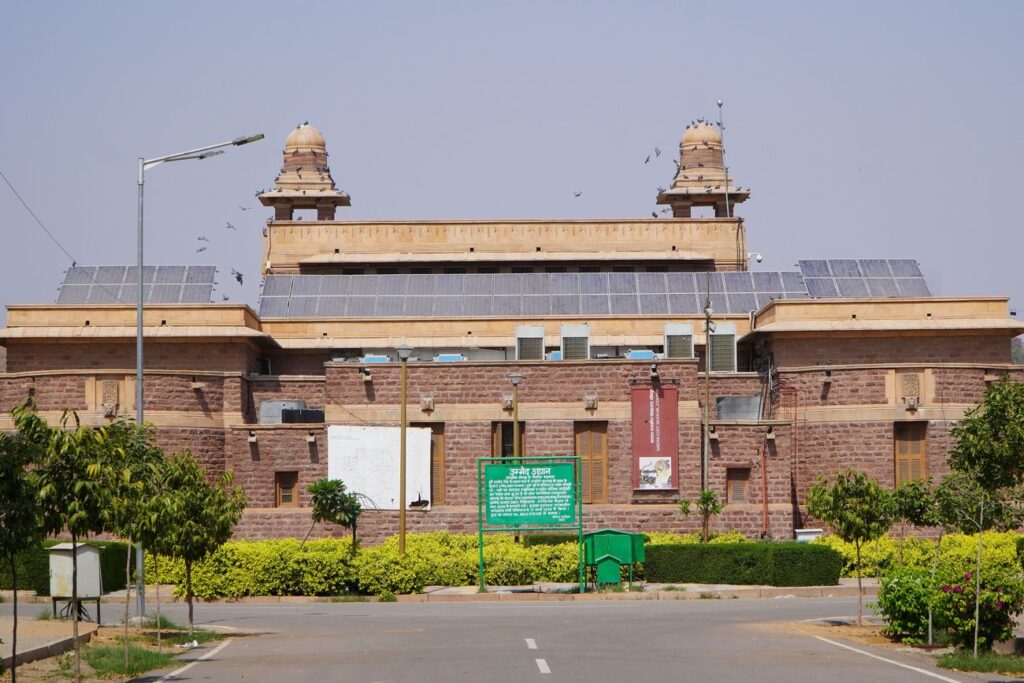 The Sardar Museum is located in the middle of a park, a short walk from Jodhpur Railway Station. Many ancient weapons that were used in the time of the Maharajas as well as objects from the fort and royal families are on display.

You will also find information about the city and its history, sculptures of the oldest deities of Jodhpur and many stuffed animals such as wild boars, tigers, jackals or antelopes and even a gavial. Hunting was a popular activity in royalty.
Stepwell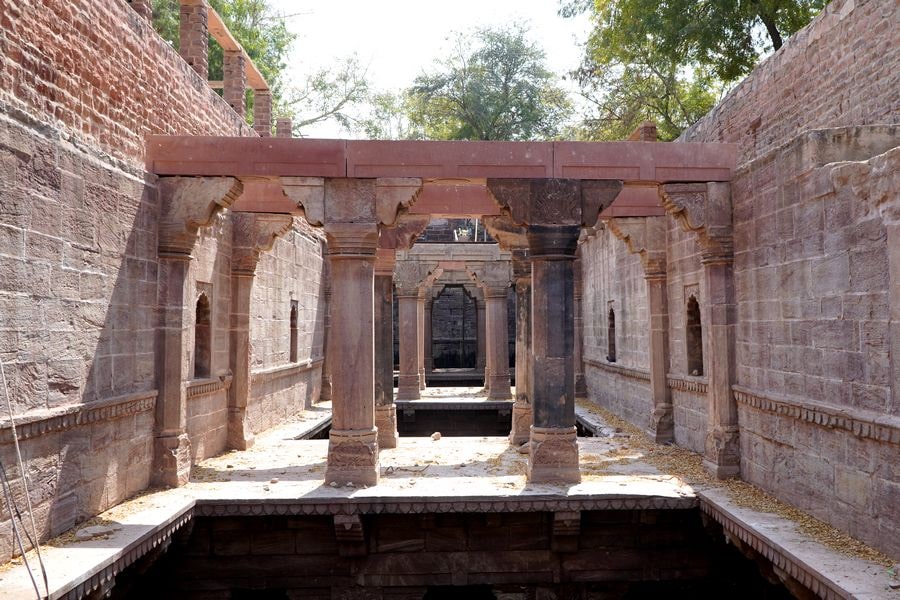 A beautiful well is located within the grounds of the museum park in this place.
Talabs in Jodhpur City
Ranisar Talab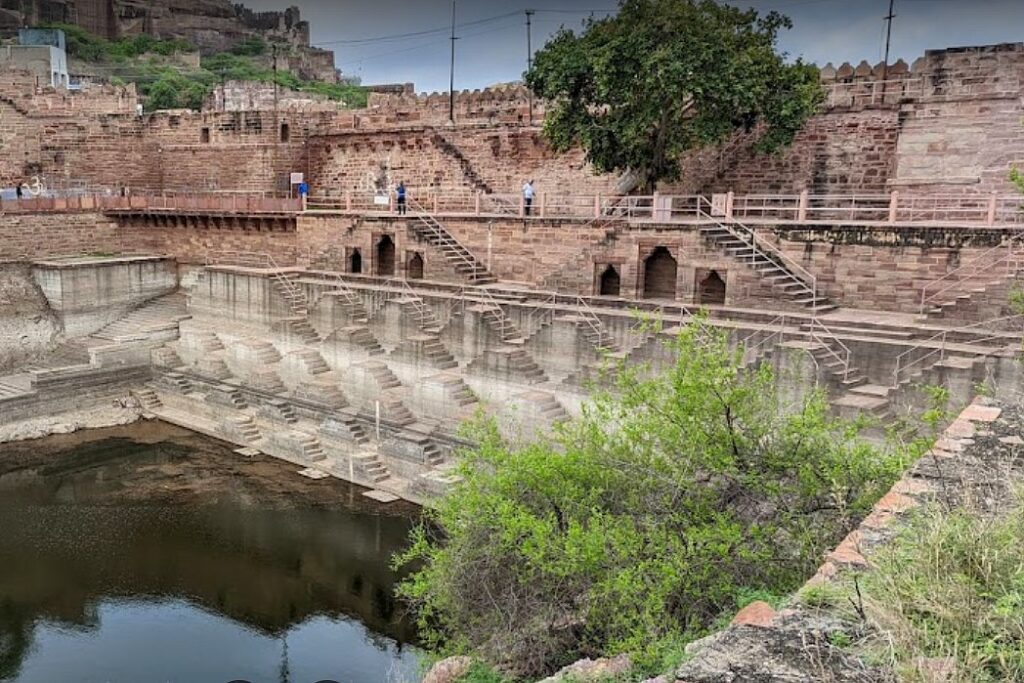 Ranisar Talab is a redeveloped natural pond with many bavdi-style steps. It is located below Mehrangarh Fort. It is a place where swimming is allowed. A notable ornithological diversity lives there.
Padamsar Talab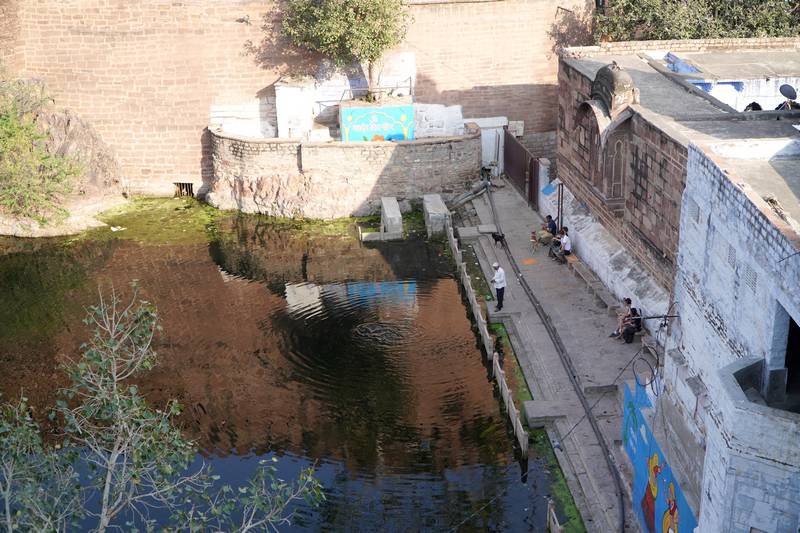 Padamsar Talab is very similar to Ranisar Talab and located in the same place, only a small ridge separates the two water points.
Gulab Sagar Talab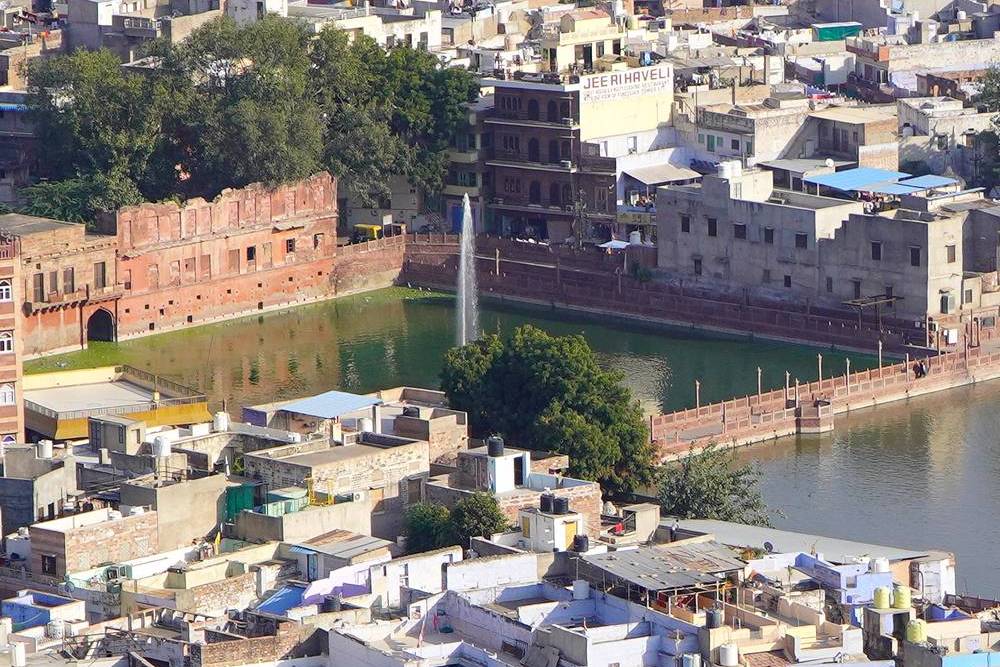 Gulab Sagar is a artificial pond located in the city center. It was created in the 18th century and its source comes from Bal Samand Lake. It is a pleasant place to visit with beautiful architecture and a beautiful view of the fort you can spot from there. Just opposite are 2 beautiful step wells (see next section) and a short walk away is another historic basin, Fateh Sagar.
Visit the stepwells of Jodhpur
Stepwells are locally called "bavdi". In India, they are also called baori, baoli, or wav. The city of Jodhpur has about 30 public wells. There are actually many more but many are located in private properties. Here are the most notable stepwells to discover in Jodhpur:

Toorji Ka Jhalra Bavdi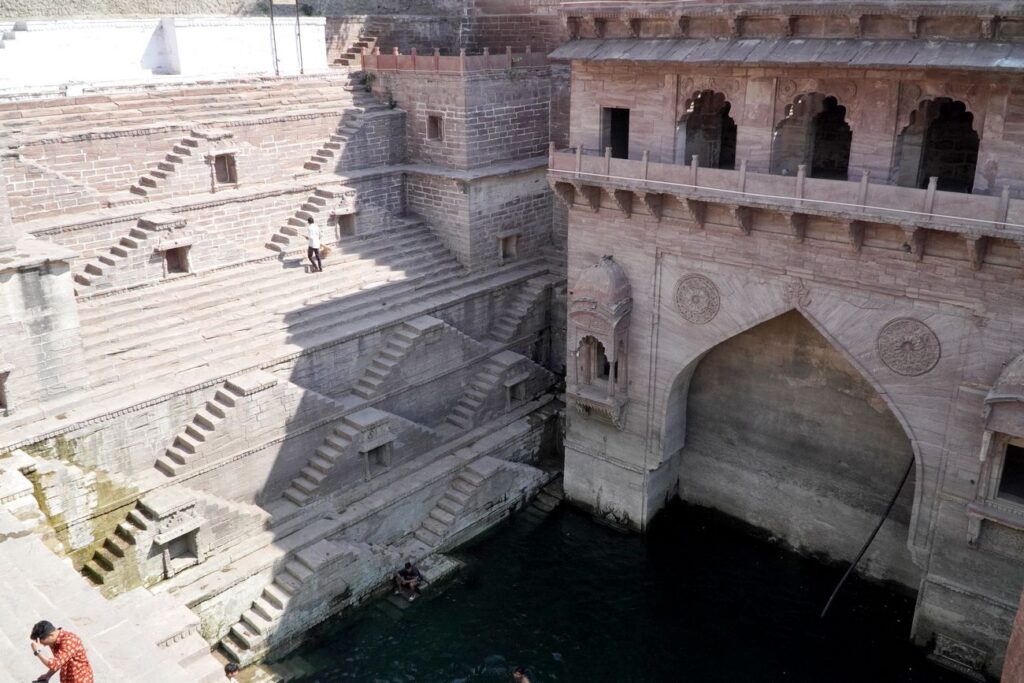 Toorji Ka Jhalra Bavdi is the most popular and best maintained of all the Baori in Jodhpur. Its unique structure and large size make it a popular place for jodhpurites who come to spend time, bathe and use it during religious events to take ritual baths. This historical monument was built by the Queen Maharaja Abhai Singh in the 18th century.
Mahila Bag Ka Jhalra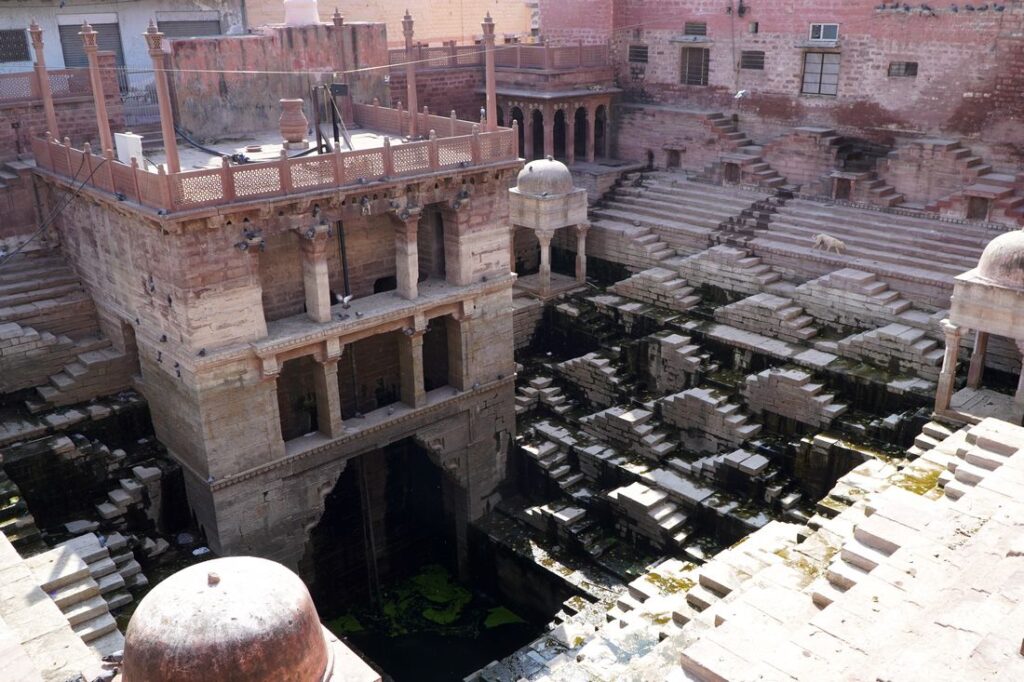 This magnificent 18th century Baori seems to be completely neglected by the locals. It is a little hidden and less prominent than his neighbor Toorji Ka Jhalra Bavdi. In fact, you could right walk past it despite its immense size if you are not aware of it! Unfortunately, this stepwell is completely neglected (at least, it was the case on all my visits).

It's a place where I like to spend time since there is never anyone when I go there. I even took a nap there. You can spot turtles and very large white fish in the water.
Raghunath Ji Ki Bawdi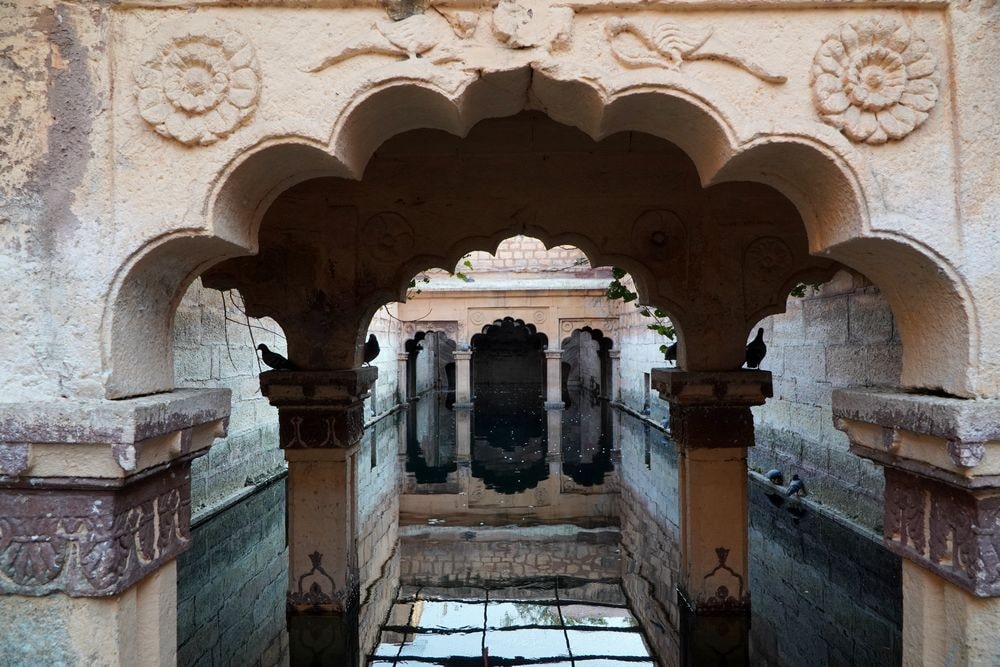 Raghunath Ji Ki Bawdi is located right in front of one of the oldest temples in Jodhpur, Shri Rameshwar Nath Mahadev. It is a well with a long structure.
Shri Rameshwar Stepwell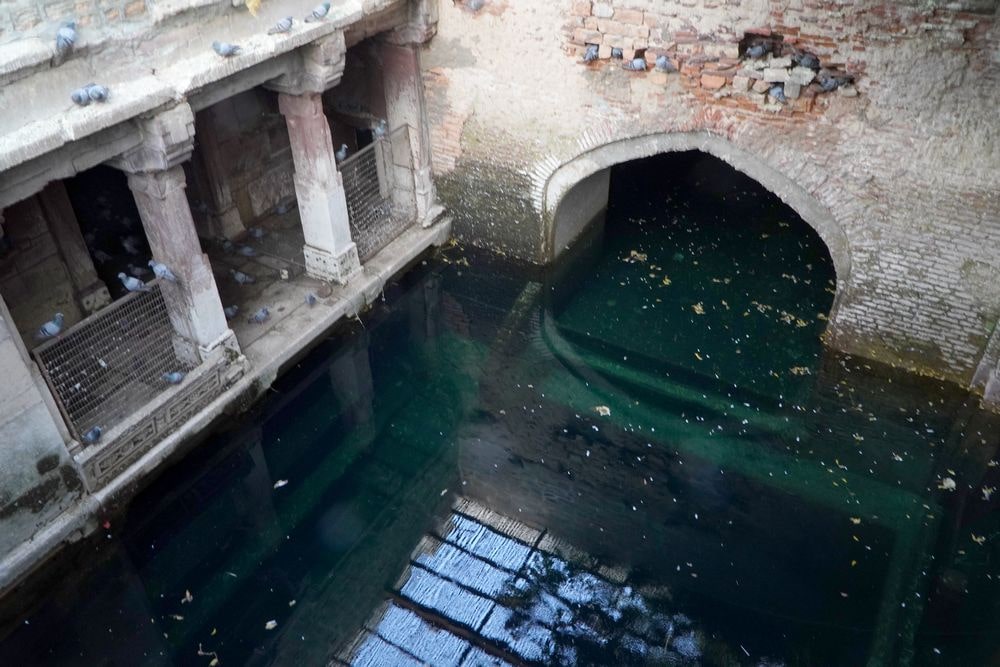 In the same place as the previous stepwell but this time in the courtyard of the Shri Rameshwar Nath Mahadev temple is also another baori: It is not directly visible since it is surrounded by walls and a protective grid but its structure is remarkable.

There is a passage on the other side that is closed when the water level is high. When it drops, it reveals a temple. There are small galleries on the sides. Its protection is useful since it is not used as a garbage can, which often the fate of other baori in India. Its clear and bluish water really makes you want to take a dip in it.
Kriya Ka Jhalra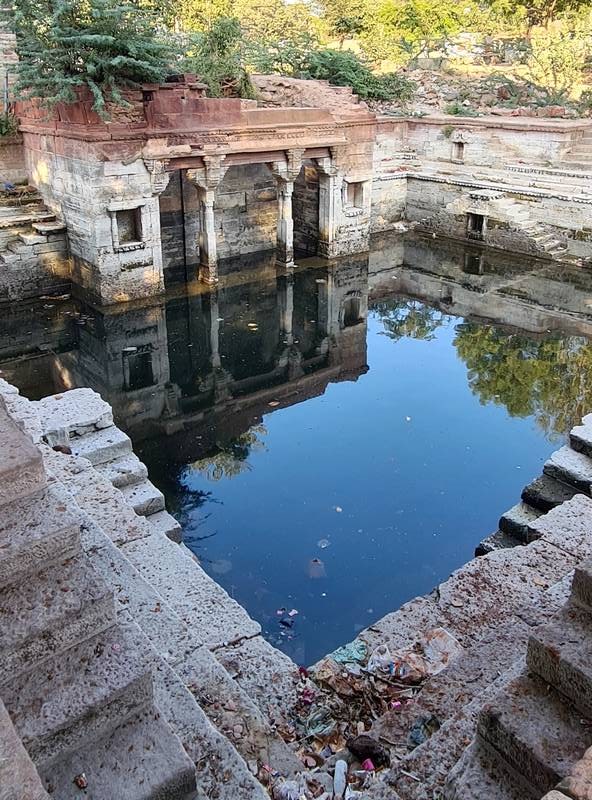 Kriya Ka Jhalra Bawdi is a stepwell that looks like a miniature replica of Mahila Bag Ka Jhalra. Located about 2 kilometers from the city center and a short walk from the entrance to Rao Jodha Park, this place is a small haven where you can spot turtles (with some luck) and many squirrels that come to eat in your hands (and with some patience!).
Ghanta Ghar Clock Tower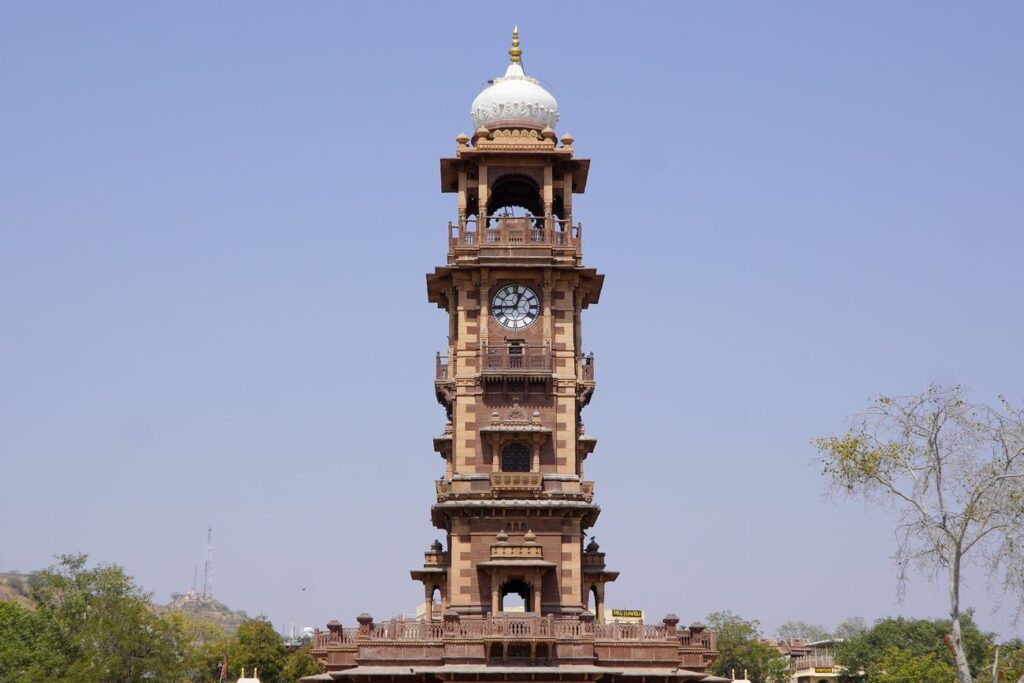 The Jodhpur Clock Tower was built in the early 20th century by Sardar Singh, the same Maharaja who had the Jaswant Thada cenotaph built for his father. While you're here, I advise you to try one of Jodhpur's most famous lassies. The restaurant is located directly on the right behind the large fortified gate when arriving from the main avenue.

The Ghanta Ghar Tower compound is also home to the "Sardar Market", a large market for shopping.

Location
The tower is located right in the middle of the Sardar Market Square. It is a very lively and lively place where you can find all kinds of crafts and goods.
Jodhpur Bazaar
You will find many things at Katla Bazaar. The street is completely crowded with people but it is an activity to do and a good place to shop.

Location
The Jodhpur City Bazaar is located around the clock in the city center.
Viewpoints
The views in Jodhpur are numerous. That's obvious but Mehrangarh Fort has beautiful views of the city. Otherwise, here are four more:

Singhoria Hill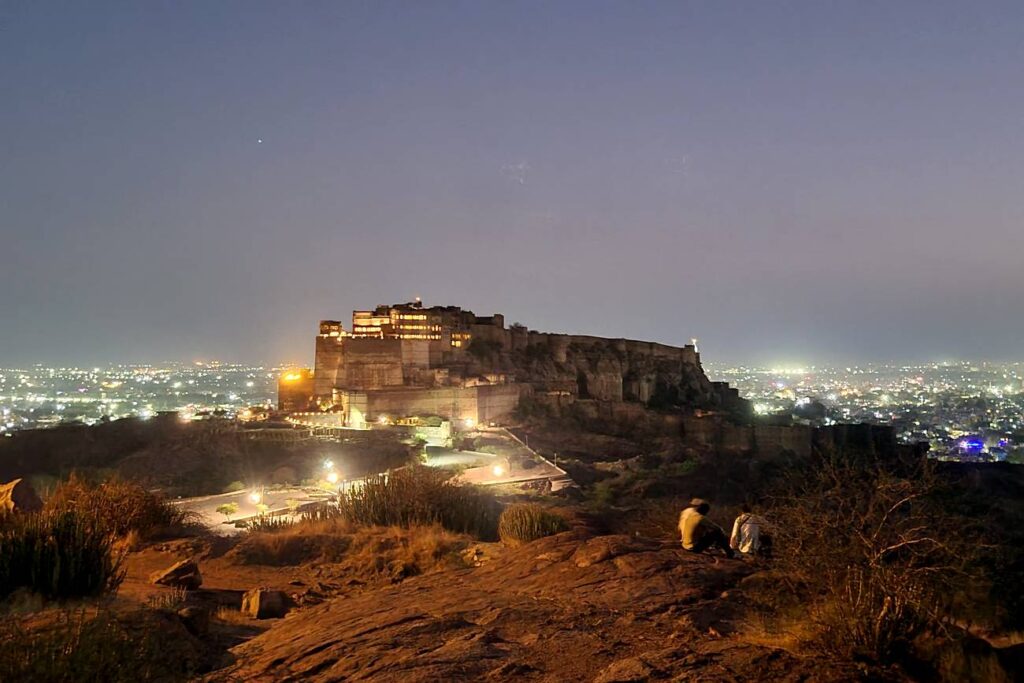 Singhoria Hill lies north of Mehrangarh Fort. Its heights are accessible from a long stairway and offer a sumptuous panorama of the city of Jodhpur and its fortress. It is a quiet place where Indians like to see the sunset from the rocks. A caved temple dedicated to the cult of Durga is located at the top of the hill. It was built inside a large block of stone.
Viewpoint on the fort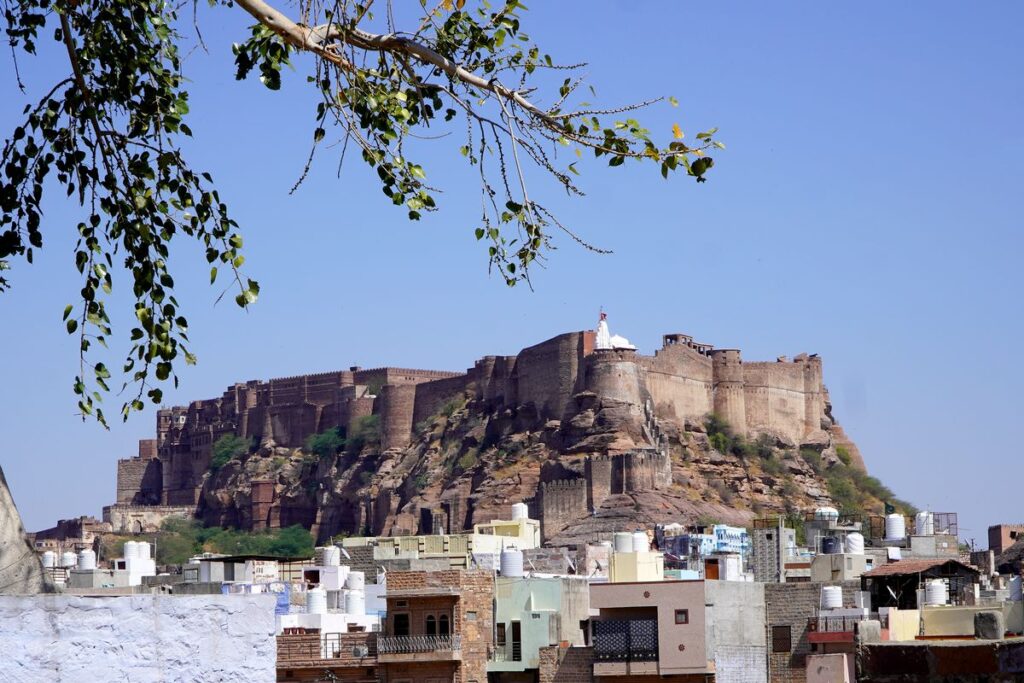 This viewpoint offers a beautiful portrait of the fort. The place is easily accessible from the city center.
Pachetia Hill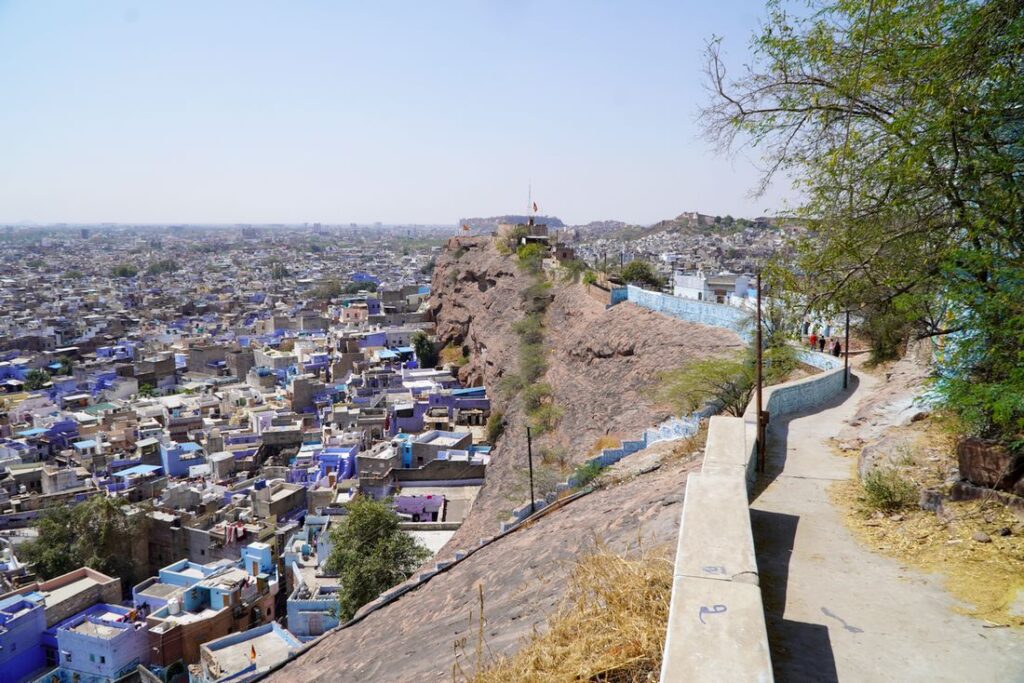 Pachetia (or Pachetiya) is a hill that overlooks Jodhpur and separates the old city by a wide ridge. The hill offers nice panoramas in addition to being a pleasant place to walk. From this point, you can even go around the fort without going through the streets.
Jaswant Thada View Point
One of the best viewpoints you can get on Jodhpur is behind the historic monument of Jaswant Thada, from a massive rampart and its bastions. From this place you have a panorama of a part of the city, Jaswant Thada and Mehrangarh.
Nai Sarak Street and Merti Road
Nai Sarak is the main avenue facing the clock tower while Merti Gate Street is the Merti Fortified Gate street. There is the largest concentration of fabric factories and many shops of all kinds, you can find everything!. It is a good place to shop and buy large quantities of incense and spices at low price. When I say "you can find everything" it's means that you can furnish your whole house here!

Location
A short walk from Katla Bazaar.
Observe the monkeys
The entelles (langurs), also called semnopithecines, are emblematic monkeys of India. These are the most common with their cousins the rhesus macaques. However, very few macaques live in Jodhpur unlike the entelle monkeys which are numerous.

How to see them?
They are easily spotted from the rooftops of Jodhpur since it is in height that they spend the most time. You will be more likely to see them in the morning and late afternoon. They often walk in the early morning at the entrance of Mehrangarh Fort. Otherwise, you are sure to find them in the gardens of Mandore at any time in the day or at Bal Samand.
Umaid Bhawan Palace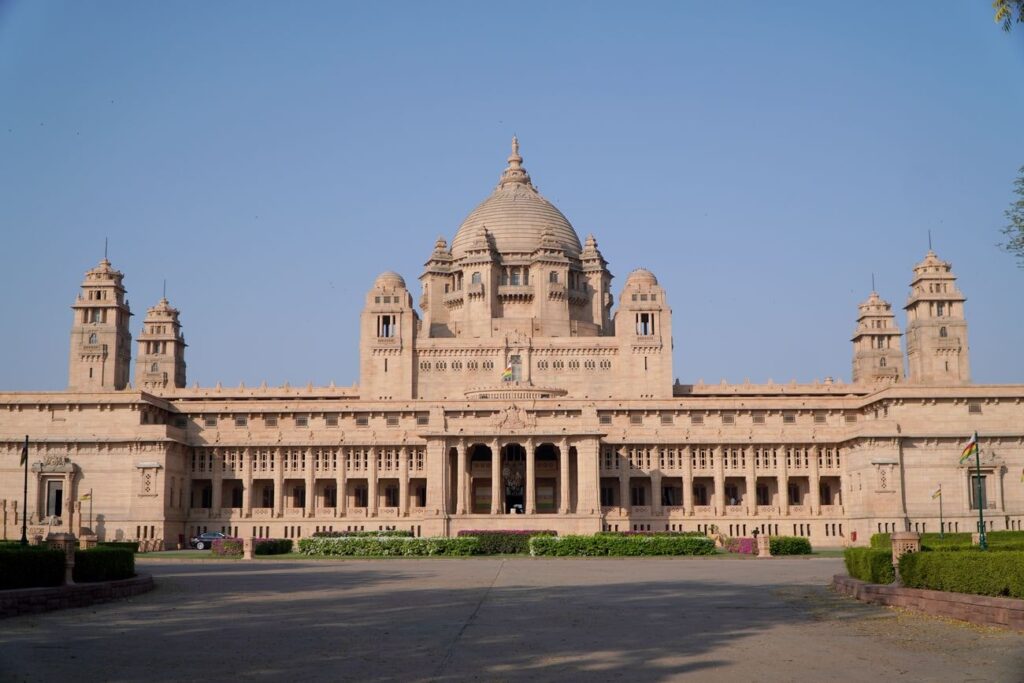 Umaid Bhawan Palace is the residence of the powerful royal family of Jodhpur, the richest family in the whole India. It was built by Maharaja Umaid Singh in 1929. A part of it has been transformed into a luxury hotel and another into a museum that can be visited. It is a gigantic iconic monument of Jodhpur. A must visit.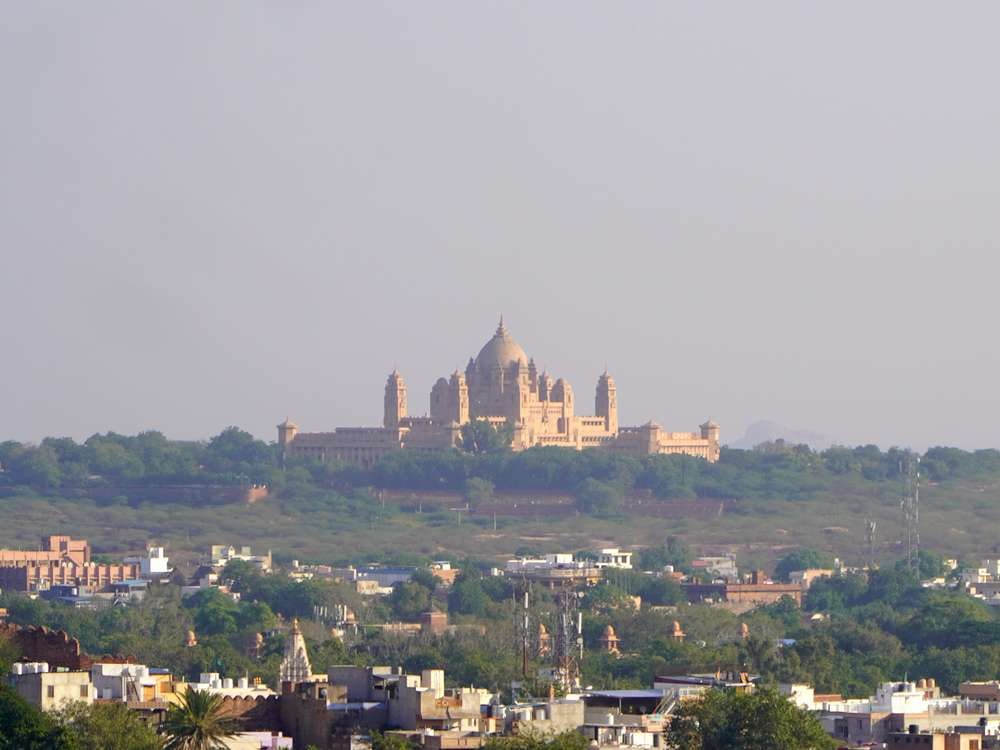 Location
It is located on the outskirts of Jodhpur, to the south near the airport.
Old Brahmpuri School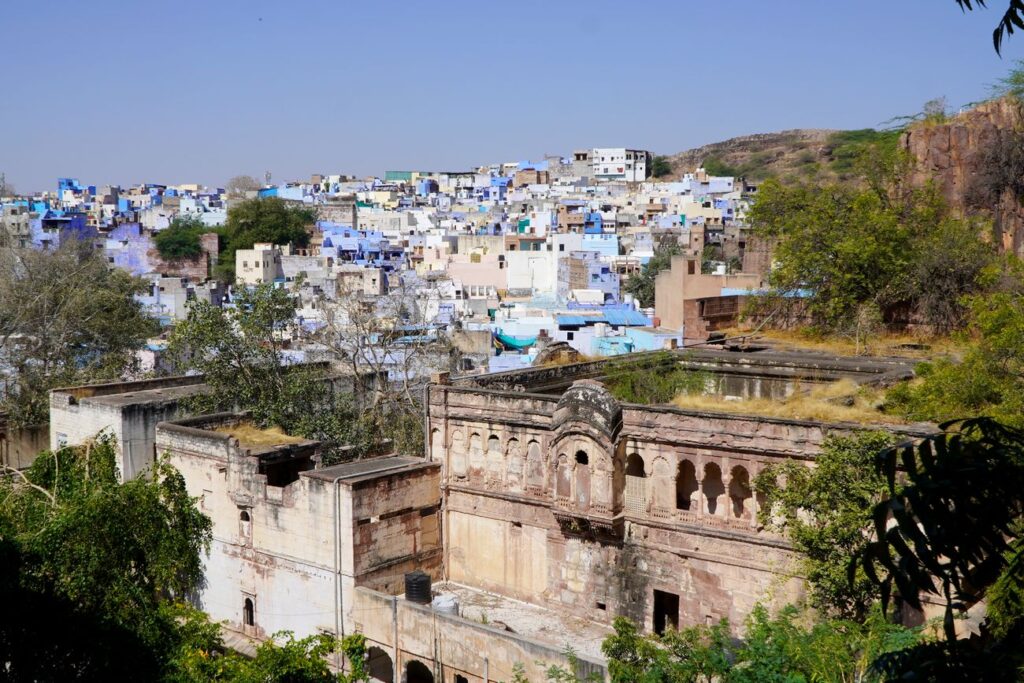 During my stays in Jodhpur I always spotted an old building from Mehrangarh Fort with architecture that I found very beautiful. The place is not at all informed and its access is complicated to find if you do not know the entrance. I ended up looking from the locals who told me how to visit it.

It turns out that this historical monument is actually the oldest girl school in Brahmpuri and is completely abandoned today. A newer school was built on the same site. So I went to this school through which access is made to the old monument but I was refused to get in. The teachers didn't understand my interest in this old building.

While snooping around and taking very discreet alleys in the neighborhood, I found without a doubt the best view of the place (above pic). From this point, we can also see what seems to be a cenotaph.
Meet the Bhil tribe
The Bhil tribe was once a nomadic people and today lives in several states in western and northern India. They are known for their arts including their traditional dances and painting. This ethnic group paints the walls and ceilings of their homes depicting their traditions, beliefs and gods.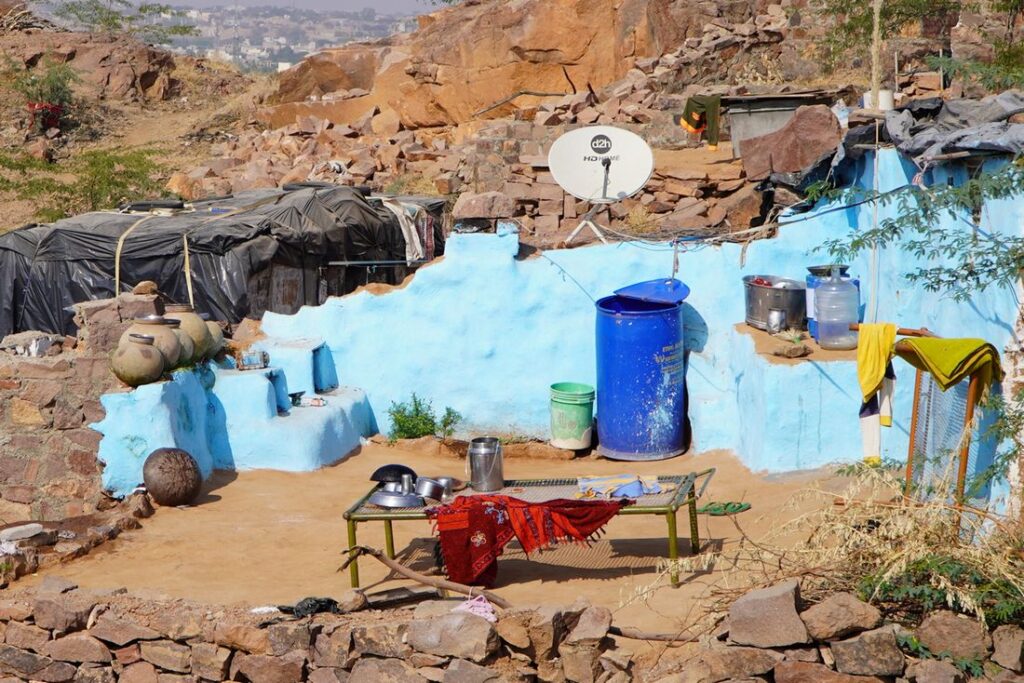 The Bhil represent the largest ethnic group in Rajasthan and speak Bhili (while the Jodhpurites speak Marwari and/or Hindi). They are the ones who brought the traditional and emblematic dance of Rajasthan: the "Ghoomar". In Jodhpur, they live on the outskirts of the city and are easy to meet.
Meet the Bishnoi people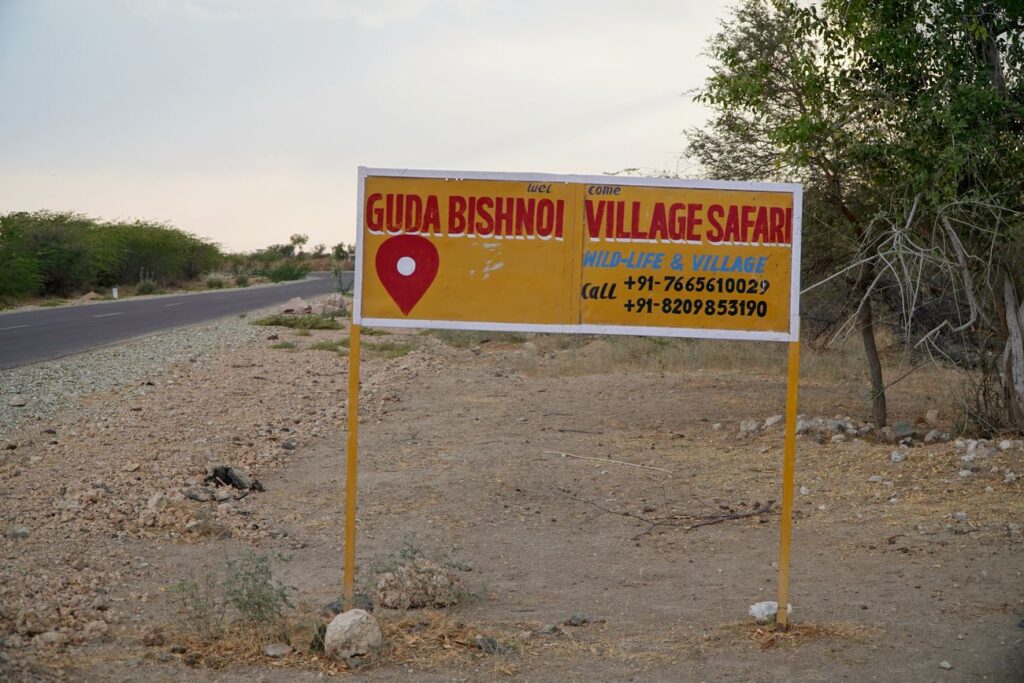 The Bishnoi group (or Vishnoi) is a people living mainly in the state of Rajasthan. Bishnoism is a branch of Hinduism and its followers follow a guru. They have a strict lifestyle following 29 principles among which all forms of wisdom are dictated. God lives in every particle of the universe and therefore in every creature.

Nature and divine
For this reason, Bishnois are strict vegetarians and sanctify all forms of life. They are among the few Indians to bury their deceased since it requires the use of wood that is not completely dead. Their way of life is punctuated by a deep connection of nature and the divine and follows the wisest and healthiest possible way of life.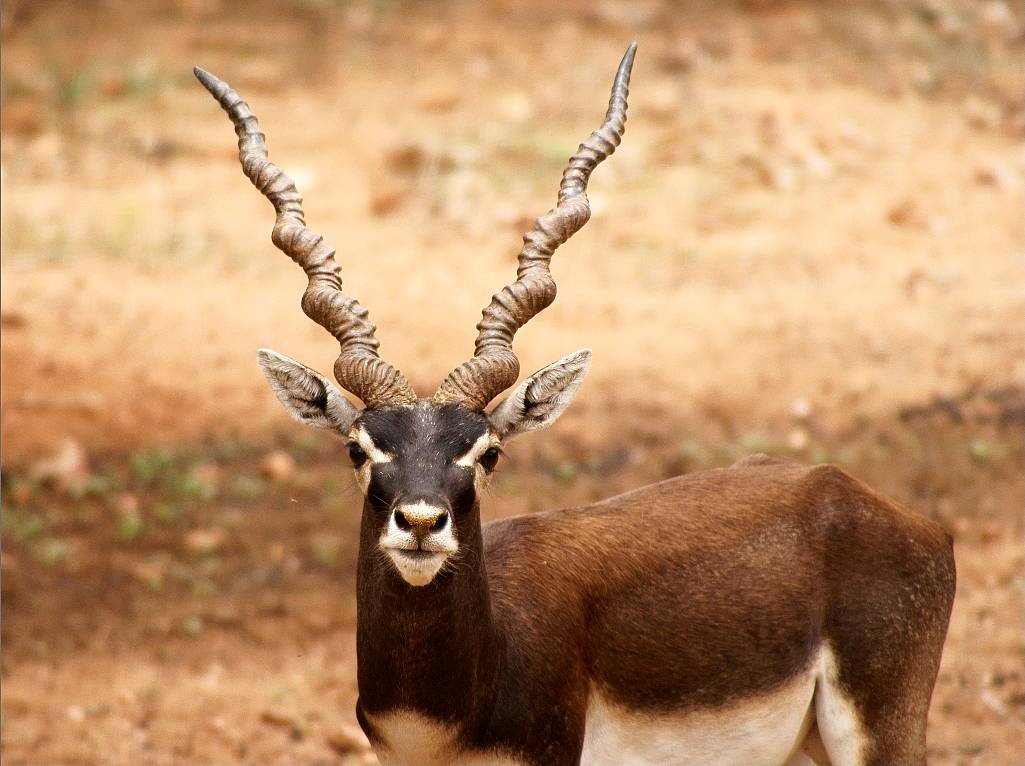 How to meet them?
Many travel agencies organize tours to these villages. You can easily schedule an excursion with your hotel for example. They will take you to tourist villages where you can see all the activities of this culture. However, these tours are named "Bishnoi Safari", so don't expect an expedition to the top of authenticity.

You can meet the Bishnois on your own in a more authentic setting. They live in nature scattered around Jodhpur especially in the south of the city, about 15 km away. When I went there with my friend the weather became very stormy and we had to leave.

The place is filled with animals, including wild peacocks, nilgais (the largest antelope species in Asia) and especially the blackbuck which is the emblem of the Bishnoi people: a very sacred animal that they worship (previous photo).
The temples of Jodhpur
Here is a selection of the most unusual, oldest or most important temples in Jodhpur. None of these places of worship require an entrance fee:
Siddhnath Mandir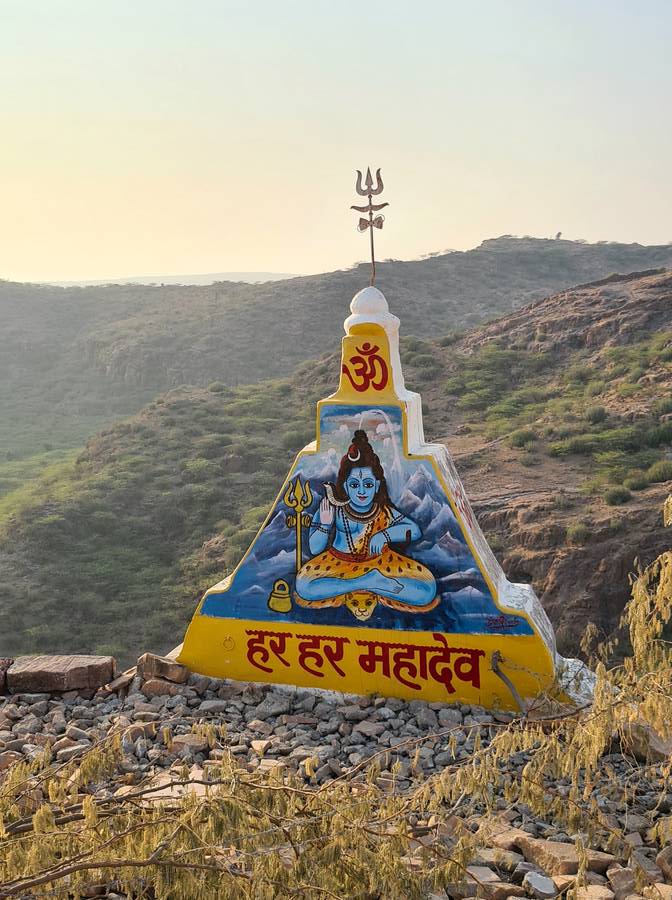 Siddnath is a temple dedicated to the worship of Shiva. Located on the foothills of Jodhpur a short walk from Kaylana Lake, the temple is accessed by a long stairway. You can see pilgrims and other followers of Hinduism that are rarely seen in the city as sadhus for example.

Part of the temple is troglodyte. The mountainous terrain in Siddnath is remarkable and offers a breathtaking view of the valleys. In addition, there is a hiking trail below through the bush. It has the reputation of being particularly beautiful.

You will have chances to come across entelles monkeys if you arrive at the coolest hours as well as wild warthogs. They populate the surroundings of the place of worship.

Be discreet with photographs within the temple grounds. He doesn't usually see many foreign travelers and isn't very familiar with cameras.
Mahamandir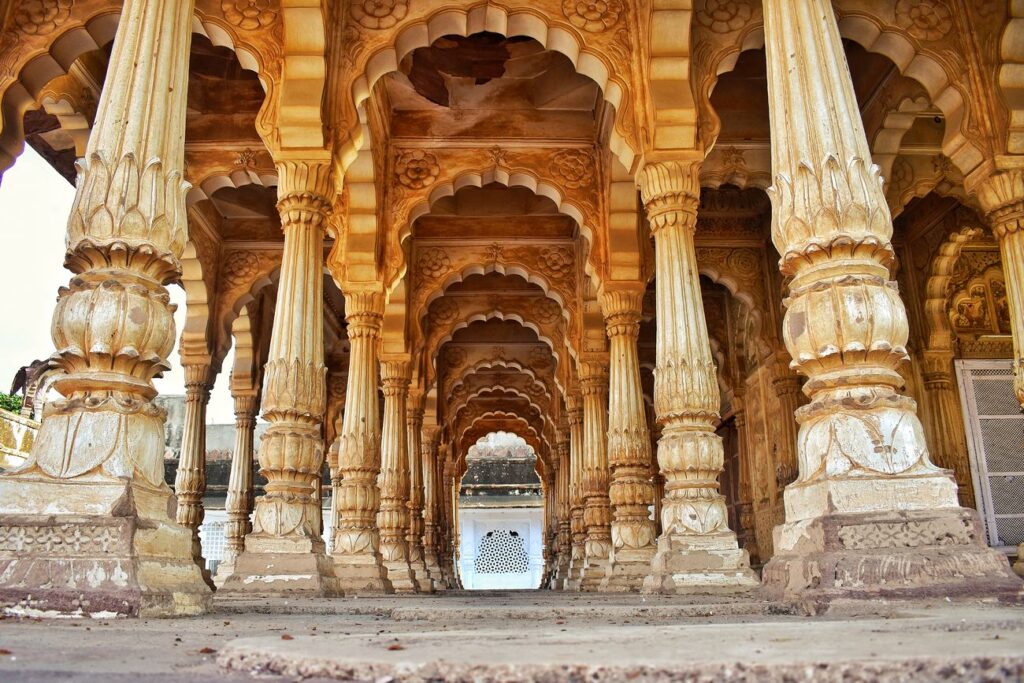 Mahamandir is a temple with incredible architecture and intricate patterns. Built at the very beginning of the 19th century, the religious building is supported by 84 pillars. A number that immediately made me think of a cenotaph of Bundi which has as much. I guess there is something related to this choice or it is a nice coincidence… But time has taught me that they do not exist in India and that everything is linked from near or far. Any suggestion? Contribute using the comments area at the end of the article!
Gayatri Shaktipeeth Shree Chamunda Mata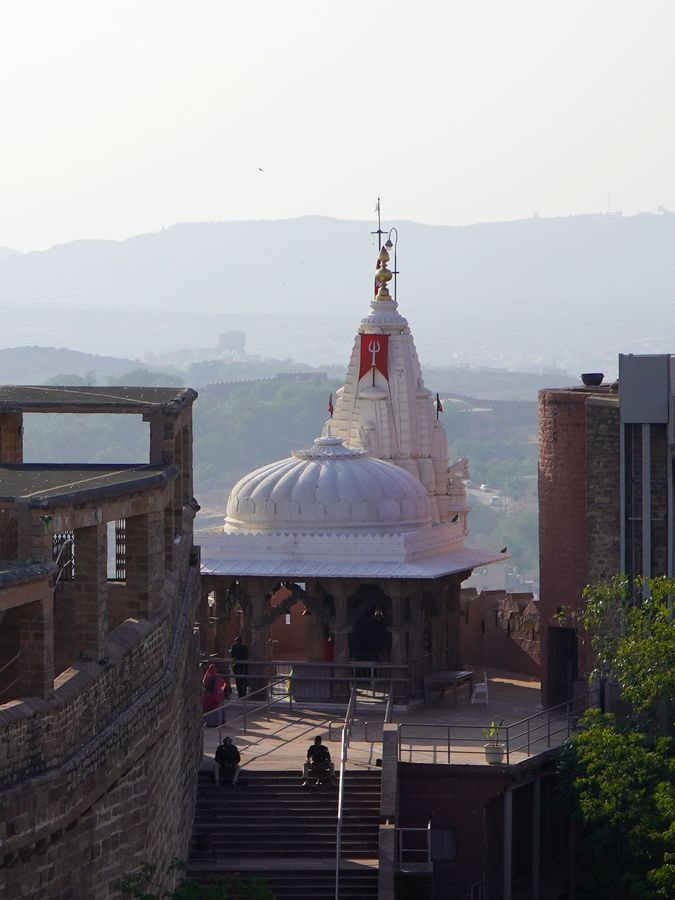 This temple is dedicated to the worship of the fierce deity Shamunda who is known to be the goddess of war (among others). One of his forms of worship is through blood offerings. While animal sacrifices are still perpetuated in remote areas of the country, this is certainly not the case in Jodhpur. Some tribes with ancestral rituals also practiced human sacrifice for this deity before it was banned.

The temple is located within the walls of Mehrangarh Fort. You can see it easily from Jodhpur, it is a white monument that overlooks the whole city. A tragic story unfolded at this place in 2008 when more than 200 people died. Gayatri Shaktipeeth Shree Chamunda Mata is an important temple in Rajasthan.
Kunj Bihari Temple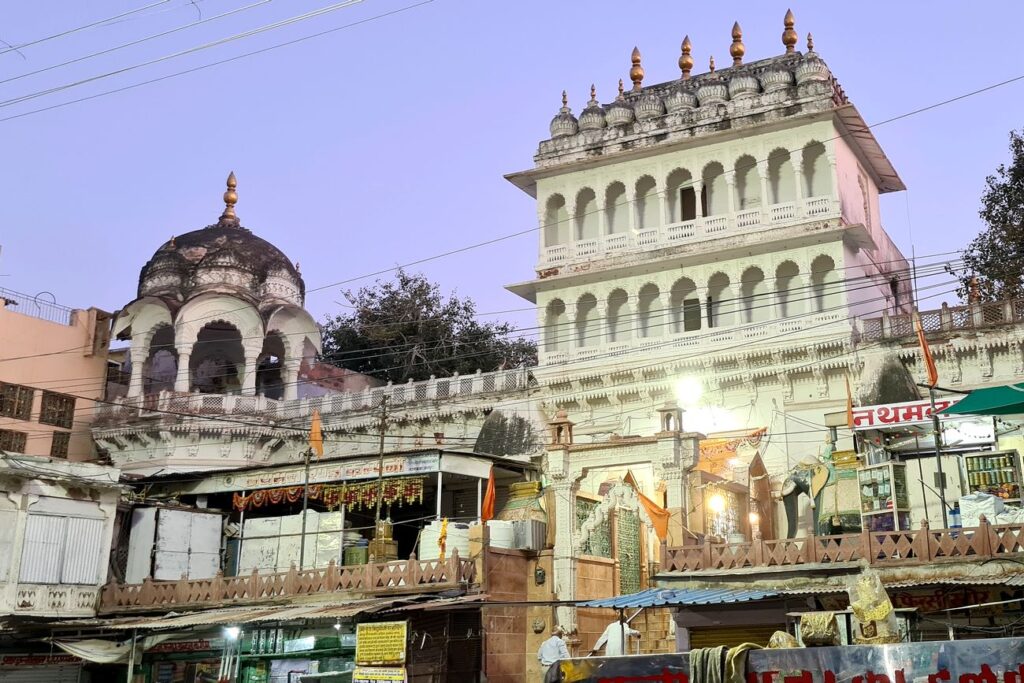 Kunj Bihari is a temple dedicated to Lord Krishna. Chances are you'll spot it if you visit Jodhpur. It is one of the oldest and most important in the city.
Ghanshyam Temple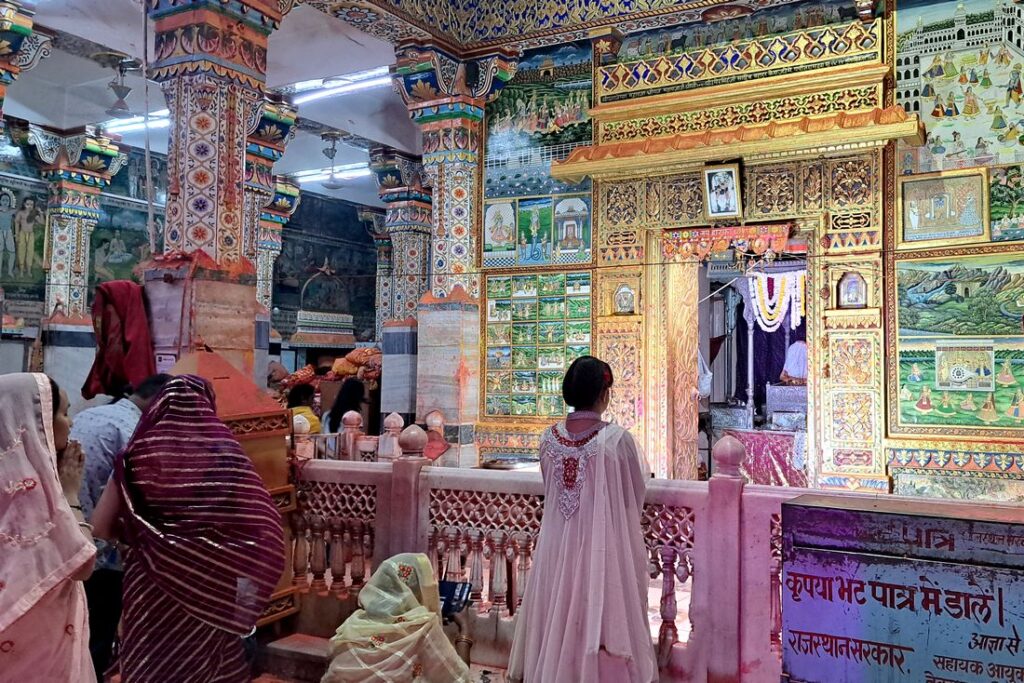 Ghanshyam is also one of the oldest temples in the city and also one of the most popular. This is the place where you should go first if there are religious celebrations at the time of your visit. Especially during the Holi festival where locals throw the colored powders inside and where lively concerts take place for a week before the official date.

The interior decoration of the temple is absolutely sumptuous with many mythological paintings and decorations with a multitude of colors and patterns with psychedelic airs. Located in the vicinity of the old town, this is a must-see place during your stay.
Shri Rameshwar Nath Mahadev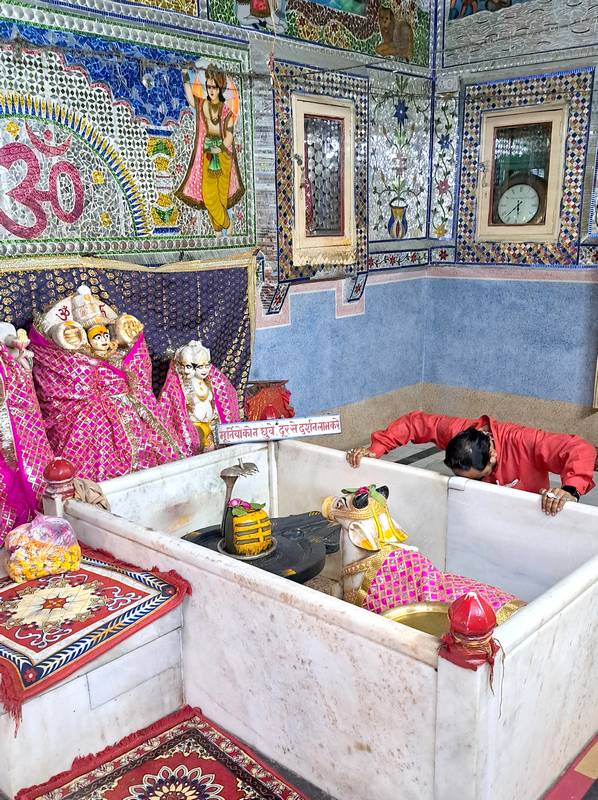 Shri Rameshwar Nath Mahadev is one of the oldest temples in Jodhpur. It is dedicated to the worship of Shiva. The interior of the monument has sublime ancient mythological frescoes on the ceiling, above the lingam. Other more recent paintings have been added to the walls [see photo]. There is also a space dedicated to the worship of planet-like deities and other gods. Do not miss the visit of the baori which is right in front of the temple in the same courtyard.
Gangashwar Mahadev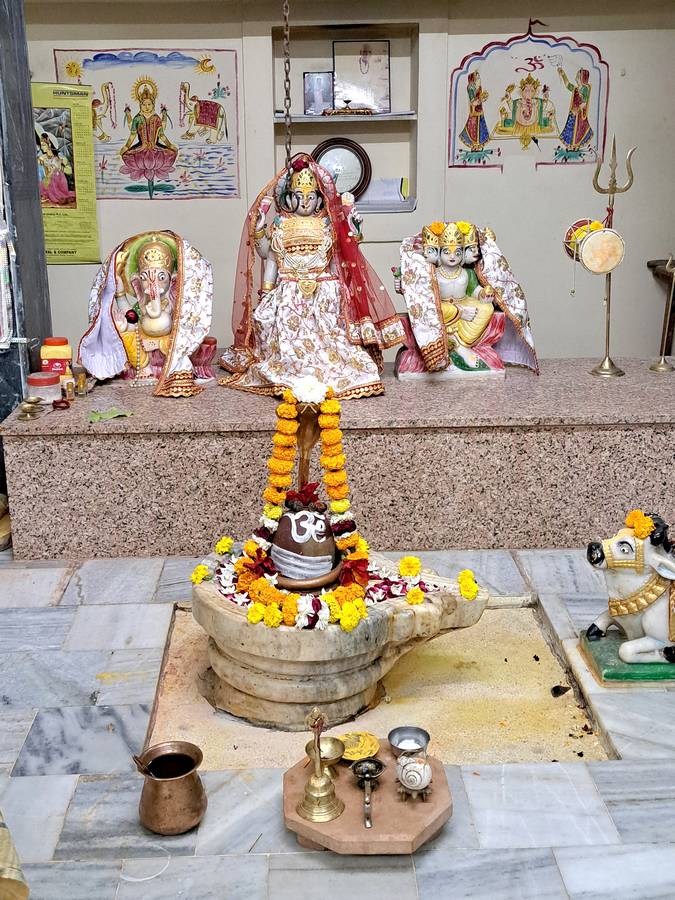 I could not list this selection of temples to visit without mentioning that of my friend Harshit, Gangashwar Mahadev, which is dedicated to the Lord Shiva. The temple is glued to the property he had built. A pleasant place to spend time and where you will always be very well received by the limitless sympathy and kindness of Harshit.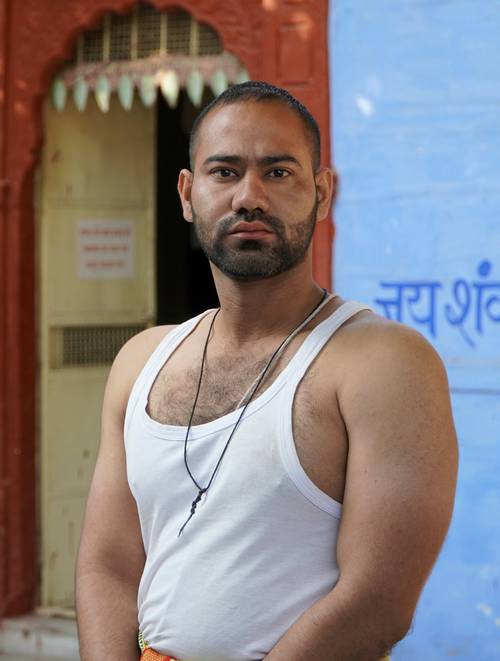 Trust me, he will give you another dimension to your trip in Jodhpur by sharing his knowledge about many things. Do not hesitate to say that you come from me.
Shantoshi Mata Mandir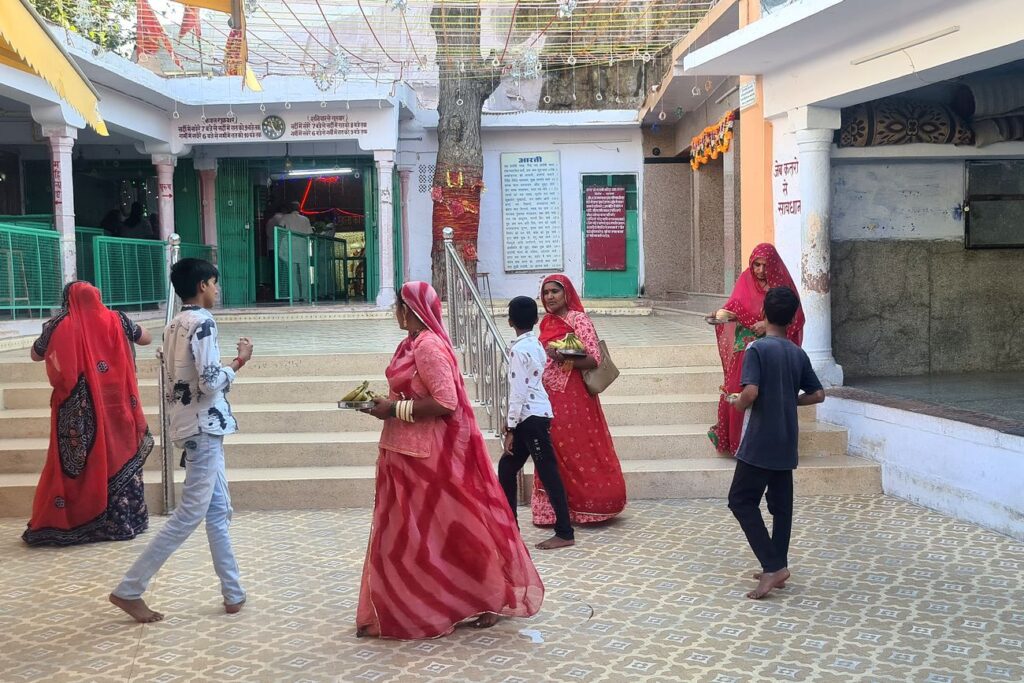 This temple was established in 1958 by Pandit Megraj Dave, Harshit's grandfather. This man had a very good reputation and was much appreciated by the people of the "Blue Pearl of Rajasthan". The city has grown enormously in past decades. Given the small blue quarter and its surroundings which were the original city, the size of the modern part is very significant. That is, this area was previously completely bush.

Harshit's grandfather used to retire very far from the old city and walk for a long time in nature (which is now the modern city) to a specific place that he liked to pray… Until the day the goddess Durga appeared herself to him, always in the same place. As a result of this divine encounter, the temple was established. A passage was created at that time by the inhabitants by breaking a huge block of rock. The road still passes through this place today.

The temple has been enlarged over the years and the surroundings have been landscaped. It remains a very visited temple and very popular at the present day.
The Motorbike Temple
No it's not a joke that I slipped into the travel guide, this temple exists! You will get there by keeping reading. I talk about it in the section of curiosities of Jodhpur.
Muslim Areas of Jodhpur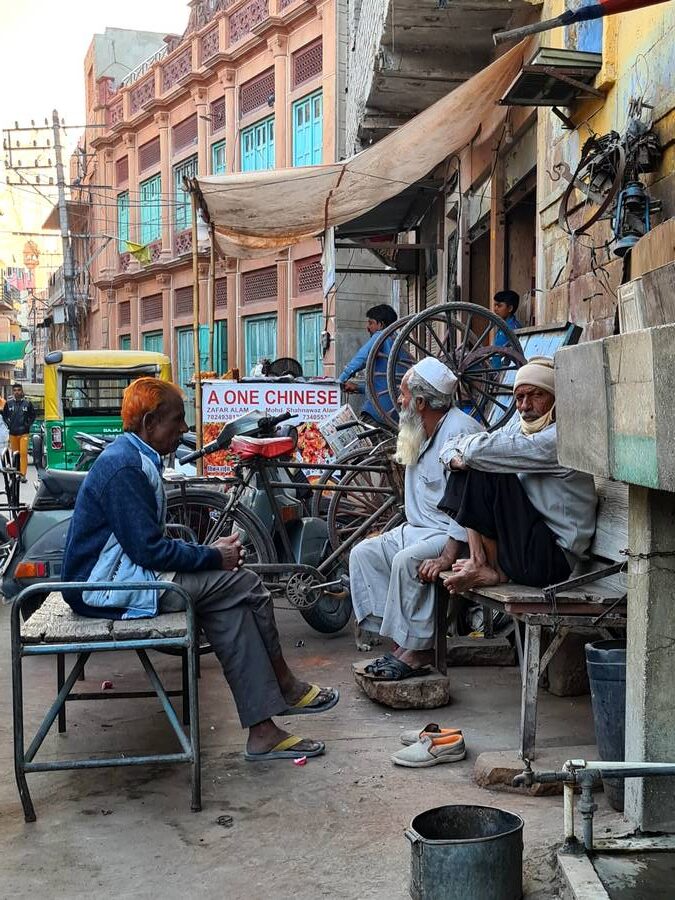 Muslims are about 20% of the Jodhpur population. I like the atmosphere of their neighborhoods which is very different. I enjoy drinking chai sometimes in these places and I met many curious and friendly people there. Visitors are rarer here and Muslims share their enthusiasm when they see some foreign there.
Hiking in Rao Jodha Desert Park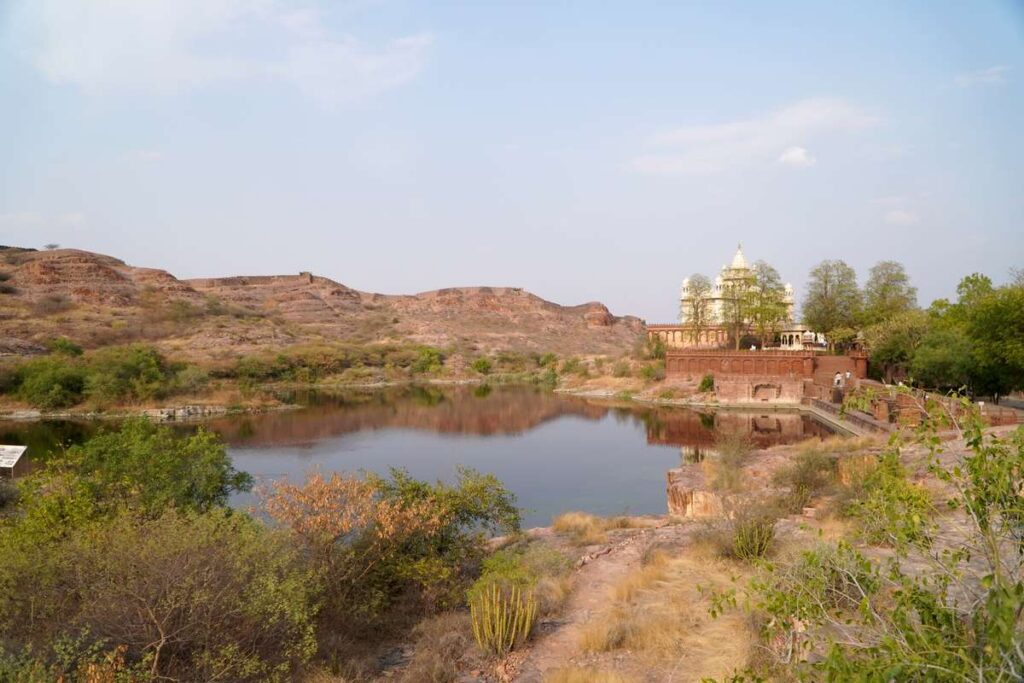 Rao Jodha Park is a place made for nature lovers. A route has been defined around Mehrangarh Fort throughout the rocky part and also passes by the Jaswant Thada monument. A good thing to do will be to leave in the morning at the starting point in order to arrive at the white marble monument and then visit it. The Rao Jodha Game Reserve has a remarkable flora as well as a rich ornithofauna.
Kaylana Lake Trip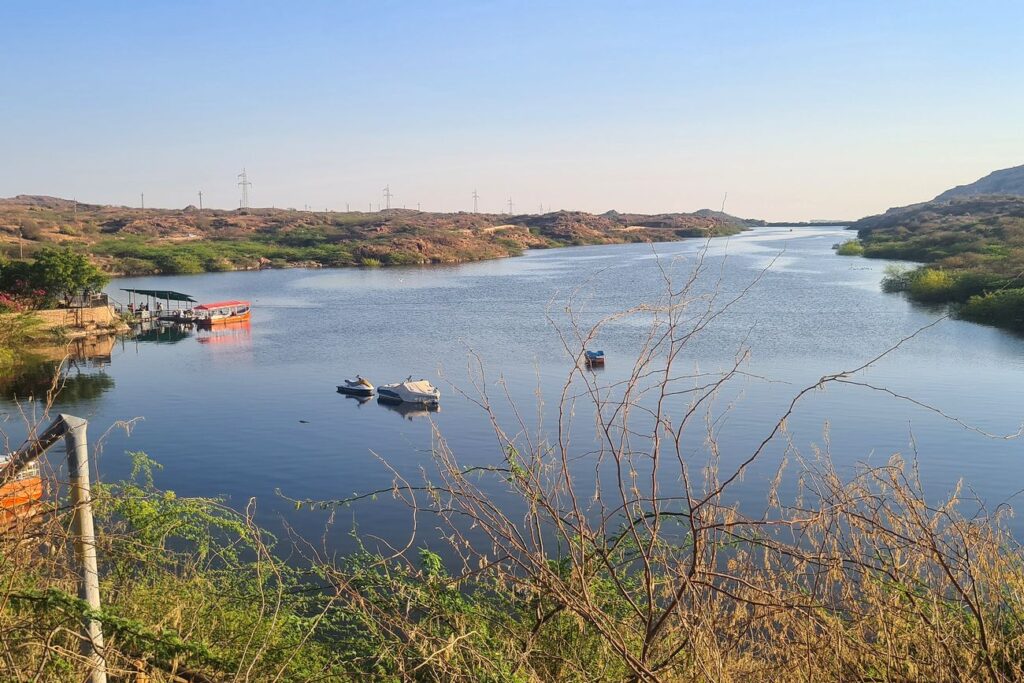 Kaylana is a very large artificial lake located on the outskirts of Jodhpur. Many activities are available around, including old historic buildings converted into luxurious hotels as well as many temples scattered in the bush and on hilltops. Siddnath Temple is very close to this place.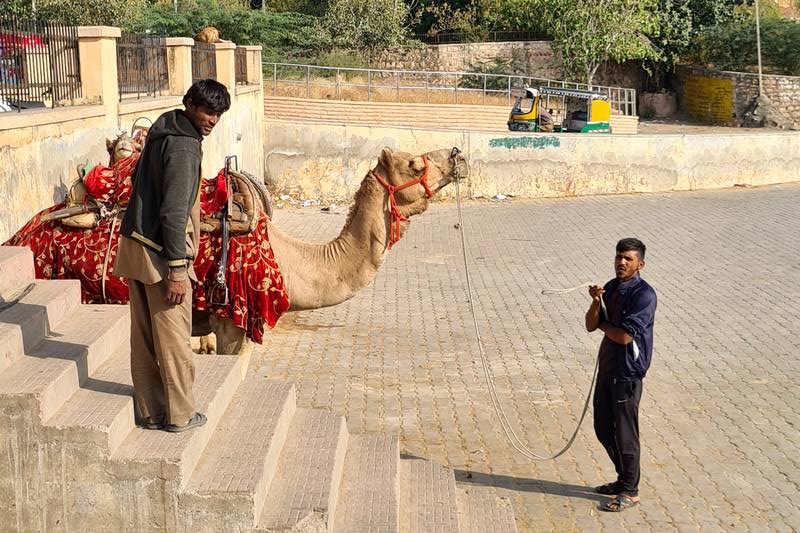 It is a very beautiful place to trek in the middle of nature and discover the more rural face of Jodhpur. There are a few options for dining by the lake, camel riding and even accommodation.
Lake and gardens of Bal Samand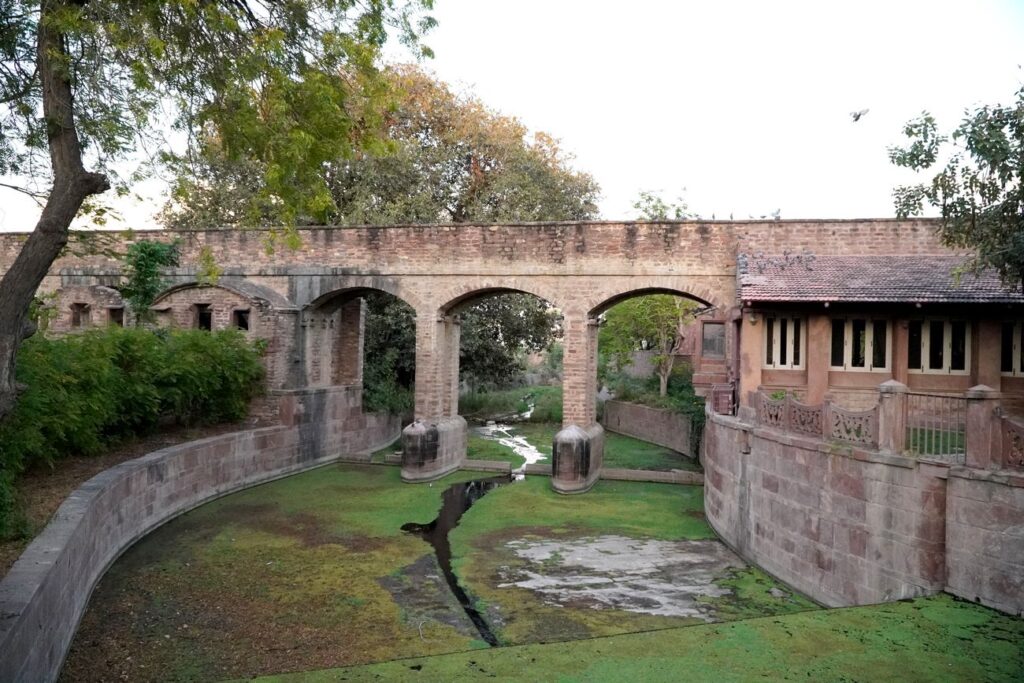 Bal Samand is a large lake set back from Jodhpur. This is a great place to stay if you love peace, comfort and nature. Indeed, one of its banks has been completely redeveloped into green gardens and a palace was built there by Balak Rao Pratihar in 1159.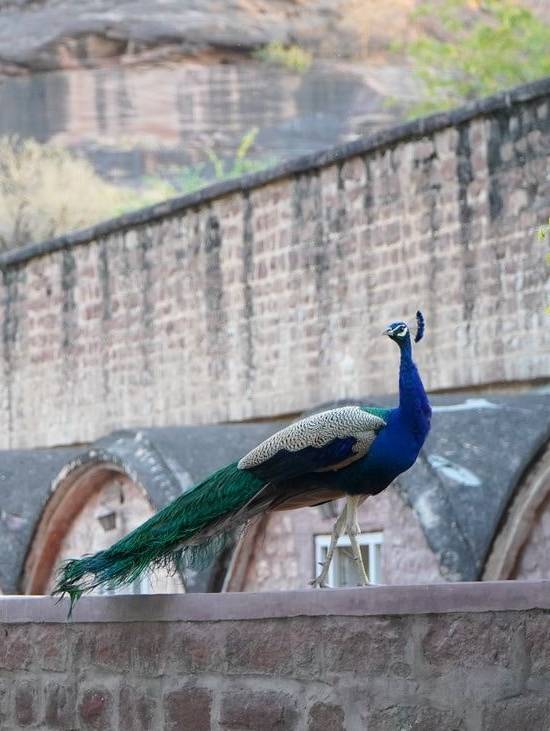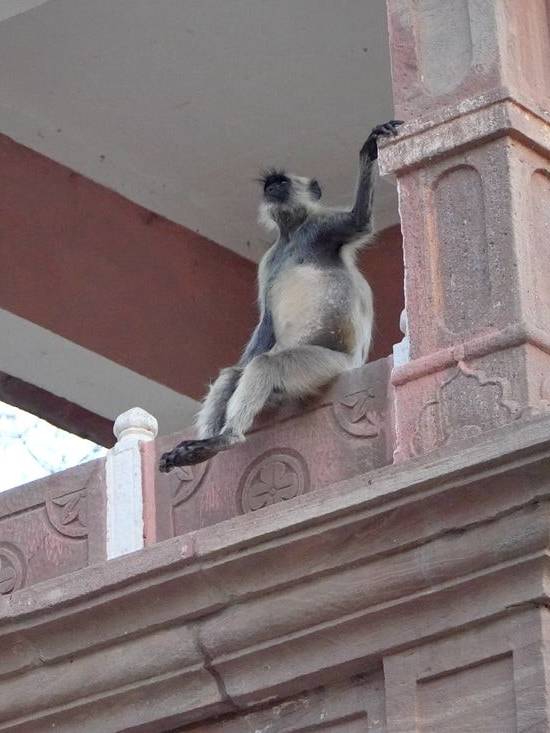 It is an absolutely quiet and relaxing place with many animals. The change of scenery is clear when you enter the premises. The greenery and the song of the birds is good. I loved Bal Samand. A few gray monkeys have settled there as well as a very large number of wild peacocks.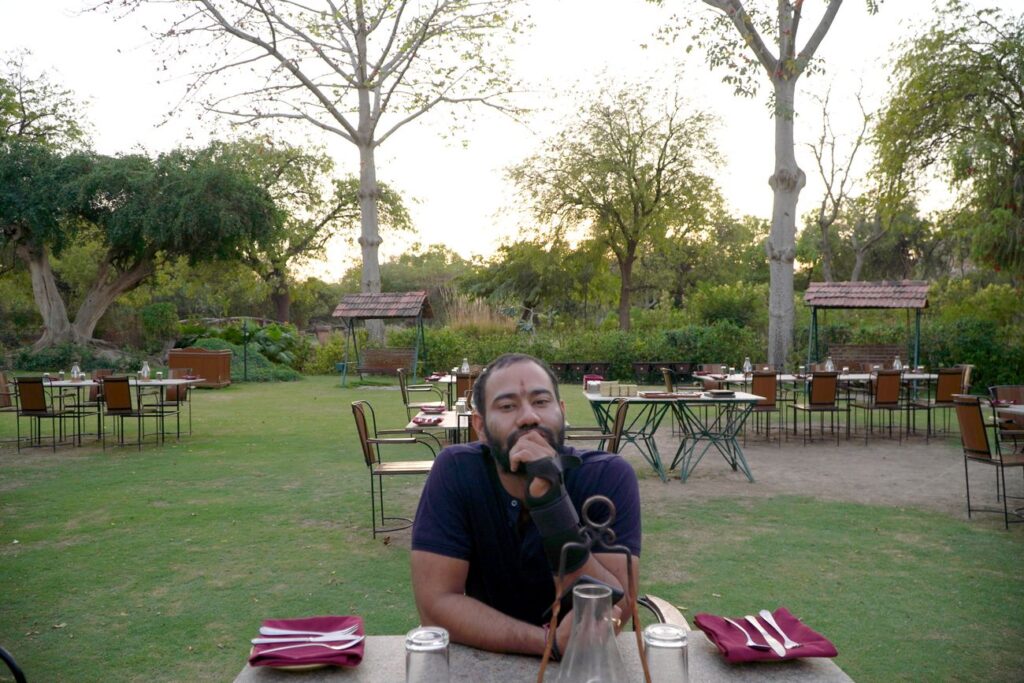 Visit
If you want to visit the gardens of Bal Samand you must either stay there or eat in the restaurant. This place is popular for honeymoons. If you are a couple, I highly recommend it. Especially since there are no crowds. Otherwise, it is a pleasant place to visit even alone! Don't forget to check out the well fused to nature at this place. The visit of the lake outside the property of Bal Samand is possible without restrictions.
Excursion to Surpura Dam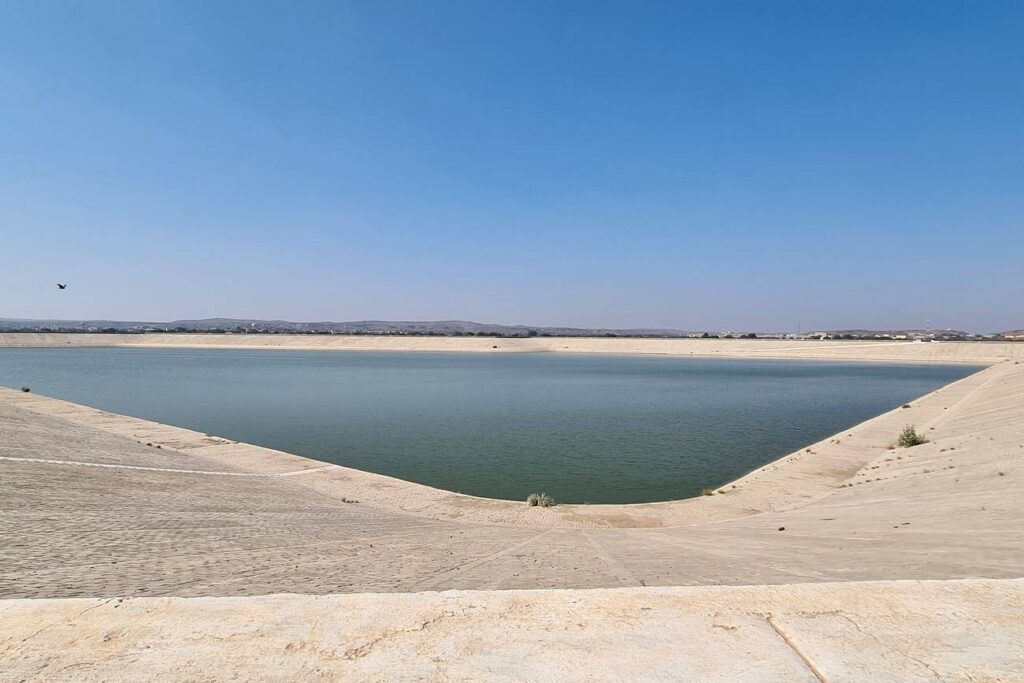 Surpura Dam are two huge water reservoirs located about ten kilometers from Jodhpur. You can do water activities such as pedal boating, swimming or jet skiing. The place is particularly interesting to visit during festivals such as Diwali where hundreds (or even thousands) of candles are placed on the banks.
Visit Jodhpur during festivals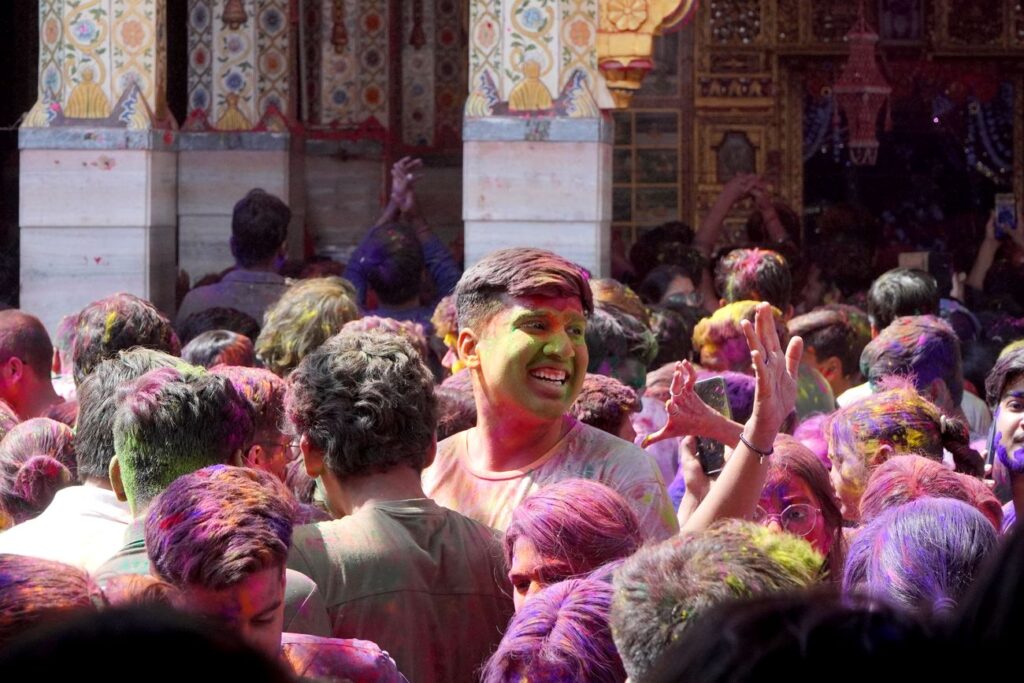 In itself, all festivals are good to visit Jodhpur but here is an interesting selection including local events:

Holi
I guess you already know about Holi. This festival where the cities become multicolored by their powders is very beautiful to see in Jodhpur since the old city being tinged with a wide variety of blue, the addition of colored powders in the streets that contrast with the walls is simply stunning.

Marwar Festival
Also known as "Maand", the Marwar Cultural Festival takes place every year at the end of October and features many of the region's traditions such as dancing and singing. For example, the "Ghoomar" that we previously seen of the Bhil is performed a lot.

Jodhpur RIFF
The Rajasthan International Folk Festival (RIFF) is held in and around Mehrangarh Fort. It stages Rajasthani folklore through traditional dances and songs. It is an event not classified but still supported by UNESCO. It takes place every year in October for 4 days.

Dhinga Gawar
Dhinga is a festival is celebrated all over India but Dhinga Gawar is celebrated only in Jodhpur and only by and for women. Indeed, Gauri, the goddess of love and among others of motherhood is venerated on this occasion. The festival lasts 16 days since the day after Holi and is punctuated by various rituals but especially marked by a procession of all the women who start a march in the old city of Jodhpur all night. This tradition has the effect of bringing serenity into their married life or bringing luck in love.

Moreover, during this night walk, all women have a stick. The turbulent or disruptive men who attend the procession may be struck by one of them. If this is the case for a young boy, it means that he will probably get married in the near future.
Where to drink a good chai?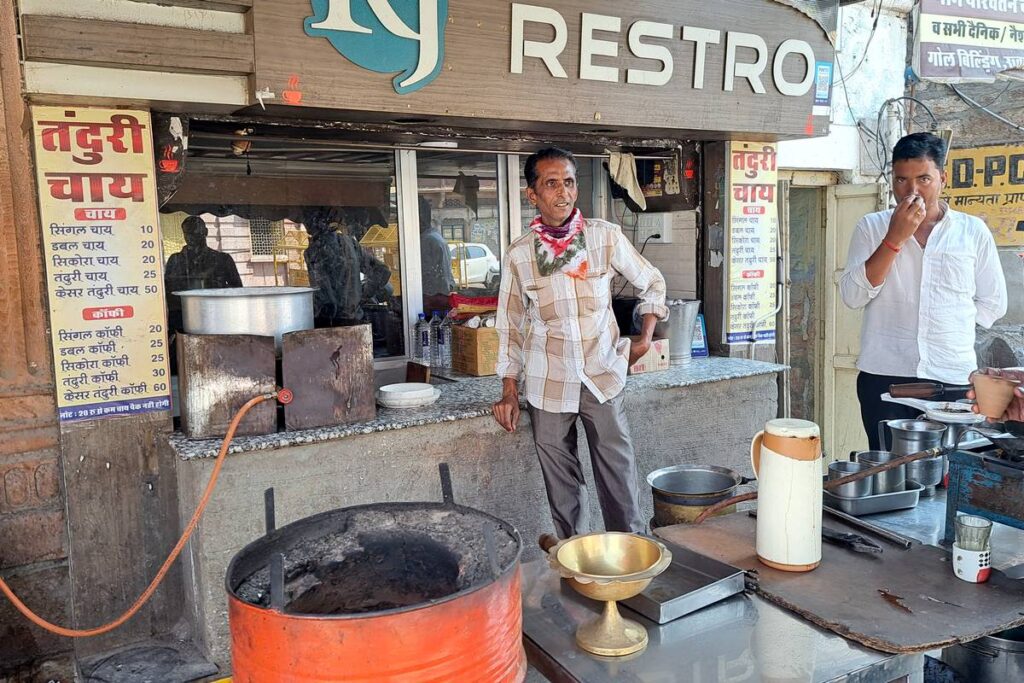 Restro chai
Restro is a street shop that can boast of serving delicious chai. It is a popular place with a rather unique method of preparation which involves overheating a clay pot in the fire and then pouring the beverage into it in order to pour everything into another pot ready to enjoy. The infusion takes the taste of clay and it is a delight.
Belpatra Cafe
Belpatra (was Aesh Leaf before) is a restaurant with different drinks and things to eat but above all a selection of absolutely delicious chai with original flavors such as:

– Cardamom
– Paan
– Rose
– Ginger
– Chocolate
– Caramel
Where to eat in Jodhpur?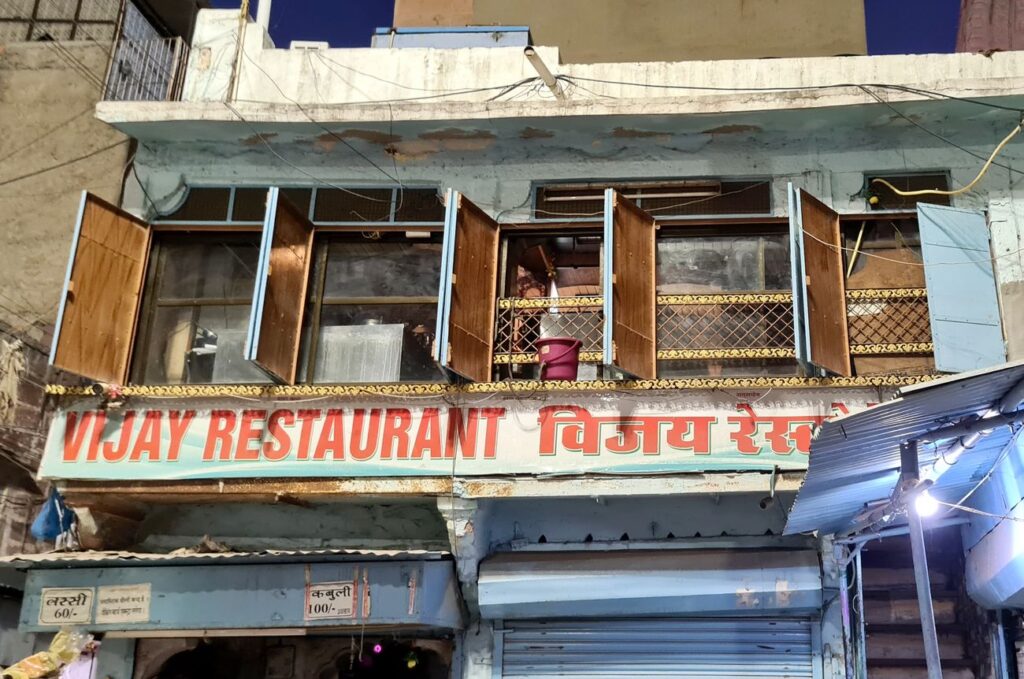 Jodhpur is a city with many culinary specialties. I strongly advise you to taste its local dishes that you will not find anywhere else. An excellent place with a good reputation to eat is "Vijay Restaurant". The food is absolutely delicious and in addition to Rajasthani and local dishes, it also serves its own specialties at quite affordable prices. You will even have surprises by choosing random dishes! Also don't forget to try Jodhpur's local sweets.
Where to take cooking lessons?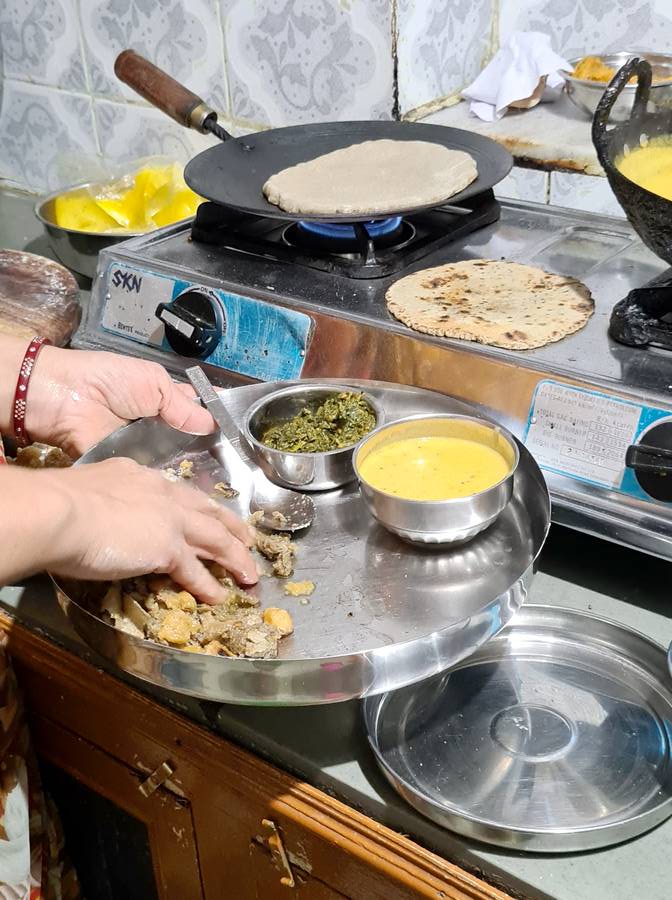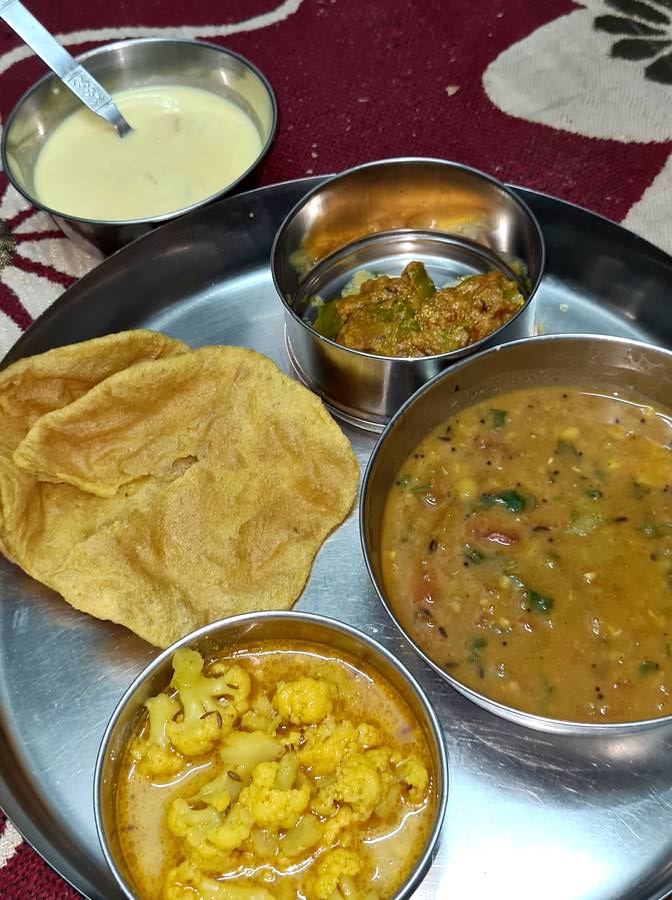 If you are interested in Indian cuisine I can only recommend Meena, the mother of my friend Harshit. Since she wishes to offer her services, I return one to her by recommending it to you. Trust me, his hands are magical. They can transform and a wide and impressive amount of diverse ingredients into a fantastic dish filled with flavor. It's a kind of festival into your mouth!

In addition to enjoying delicious meals, you will taste the legendary hospitality within a family filled with wisdom and what's more, inside a blue and traditional house of Brahmpuri.

How to contact them?
Please use the Spirit-Travelers.com's messaging or leave a comment on this article. Fill in your email address correctly on the forms so that I can send you their phone number.
Where to make a puja?
Pt. Pream Prakash Dave is the Harshit's uncle and a Brahmin priest who perfoms rituals including puja. You can request a puja for any aspect of your life. This can be done for an individual person or a whole group of people. Be sure to ask at least one or two days in advance so that the temple and timing can be prepared accordingly. Harshit will be present to assist the puja ritual.

How to contact him?
Please use the contact form or leave a comment on this article. Fill in your email address correctly on the forms so that I can send you their phone number.
Curiosities of Jodhpur
The temple of motorcycling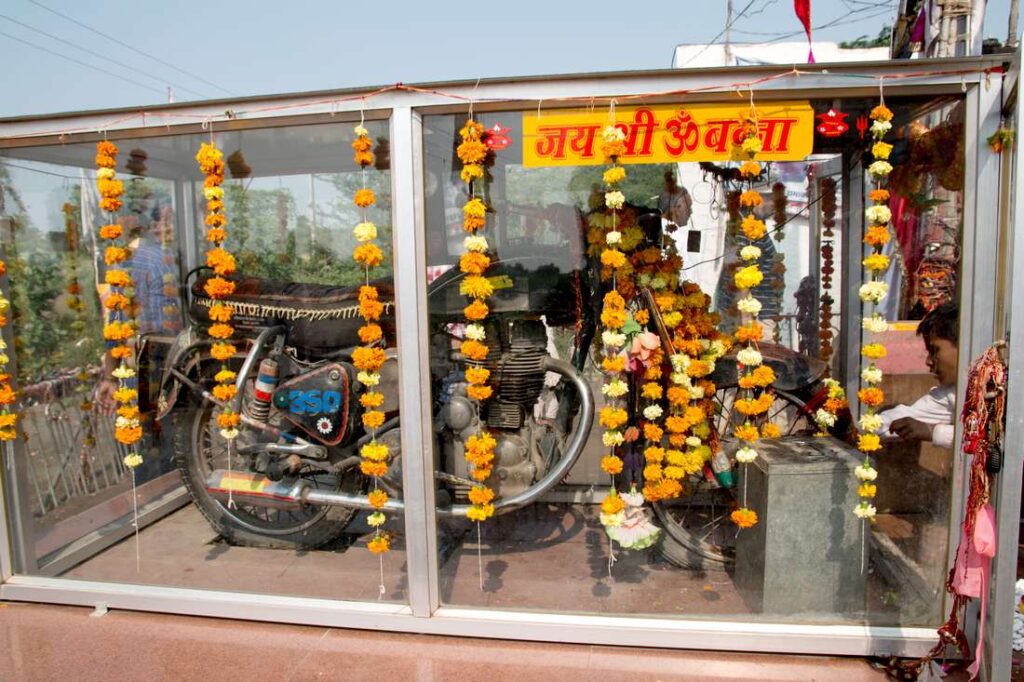 Om (Banna) Singh Rathore was a descendant of a Rajput family popular in the vicinity of Pali. This man had a motorcycle accident in 1988 that he did not survive on the road from Jodhpur to Pali. The police seized his vehicle and took him to the police station. The next morning, the two-wheeler was found at the crash site.

This time, the police recovered the motorcycle but emptied the gazoline and tied the machine to chains. The same thing happens, the motorcycle is still found at the place of the tragedy. This incident then occurred several times to the amazement of the local people. Faced with the divine phenomenon, they decided to build a temple for the cult of Om Banna.

Since then, Bullet Baba Ka Mandir has become a full-fledged temple much visited by many believers. It is believed that worshipping the motorcycle that is now in the temple and its deity brings good luck and offers protection from accidents. It is also said that honking your horn when riding a motorcycle past the temple is a good omen. Amazing story right?
Jodhpur and fetishes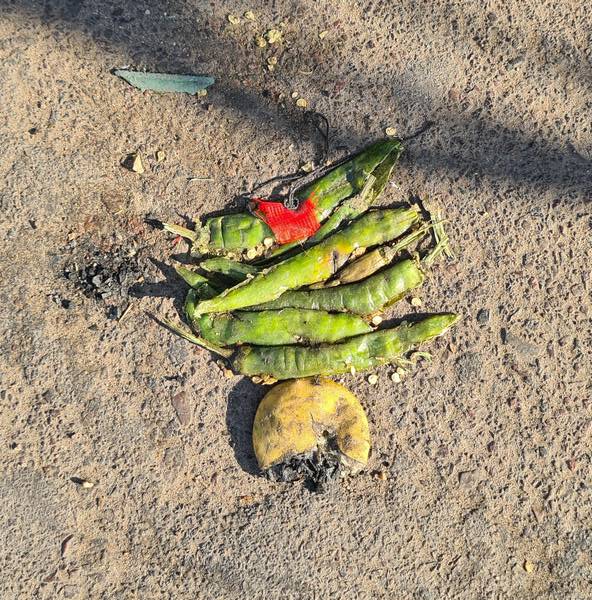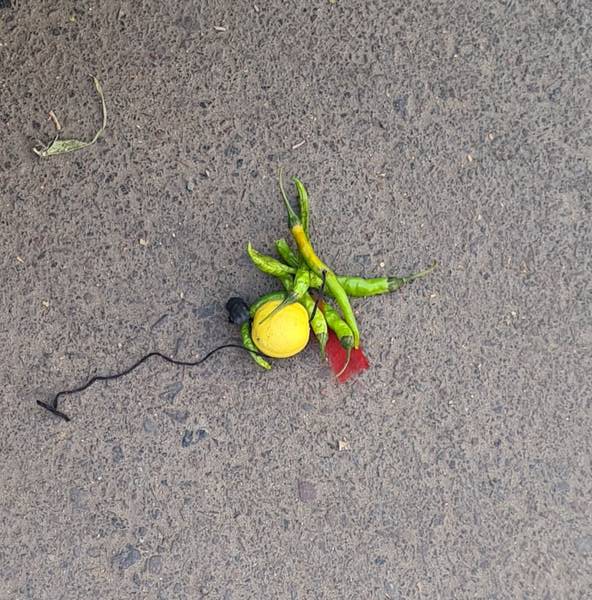 The streets of Jodhpur are filled with fetishes above the doors of houses and shops. They are always chili peppers, a lemon and a piece of red cloth suspended by a string. Its purpose would be to drive away the evil eye and provide protection against negative energies. The fetish is replaced when the plants are moldy, which means that they have absorbed everything they could and are no longer effective enough.

I noticed that since the COVID waves (I was in Jodhpur during the pandemic), the number of fetishes has decreased significantly. While there were plenty of them on the floor and above the doors, I saw significantly less on my next trip. Why? I have seen these fetishes in a few other surrounding cities like Bikaner for example, but never outside Rajasthan.
When to visit Jodhpur?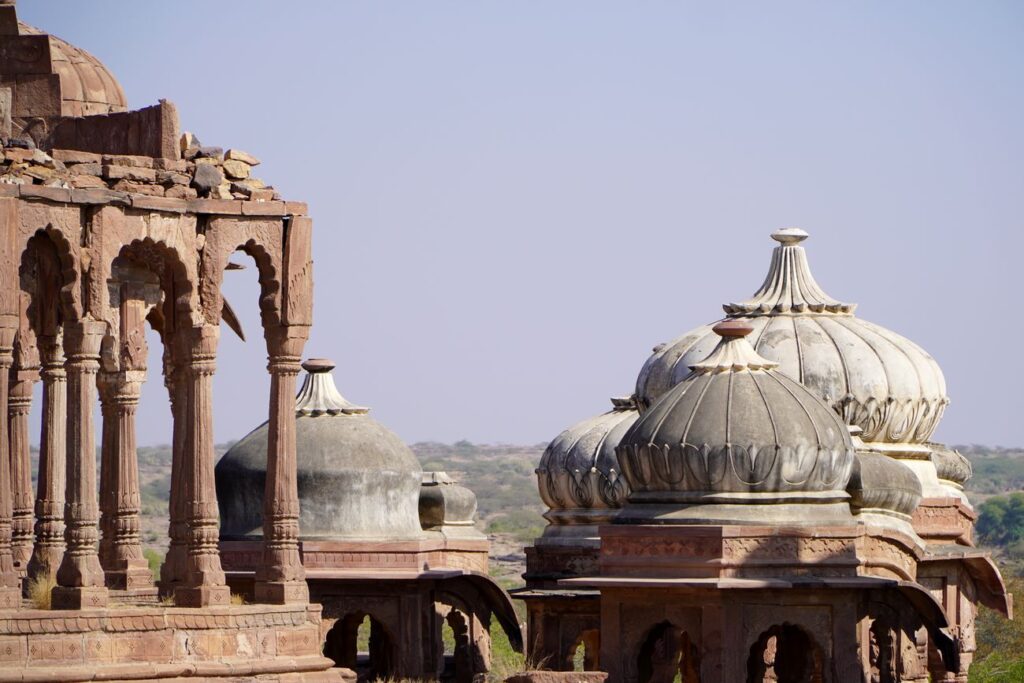 When is the best time to visit Jodhpur?

● Favourable periods
The ideal months to visit Jodhpur with cool weather at night and pleasant during the day are January, February or even March and from November to December.

● Unfavourable periods
June, July and August fall into the monsoon period. It's raining a lot. The remaining months are the hottest with temperatures difficult to travel.
Where to stay in Jodhpur?
Being a tourist city, Jodhpur has the advantage of offering a wide choice of places to sleep ranging from very cheap to luxury:

Cheap
There are many options for tight budgets. Guesthouses and backpacker hostels are numerous (although many establishments have closed since the pandemic….). Single rooms can easily be found from 400 INR (often with bargaining).

For very tight budgets, there are many dorm options. However, all the cheap establishments are located in the vicinity of the old town. It is complicated, for example, to stay around the station since hotels do not have licenses for welcoming foreigners.

Mid-range
By mid-range I mean a comfortable room with all standard options from about 1700 INR. These hotels are very numerous throughout the city.

Upscale / Luxury
Jodhpur offers a wide choice of luxury hotels. Many palaces or historical monuments have been converted into hotels such as Khaas Bagh, Umaid Bhawan Palace or Bal Samand (this is just a sample!). Without a doubt an interesting experience if you can afford it.
How to get to Jodhpur?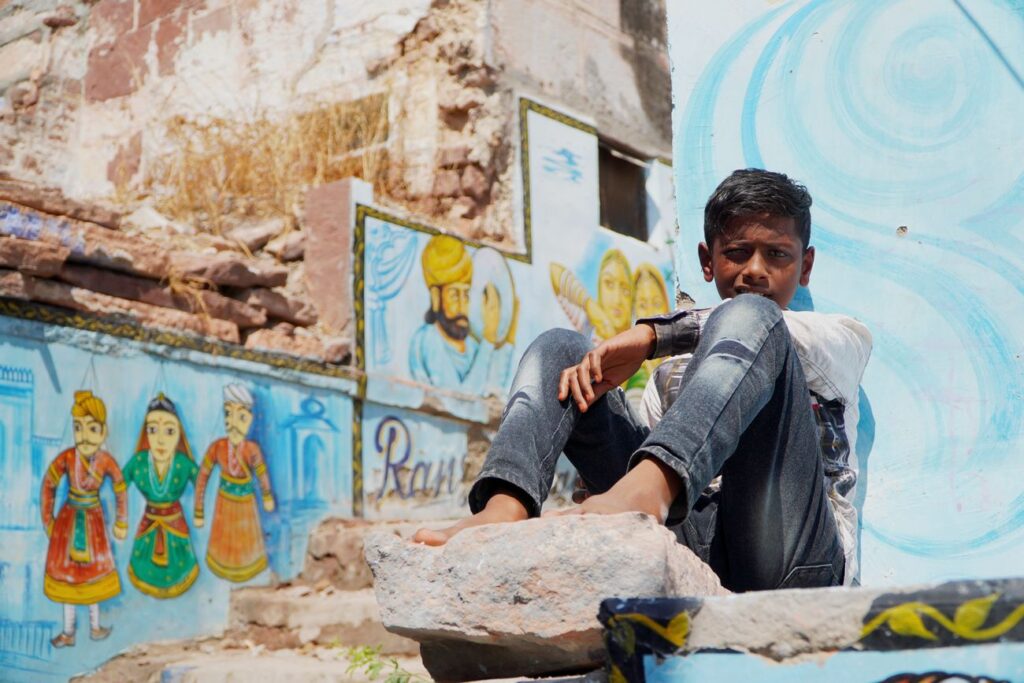 Here is a list of daily departures to Jodhpur but be aware that there are a handful of trains not listed below that depart only once or twice a week. You can find all the trains on Indiranrail.gov.in or IRCTC.

1. From New Delhi
Jodhpur is located about 600 km from the capital city.
From Delhi S Rohilla (DEE):
The train DEE JU SF EXP (22482) departs daily at 23:10. The journey takes 10h50.
From Old Delhi (DLI):
The train MANDORE EXPRESS (22995) departs daily at 21:20. The journey takes 10h25m.
From Old Delhi (DLI):
The train DEE JU SF EXP (22421) departs daily at 07:05. The journey takes 11h05.
From Old Delhi (DLI):
The train SHALIMAR EXP (14646) departs every Sunday, Tuesday, Wednesday and Friday at 11:00. The journey takes 11h45.
From Old Delhi (DLI):
The train RANIKHET EXP (15014) departs daily at 04:30. The journey takes 12h10.
2. From Jaipur
Jodhpur is located about 330 km from Jaipur.
Frompuis Jaipur Junction (JP):
The train JP BME SUP FAST (20490) departs daily at 21:00 except Tuesday and Wednesday. The journey takes 4h45m.
Frompuis Jaipur Junction (JP):
The train JP JU EXP (22977) departs daily at 06:00. The journey takes 05h05.
Frompuis Jaipur Junction (JP):
The train JP JU EXP (22977) departs daily at 06:00. The journey takes 05h05.
Depuis Jaipur Junction (JP):
The train MANDORE EXPRESS (22977) departs daily at 02:30. The journey takes 05h15.
Depuis Jaipur Junction (JP):
The train INDB JU SUP SPL (12465) departs daily at 16:50. The journey takes 05h25m.
Depuis Jaipur Junction (JP):
The train RANIKHET EXP (15014) departs daily at 10:10. The journey takes 06h30.
Depuis Jaipur Junction (JP):
The train BPL JU EXPRESS (14814) departs daily at 10:55. The journey takes 07h35m.
3. From Pushkar
Pushkar is located about 180 km from Jodhpur. You have to go to Ajmer to catch the train. Pushkar railway station does not serve any city since it is a terminus.
Depuis Ajmer Junction (Germany):
The train RANIKHET EXP (15014) departs daily at 12:25. The journey takes 4h15m.
Depuis Ajmer Junction (Germany):
The train INDB JU EXP (14802) departs daily at 14:05. The journey takes 05h35.
🔎 See all trains on Indianrail.gov.in
🔎 Travelling by train in India : a complete guide
Visit other blue cities in Rajasthan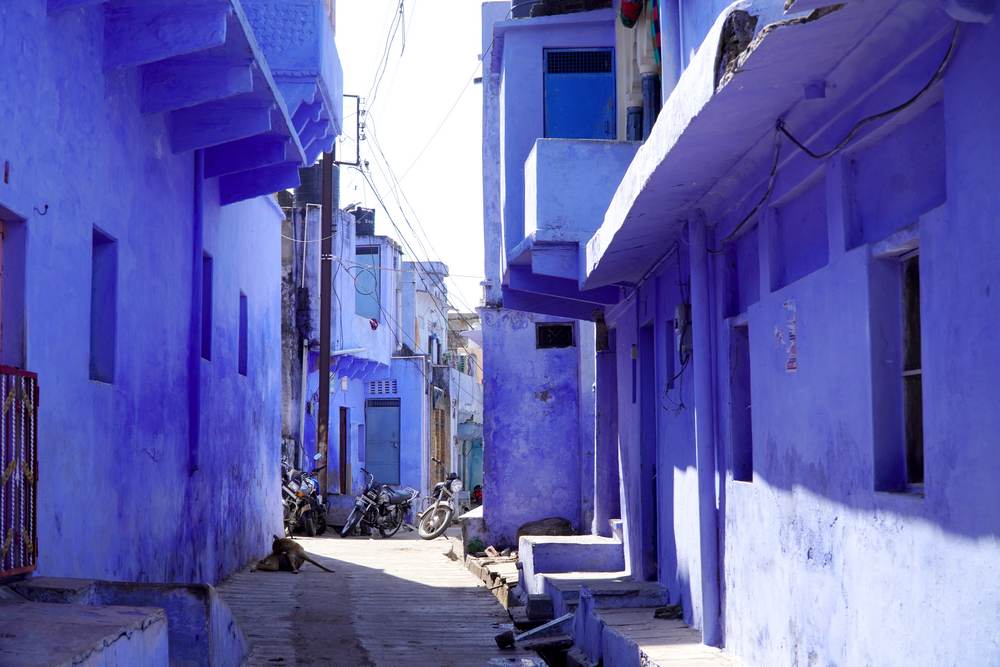 Bundi
Bundi is a historic town in Rajasthan located near Kota. It shares some similarities with Jodhpur and its architecture as well as its appearance with all its blue houses. However, its atmosphere is quite different. It is said that Bundi is a city off the beaten track but this is not (or no longer) the case at all. Tourism is well established and the number of guesthouses testifies to this. But well, the city is still less visited. Discover all the things to do and places not to be missed in Bundi in this travel guide: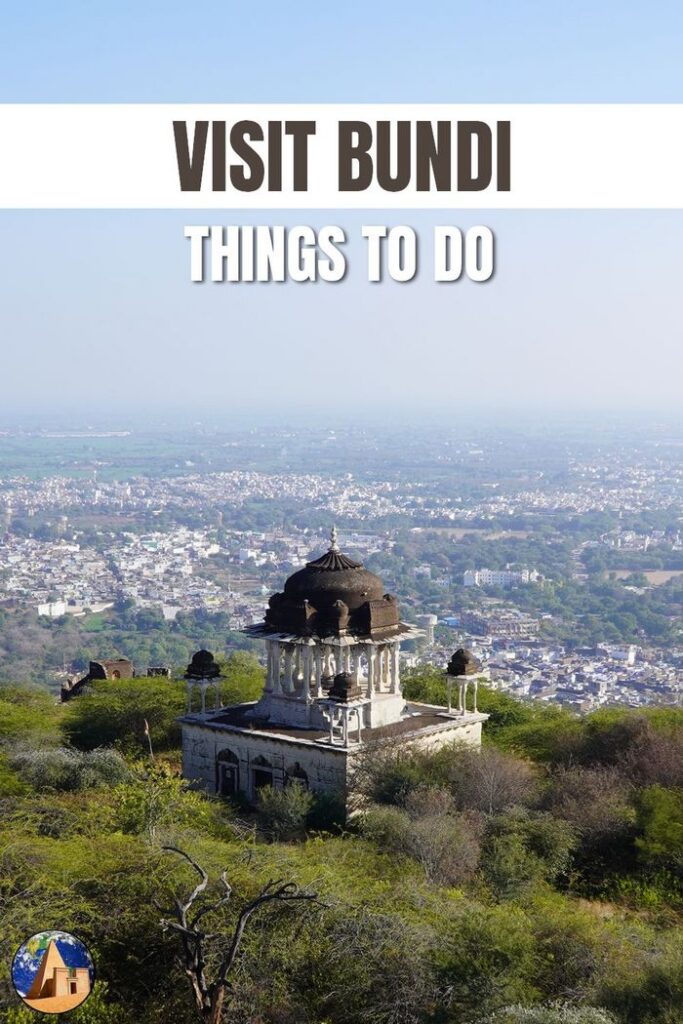 Indargarh
Indargarh is a city in Rajasthan completely off the beaten track. In fact, I was looking for cities in "garh" on Google Maps in order to visit forts in cities with little traffic. That's how I found Indargarh which is a very small unexplored city. The locality is dominated by a very imposing fort that gives the air of Bundi and Jodhpur in smaller. A beautiful little neighborhood of blue houses is at his feet.
📷 Discover Indargarh by pictures

Blue cities around the world
If you are interested in discovering other blue cities in the world and the meaning of this color, then follow this link: