▶ Destinations ▶ India
 
Railways of India
India's railway network is sprawling and connects all regions except Ladakh (extreme north) and has a huge traffic of more than 23 billion passengers per day. The total length of all railways in India is one of the largest in the world.

Tutorial to take the train
Taking the train in India is not always easy when traveling there for the first time. I am at 7 months of travel in the country at the time I'm writing this guide, which means I have spent a lot of time in the trains! So then, I'm able to help you. Here I tell you about the different classes – how to buy a ticket at the office – how to buy a train ticket on internet – tips to find tickets by limiting the journey duration and all the things you need to know.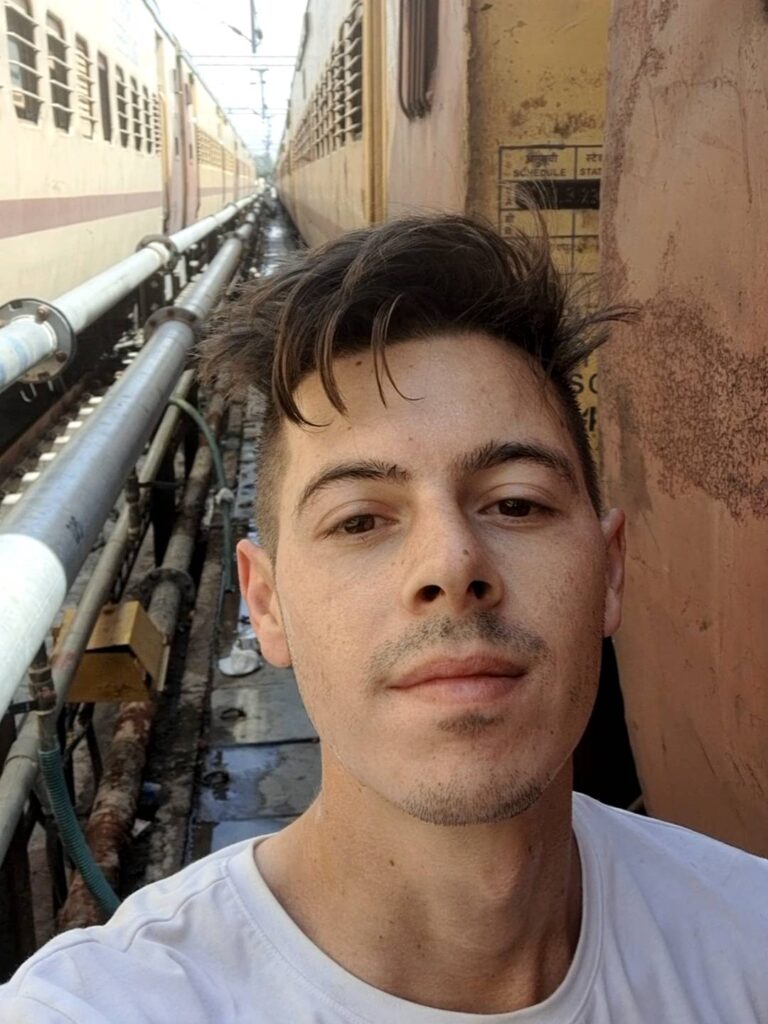 Train classes in India
The Indian Railways has a multitude of trains and especially a large number of classes that are as follows (from the least to the most expensive):

1. Popular classes

Second Class [2S]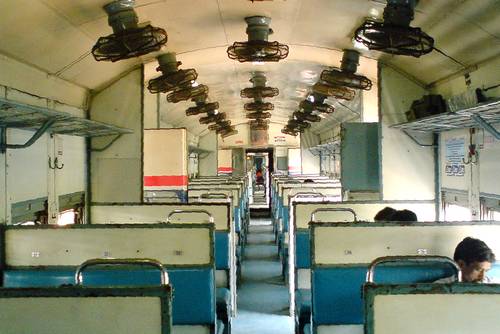 The second class is by far the most used by Indians, therefore, it is also the most crowded in populated areas. It is the lowest and cheapest. It has only seating without air conditioning. A good option for small budgets, short distances and especially to have an interesting local experience. Lines longer than 200 kilometers are composed of benches rather than just seats.
Sleeper Class [SL]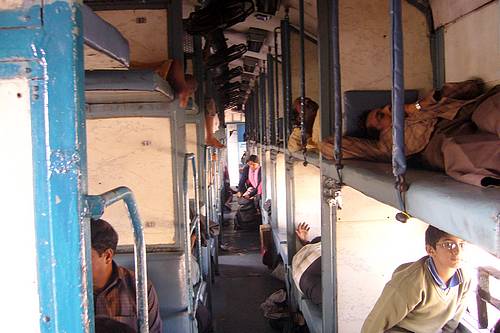 The Sleeper is a popular class at very low prices where you can sleep on bunks. It is one of the liveliest with the previous class and also the only one where many sellers of tea, food, even cigarettes come inside. This is something you won't find in the upper classes. Personally I love it and I travel most of the time by it.
AC Chair Car [CC]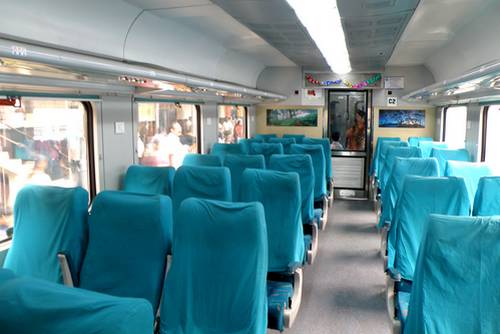 AC Chair Car is a class with seats. The cars are completely air-conditioned but the windows are always closed. A good option in winter or during the summer season. This class is better maintained than the previous ones.
2. Comfortable classes

Third AC Class [3A]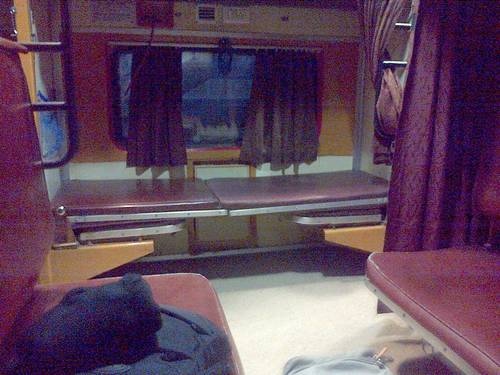 Third AC is a comfortable mid-range class with berths. Simply, it is the improved Sleeper Class. Generally quiet and spacious, it's the one that the middle class prefers to use. It is completely air-conditioned with closed windows.
Second AC Class [2A]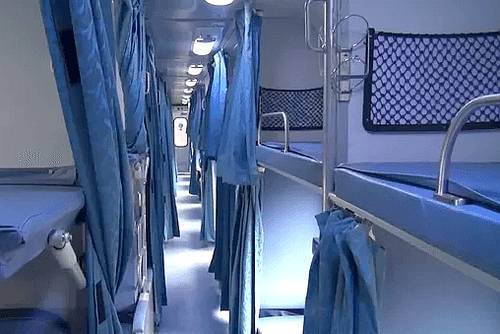 The Second AC class is similar to the Third AC with berths but a notch more comfortable. The mattresses are for example less stiff, you have a shelf, a curtain and only 2 bunk berths instead of 3 as in the lower classes.
AC Executive Class [EC]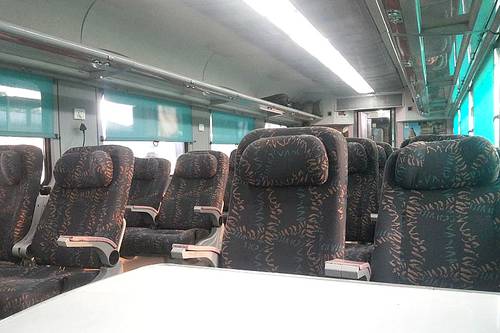 The AC Executive class is the superior version of the Third AC class, also called the "business class". There are only two rows of two seats, which gives plenty of space and comfort. In addition, the wagons are very quiet see silent. However, it is a place that is not very lively.
Executive Anubhuti [EA]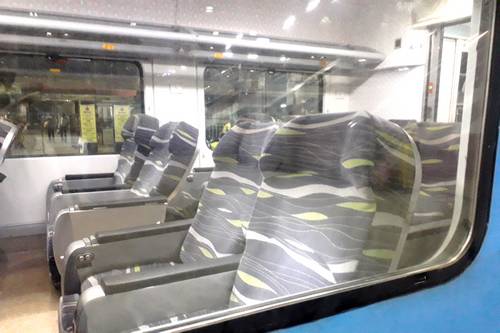 The Executive Anubhuti class is the superior version of the previous class in more spacious and with screens integrated into the seats. It remains much less present on trains than other classes.
First AC [1A]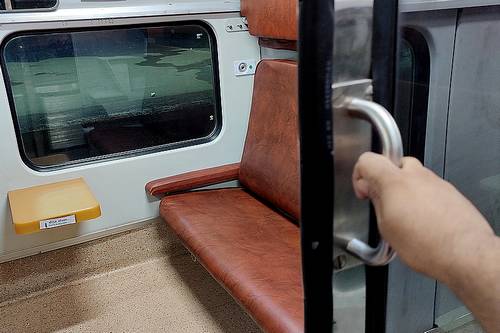 The First AC class is the most comfortable of all and therefore also the most expensive. The cabins are separate and contain 2 to 4 berths, a door that can locked, there are blankets, even bathroom with shower, catering service… The best of the best! There is also the "First AC Chair Car" for first class with seating.

Which class to choose?
These classes are the main ones you will find when travelling by train in India. Others exist but only in a few other rare trains. Traveling in the upper classes doesn't mean that your trip will be more enjoyable. The AC classes are very cool with the air conditioning strongly running, the windows are closed… Everything is a matter of preference… And thank's, there is enough to find wich is the best for you!

Things to know before travelling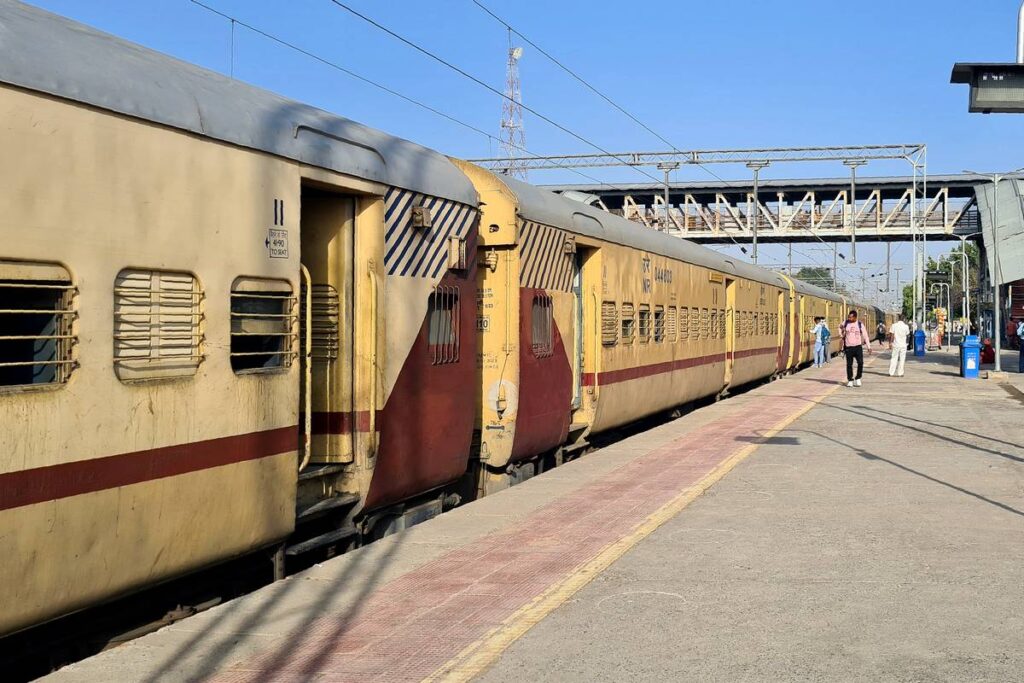 Whether at the ticket office or on the Internet, you should know a few useful points before booking a ticket:

Check on the web
You should always look on websites Indian Railways or IRCTC Which train to choose. These are the two government websites and I advise you not to look elsewhere since schedules and changes may not always be up to date.

Schedules are not fixed
Although some trains are daily, this is not the case for all. Some trains depart only on specific days of the week. This means that if you find a train, it may not leave the next day or the day after. So always check departures.

Moving between two major cities far apart
When you want to travel between two major cities, always check all stations in your departure and arrival city. Indeed, you should not search by the city but by the station. For example I first choose one of the main stations of Jodhpur to go to New Delhi. Then I compare with major stations like Delhi Rohilla, then Old Delhi then Delhi Shahdara (…) or reverse by choosing another departure station (if there are several).

You might think that our destination is not served when it is, you just have to try several combinations. This tip also makes it possible to find the fastest routes with the fewest possible stops (the "Express" and "Superfast" trains).

Travelling long distances
If you have to travel more or less 1,000 kilometres, the destinations are not always served. In this case you must first apply the previous rule. If you still can't find a direct way, try with the other nearest major cities. You will always find one, even if it is 50 kilometers more journey to do, you can still find a bus very easily to your final drop-off destination.

Example: Once I was looking for a way from Jodhpur to Varanasi. The direct ones show me trips of 23 hours minimum. I searched all the surrounding towns and found Prayagraj (Allahabad) for only 12 hours straight. I stayed there one night and the next day I got to Varanasi in just one hour more by taking another train. Thus, I avoided 10 hours of travel. Making stopovers can be accommodating in some cases.

Travelling by night
Travelling by train at night is a great way to optimize your time if the length of your stay is short. You can avoid wasting a full day of driving by opting for sleeper options. Plus, it's also a good way to avoid a few nights in a hotel for those who travel with tight budgets.
How to buy a ticket at the station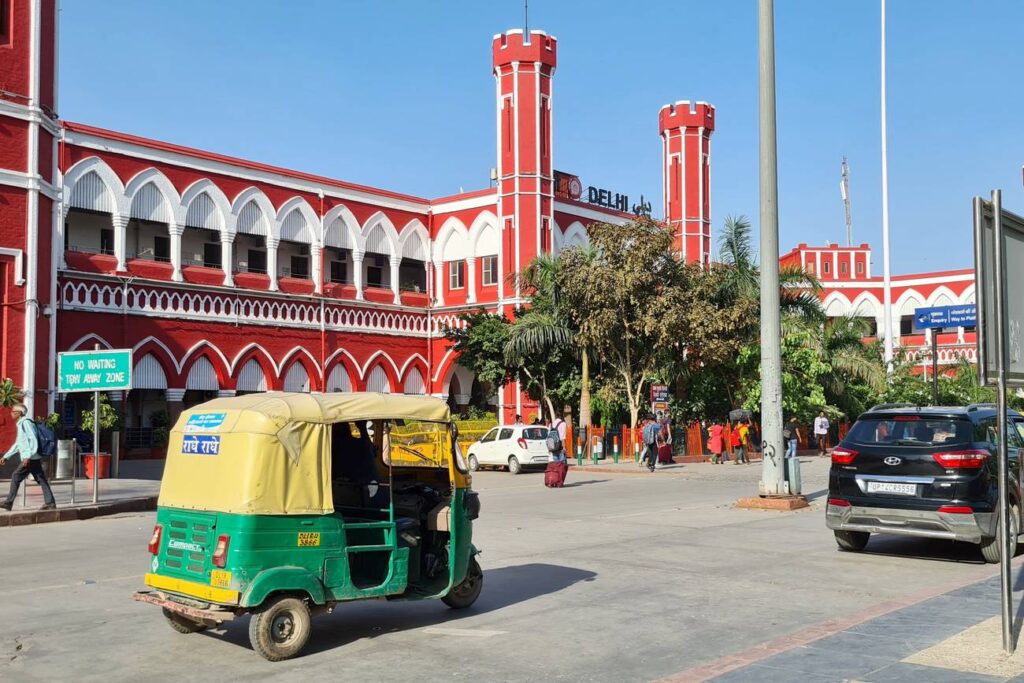 This is what I do most of the time as long as the queue is not too long and the station is not crowded. To hide nothing, buying your train ticket at the ticket office can sometimes be annoying since the Indians all pass in front and you don't know which queue to choose according to the class chosen. Maybe that's even why you landed on this travel guide!


The queues are generally arranged as follows in the stations:
1. One for the second class
2. Another for bookings

1. Second class
The second class is the lowest. You will easily identify these queues in the station since they are logically the ones where there are the most people. Just go to the ticket office and ask for a ticket. You do not need to give a specific train number since it is valid for 3 hours from purchase, which means you can take any train on the chosen line. Here is an example with my ticket of Chittorgarh To Bundi, a line where the second class is usually rather empty.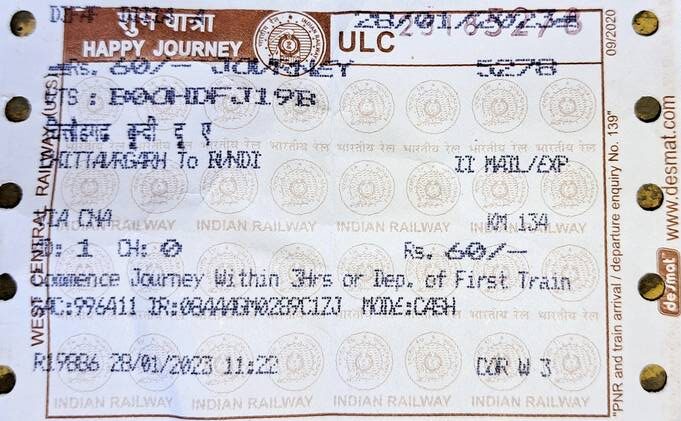 2. Reservations
The other(s) queue is about reservations. That is to say, all classes except the second are concerned and they require to go to the counter at least 24 hours in advance. If you want to travel before this deadline, then you will need to buy a "Tatkal" ticket.

2-1. Tatkal
More than half of India's railway network has implemented a "Tatkal scheme". These are seats or berths only reserved for travelers who have not been able to make a reservation in advance. In fact, tatkal literally means "immediately". The price of this option is subject to additional fees.

2-2. Make a reservation at the ticket office
1. To make a reservation you need to know previously which destination you wanna reach and which train you want to take. For that, you have to go to Indianrail.gov.in and click on the blue bubble (Ask Disha) or on Irctc.gov.in to collect information about your journey.

2. The second step is to go to the counter and ask for a form that you will have to fill out. Bring a pen! Otherwise you could wait for a while to find one there.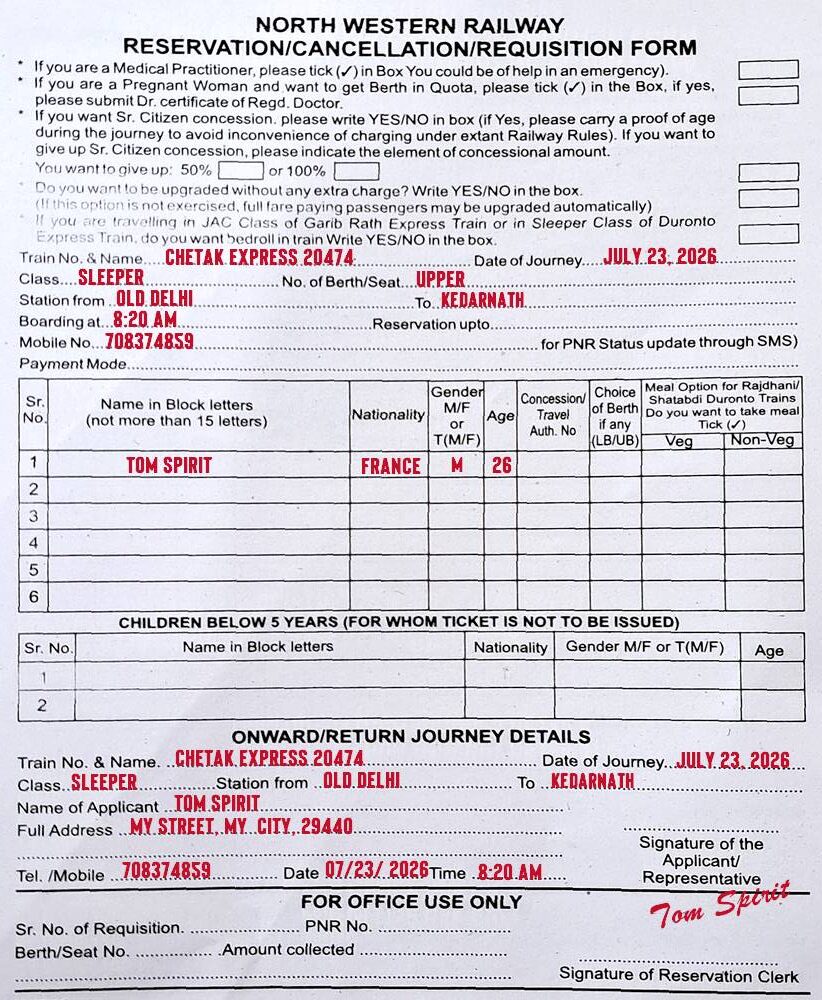 Only registrations in red must be replaced by your information. If you're traveling buy group, add only passengers on the same sheet. If you are travelling with a child under 5 years old, fill in the second table "CHILDREN BELOW 5 YEARS".

The "No of bearth/seat" box is rarely granted since you will most of the time be assigned a place depending on availability. However, I usually write my berth preference on it when I travel by sleeper train. This can be taken into account if a place is available. (ex: Side upper, Lower, Middle, Side lower…)



Note that:

Second-class ticket offices are usually located in or near the main station concourse while reservations can sometimes be set back, in related buildings or squarely across the track in some cases (especially for larger stations). In order not to waste time, I advise you to simply ask the local people. That's what I always do to avoid looking for it for a while.


Stand firm! The queues can sometimes be unbearable as some Indians are champions to overtake others. Impose yourself if this is the case and defend your place. No one will blame you!
How to buy a ticket on Internet
There are 3 options to buy your train ticket in India by Internet:

1. Indian Railways
Indian Railways is used to look for trips and make booking. However, payment options are only available for Indian cards and bank accounts or for virtual wallets like Paytm. I use this site only to collect train information (via Disha) in order to get a ticket directly at the ticket counter.

2. IRCTC
IRCTC is used to view all trains. It is convenient because it can show you stopovers when two destinations are not served by the same line. In addition, foreign bank cards are accepted.

3. ClearTrip
ClearTrip is a non official/governement site instead previous one that is used to book journey. It is handy if you don't have an Indian number to register on IRCTC (which is mandatory). However, you will pay additional commissions on your trips.


How do I book on IRCTC?
You must first register on Irctc.gov.in. This requires an Indian number. I advise you to ask your hotel to use theirs or that of one of your Indian friends. You will receive your ticket by email anyway. That's what I did the first time before acquiring one. If you are staying in India for a while, getting yours is something you should do as soon as you land in the country. It's very helpful!

Procedure
1. Go to Irctc.gov.in Then select your destination and date. Look at the route that suits you. If you can't find it, try other combinations. [Help]

2. Select your class. You will see a mention in red "WL" if all the seats are occupied. It means "Waiting List" (read the section to know what it is). If places are available, you will see a "AVAILABLE" mention.

3. Log in, fill in the captcha and fill in your information. In this section you can choose a seat in the "No preference" box: for sleeper trains "Lower, middle and upper" you can also choose the side, refering to the berths parallel to the aisle.

4. Fill in the captcha again and proceed to payment: there are a multitude of ways to pay but many do not accept foreign cards and some take higher commissions. Click on "Multiple Payment Service" and prefer "Credit & Debit cards / Net Banking / UPI (Powered by Razorpay)".

5. You have made the payment, your ticket appears on the same page and a copy will be sent to your email address and the phone number associated with the account or the one you entered when registering the information.

How do I register on IRCTC without a number?
Go through the site Cleartrip.com if you do not have an Indian phone number. Be aware that this third-party option generates additional costs but it is a solution that can be useful if you are in this case. It's still not a lot of fees…

Alternative
You can also ask your hotel or your indian friends to book a ticket for you or using their account. Just fill in your personal information during the application.
"Waiting List" : what is it?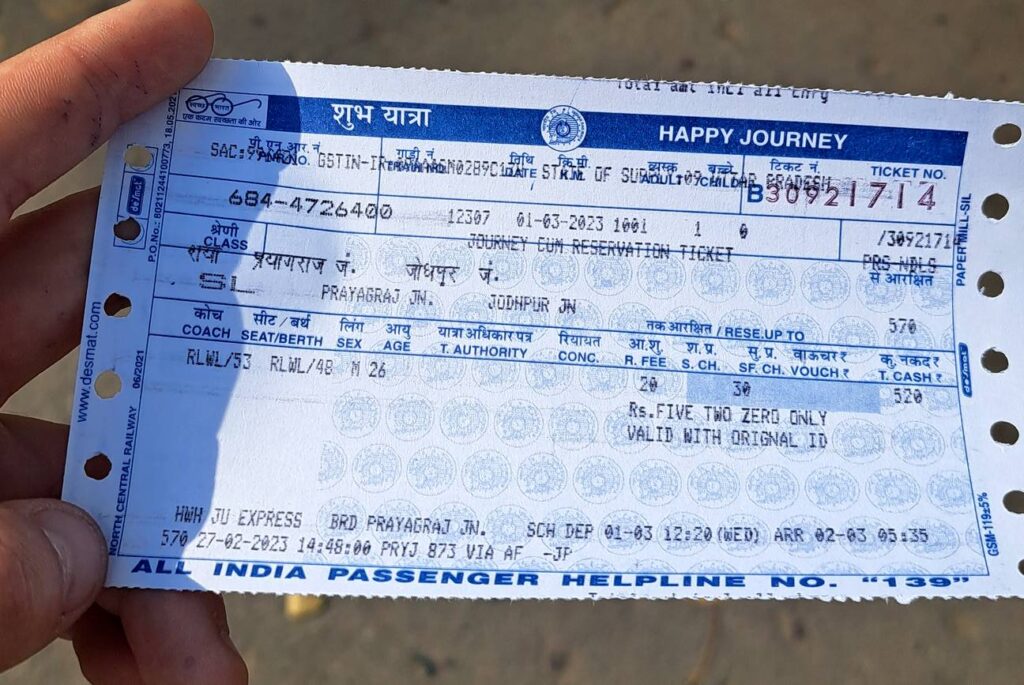 Uhhh, that Waiting List… When you book a train ticket and all the seats or berths are taken: you are put on a waiting list. The Waiting List applies to all classes. This means that you will have to travel without a seat. We usually wait at the entrances when we get on that list, but you are still free to move everywhere. For sleeper trains, seats directly near the entrances are usually shared by the people who are in this case.

I have covered 30-hour trips on the Waiting List and I can assure you that it is sometimes very annoying but I always thought it was a great way to work on my patience. However, it has never bothered me for trips of more or less than 5 hours but this may not be the case for all as you may not be used to adapting to this kind of travel conditions.

During the festival period, even if a place has finally been allocated to you, do not take it badly if other Indians come to sit on your bench. They have no other choice! It happened to me on more than 20 hours several times… A shared bench for 4 peoples, it's not the best but, hey fine. Just a question of hours. Anyway, there is always a solution:

How to avoid the Waiting List?
It's pretty simple. The best solution is to book your tickets several days in advance and especially during festive periods when rail traffic is high (even consider booking 10 days in advance for high-demand destinations). The Waiting List is mainly for heavily used regions/lines. The second option is to check the availability on the Internet beforehand on the web.

Which car to choose from the Waiting List ?
The tickets on the waiting list are presented as the one shown in the photo above with a mention "RLWL" and a number, it only concerns the order of the list so it does not matter to you as it is only used by the train controllers. You can board any wagon in this case so I advise you to look at them all to choose the one that is the least full.

How to get a seat?
1. Being on the waiting list doesn't mean you'll spend your entire journey without a seat. My advice is to get to the station a little before the departure time. Head to the platform where your train is located and immediately look for a controller. He will take your ticket and assign you an abandoned seat. This tips works in the majority of cases.

2. If you have not been able to find a controller, take your pain in patience and simply wait for one of them to come to you during the control. They are systematically in the cars when the train is full to proceed of ticket checking.

Know that you will always be privileged as a foreign traveler. When the controllers see that you don't have a seat, they will always do everything to find you one. That's always been the case for me anyway. For this reason, traveling on the Waiting List should not discourage you. If not, prefer to travel by bus or private taxi instead.
How to locate the train
Download Where Is My Train
"Where Is My Train" is a mobile application where you can locate your train in real time, which is convenient in case of some delay. Simply enter the PNR code wich is on your ticket to see the progress of your train.
Look on Google Maps
The alternative is to search for the train station of your final destination on Google Maps. Scroll down until you find departures and arrivals. Click on yours, then you will see where your train is in real time with the delay times.
How to know the landing platform?
You can use both of previous options to know wich platform your train is landing. You also can find it on boards inside the railway station (I mean, the major ones). If not, simply ask the office.
Train composition
The composition of a train often differs from one to another in India. To know your car you have to look on your ticket. They are associated with the letters that are inscribed on the coaches. For the Sleeper Class they will be divided into S1, S2, S3, S4 (…) ; or B1, B2, B3 (…) for Third AC Class (3A) or H1, H2, H3 (…) for the First AC for example. Be aware that classes do not always follow each others. Thus, there may be several Sleeper Class cars for exemple S1 to S4 at the beginning of the train and the rest of the list S5 to S8 at the opposite (at the end).

Find your wagon number on your train ticket [cf: image below]. It is registered below the class. In the case of the illustration, the coach is S6 and the seat number is 38.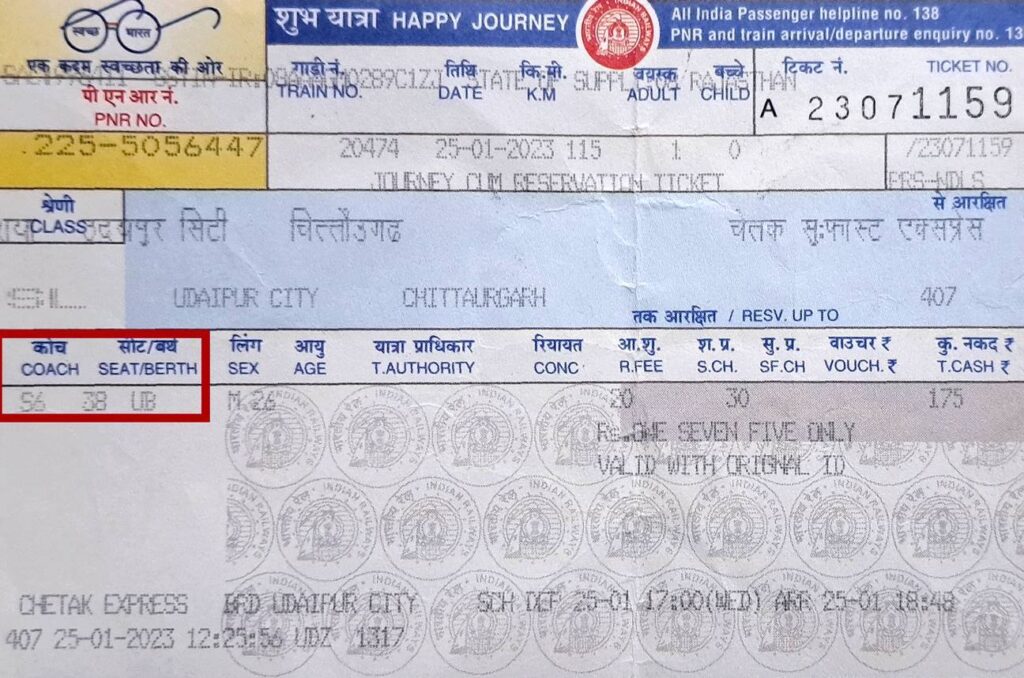 Ask for help
I advise you to ask passengers the location of your car by showing them your ticket. They will always let you know. If you're late and haven't found it, just hop on board, you can get off at the next stop and pick it up again.
Taking the train in India: Conclusion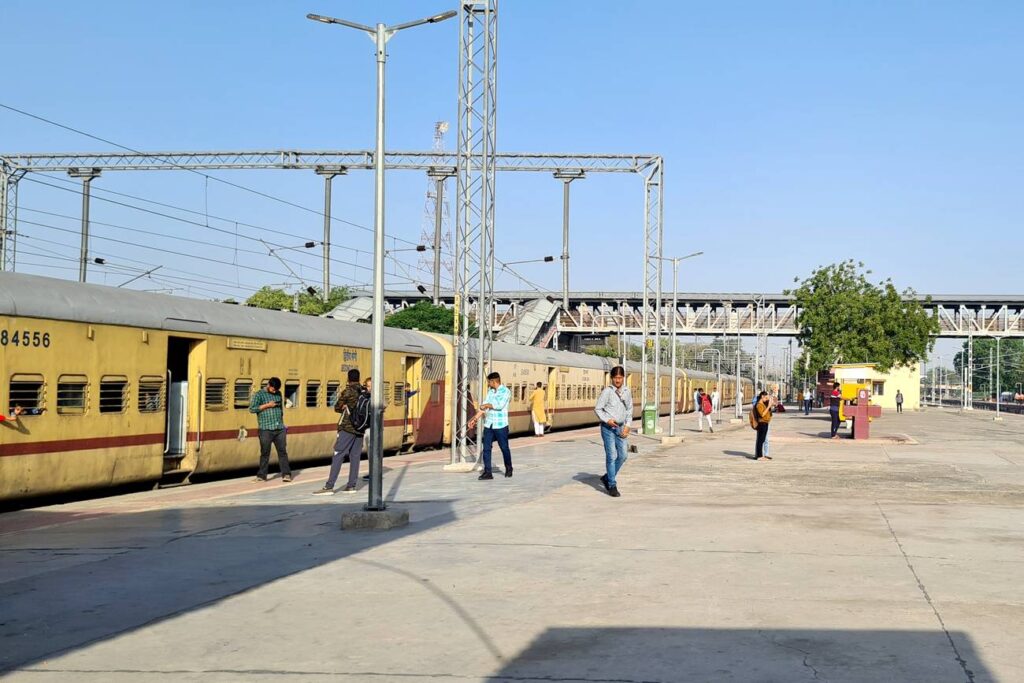 If taking the train in India may seem difficult and annoying at once, it becomes much easier to understand after a few trips and it is a very convenient way to roam there. Personally I only use land transport for internal travel within a country and above all in India, where the rail network is complete, serves almost all destinations and where trains are usually punctual.

Traveling on India's railways is a beautiful experience in itself. The popular classes (Second and Sleeper) are perfect for a local experience since you meet a lot of people and the atmosphere is generally very friendly. If you prefer to travel in higher classes for comfort, I still advise you to make even a short trip to the lower classes for your own experience and have a glimpse of the daily life of the majority of the India's inhabitants.

Feel free to use the comment area for any other question, I am quick to answer them. Safe travel!


READ ALSO :